A summer-ready Mango Cucumber Salad that you will love
This is a very simple non-recipe that I did think twice, whether I should feature it in my blog at all! 
The stand-out is not the recipe itself, which is just mixing together a bunch of ingredients. The best part about this recipe is the combination of sweet ripe mango, juicy cucumber and bland tofu, each of them supporting one another in this summer perfect salad bowl.
Another good thing about this salad is that you can make a lunch out of a whole mango and a few supporting ingredients. You feel happy having eaten your share of this seasonal fruit, but in a filling dish.
There's no lettuce in this salad which is always a pain to find fresh during summers. If you do have access to homegrown greens, then by all means, bulk it up with a handful of chopped leaves.
There is also no oil in the dressing, because the flavours of mango, ginger, soy sauce etc. more than make up for it.
I like to use sweet ripe Banganapalli for this salad, but if you are an Alphonso / Hapoos loyalist, by all means go with that.
You can choose to deseed the cucumbers, but I have left it intact in this one.
My go-to garnish for all salads these days is my batch of toasted mixed seeds that add flavour, crunch and a dose of healthy fats to every forkful.
Want to use mango in more salads?
Try these recipes—
Why tofu in this salad?
It is an ingredient you don't need to spend any time cooking- a main concern during summers.

Even if you think tofu is a blah ingredient, mango with its rich sweetness and the punchy dressing just carries it along effortlessly.

And you get to up your protein intake for the day.
If you are completely anti-tofu, use cubed paneer instead. No need to cook / saute that either.
Also read: Summer Meal Prep for Salads – do a bit of prep and dish out salads in no time

The dressing for the mango tofu cucumber salad
It is my standard Asian dressing – soy sauce, honey (use maple syrup if vegan), ground ginger, vinegar and black pepper – all whisked well together. A few drops of toasted sesame oil helps elevate the flavour, but I did not have it on hand.
More such summer salads you will love!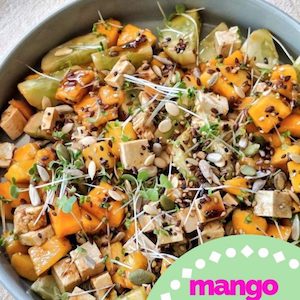 | | |
| --- | --- |
| | |
Peel and dice the mango and cucumber.

Blot the tofu with a clean cotton towel and dice it ~1 cm cubes.

In a bowl, mix together all the ingredients for the dressing until well combined.

Add the prepared mango, cucumber and tofu in the dressing and toss gently until well coated.

Serve into two bowls and top with mixed seeds and either micro greens or any herbs of your choice, finely chopped.
Salad Making Posts That You Will Find Useful
For over 30 original salad recipes with detailed instructions,  get my book The Everyday Healthy Vegetarian! Get all the info about my book and order it here.
To get all my latest recipes and news straight into your mailbox, subscribe to my mailing list here and get a FREE copy of my e-book specially put together for you – The Ultimate Salad Master Table that will have you making salads like a pro HERE
Like what you see here? Stay connected with me on Instagram, Facebook, BlogLovin' and Pinterest.