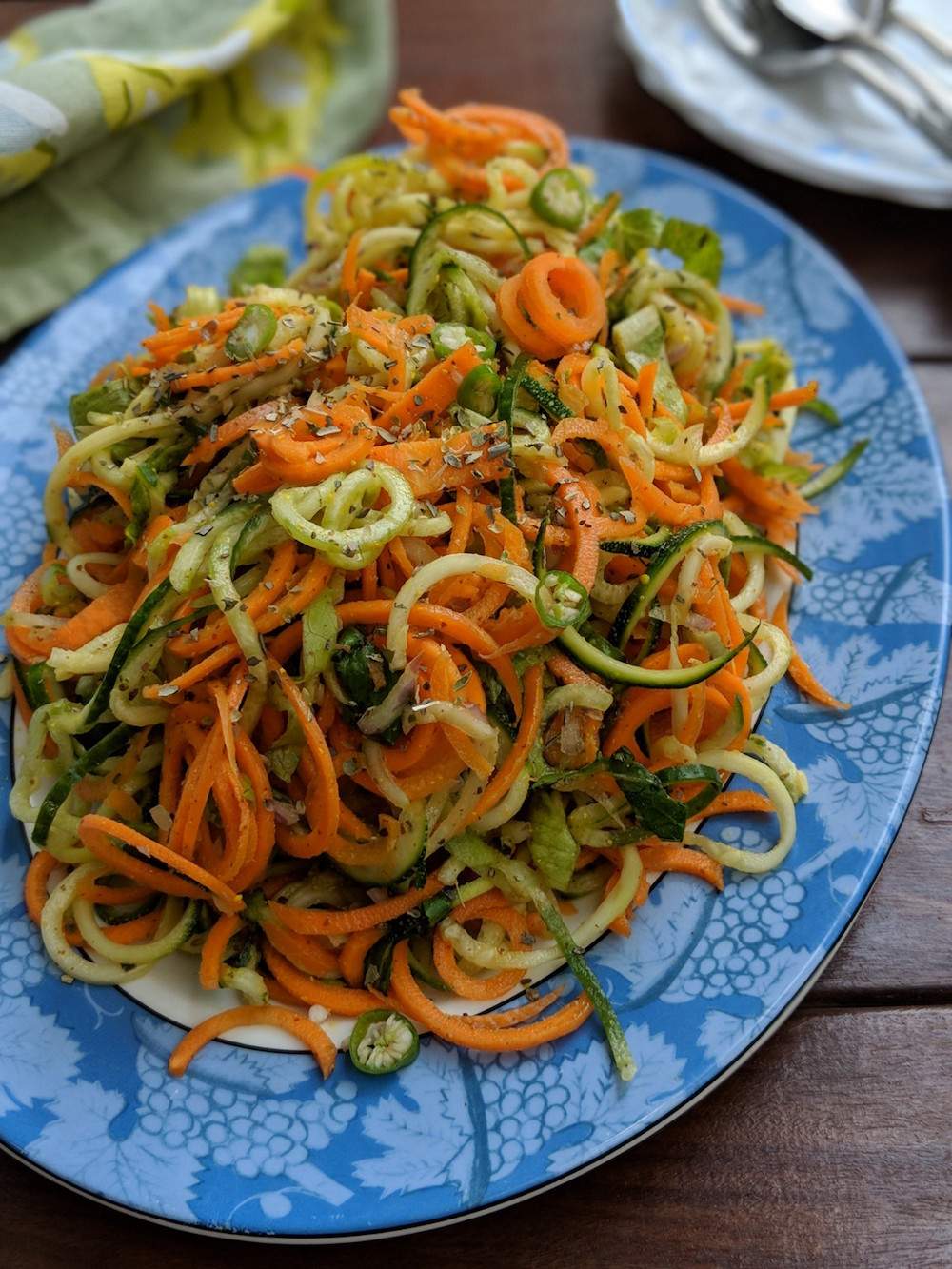 This skinny spiralized salad recipe made using zucchini, cucumber and carrots in a sharp mustard dressing, is just what I want to eat all summer. It is calorie counted and one serving is just 99 calories. And did I say, filling as hell! So get that spiralizer or julienne peeler out, along with your biggest bowl and let's get going!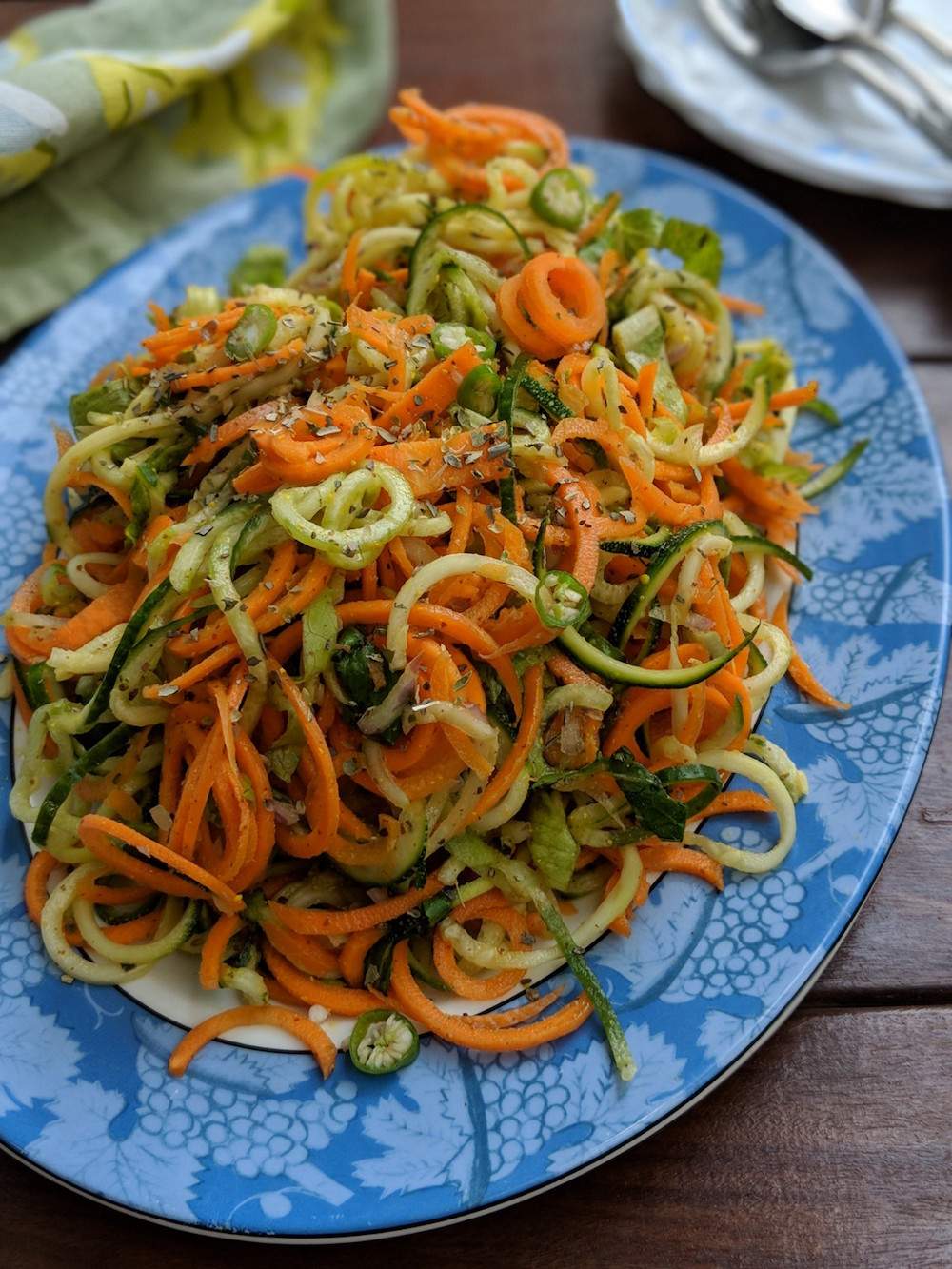 Pin
Summers are almost here which means the spiralizer is out from the back of the kitchen cabinet.
For the uninitiated, spiralizer is a gadget that makes noodles out of vegetables (also, fruits) like carrots, beets, zucchini, radish, onion, apples, pear etc. Root veggies like potato and sweet potato can also be spiralized and baked into a crunchy snack.
Somehow, carrot or radish 'noodles' are always more fun to eat than slices. Something about the look of the dish or the texture, that is just so appealing. My spiralizer was bought in the US. Good news is you can make zucchini or carrot noodles just as well with a small peeler under Rs.100 – called the julienne peeler. I got this from Big Bazaar. You should find this in the peeler / grater section. The only drawback of this julienne peeler is that it may not allow you to deal with round shaped veggies like potatoes, onions etc.
Zucchini does seem to be the most loved vegetable to spiralize given the popularity of the term 'zoodles'. But for me, potatoes and onions are the real discovery. Spiralized onions mixed in a salad add ton of flavour while blending in seamlessly along with the other veggies. You can also soak the spiralized onions in a vinegar – water – salt mixture for 15 minutes to take the bite off. Spiralized potatoes, tossed in olive oil and salt, made into nests and put in an air fryer make the most delicious snack. Watch the video here. You can even break an egg into each of these potato or sweet potato nests and bake it in a sheet pan for breakfast or brunch.
You can check out the Spiralizer here on Amazon.
Also try:
Zucchini and black eyed peas salad 
A few tips on making spiralized salads:
Choose vegetables of contrasting colours for maximum eye candy.
If the noodles turn out very long then snip them into smaller sections with a pair of scissors. This makes it more convenient to eat.
The thin spirals blade is what I like to use for salads, but you can also choose the ribbons option.
This skinny spiralized salad for summer has summer veggies like cucumber and zucchini (from my weekly shopping basket) and an orange carrot for that vibrant colour. This is a BIG salad and it can soak up even half a cup of olive oil for dressing very easily. Since I have made this as a low cal meal, it has just 2 teaspoons of olive oil.
Nutritional info for the skinny spiralized salad
Pin
A few delicious additions to this skinny spiralized salad:
Choose any one-
Cooked chickpeas
Crumbled feta cheese
Sundried tomatoes
Pan fried cubes of tofu or paneer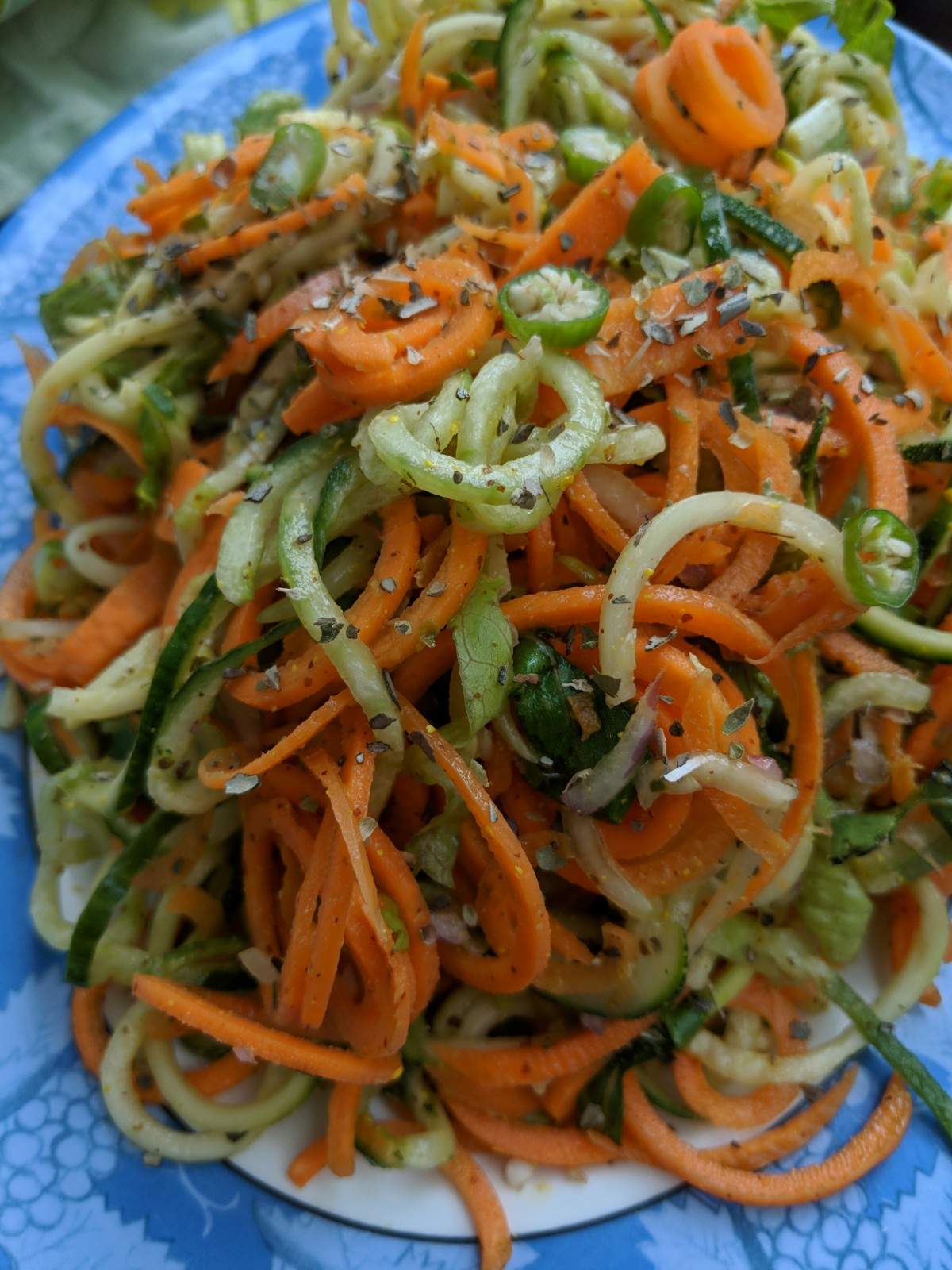 Pin
Spiralized Summer Salad
Ingredients
2

medium carrots

200 grams

1

large zucchini

120 grams

1

large onion

100 grams

2

small

European cucumbers

150 grams

1/2

cup

shredded lettuce

1.5

tsp

English mustard

Coleman's

1

lemon

juiced

2

tsp

extra virgin olive oil

1/4

tsp

salt

freshly ground black pepper

2

green chillies

sliced (or jalapenos, optional)
Instructions
To prepare the skinny spiralized salad, peel the carrots. Using the spiralizer or julienne peeler, make noodles out of the carrot, zucchini and cucumber.

Spiralize the onion. Or cut into very thin slices and separate out into thin segments.

Place the prepared vegetables along with lettuce in a large bowl and toss well in the olive oil so that it uniformly coats all the ingredients.

Slake the mustard and salt in the lemon juice in a small cup and pour it over the salad, gently tossing with fingertips so that it covers the entire salt.
For more such healthy recipes, get my book The Everyday Healthy Vegetarian! Get all the info about my book and order it here. 
Like what you see here? Stay connected with me on Instagram, Facebook, BlogLovin' and Pinterest.