Watermelon Feta Salad Platter | Read my post to find out how to create a stunning watermelon feta salad platter fit for a party
If you know me well, I do make a lot of salads on a daily basis. I end up sharing some of these recipes/ ideas on Twitter or Instagram. But most of the times, I feel uninspired to share yet another – 'hey I cleaned up my refrigerator and made this salad' kinda update.
Pin
When I was thinking about what new spin I can give to my salads before sharing them with you, this idea of salad platters came to me.
Why salad platters?
4 Reasons to Love Salad Platters
Given that appetiser boards and cheese boards are a big trend these days, think of salad platters as a similar concept, only loaded with healthier foods. 

Our entertaining ways have changed. No longer do we force feed guests. People have different dietary preferences and most guests prefer to serve themselves, the foods that agree with them, in the portions that they want.

Salad platters make the best option for entertaining for these very reasons.
Needless to say, salad platters can be show stoppers on a dining table. Choose salad components in contrasting colours to make them look super appetising, such as this watermelon feta salad platter recipe below.

Dressings, condiments and any other toppings like seeds or nuts can be set in small bowls, adding to the number of elements on your platter. These also help make interesting flavour combinations.
All this of course assuming that your guests are considerate, taking a little of everything so that it's not just soggy bits of watermelon that remain on the platter at the end of the day 🙂
If you like the sound of this recipe, don't fail to check out the following recipes:
Another Watermelon Feta Salad with Mint
Pin
How to put together the Watermelon Feta Salad P
latter
Watermelon: Given that we are not mixing up the whole salad, put a little extra care into cutting up the watermelon neatly (after deseeding). I cut them into medium sized triangles, but you can also cube it to match the size of feta.
Watch my super easy watermelon deseeding video below, and you will never fret about cutting up a watermelon again!
Feta:  I bought feta stored in brine. It was hard enough to hold its shape while I went about cutting it into small cubes. The cubed feta is ideal for presentation, but if yours is a softer crumbling variety, then set it in a small bowl as a part of the platter.
Fresh greens / Arugula:  Here I have used homegrown rocket / arugula. Wash any greens well and dry them well (using a salad spinner or cotton towels) before adding to the platter so that it does not result in a soggy platter. You can also use fresh mint or basil leaves instead of arugula. Arugula is super easy to grow at home from seeds. Check shopping section in the post to buy rocket seeds.
Lemon marinated onions: While onions and watermelon seem like a crazy match, trust me it is a great flavour pairing. The flavoured onions add a bite to the sweet juicy watermelon. Using a mandolin or a sharp knife, thinly slice a peeled onion or two. Separate it out into segments. Massage well with the lemon juice, salt and extra virgin olive oil. Let this sit for at least 30 minutes (longer, the better), before loading into the platter. Experiment with white onions for a slightly different flavour and more crunch.
Other ingredients
Extra virgin olive oil

Balsamic vinegar

Chilli salt (crush 1-2 tsp coarse salt with 1/4 tsp red chilli powder in a mortar pestle or using a rolling pin on a chopping board)
There are more such salad platter ideas coming your way, so don't forget to subscribe to get all my new posts in your mailbox. 

Don't Miss: 13 best ingredients for summer salads
Shopping for this recipe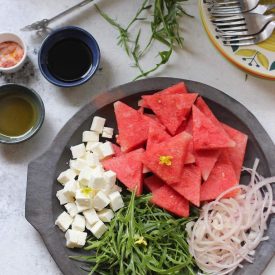 Watermelon Feta Salad Platter
Ingredients
1/2

medium

watermelon

roughly 1-1.5 kilos

2

medium

white onions

or regular onions

1

lemon

2

tsp

extra virgin olive oil

1/4

tsp

salt

150-200

grams

feta cheese

2-3

handfuls

arugula

or use basil or mint
Additional extras
2

tbsp

extra virgin olive oil

2

tbsp

balsamic vinegar

2

tsp

chilli salt
Instructions
To prepare the watermelon feta salad platter, start by prepping the watermelon. Discard peel of the watermelon. Cut into thick slices, deseed and then cut into desired bite sized shapes.

Thinly slice the onions. Squeeze lemon juice over the sliced onions. Add 2 tsp extra virgin olive oil and 1/4 tsp salt and massage well using finger tips so that the onion slices are separated into thin rings or segments.

Cube or crumble the feta cheese.

Wash the arugula leaves well until free or mud / dirt. Dry in a salad spinner or on cotton towels.

Take a large platter, around 12" diameter.

Pile the cut watermelon, lemon marinated onions, arugula leaves and cubed feta. Set the extra virgin olive oil, balsamic vinegar and chilli salt in small bowls.

Serve chilled.
Notes
Use a mix of melons like watermelon, cantaloupe, musk melon, sun melon for a more colourful platter.
Use basil, mint or any other fresh greens with a flavour punch instead of arugula.
Chilli infused honey also makes a good topping to provide in this salad platter.
To get all my latest recipes and news straight into your mailbox, subscribe to my mailing list here and get a free copy of my e-book specially put together for you – The Ultimate Salad Master Table that will have you making salads like a pro HERE
For more such healthy recipes, get my book The Everyday Healthy Vegetarian! Get all the info about my book and order it here.
Like what you see here? Stay connected with me on Instagram, Facebook, BlogLovin' and Pinterest.