Awadhi Arbi ka korma – This is a curry from the Awadh region of North India, shared by Atiya Zaidi.
(first published on Mar 21, 2015)
This is the second of the three recipes that Atiya was generous to share with me. The first one was Badinjan Burani, a Persian dish that travelled to India.
This arbi Korma or colocassia curry is one of the other vegetarian dishes popular in Jaunpur. According to Wikipedia, "for about eighty-four years (from 1394 to 1478) Awadh was part of the Sharqi Sultanate of Jaunpur". So there is a fair bit of overlap between Jaunpuri cuisine and Awadhi cuisine.
Awadhi cuisine is hugely influenced by the Mughlai style of cooking, which is rich, elaborate and complex. The cuisine is famous for its kababs, kormas and biryanis, among others.
Korma in Awadhi cuisine
Korma in Awadhi cuisine is the term for braising meat. In this vegetarian korma, the colocasia or arbi loses all its sliminess because of the frying, acquiring a meaty texture. Traditionally kormas do not have any chillies or chilli powder. I have added a touch of chilli powder in this recipe, which you can avoid.
Atiyaji also tells me that traditionally, tomatoes were never used in this cuisine. The yoghurt gives it the required tanginess. She also shares that the korma is NOT garnished with coriander.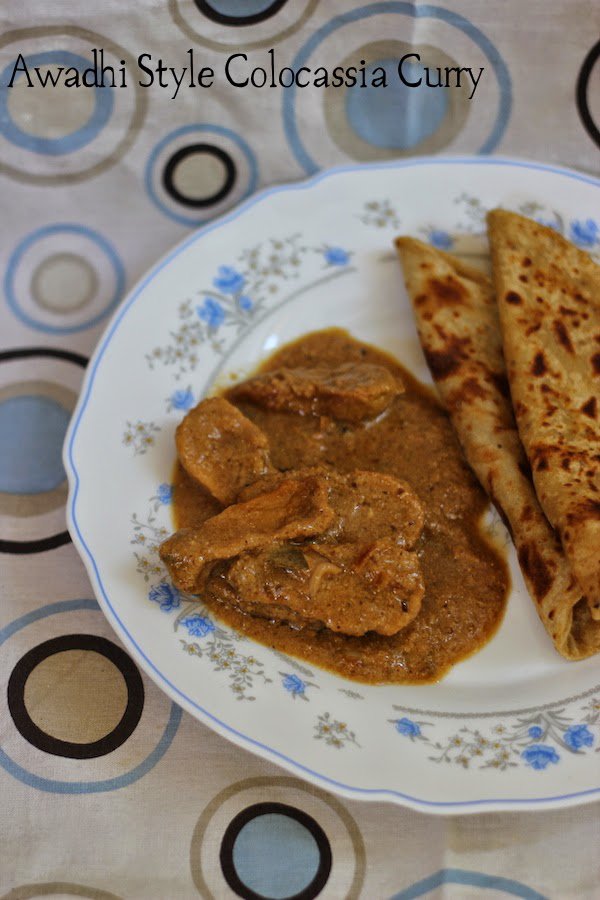 While I'm a fan of quick curries with absolutely no prep time, everything going into the pressure cooker and cooking itself, the taste of this awadhi arbi ka korma is well worth the preparation that goes into it. I have tried to make it a little healthier by not deep frying either the onions or arbi, but you can go the traditional route. I'm sure the taste can only get better.
Pair this Awadhi arbi ka korma with
Tahiri – a rice dish from Western UP
Jaunpuri Badinjan Burani – an eggplant dish that migrated from Persia
Also try: Ajwaini Arbi Tikka, a quick appetizer dish or a dry curry to eat with rotis
Recipe for Avadhi Arbi Ka Korma / Qorma
Source: Atiya Zaidi
Prep time: 30-45 minutes
Cooking time: 20 minutes
Serves 3-4
Equipment required:
This recipe requires a fair bit of preparation and then it is just a matter of putting everything together.
The original recipe calls for cleaning, peeling the colocasia, cutting them in half lengthwise and deep-frying them. As I chose not to deep fry, I had a couple of steps extra here.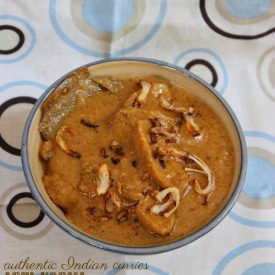 Recipe for Awadhi Arbi Ka Korma
Ingredients
250

g

colocassia

arbi

1

onion

finely sliced

oil

to fry onions

1

tbsp

coriander

powder

1

tbsp

ghee

1

tbsp

oil

2

bay leaf

4-5

cloves

2-3

green cardamom

1

stick

cinnamon

1/2

tsp

red chilli powder

not in the original recipe

1

cup

yoghurt

fresh

1.5

tsp

salt
For paste:
1

onion

roughly chopped

1/2

inch

ginger

roughly chopped

4

cloves

garlic
Instructions
Preparing the arbi / colocassia for the curry / korma: Wash the colocassia well. Place some water in a pressure cooker. Place the colocassia in a bowl that fits into the cooker with 1/4 cup water. Pressure cook for 2 whistles and then on sim for 5 minutes. This also depends on the size of the colocassia so choose medium sized ones and all roughly the same size.

Once the cooker cools, open and allow the cooked colocassia to cool. Peel and cut in half, lengthwise.

Toss them in a bowl gently with 1/2 tsp salt and 2 tsp oil.

In a preheated oven or airfryer (200°C) bake them until golden brown outside. This will take roughly 10 minutes in airfryer and 20-30 minutes in an oven.

Once done, remove from airfryer / oven and keep aside.

Frying the onions: Peel the onion, halve it and chop it into very thin slices. Separate each slice so as to get thin segments of onion. In a pan, take enough oil and deep fry the onion segments on a low heat until golden brown. This is a time consuming process and takes up to 20 minutes for one onion.

Alternately, air fry the onion segments. Toss onion segments in few drops of oil and place them in preheated airfryer (180°C) or 6-8 minutes until golden brown and crisp.

Once the fried (or air fried) onions are cooled, crush or blend the browned onion segments to a fine powder.

Preparing the paste: In a small jar of the mixer, puree the ginger, garlic and roughly chopped onion to a fine puree. Keep aside.

Toasting the coriander powder: On a tava or in a small pan, toast the coriander powder until aromatic and keep aside.

Making the korma: In a heavy bottomed pan, place the remaining oil along with the ghee. Immediately add the whole spices, even before the oil is hot. You don't want the spices to puff up in this recipe.

Add the onion-ginger-garlic paste and fry on a medium heat for 4-5 minutes.

Add the toasted coriander powder and fry for another 2-3 minutes.

Whisk the crushed fried onion powder along with the yogurt and add it to the pan, with the flame on lowest setting or the yogurt will separate.

Add the salt, red chilli powder and bring to a gentle simmer.

At this stage add the 'fried' arbi halves, add 1/4 cup water if the sauce is too thick, and bring to a gentle simmer.

Traditionally, these kormas are not garnished with coriander, you may garnish with a few fried onion segments. Serve with parathas.
If you would love to explore the cuisine of Awadh, this is the book for you.