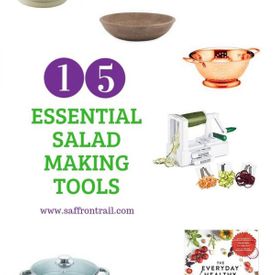 Essential salad making tools that you need in your kitchen -my list for you!

I have shared with you my top tips to make great salads in this post. Once you have mastered the concepts of salad making, you can easily make restaurant quality salads at home.
I am not one to recommend appliances or gadgets for every task in the kitchen. But some of these are one time investments into healthy cooking and eating. Having the right gadgets makes the salad making process less laborious and more fun. Even kids love to operate the salad spinner, spiralizer, lemon squeezer and the julienne peeler etc. Involving them early on in the healthy cooking process in a good lesson for their future.
So here's my list of essential salad making tools —
I hope you found my list of essential salad making tools useful! Do let me know what is your favourite!
Get over 45 Healthy Vegetarian Salad Recipes on my blog
To get all my latest recipes and news straight into your mailbox, subscribe to my mailing list here and get a FREE copy of my e-book specially put together for you – The Ultimate Salad Master Table that will have you making salads like a pro HERE
For over 30 original salad recipes with detailed instructions,  get my book The Everyday Healthy Vegetarian! Get all the info about my book and order it here.
Like what you see here? Stay connected with me on Instagram, Facebook, BlogLovin' and Pinterest.