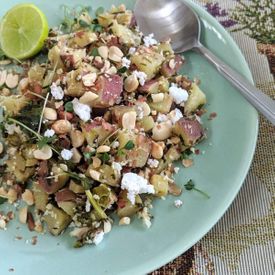 How to make an Indian style Vegan Sweet Potato Salad
Pin
A couple of months ago I was sitting across the table from my aunt who had just returned to India after 6 months in US with her daughter's family. Our conversations were around many things food. I was telling her how I wanted to grow the orange sweet potato in my kitchen garden because it was nearly impossible to find that variety in Bangalore.
She told me about a 'curry' she made with sweet potatoes in their Boston kitchen. She mentioned green chillies, cumin, peanuts, coconut etc and immediately the bell rang. This sounded like a sabudana khichdi minus the sago. Which is fantastic, because I absolutely love that dish and cannot eat it as often as I would like because sago is the most processed a grain can get. Preparing this with cubes of sweet potato made total sense.
Also, double Beans, baby karela, cherry tomatoes, sweet potato #kitchengarden #happiness pic.twitter.com/NFbgNrqC1a

— Nandita Iyer (@saffrontrail) November 13, 2018
Sweet Potatoes in my kitchen garden
Presently, it seems to be sweet potato season. Each time I dig under the leaves of the sweet potato patch, I strike gold. There were 4-5 sweet potatoes waiting to be used up and I decided to make this aunt-inspired recipe for dinner. I'm calling it salad for want of a better word. But it does come closest to a salad.
This vegan sweet potato salad is also perfect as an Indian fasting recipe, in which usage of some foods is permitted.
Sweet Potato Cooking tip
Contrary to its external appearance and the resistance it offers to being cut, sweet potato cooks in no time. Fresh and seasonal sweet potatoes take less than 5 minutes to cook in a pan, and even less if you have sliced it thin ( just over 2 minutes). Any cooking can be done directly in the pan and no need to boil it separately. Do not pressure cook sweet potatoes unless you are looking for a total mash.
Pin
Highlights of this Vegan Sweet Potato Salad
No grains involved

Short cooking time

Can eat for breakfast or a light meal

Naturally vegan and gluten free

Prepare in ghee instead of coconut oil if you are not vegan for a richer flavour

Crushed peanuts add great texture

A warm salad like this is great for winters

Recipe easily scaled up to make a big batch
If you love sabudana khichdi like I do, here is a healthier version made using quinoa. You can prepare this recipe using foxtail millet as a substitute for quinoa.
More healthy sweet potato recipes for you from the earlier season
Watch my video for another delicious sweet potato recipe – A Sweet Potato Chaat | Shakarkandi Chaat
[recipe-video]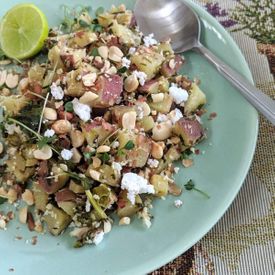 Sweet Potato Salad
Ingredients
1

large sweet potato

~250 grams

2

tsp

coconut oil

1/2

tsp

cumin seeds

2-3

green chillies

thinly sliced

1

sprig curry leaves

3/4

tsp

rock salt

juice of 1 lemon

2

tbsp

grated coconut

2-3

tbsp

finely chopped fresh coriander

1/4

cup

roasted peanuts

unsalted
Instructions
To make the vegan Sweet Potato Salad, scrub and wash the sweet potato. Cut into a 1/2" dice.

In a pan, heat the coconut oil. Fry cumin seeds until it crackles. Saute green chillies, curry leaves for a few seconds and throw in the diced sweet potato. Toss on high heat for 2 minutes.

Reduce flame, add salt, mix well and cook for 3-4 minutes.

Cover the pan for faster cooking.

Add the lemon juice, coconut and coriander and combine well.

Coarsely crush the roasted peanuts in a mortar pestle or using a rolling pin. Sprinkle this over the salad and give it a final toss.

Serve warm. Plain yogurt makes a good accompaniment to this salad. For a vegan option, use coconut yogurt.
Notes
You can try this recipe using new potatoes instead of sweet potatoes. Please note that the cooking time for the diced potatoes will be somewhat longer.
Add a handful of cooked grains to this salad to make it a heartier meal.