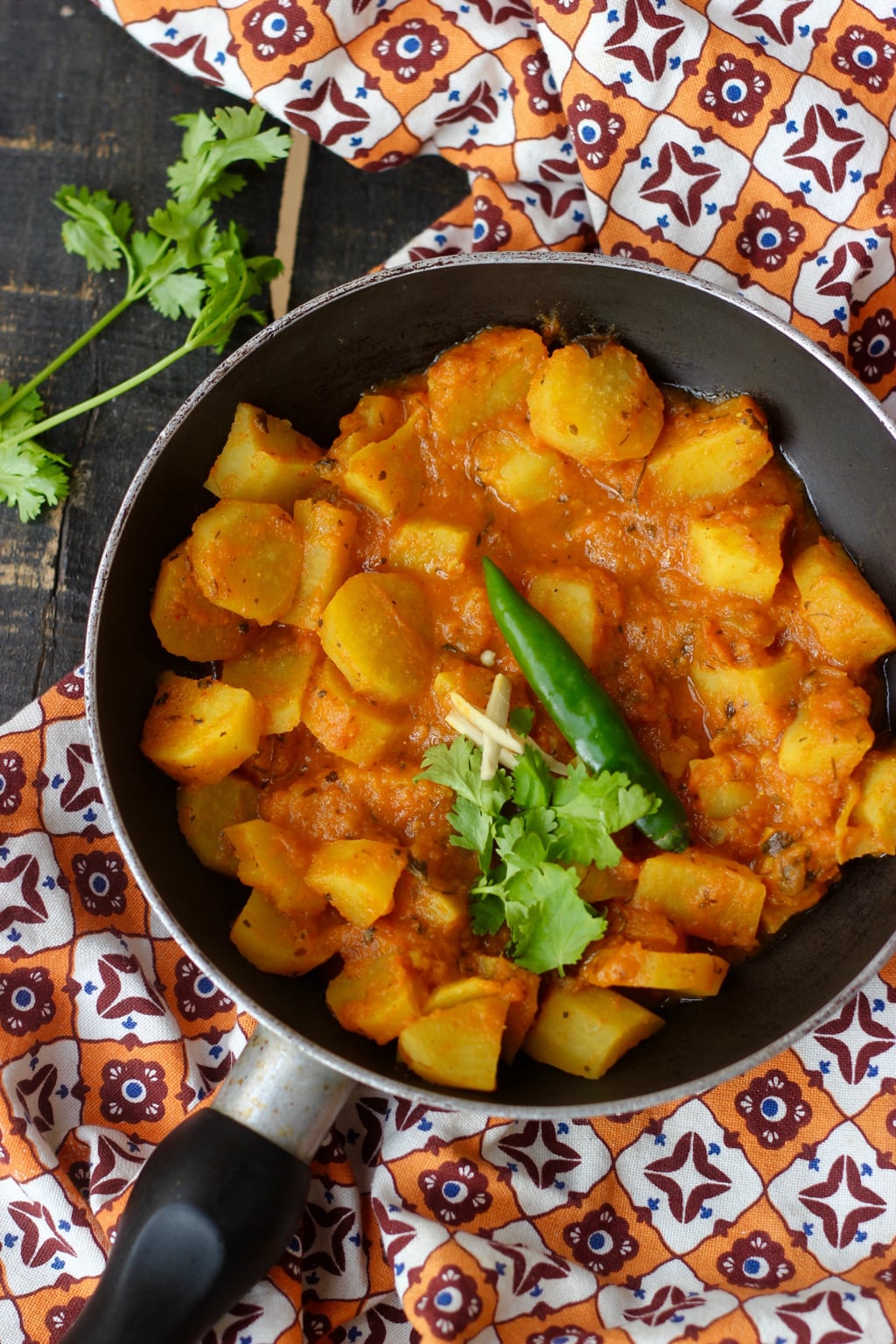 Sweet Potato Curry Recipe
Sweet Potatoes are one of the most taken for granted vegetable in most Indian households. As a kid, I would never look forward to lunch time if Sweet potato curry was on the menu. Potato…now that's a whole different story! In adulthood, we tend to get nostalgic about our traditional family recipes and what we ate (or refused to eat) as a child. There are 2-3 ways we use Sweet Potatoes in traditional Tamil Brahmin cooking. One is a simple stir fry with the classic tempering of mustard seeds, udad dal, curry leaves, dried red chillies. A garnish of fresh coconut is preferred but not mandatory. This goes best with a spicy rasam (or sambar) and rice. The other is sweet potato slices in a sambar.
Now, sweet potatoes are all the more special to me! These were harvested from my kitchen garden after longingly looking at the purple-black plant creep into all the free spaces of my garden. The purple leaves added so much colour and contrast to the mostly green space. I was thrilled that our little dig into the soil did not go entirely unrewarded. At least 2 kilos of sweet potatoes were unearthed. And what an amazing feeling to cook and consume a vegetable which only half an hour ago was a root buried deep into the soil.
If you've cooked with sweet potatoes, you'll know that they are deceptive little buggers. SO TOUGH TO CHOP and so easy to cook. When you're busting your hand with the knife trying to cut them into fairly even pieces, you'll wonder if they'll take an hour to cook, because they feel so stony. This is completely misleading as they cook on the stove-top in no time, in almost half the time that potatoes of the same size take to cook.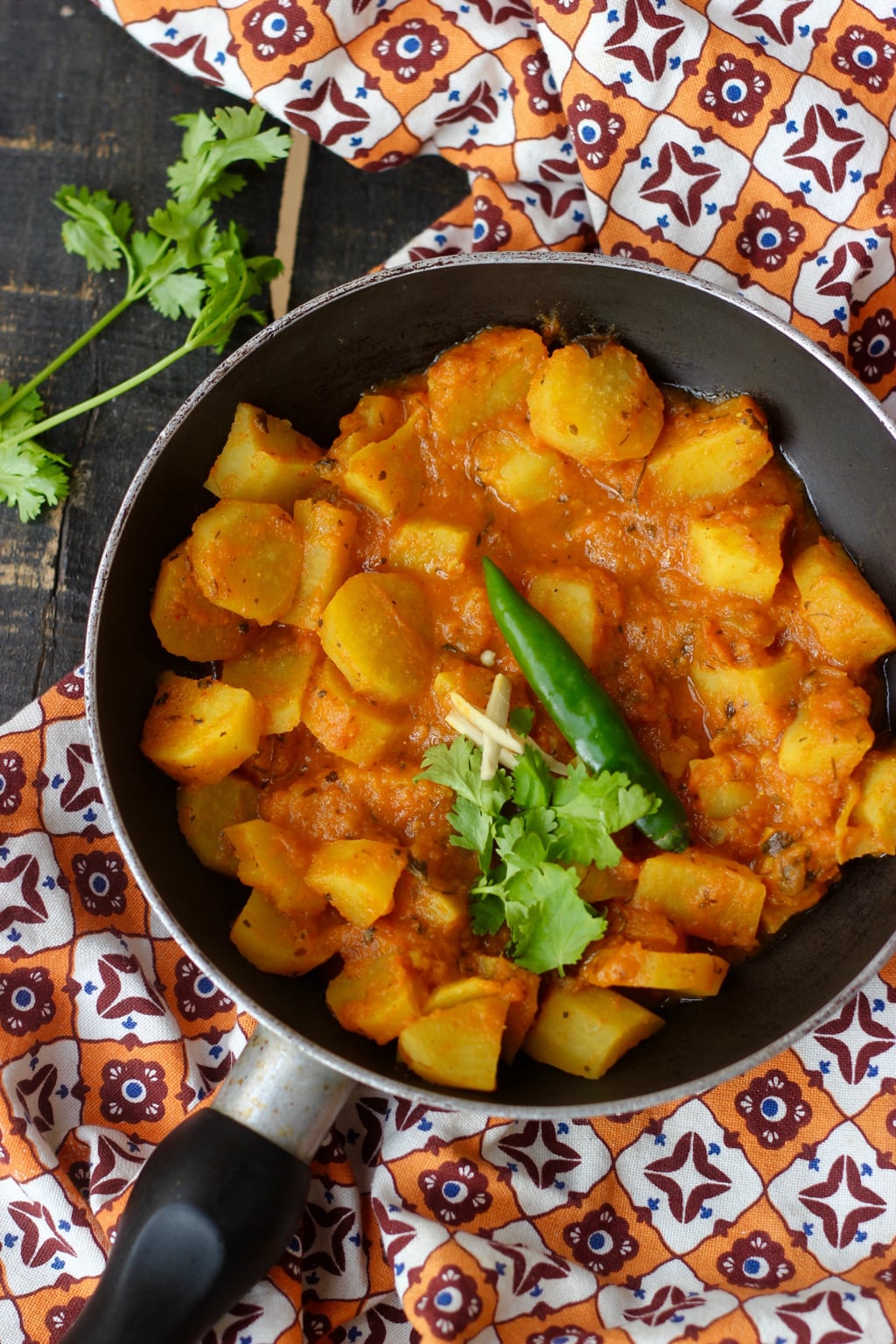 The recipe I've shared here is not our traditional style of preparing sweet potato, but a typical North Indian ginger-garlic-tomato-onion base that adds a lot of flavour to the very mild sweet potatoes. Keep the curry less watery if you want to eat it with rotis and thin it down if you'll serve it with rice.
Sweet Potato Curry in Tomato Onion Base
A mildly spicy North Indian style Sweet Potato Curry that you can serve with rice or roti/ naan. The spices in the curry add lots of flavour to the mild tasting sweet potatoes. Ready in 20 minutes!
Ingredients
250

grams

sweet potato

2

tomatoes

medium

1

onion

small

4

cloves

garlic

2 - 3

ginger

thin slices of

1/2

tsp

red chilli

powder

1

tsp

coriander

powder

1/4

tsp

turmeric

powder

1/2

tsp

cumin seeds

pinch

asafoetida

of

salt

3/4 tsp

1

tsp

methi

kasoori

1

tbsp

coriander leaves

fresh
Instructions
Peel and slice the sweet potatoes into 1 cm thick slices. If the slices are too big, then cut into half moons. To prevent them from darkening, keep them in a bowl of water, or chop just when the masala is getting ready.

Cut the tomatoes in half. Using a grater, grate all the pulp, leaving the skin intact. Discard the skins.

In a blender, add the peeled and roughly chopped onion, garlic, ginger, coriander powder, red chilli powder, turmeric powder, 3-4 tsp water. Grind this to a fine paste along with grated tomatoes.

In a non-stick pan, heat the oil. Add cumin seeds. Once the seeds splutter, add the asafoetida and the ground masala paste.

Saute this for 5-7 minutes until you get a nice aroma of the spices and the onion and garlic no longer smell raw.

Add the chopped sweet potato pieces to this (draining them from the water, if you have kept them immersed in water). Add 3/4 cup water, 3/4 tsp salt and cover this with a lid. Bring to a simmer. Simmer on a low flame for 8 minutes or so until the sweet potatoes are tender. This also depends on the variety of sweet potato and the thickness of your slices, so check with the edge of a spatula if they are cooked.

Don't allow the curry to turn too dry. If it does turn dry, add little water at a time and bring to a simmer accordingly. Sprinkle crushed kasoori methi (dried fenugreek leaves) in the final stages and give it a stir.

Remove from the pan into a serving bowl, garnish with coriander leaves and serve with rice or roti.
Notes
Serving Suggestions: Serve with steamed rice or roti /naan / parathas.
You can prepare the same curry using Pumpkin, Potatoes, Zucchini, Paneer or Tofu instead of Sweet Potato. Do modify the cooking time as per the main ingredient used.