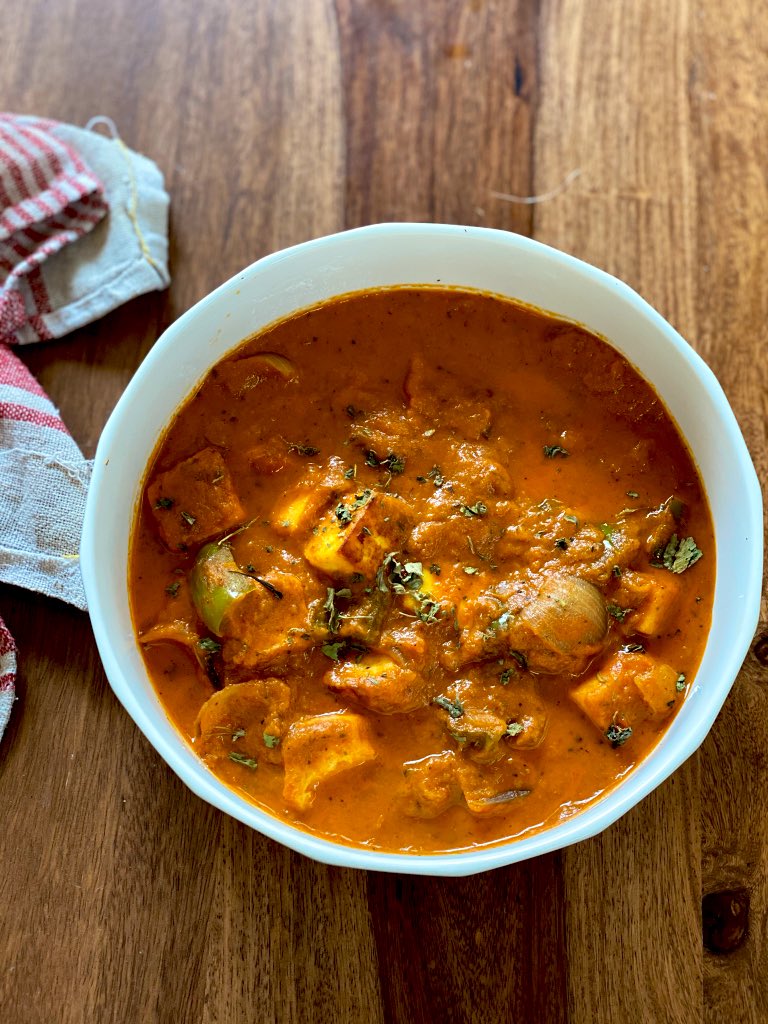 Make restaurant-style kadhai paneer at home using my tried and tested recipe. Guaranteed to please your family and friends.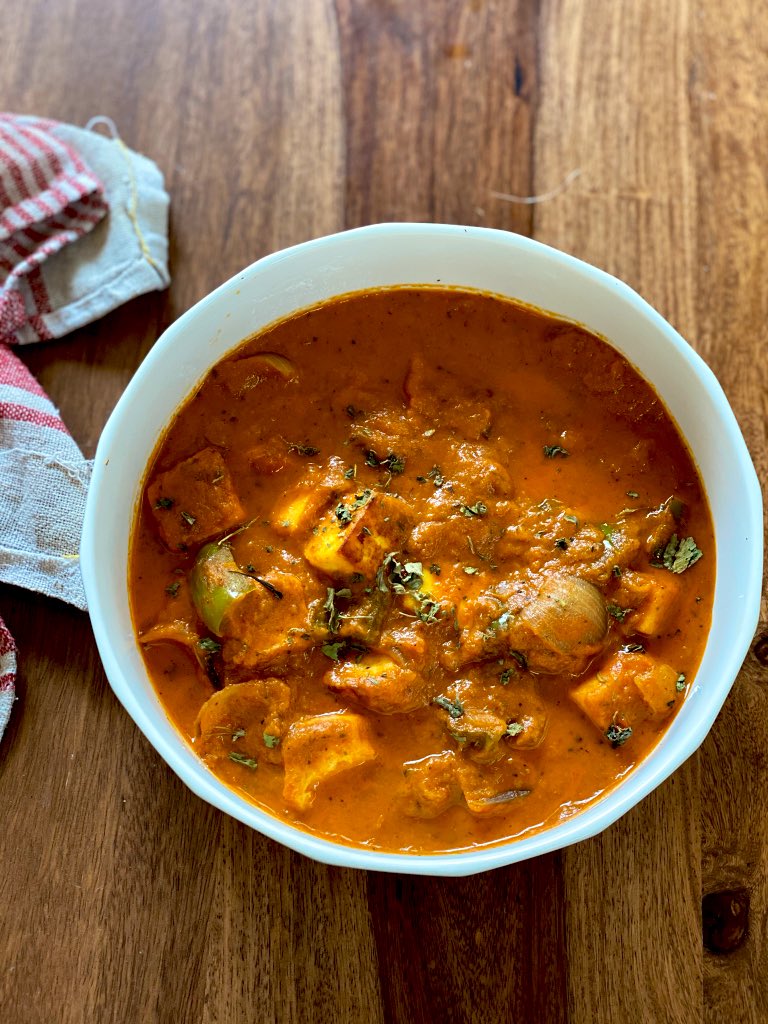 Pin
If you're a fan of paneer dishes like me, then I'm sure Kadhai Paneer holds a special place in your heart. The combination of succulent paneer chunks, crunchy capsicum, and onion pieces, all enveloped in a silken gravy, creates a delightful experience when enjoyed with hot tandoori rotis or naans. The seemingly simple tomato-based gravy reveals its true complexity when the spices are freshly toasted and ground, adding layers of flavour to this beloved dish.
During the lockdown, I had the opportunity to learn this version of Kadhai Paneer from one of my neighbours, who generously shared her family recipe with our cooking Whatsapp group. It was an instant hit! By making a few small changes in technique and ingredients, the flavour of this dish significantly improved, and it has since become my go-to recipe.
Let's recreate the restaurant-style recipe right in the comfort of our homes, with the assistance of our reliable sous-chef, the Prestige Amica Super Mixer Grinder.
Stay tuned as I'll share more about this fantastic addition to my kitchen during the course of this blog post!
6 Tips to Create the perfect restaurant-style Kadhai Paneer at Home
Prepare the Kadhai masala by toasting and grinding the spices fresh for enhanced flavours.
Opt for high-quality malai paneer. Dice the paneer and soak it in warm salted water while you prepare the masala, vegetables, and gravy.
Use a reliable wet grinder to grind the gravy paste, ensuring a smooth texture without any graininess.
Take care not to overcook the green capsicum pieces, allowing them to retain their vibrant green colour and crunchy texture in the final curry.
For a vegan variation, substitute firm tofu for paneer and use oil instead of ghee. This curry is naturally gluten-free.
To achieve a creamier gravy, consider stirring in 2-3 spoonfuls of fresh cream just before the final simmer.
These tips will help you create a delicious and restaurant-style Kadhai Paneer that you and your family are sure to love.
Meal Prep that helps making cooking easier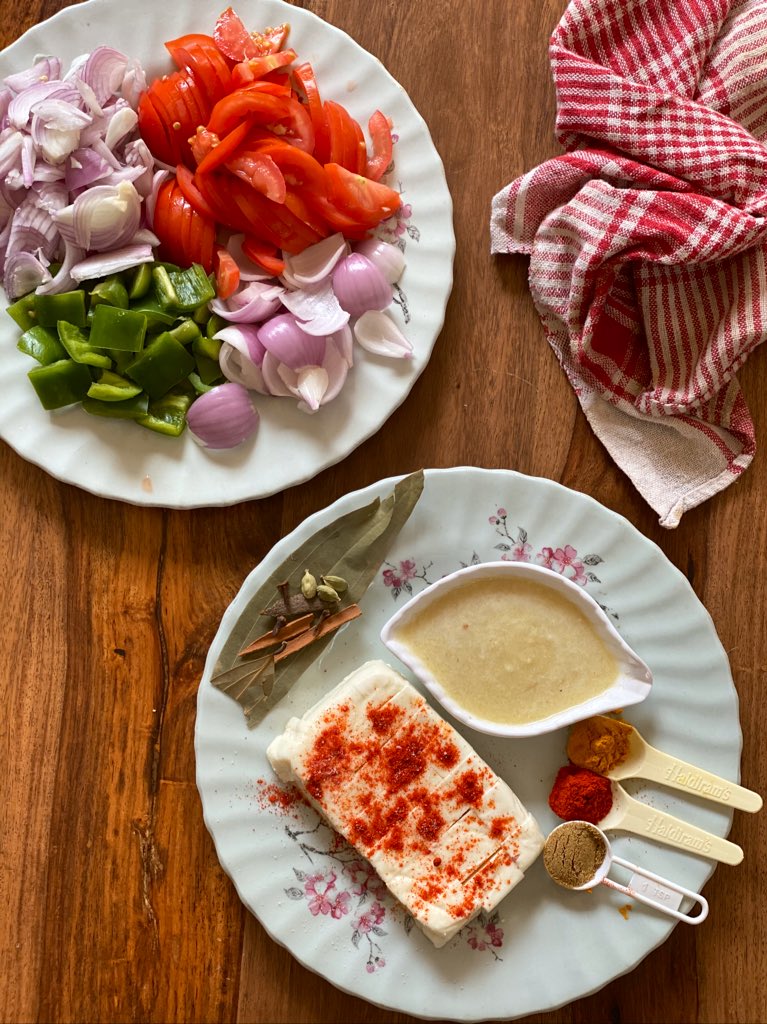 Pin
Preparing these elaborate Indian curries may seem time-consuming, but thanks to the Prestige Amica Super Mixer Grinder, it becomes effortless. The food processor jar, equipped with various blades, makes chopping onions and tomatoes a breeze. Whether it's ginger garlic paste or freshly ground spice powders, the powerful mixer simplifies the preparation process. The kneading blade in the food processor makes it convenient to prepare atta for rotis or parathas to serve with kadhai paneer.
The Prestige Amica Super Mixer Grinder has a range of very useful features that make it a must-have appliance for Indian kitchens. From grinding dry and wet masalas, making chutneys, juicing citrus fruits, regular juicing, chopping vegetables for curries or salads, to kneading doughs, this versatile appliance can handle it all. It truly combines functionality and convenience, making cooking tasks much more manageable.
Looking for more such easy curry recipes?
Recipe for my everyday curry in 20 minutes
RECIPE FOR RESTAURANT-STYLE KADHAI PANEER
A step by step recipe to prepare this popular Indian curry at home
Ingredients
For kadhai masala
2

dried red chillies

2

tsp

coriander seeds

1/2

tsp

fennel seeds

1/2

tsp

cumin seeds
Other ingredients
200

g

malai paneer

½

tsp

Kashmiri red chilli powder

pinch

of salt

1

medium-sized green capsicum

1

medium-sized onion
For gravy
1

tbsp

butter

1

tbsp

oil

mustard oil

1

bay leaf

1-2

cinnamon pieces

2

green cardamoms

3

cloves

1

large onion

finely chopped (1/2 cup)

2

tsp

ginger garlic paste

2

medium tomatoes

grated (peels discarded)

1

tsp

ghee

1

tsp

Kashmiri red chilli powder

1/4

tsp

turmeric powder

2

tsp

coriander powder

3/4

tsp

salt

1

tsp

kasuri methi powder
Instructions
To prepare the kadhai masala, dry roast the spices for the kadhai masala in a pan over low flame for 3-4 minutes until fragrant. Allow them to cool, then grind them into a fine powder using the chutney jar of the Prestige Amica Super Mixer Grinder. Set aside.

Marinate the diced paneer in ½ tsp Kashmiri red chilli powder and a pinch of salt. Let it rest for 10 minutes.

Cut the capsicum into ½-inch squares. Quarter the onion and separate the layers to obtain single-layer onion pieces.

Heat 1 tbsp butter and 1 tbsp oil in a pan. Sauté the paneer cubes over medium flame until golden on all sides. Drain well and set aside.

In the same pan, sauté the onion and capsicum for 1-2 minutes until slightly softened. Drain and transfer them to a dish. Keep aside.

In the same butter-oil mixture, add the whole spices (bay leaf, cinnamon pieces, green cardamom, cloves) and fry for a minute until aromatic.

Add finely chopped onions and ginger-garlic paste to the pan. Sauté for 5-7 minutes until the onion becomes soft and golden brown. Add grated tomatoes and sauté for another 5-6 minutes.

Remove and discard the bay leaf, cinnamon, and cloves. If desired, you can also remove the cardamom for a milder flavour. Transfer the remaining contents of the pan to the chutney jar or wet grinder jar. Grind to a smooth paste, adding a few tablespoons of water if needed.

Now, the prep work for the kadhai paneer is all done and it is time to put it together.

Heat 1 tsp ghee in a pan and stir in 1 tsp Kashmiri red chilli powder. This will give a vibrant red colour to the gravy.

Add the prepared spice paste, along with turmeric, coriander powder, and salt. Mix well and let it simmer for 1-2 minutes.

Incorporate the paneer pieces and sautéed onion-capsicum into the gravy, along with the prepared kadhai masala. Gently stir to coat the ingredients. Allow it to simmer for 1-2 minutes.

Finally, crush the kasoori methi between your fingertips and sprinkle it over the prepared kadhai paneer. Serve hot with rotis.

Enjoy your homemade restaurant-style kadhai paneer, made with the help of the Prestige Amica Super Mixer Grinder!
Notes
To add an extra kick to your kadhai paneer, you can substitute regular chilli powder for Kashmiri chilli powder or incorporate 1-2 green chillies into the tomato-onion gravy base. 
This delightful recipe is presented in collaboration with Prestige and their latest offering, the Prestige Amica Super Mixer Grinder. For further information about this appliance, feel free to explore more details here.
Before You Leave
This post may contain affiliate links for some products. As an Amazon affiliate, I may earn a small commission if you purchase something by clicking on my link, at no extra cost to you. It helps support the blog. Thank you
Pin