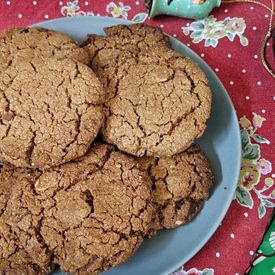 Recipe for  healthy oats peanut butter cookies. Recipe  uses 100% oats and no eggs or butter used – one bowl mix and bake
Pin
When I set out to make these oats peanut butter cookies yesterday, I had no intention of putting them up on the blog. I was merely indulging in a tinkering-around-with-the-oven exercise.
Our community has a very vibrant cooking group. Almost everyone seems to be a highly involved, precise and brilliant cook. I am always eager to learn dishes from those who care to share. Remember the pickle making session with my neighbour Tulsi aunty that I had shared in an earlier post?
Hema, another passionate baker in my community once indulged me with a taste of her healthy chocolate orange and almond cookies. They were so good that I could not stop at one. The next time she made me taste her oats peanut butter cookies and shared the recipe for the same. I decided to give it a try with a little bit of tweaking.
After my son's birthday sleepover featuring waffles for a bunch of 10 sleepover kids, I had stocked up on a few toppings for the waffles. These included blueberry compote, whipped cream, Nutella and a new product I had spotted in the supermarket – a cocoa almond spread.
To complement the ground almond and the almond extract in these cookies, I decided to add this cocoa almond spread to the mix, cutting down on the overly peanut butter flavour in the cookies. This, for me does tend to get a bit overwhelming.
Pin
The result was miraculously good.
Both the taste and the texture of the cookies turned out better than most cookies I have baked. This felt like a Christmas miracle, alright.
I don't consider myself an expert baker but this 100% oat flour and peanut butter cookie turned out just brilliant today! pic.twitter.com/rKp4h5WHOo

— Nandita Iyer (@saffrontrail) December 17, 2018
I shared the picture of the cookies on my Twitter. There were just about enough requests for the recipe making me believe that putting it up on the blog would be a good idea.
Why you should try these Oats Peanut Butter Cookies
These are flourless – 100% oats only

A good dose of protein and healthy fats by way of peanut butter

Nutella or cocoa almond spread is optional. This makes it more delicious and indulgent for the Christmas season

Ground almonds bring in more healthy fats and great for kids who pick out whole nuts

Chocolate chunks! Who doesn't like chocolate chunks in a cookie?

This is a one bowl cookie if you don't count the bowl used to microwave the peanut butter

You can easily make this vegan
I hope you are convinced about the goodness of these cookies! Here's the easy recipe for the Oats Peanut Butter Cookies
Equipment required to prepare Oats Peanut Butter Cookies
Mixer to grind oats and almonds
More easy cookie recipes for you
Xmas special Spiced Thumbrint Cookies
Healthier Chocolate Chip Cookies
Extra Chewy Extra Chocolatey Chocochip Cookies  (from Geronimo Stilton!)
Extra Crisp Ginger Cookies (perfect for Christmas)
One Bowl Healthy Coconut Cookies
Savoury Rosemary Coconut Cookies
Pin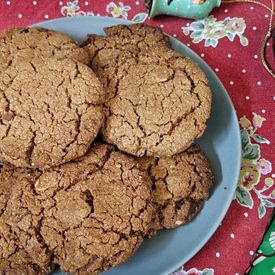 Oats Peanut Butter Cookies
Ingredients
2

cups

instant oats

heaped

1.5

tsp

baking powder

1/3

cup

almonds

3/4

powdered jaggery

or use soft brown sugar

1

cup

creamy peanut butter

1/2

tsp

almond extract

1

tsp

vanilla extract

3-4

tbsp

almond cocoa spread*

or use peanut butter instead of this

1/2

cup

chocolate chunks

2-3

tbsp

milk

dairy or non dairy or use water
Instructions
To make these oats peanut butter cookies, in a mixer jar, grind the oats to a coarse powder along with the baking powder. Remove into a large bowl.

Grind the almonds to a coarse powder and add to the oats in the bowl.

Mix in the powdered jaggery. Combine the dry ingredients well.

Take the peanut butter in a microwave safe bowl and microwave for 1 minute so it is somewhat melted and easy to mix with dry ingredients.

Add this to the bowl along with the vanilla and almond cocoa spread. I have used the Hershey's brand of spread because I had a surplus of this lying in the pantry. You can also use Nutella or just replace this with extra peanut butter alone. I like the cocoa almond spread because it cuts the excessive peanut butter taste in the cookies, giving them a richer chocolatey flavour.

Using a sturdy spoon, mix all of this together in the bowl. If the mixture is still dry and not coming together you can use 3-4 tbsp of almond milk or regular milk or even warm water to bring it to a smooth dough like consistency.

Mix in the chocolate chunks.

Divide into 16 portions for large cookies 3" diameter or 32 portions for smaller cookies.

Preheat the oven at 180°C. Line a baking tray with silicon mat or parchment paper.

Roll each portion of cookie dough into a ball and then flatten to around 1/2 inch thickness. Place on the prepared baking tray leaving around 1" space between cookies.

Bake for 12-13 minutes. Allow to cool on baking tray for 5-10 minutes. Remove with a metal spatula and cool on a wire rack for 30 minutes before packing them into an airtight container.
Notes
Learn how to make peanut butter at home from my video
[recipe-video]
To get all my latest recipes and news straight into your mailbox, subscribe to my mailing list here and get a free copy of my e-book specially put together for you – The Ultimate Salad Master Table that will have you making salads like a pro HERE
For more such healthy recipes, get my book The Everyday Healthy Vegetarian! Get all the info about my book and order it here.
Like what you see here? Stay connected with me on Instagram, Facebook, BlogLovin' and Pinterest.