A compilation of 80+ Tamil Vegetarian Recipes – Tamil Traditional Vegetarian Food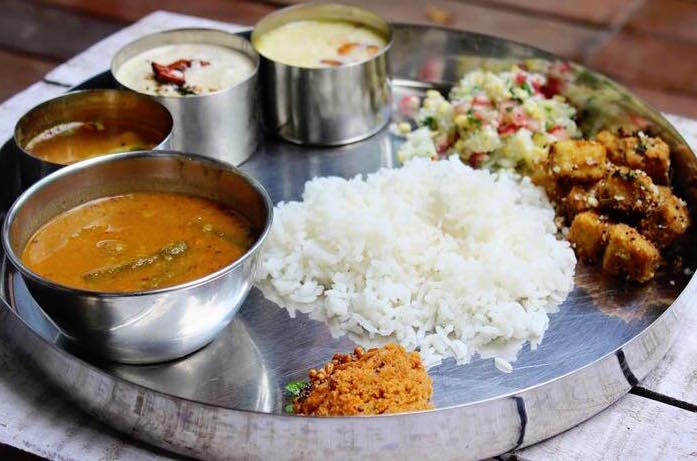 Get 80+ authentic Tamil Vegetarian recipes you are looking for.
I have learnt these recipes for Sambar, Kootu, Curries, Kuzhambu, Rice varieties, Tiffin varieties, Filter coffee etc. from my mother, aunts, grandma and various other relatives in my family.
I note them down in my blog for my own reference and also for those who miss a particular dish cooked in their home, and get nostalgic for the same when they live away from their family. There may be some variations between family to family. Right from my great grand parents, my maternal family has lived in Bombay, so there may be some changes they may have made to adapt to the locally available stuff.
Most of the recipes shared here are very simple, fuss-free with a reasonably small list of ingredients.
My all time favourite dishes here are Avial, Puliyodharai, Mysore Rasam and Podimaas! Do enjoy the recipes here, some of which come with stories, with a steaming hot tumbler of kaapi on the side 🙂
If you have a recipe in mind that you are looking for and don't find here, do email me on saffrontrail [at]gmail[dot]com and I shall be happy to try my best to include it.
TAMIL VEGETARIAN RECIPES INDEX
ACCOMPANIMENTS – CONDIMENTS
How to make filter coffee / South Indian filter kappa | Video for Filter Coffee
Panakam (a traditional cooling drink prepared for Rama Navami)
Molaga Manga / Instant Raw Mango Pickle – my mother's recipe
Molaga Podi – video
Ellu Podi (Sesame seed podi) – video
Karuveppala Podi / Curry leaf powder – video
Poosanikkai Pachidi (Pumpkin Raita)
Nellikai Thair Pachidi (Amla Raita)
Pazham Pachidi (ripe banana raita)
Sutta Kathrikkai Pachadi (roasted eggplant raita)
Peerkangai Thogayal (Ridge Gourd chutney)
Thenga Thogayal (Roasted coconut chutney)
Thakkali Chutney (Tomato Chutney)
Vengaya Chutney (Onion Chutney)- video
Chow Chow (Chayote Squash) Thogayal
SAMBAR, RASAM, KUZHAMBU VARIETIES 
Beetroot sambhar (Beets and lentils)
Vengaya Sambar (onion sambar)
Vendakkai Sambar (okra sambar)
Pavakkai / Parikkai Pitla (bittergourd sambar)
Arachuvitta Sambar – a step by step guide
Pumpkin Arachuvitta Sambar – Video
Thalagam (Thiruvadarai special)
Mor Kozhambu (buttermilk curry)
Mango Moar Kozhambu – my grand aunt's recipe
Moar Keerai (Spinach and yogurt)
Venthiya Kozhambu – Fenugreek seeds
Brinjal Moar Kuzhambu – adapted from Meenakshi Ammal's book
VEGETABLES: CURRY – KOOTU VARIETIES
Urulaikizhangu Roast – Potato dry curry
Urulai Podimaas – video
Avarakkai Curry (Sword beans dry curry)
Sakkaravalli kizhangu curry / Sweet potato curry
Carrot curry / Poriyal
Karamani poriyal / Yard long beans
Vendakkai Curry (Okra dry curry)
Vazhaithandu Curry / Plantain Pith / Banana stem curry
Vazhakkai Curry (plantain dry curry)
Vazhakkai Podimaas(raw banana dry curry)
Kathrikkai podi curry (Brinjal curry with lentil powder)
Kathrikkai Gothsu (Roasted eggplant curry)
Kovakkai Paruppu Usili (Ivy gourd with lentils)
Double beans with greens sundal
Keerai Masiyal (spinach mash)
Potato in Tamil Brahmin cuisine
Keerai Milagoottal / Keerai Koottaan (Spinach and lentils)
Pudalankai Kootu (Snakegourd)
Cabbage Kootu – video
Karamani Curry (Chowli / yard long beans)
Cauliflower Peas Koottu – My mother's recipe
RICE VARIETIES
Ellu Saadham / Sesame rice
TIFFIN VARIETIES – BREAKFAST
Tips and tricks for a perfect dosai – video
Murunga elai Adai – Drumstick leaves adai – video
Upma kozhakattai (Steamed rice dumplings)
Arisi Upma / Idli Ravai Upma
PuLi Aval – my great grand mother's recipe
Masala Vadai – my friend Bharath's recipe
Dosai – Tips and tricks to make the perfect dosa
Thinai Upma – Millet Upma
Thinai Idli – Foxtail Millet Idli
Masala Dosa (video)
Kadalaparuppu Sundal – Chana Dal Sundal – video
Oats Pongal – video
SWEETS – FESTIVAL FOOD
Teratti paal (Traditional milk fudge)
Thiruvadarai Kali and Thalagam
Microwave Maladoo (besan laddoo)
Gokulashtami Bhakshanam photo
Badam Kheer / Payasam