how to make a healthy homemade granola
[Originally published on July 2, 2014. Updated and edited on Feb 2, 2021.]
True to my south Indian genes, I like my breakfast  hot and savoury. Top of the list are dosai, upma (can't get all the upma haters out there), pongal (if someone makes it for me), idlis (with some good accompaniments). Add to that my Mumbai-girl background and there is poha, sabudana khichdi, thaalipith and the whole world of Maharashtrian and Guju breakfasts that I totally love.
Tips to make the perfect dosai
But on lazy mornings when I'm in no mood to make a hot breakfast for one, or on hurried mornings, when every second counts, nothing beats cereal and milk.
It also makes the perfect midnight food to console a stomach ravaged by hunger pangs when you stay up late writing or binge-watching the latest thing on Netflix.
What's the difference between muesli and granola?
For one, granola originated in the United States, while muesli was created by physician and nutritionist, Bircher-Benner, in Switzerland.
Given that muesli was created as a health food by a physician, it is fat-free, sugar-free and even salt-free. It's a bunch of grains, fruit and nuts mixed together.
The mix not cooked or baked before packaging. It's soaked in milk or yoghurt and had as it is for breakfast. Now the American version, like most American foods, loves its fat and sugar,
Here, the grains, fruit and nuts are tossed in sweeteners and fat and baked until crisp, and of course, this tastes delicious, but it's not exactly the healthiest breakfast for you
Granola bars have quite become the in-thing in Indian metros these days, whether it is carrying your breakfast bar as you rush out for work, a post-workout bite or a post-school healthy munch for your kid.
You do get some commercial brands but one look at the nutrition label will tell you that they are very high on sugar, fat and sodium, three things you want to eat judiciously if you are concerned about your health or your waistline.
Most use liquid glucose, sugar syrup, soy lecithin and many other additives and preservatives too. Also, if you further analyse that nutritional label, in some of these bars, nearly half the calories come from fat, so it is hardly a balanced nutrition product
So how do you make a breakfast cereal mix at home?
Our aim is to make it nutritious like muesli but tasty like granola.
Choose your favourite grains, whatever dried fruit you have on hand, some bran for extra fibre, nuts and seeds to provide the healthy fats, flavouring such as vanilla, cinnamon or ginger and good quality honey, mix together, press down in a baking tin and bake until set and crisp.
You have a delicious yet healthy homemade granola for breakfast ready. When you prepare this at home, you can control the salt (I add just a pinch), you can use the best quality ingredients and just enough sweetening.
Commercial brands need to add a LOT of sweetener otherwise it won't bind as a bar. Homemade granola, on the other hand, you can always store in a jar and crumble it in your bowl before adding the milk or yoghurt.
This is also a fun snack to munch on as it is, for kids, when they come back from school. Mix in some fresh fruit and you have a healthy source of calories for a tired kid.
It is also great to make your own granola when you have dietary restrictions. It is easy to make a gluten-free granola by choosing grains that are glutenfree such as quinoa, amaranth, rice etc. and easy to make vegan by using coconut oil, maple syrup or jaggery syrup instead of honey.
Create your own healthy homemade granola recipe
Check the table below on what to add to your cereal mix. Feel free to play around with your favourite ingredients and make your own flavour of the week :
Homemade granola without an oven
I'm often asked this question, how to make granola if I don't have an oven. The logical answer would be to dry roast all the grains, nuts and seeds until crisp in a large heavy-bottomed pan.
Warm up the honey mixed with the flavourings, toss all the ingredients in this and allow to set in a wide tray. Once the homemade granola has cooled, crumble and store in an airtight container
Where to buy some of the ingredients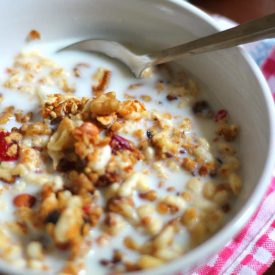 Homemade healthy granola
Ingredients
2

cups

puffed grains

rice/wheat/jowar

1 1/2

cups

rolled oats

3

tbsps

flaxseeds

3

tbsps

sesame seeds

1/2

cup

chopped almonds

1/2

cup

chopped walnuts

1/4

cup

coconut chips

1/2

cup

chocolate chips or chopped bar

1

cup

dried fruit

cranberries, raisins, chopped apricot

1/2

cup

honey

1

tsp

vanilla extract

1

tsp

ground cinnamon

pinch

salt

2

tbsp

coconut oil

or ghee
Instructions
To make healthy homemade granola, start by lining a large baking tray with baking paper. Lightly grease with fingertips dipped in ghee/oil and keep aside.

Preheat the oven at 150°C for 10 minutes.

Place the puffed grains, oats, seeds, nuts and coconut chips in a large bowl.

In a small saucepan or in the microwave, slightly warm the honey with the salt, vanilla and cinnamon, until it is a little runny and whisk well till all the flavourings are mixed into the honey.

Wait for the honey to cool a little. Add it to the big bowl of ingredients and toss until well combined along with the ghee or oil.

Tip this into the lined tray and spread out evenly.

Place in the preheated oven and bake at 150°C for 30-40 minutes. Make sure the ingredients don't burn, even though we bake this at a fairly low temperature.

Once cooled, mix in the chocolate chips and chopped and whole dried fruit (whatever you are using). Store this in a glass clip top jar with a pretty label 🙂
Notes
Shelf life: Easily stays for 2 weeks in an airtight jar. Use a dry spoon to serve.
To serve, take 1/2 cup of granola in a bowl. Add cold milk (dairy or plant-based) or yoghurt and eat immediately. You can add chopped seasonal fresh fruit to this if you wish.
My new book Everyday Superfoods is out! Get all the info about my book and order it here.
For healthy vegetarian recipes, buy my book The Everyday Healthy Vegetarian.
Like what you see here? Stay connected with me on Instagram, Facebook, BlogLovin' and Pinterest.
Disclosure: This post may contain affiliate links for some products. As an Amazon affiliate, I may earn a small commission if you purchase something by clicking on my link, at no extra cost to you. It helps support the blog. Thank you 🙂