A part of my kitchen garden is taken over by the rocket gone wild. Time and again I have written about easy it is to grow your own rocket / arugula. It's crazy how the gourmet food stores charge a bomb for what grows so easily in the Indian climate. Chutneys and pestos are my go-to ways to make use of a big bunch of rocket. I always add a couple of handfuls of rocket to any salad that I prepare these days, as I have no other lettuce variety growing in my garden presently.
This mango season, the farmer who supplies us organic mangoes straight from the farm brought in a variety called Kalapad, grown mostly in Andhra Pradesh. Starchy flesh, sweeter than any other mango I have had, smaller in size than the popular alphonso and a beautiful shape that inspired paisleys-if you find this variety of mangoes, do give it a try. The sweet succulent flesh was the perfect foil to spicy arugula.
Scored 1kg hazelnuts for 400 Mauritian Rupees or 800INR- tell me it's a steal deal! From a food exhibition at @LeCaudan this afternoon.

I only buy food things on trips abroad.#discovermauritius pic.twitter.com/E1Pni35eE3

— Nandita Iyer (@saffrontrail) May 18, 2019
On my recent trip to Mauritius, I bought a kilo of hazelnuts  from the food exhibition that was on at the Caudan Waterfront mall. I paid INR 800 for a kilo which is a proper steal, if you know how expensive these are in India. I have high hopes of indulging my son with the homemade version of the popular chocolate hazelnut spread. Let us hope I live up to my own expectations before the hazelnuts die on me. Meanwhile, I continue use it in salads like this one. The addicitive flavour of well toasted hazelnuts and the crunch make a delightful addition to this salad that already has other wonderful ingredients in it.
I do understand that it is not easy to get hold of rocket leaves or hazelnuts. Let me assure you that this will taste as good with any other greens and toasted nuts (walnuts / cashews). Adding a touch of whole grain mustard to the dressing will give the required punch that the flavour of rocket brings to the salad.
Two important techniques for this mango rocket hazelnut salad
Ensure you wash the greens well. It is as important to make sure that they are absolutely dry. Either use a salad spinner or wrap them lightly in a cotton towel to absorb every last bit of moisture. There is no bigger dampener for a salad that wet leaves.
Whichever the nuts you are using in the salad, toast them until they smell umm toasty and turn golden brown on the outside. For this purpose use a cast iron pan on low heat or lay out the nuts in a single layer on a baking tray and bake at 175°C for 10 minutes or more. Be attentive to the colour change so you can remove it out on time to avoid the risk of burning.
Uses for this Mango Rocket Hazelnut salad
Pair it with a mezze platter for a Sunday brunch

Serve with a big pasta dish for dinner to bring more veggies to the table

Make a colourful spread of 4-5 salads and call your salad loving friends over
Make a salad brunch menu using these recipes
Nutrition notes
Hazelnuts are an excellent source of vitamins and minerals (vitamin E, manganese, copper) and a good source of protein and fibre. Most of the antioxidants in hazelnuts are in the peel or skin so whether you roast them or eat them raw, try and eat it with the skin on.
Salad Making Posts That You Will Find Useful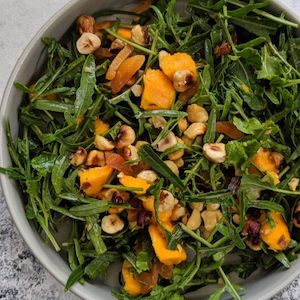 | | |
| --- | --- |
| | |
To prepare the mango, rocket, hazelnut salad, start by preparing the mango. Peel and dice the mango. Keep aside.

Wash the rocket leaves well. Dry the leaves completely using a salad spinner or wrapping in cotton towels.

Toast the hazelnuts for 12-15 minutes on a low flame or in a 175°C oven until aromatic and golden brown.

Slice the dried apricots into 1 cm wide strips.

Whisk the vinegar, oil and salt well until thick.

Toss all the salad ingredients in a bowl along with the dressing and serve immediately.
Use any other salad greens instead of rocket.
Use cashewnuts or walnuts instead of hazelnuts, toasting them similarly before using.
Jamun Vinegar is available in Star Bazaar. You can look for it in a branch in your city, if you have the store there.
For over 30 original salad recipes with detailed instructions,  get my book The Everyday Healthy Vegetarian! Get all the info about my book and order it here.
To get all my latest recipes and news straight into your mailbox, subscribe to my mailing list here and get a FREE copy of my e-book specially put together for you – The Ultimate Salad Master Table that will have you making salads like a pro HERE
Like what you see here? Stay connected with me on Instagram, Facebook, BlogLovin' and Pinterest.