This pearl millet recipe needs overnight prep in terms of soaking. That apart, this gluten free grain combined with mung dal and vegetables, makes a wholesome healthy meal. It is also an excellent recipe for diabetics.
Want to add more whole grains in your diet for their excellent health benefits?
This is one grain (high fibre, high protein, gluten free) that you must consider adding to your pantry.
Read on to find out how to use it in your day to day cooking and the best way to cook it.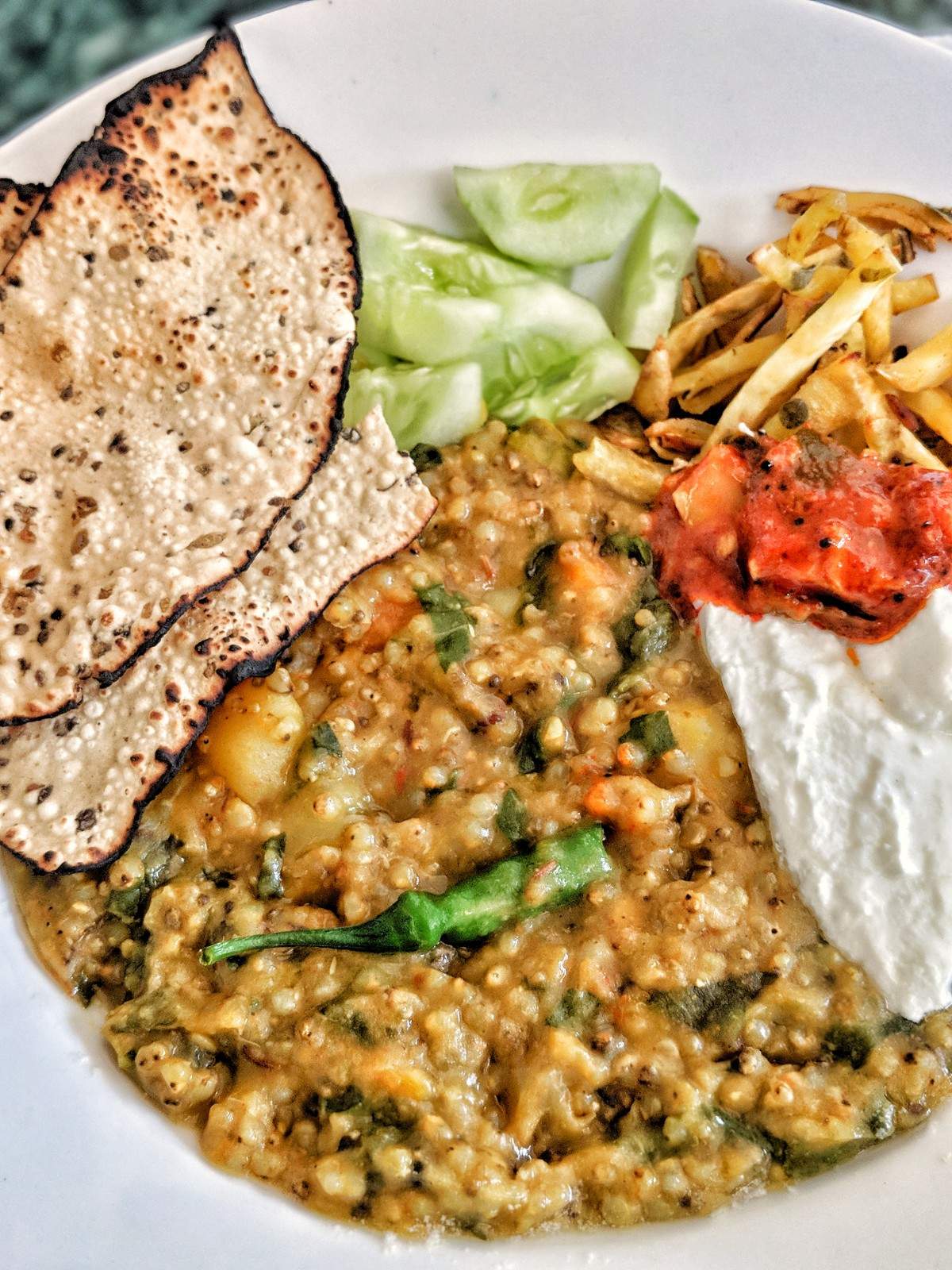 Pearl Millet in Indian languages
Tamil – Kambu
Hindi / Bengali / Odia / Punjabi – Bajra
Kannada – Sajje
Gujarati / Marathi – Bajri
Telugu – Sajja
Pearl Millet or whole bajra is an excellent whole grain to stock up in the kitchen. A lot of cooks get discouraged by the very long cooking time, labelling it difficult to cook.
It is best to soak any whole grain before proceeding to cook with it. This applies to pearl millet too.
Soaking reduces the anti-nutrient 'phytic acid' that is present in the outer cover of the grains. Soaking, sprouting or fermenting are the three techniques that must be used with whole grains to ensure that maximum nutrients are absorbed by the body.
Eating Pearl Millet – for Diabetics and Weight Loss
Pearl Millet is an excellent grain for diabetics due to its high fibre content. The carbohydrates get converted into glucose and released into the blood stream in a more gradual manner, preventing any spikes in blood sugar.
The fibre also gives a sense of fullness for a longer period after a meal with a relatively smaller portion of food making it a very good option for those attempting to lose weight.
How to cook pearl millet or bajra
A tough grain like pearl millet does good with a long soaking time – a minimum of 12 hours.
Drain the water and pressure cook with 3-4 times the water for at least 15-20 mins (after full pressure / whistle).
Cooker larger quantities at one time and refrigerate to use in other recipes to save on time and effort.
Pearl millet flour / bajra atta is used in some cuisines in India to prepare flatbreads – Gujarat / Rajasthan mainly, because of the arid climate that favours growth of this millet. Bajra is traditionally eaten in the winters because it is seen as a 'warming food' and not advocated for the summer diet.
I feel that the grain offers much more flavour and satiety than the flour, not to mention the nutritional benefits you get from eating the whole grain.
Also read: All you want to know about cooking with millets
One Pot Meal
Pearl millet (bajra) khichdi recipe prepared with moong dal and vegetables is almost like a risotto in texture. You cannot overcook pearl millet as it retains its texture very well, despite cooking for a long time. Do not mistake the chewy texture for uncooked/improperly cooked millet. When adding vegetables to the khichdi, cut into large chunks because of the overall increased cooking time.
Once you have soaked the millets for 12 hours, this makes an easy weeknight dinner. The khichdi cooks in the pressure cooker while you go about other chores. A plate of hot khichdi with your favourite accompaniments makes a comforting meal like no other on a nippy evening.
5 More Healthy Millet Recipes
Equipment / Ingredients needed to make Bajra Khichdi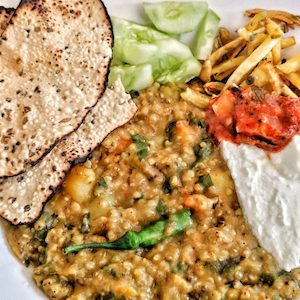 | | |
| --- | --- |
| | |
To prepare the pearl millet khichdi / bajra khichdi, soak the millet for at least 12 hours in water. This step is mandatory.

Wash moong dal. Drain and keep aside. Drain water from the millet just before preparing the khichdi.

Heat ghee in a pressure pan (~3-5 Litre capacity). Fry cumin seeds, garlic, chillies and vegetables for a minute.

Add the drained millet and moong dal along with all the dried spices and salt.

Mix 4.5 cups water into this and bring to a boil.

Lock the cooker lid with the pressure weight plugged in.

After 3 whistles, reduce flame to sim and cook for 15-20 minutes. Because of this long cooking on slow flame, it is important to add more than adequate water to the khichdi otherwise it will burn and stick to the bottom of the cooker. Beginner cooks can also transfer the entire mix with the water into another vessel that fits inside the cooker. Keep 1.5 inches of water in the bottom of the cooker. Mix in 4 cups water to the millet-dal-veg mix in the vessel and cook similarly, or possibly for 5 minutes longer on sim (20 mins after 3 whistles).

Once the pressure subsides, open cooker and stir in the finely chopped spinach into the khichdi. Keep covered for 5-10 minutes so the spinach cooks in the residual heat.

You will know that the pearl millet is cooked on tasting or if the grains have broken open.

Serve this hot along with roasted papads and sliced cucumber. Pickles and yogurt optional.
Prepare the same khichdi using any other whole grain like foxtail millet, brown rice or quinoa.
Use any seasonal vegetables like beans, sweet potatoes, green peas, pumpkin and a mix of any seasonal green leafy vegetables.
To get all my latest recipes and news straight into your mailbox, subscribe to my mailing list here and get a free copy of my e-book specially put together for you – The Ultimate Salad Master Table that will have you making salads like a pro HERE
For more such healthy recipes, get my book The Everyday Healthy Vegetarian! Get all the info about my book and order it here.
Like what you see here? Stay connected with me on Instagram, Facebook, BlogLovin' and Pinterest.