Healthy Potato Salad – Try this lighter version of a potato salad minus the mayo and the eggs,  with seasonal greens full of delicious flavours
Come winter and the new potatoes from Ooty are all over the Bangalore markets. With a thin cream coloured peel and waxy when cooked, these potatoes hold their shape well on cooking. I love to use these in a hearty potato salad.
Boiled potatoes covered with a blanket of mayo and tossed with mashed up hard boiled eggs are not my idea of a good potato salad. I like to let the potatoes breathe and shine with just a few other ingredients. Call this a lighter version or healthy potato salad or a Saffron Trail Potato Salad ???? 
You will also find a recipe for Potato and Lettuce Salad in my cookbook, which has a very interesting spicy dressing that I love.
My kitchen garden is currently producing an abundance of spinach and rocket. Rocket or arugula is one of the most flavoursome salad greens. Spinach is such a versatile green that we are happy use it in every meal of the day.
Rocket along with the whole grain mustard adds a good punch to this healthy potato salad. Sautéed spinach adds a boost of nutrients and a vibrant green colour, to give company to the rocket in this salad.
You can also try this salad with sweet potatoes or roasted pumpkin instead of potatoes.
I use the pressure cooker to boil potatoes, but you can also use the instant pot or do it in the stove top, the latter will take a lot more time though. You can prepare this salad with baby potatoes – make sure you select potatoes of a similar size though to ensure even cooking times and also for a prettier end result.
Another flavour combination for this healthy potato salad
I also like to give this salad a Middle Eastern flavour by using Za'taar, sumac and smoked paprika as the spice combination.
No more onion breath!
Whenever I add onions to a salad, I prefer to give it the vinegar or lemon juice treatment. Soaking thinly sliced onions segments in a mix of vinegar or lemon juice and salt, softens the onions (cures them), takes the bite off and makes it much more flavourful. Also, a lot of people (including myself) do not like biting into a piece of raw onion in a salad for two reasons. I find the flavour of raw onion too strong and am also not a fan of onion breath it leaves behind after the meal. Try this technique whenever you have to use onions in a salad. Trust me, you will never go back to using onions raw. I've used this same technique while adding onions to my watermelon feta salad
More Delicious Potato Recipes From My Blog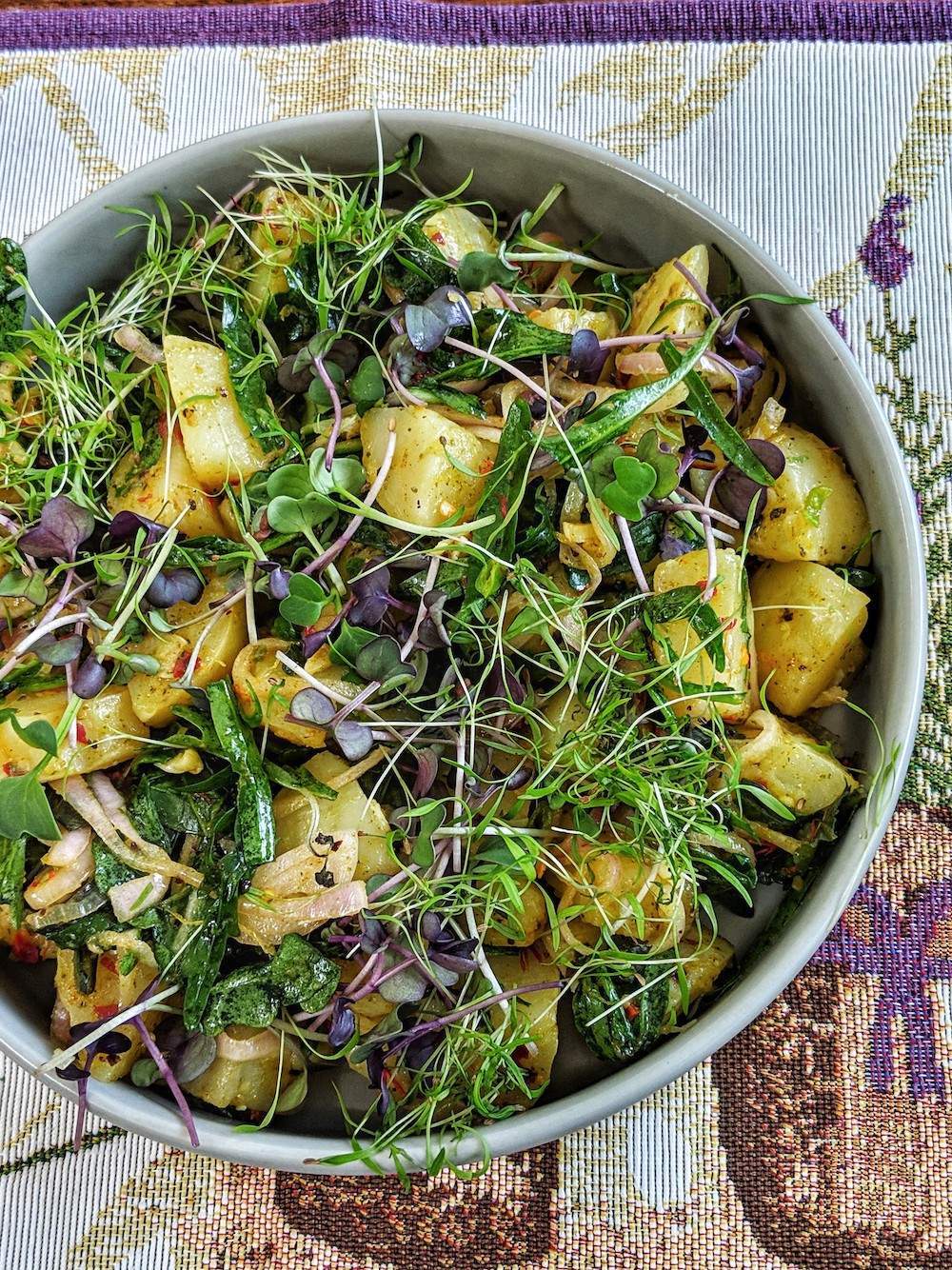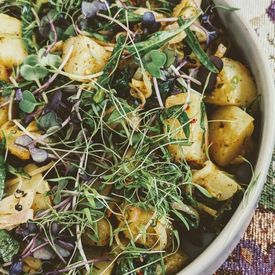 | | |
| --- | --- |
| | |
Pressure cook the potatoes by placing them in a vessel that fits inside the cooker. Pour water inside the cooker, around 1", cover and place the whistle. After one whistle (full pressure), turn the flame to minimum. Turn off heat after 10-12 minutes. This is valid for medium sized potatoes ~100 gram each. For larger or smaller potatoes, adjust cooking times.

Once cool enough to handle, peel the potatoes and dice into 1" size. Immediately toss in 1-2 pinches of salt and keep aside.

Separate the sliced onions into segments and toss in vinegar and 1/2 tsp salt. Keep aside in a bowl covered for around 15 minutes. You can do this while the potatoes are cooking. Meanwhile, prep all the other ingredients.

Wash and dry the rocket leaves. Use a salad spinner or dry gently between two cotton towels.

Wash and pat spinach leaves dry. Chop roughly.

Heat olive oil in a pan to moderate heat. Fry the chopped garlic for 30 seconds. Add chopped spinach and stir fry on high heat for 30 seconds, or until wilted. Transfer this over the potatoes.

Allow this to cool for 10 minutes and then add the rocket leaves, so it doesn't get cooked in the heat.

Squeeze out the onion from the vinegar mixture and add to the salad.

Combine the mustard, chilli flakes, dried herbs and black pepper along with the potatoes and the rest of the ingredients in the bowl. Add 1 tbsp of the vinegar in which the onions were soaking. Toss well to combine and remove into a serving dish. Serve warm.
No rocket or arugula? Use any green leafy vegetables that you can find and that are in season, such as mustard greens which are available in winters
To get all my latest recipes and news straight into your mailbox, subscribe to my mailing list here and get a free copy of my e-book specially put together for you – The Ultimate Salad Master Table that will have you making salads like a pro HERE
For more such healthy recipes, get my book The Everyday Healthy Vegetarian! Get all the info about my book and order it here.
Like what you see here? Stay connected with me on Instagram, Facebook, BlogLovin' and Pinterest.