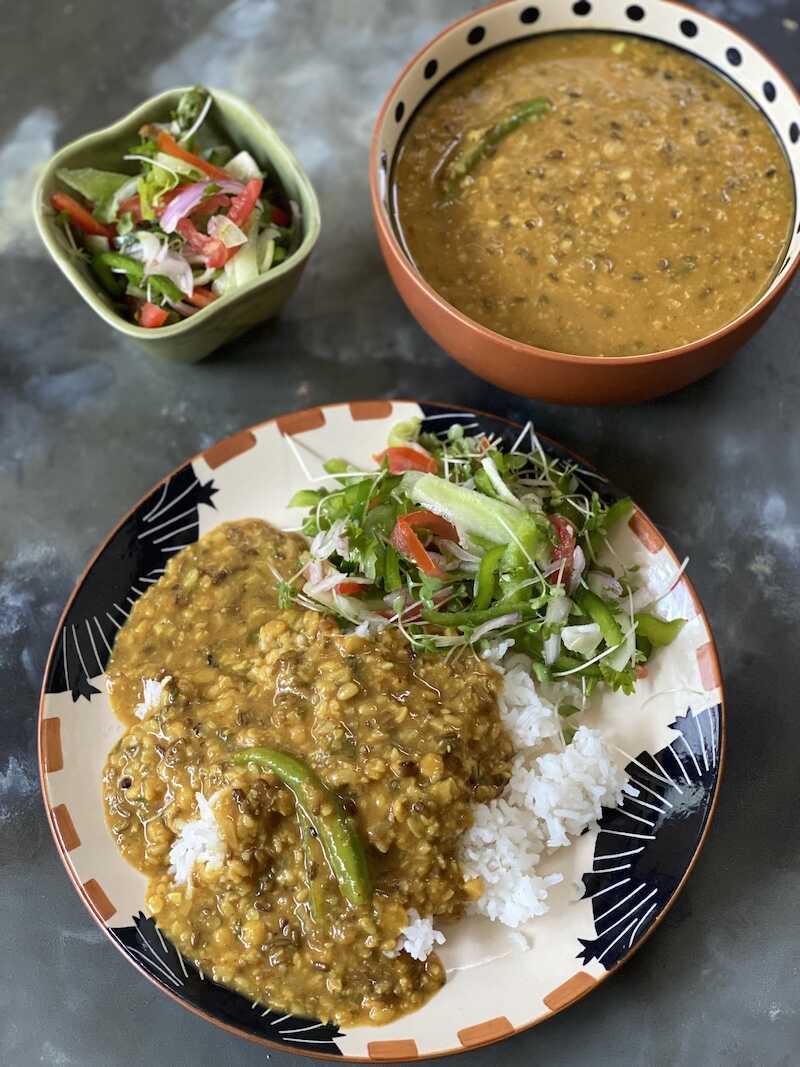 How did I end up hearing about keoti dal and cooking it in my kitchen?
Dal is the most basic component of our everyday meals at home. And yet, when someone mentions a new dal recipe, a favourite from their home using a different combination of dals, or a slightly different tempering, it is enough reason to get excited about trying it out.
I first heard of keoti dal when author and Ganga Jamuni Tehzeeb expert, Rana Safvi, tweeted about it last year. I promptly bookmarked the tweet. The beauty of Twitter is not just the tweet but the wealth of information that people share in the responses. And the responses to this tweet did not disappoint.
I have no idea why it's called keoti but this mixture of dhuli urad and Chana Dal is my favorite. With Desi ghee ka baghar of course pic.twitter.com/Tyye3kudhI

— Rana Safvi رعنا राना (@iamrana) September 14, 2021
The meaning of the term 'keoti'
S.W. Fallon's A New Hindustani English Dictionary is my go-to place to check the meanings of any Hindustani words, especially when I want to know the meaning of a word in a bandish (a type of song in Hindustani classical music) I'm learning. This is the entry I found in the dictionary for the word keoti.
   H کيوتَي केवटी keo'ṭī, keokī, pach-mel dāl, n. f. Different kinds of pulses mixed together.
Sitanshu Singh tweeted a possible reason as to why it is called Keoti dal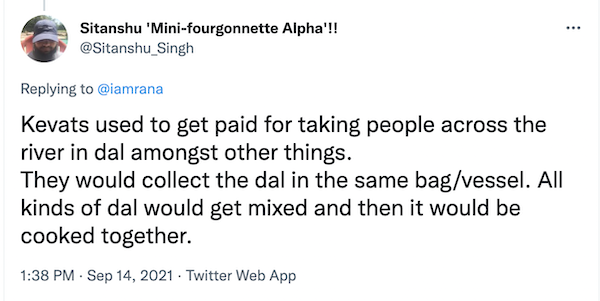 Pin
Some more home truths about keoti dal
Rana Safvi's tweet had a flurry of interesting responses that got my interest piqued even further.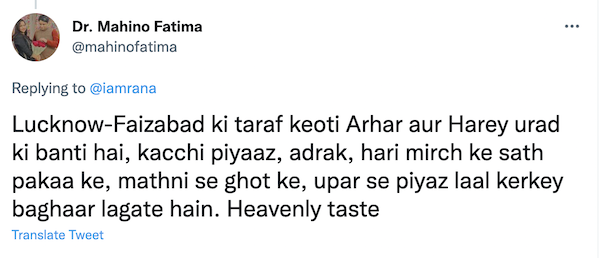 Pin
Dr. Mahino Fatima shared that in Lucknow-Faizabad areas, keoti dal is made using tur dal and green urad dal which are cooked along with onions, ginger and green chillies. This cooked dal is mashed and is topped with a tempering of browned onions for a heavenly taste.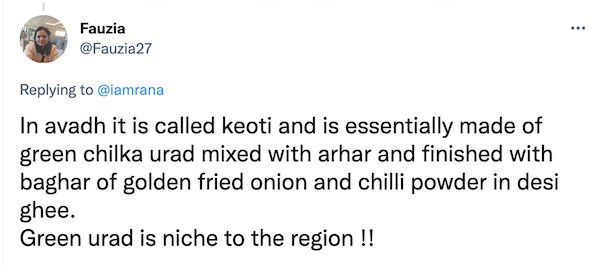 Pin
Fauzia also confirmed that a similar recipe is used in the region with the addition of red chilli powder in the tempering. "In Avadh it is called keoti and is essentially made of green chilka urad mixed with arhar and finished with baghar of golden fried onion and chilli powder in desi ghee. Green urad is niche to the region !!" Fauzia's description makes me want to get green urad and try this out asap.
Some others in the responses swore by the arhar (tur) in place of chana dal along with split urad.
Other names for keoti dal
Some other names that keoti dal goes by are urad-chane ki dal, Ganga-Jamani dal, arhar-mash dal, chana-urad ki dal.
Mixed dal recipes in Indian cuisine
Mixed dal dishes are a part of many cuisines in Indian communities. When you mix up dals, you get an interesting blend of flavours and textures. It also works to neatly empty out all the bottles with small quantities of leftover dals. The one popular in Rajasthani cuisine is called panchmel dal (a mix of five dals). In Sindhi cuisine, it is called tridali. Dhabewali dal in Punjab has a mix of urad dal, chana dal and rajma.
In Tamil cuisine, a mix of dals is used in preparing adai (dosai's heartier cousin).  I have not seen a mixed dal cooked at home as a dal nor have I seen any such recipes in old Tamil cookbooks.
Apart from dal and adai, a mix of dals can be soaked and ground to make chila or in khichdi. (Adai recipe)
You will also love:
Handwo – mixed lentil savoury cake from Gujarat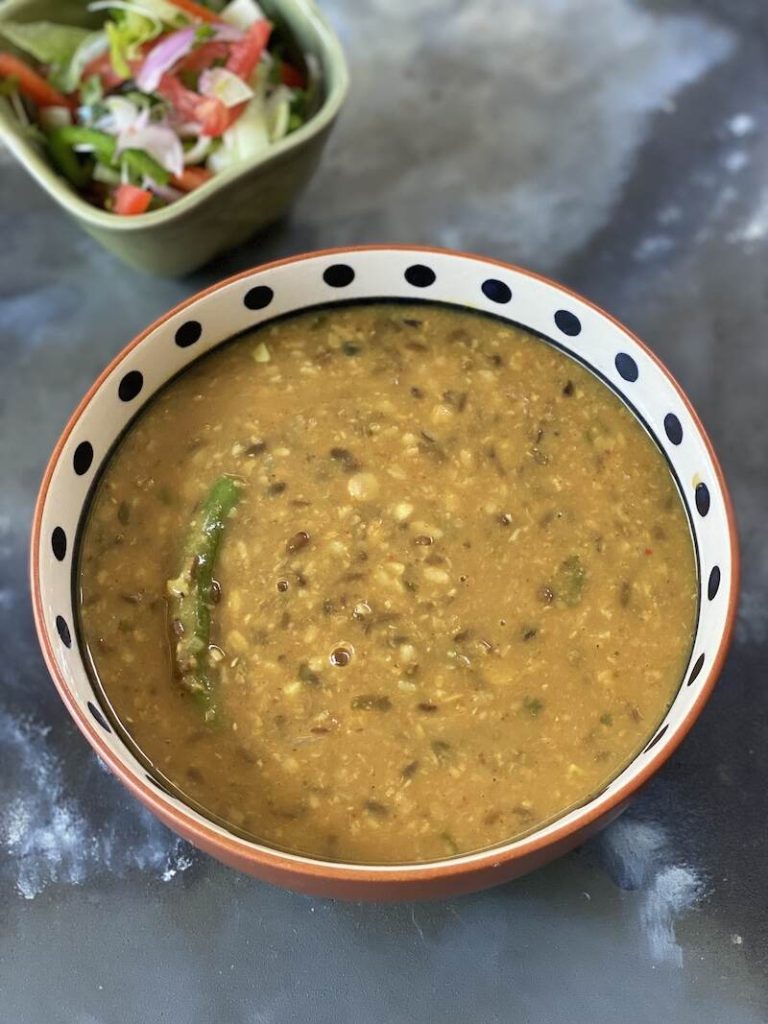 Pin
 My attempt at making Keoti Dal
Indian grocery stores stock urad dal in four forms.
Whole black – used to make maa ki dal / dal makhana
Split black – can be used to make adai, molaga podi, dal
Whole-skinned (white) – used to make idli and dosa
Split skinned (white) – used in south Indian tempering, cooked into biulir dal (Bengali cuisine), maash ki dal (Western UP)
I buy whole black urad dal whenever I am in the mood to make dal makhani or maa ki dal. Split black urad dal, which is needed for this recipe of keoti dal, is usually not stocked in my pantry. I added it to my grocery list especially to try out this dal recipe. Split black urad dal used in keoti dal cooks a lot faster than whole black urad dal. It is best to soak it for an hour though before proceeding with the cooking.
The dal turned out hearty and super delicious. Try adding it to the menu of your next dinner party and I'm sure your guests will love it.
Also read: 10 high protein foods for vegetarians
Try these other recipes from Awadhi cuisine
Awadhi arbi ka korma – a rich curry made using colocassia
Tahiri – a rice dish from Western UP
Jaunpuri Badinjan Burani – an eggplant dish that migrated from Persia
Keoti Dal
A mixed dal from western UP / Awadh region
Ingredients
½

cup

split black urad dal

½

cup

chana dal

Bengal gram dal

1

tbsp

grated ginger

1

tsp

salt

½

tsp

turmeric powder

2-3

green chilies

slit
For tadka
1-2

tbsp

ghee

Pinch

of asafoetida

8-10

black peppercorns

1

tsp

cumin seeds

1

medium onion

finely chopped

3-4

cloves

garlic

½

tsp

grated ginger
Instructions
To prepare keoti dal, mix the split black urad dal and chana dal in a bowl. Wash well and soak covered in water for 1-2 hours.

Wash the soaked dal, by rubbing it gently. Some of the skins of the split black urad dal will come off and float on top. Skim that off and discard.

Place the soaked and drained dal in a pressure cooker. Add 2 cups of water, grated ginger and salt.

Pressure cook for one whistle and then on sim (lowest flame setting) for 10 minutes.

Once the cooker cools, open the lid. Add the turmeric powder and slit green chillies. Simmer this for 1-2 minutes, mashing the dal gently.

While the dal is cooking in the pressure cooker, you can prepare the tadka on the side.

Heat the ghee in a small pan. Saute the asafoetida into the ghee.

Fry the cumin seeds and whole black peppercorns for a few seconds.

Add the onions, garlic and ginger. Sauté on a low-medium flame for 6-8 minutes until the onions are lightly browned. Transfer this over the dal.

Garnish with fresh coriander is optional.

Enjoy keoti dal with steamed rice. Serve along with fresh salad of cucumber, onion and tomatoes (kachumber).
Notes
I do not add turmeric to the dal while cooking in the pressure cooker as the steam tends to blow out and stain the counter/backsplash. Adding turmeric to the dal is less messy after it is cooked.
Adding salt to the dal in the cooking process adds more flavour. 
Before you leave…