Recipe for Dhabewali Dal – a recipe for mixed lentils, from Punjab
To be honest, I've never eaten in a 'real' dhaba. But yes, I can claim to have eaten in a few mock dhabas, starting with Pritam da Dhaba at Dadar (Mumbai) in my childhood with Amma and Appa. It was one of the few restaurants we would eat out at. I remember staring at the side counter of their open air section, in complete awe of the chefs throwing the roomali roti in the air to stretch it out. The seating was authentic dhaba style, rope cots with colourful cushions and waiters in the Punjabi kurta and dhoti. I also remember the copper plates and tall copper glasses that they served food and chaas in. It was an amazing place to dine out for me as a kid in the 80s. Post 2000, we saw a slew of such dhaba themed restaurants open in Mumbai, but none to match the wonder that the first one held for me.
Dhabewali dal is a hearty dish using black udad dal and rajma, and sometimes a mix of some other lentils as well. It is reminiscent of cold evenings in the North of India, sitting in a busy dhaba by the side of a highway, smoke billowing from the tandoor, the aroma of burning coals and fresh out of the tandoor rotis, and a few hearty dishes brought to the rickety table and a large glass of lassi to wash it all down.
There is another variation of Dhabewali dal, which is Langarwali Dal served in the community meal service called Langar in Gurudwaras (Sikh place of worship). That can be prepared similarly by using equal parts of split udad dal and chana dal (Bengal gram dal). The soaking time can be reduced, as compared to rajma, used in Dhabewali Dal
P.S. Just did a quick check on Zomato while typing this, and Pritam da Dhaba still exists! I've mentally added this to my to-do list while in Mumbai for the next 5 weeks, just for nostalgia sake, if not anything else. If you have any reccos for me in Mumbai AND Delhi, leave me a comment or Tweet to me @saffrontrail 🙂
Recipe for Dhabewali Dal
Serves 4-6
Equipment required: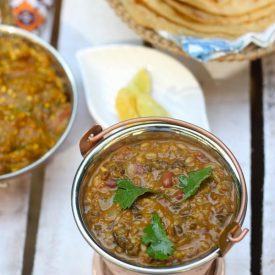 Recipe for Dhabewali Dal - Punjabi mixed lentils
Ingredients
3/4

cup

split black lentils

(split udad dal) [you can even use whole udad with skin]

2

tbsps

rajma

(kidney beans)

1

tbsp

oil

1

tsps

ghee

1

tsp

cumin seeds

4

cloves

garlic

crushed and finely chopped

1

tsp

ginger

grated

pinch

asafoetida

1

large

onion

finely chopped

4

tomatoes

pureed

1/2

tsp

turmeric

1

tsp

dried red chilli

1.5

tsps

salt

1

tsp

garam masala powder

Coriander

for garnish

wedges

Lemon

serve
Instructions
Wash and soak the split udad dal and rajma in plenty of water for minimum 6 hours or overnight.

Drain the soaked dals and place in a pressure cooker with 4-5 cups of water.

Close the pressure cooker lid and after 3 whistles, keep on sim (lowest flame) for 10-15 minutes. After this, turn off the flame and allow the cooker to cool.

Meanwhile, heat the oil+ghee in a heavy bottomed kadai.

Add the cumin seeds. Once they splutter, add ginger, garlic, asafoetida and onions. On a medium flame, cook this until onions are lightly golden and soft.

Add the pureed tomatoes, turmeric, red chilli powder, salt and bring to a simmer.

Simmer for 5-6 minutes, add the cooked dals from the pressure cooker, salt and bring to a simmer.

Allow this to simmer gently for another 5 minutes, after which you can sprinkle the garam masala powder, stir well and then remove from heat.

Garnish with lots of finely chopped coriander.

Serve hot with tandoori rotis or steamed rice.
Notes
Also check out,
Rao ki Kheer (Sugarcane juice kheer) from Punjab, from Sinamon Tales.