Recipe for Handwo – A Gujarat Spicy Lentil Cake
Handwo is a Gujarati steamed delicacy. The batter is made from soaked rice and a mixture of lentils, fermented, mixed with vegetables and steamed / microwaved. A delicious tadka of sesame seeds, mustard seeds is poured on the top, the cake cut into wedges and served with a tangy green chutney.
You can do several things with this batter and each one is as tasty as the other!
Cook it in a deep non stick pan on the stove top
Steam in pressure cooker.
Cook in microwave.
Make thick 'adais' or thin dosais on a skillet.
The Recipe for Handwo can be found in one of my earlier blogs.
The two changes in this recipe are that I've used red unpolished rice instead of white rice and masoor dal instead of moong dal (see soaked grains picture above).
Here, I have slightly browned the microwaved wedges on a lightly oiled skillet till a little crispy on the outside. You can easily omit this step if you are short on time.
Don't have a microwave at home? No problem! Pour ladle full of batter into an oiled non stick skillet, do not spread and let it cook on sim, till golden brown on both sides. Serve with chutney or milagai podi.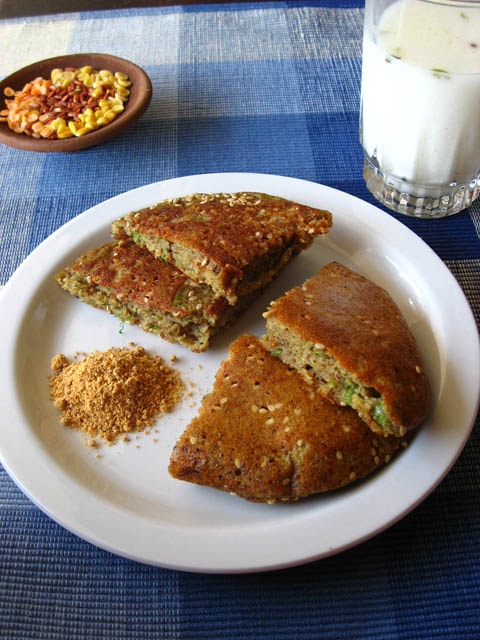 This is my entry for WBB 21 – Microwave breakfasts at 100% Microwave Cooking
This savoury cake is also my entry to Srivalli's MEC – Cakes event.