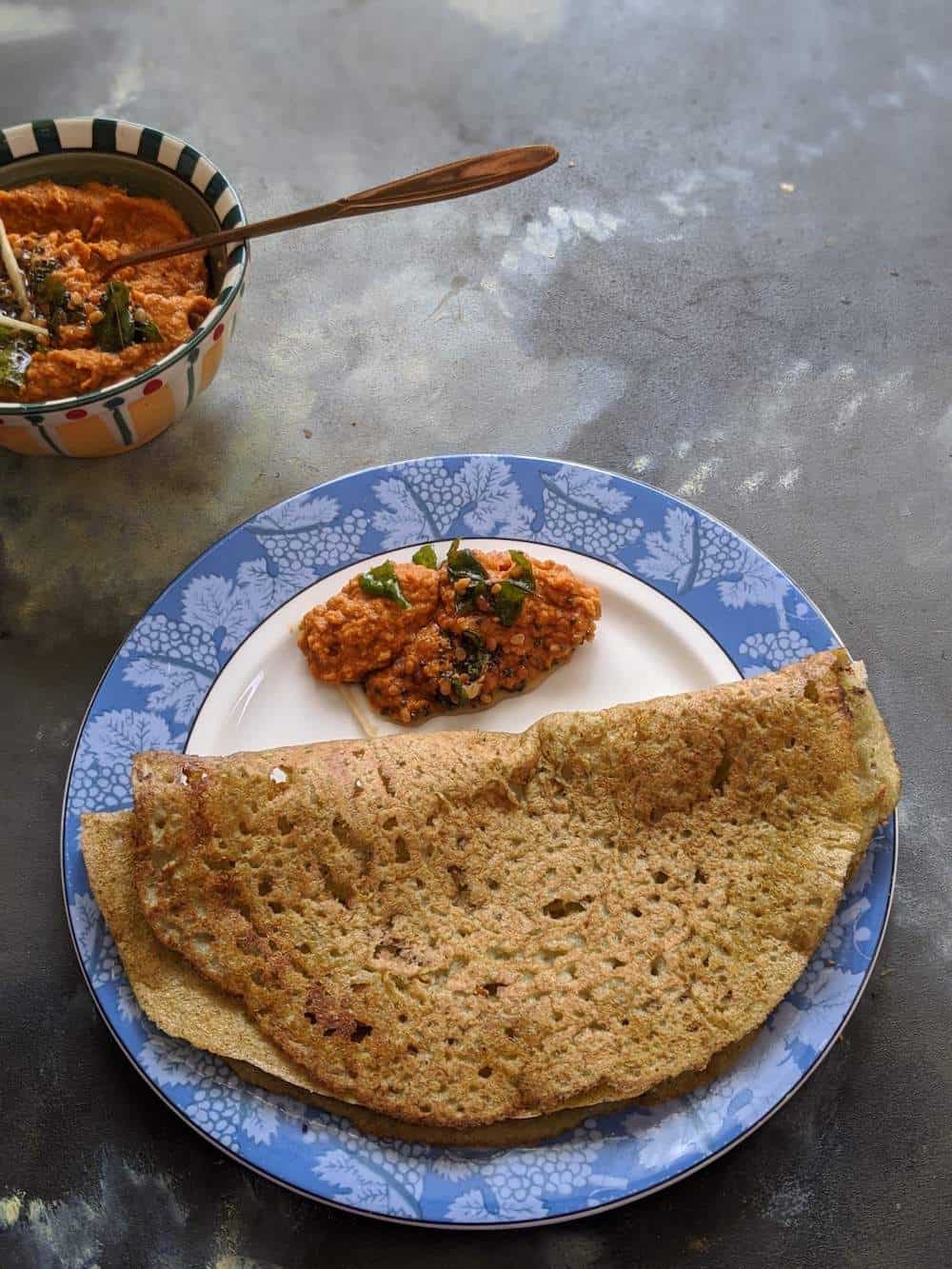 Want to make a dosa that is dead simple involving no long fermentation time?
Try Pesarattu!
Pin
My first realisation of the existence of such a dish came from a recipe booklet that came along with a new mixer. (Talk about all the unlikely places to find amazing recipes, right?)
Given the short list of ingredients and the simple procedure, I decided to give it a shot. I was pleasantly surprised by how delicious it turned out.
Born and brought up in Bombay, I had never heard of Pesarattu or tasted it. It was only later that I realised that it was an iconic dish from the South Indian states of Andhra Pradesh and Telangana.
Pesarattu is like a savoury crepe made using whole green gram (mung beans). The green gram/mung beans are soaked for 5-6 hours until softened and ground into a batter. This is typically had for breakfast or a light meal in the late afternoon (tiffin).
Pesarattu and Chila
The dish is similar to moong-dal chila which is common in Rajasthan that is made from soaking yellow split mung dal. Soaking whole mung beans adds a unique flavour, colour and texture to pesarattu that makes it taste quite different from chila.
Pin
Difference between a Dosa and a Pesarattu
Just one main ingredient – Unlike a dosa batter which needs rice and urad dal, this has only one ingredient to soak – i.e. the green moong. Some recipes do recommend adding some rice to the green moong while soaking. Rice gives a crispy texture to pesarattu. If you prefer the softer texture, then avoid the rice.
No fermentation – Dosa batter needs 8-10 hours of fermentation at room temperature until it gets a pleasant tangy aroma and flavour. For pesarattu, there is no fermentation needed. Although, you can ferment it if you want to by keeping it aside for 4-6 hours depending on the room temperature. The hotter the weather, the quicker the fermentation.
Difference between Pesarattu and other crepes
Unlike crepe recipes from Europe, there is no flour, milk, butter or eggs in this recipe making it a 100% gluten free and vegan naturally. No substitution required.
Added flavourings
Sliced fresh ginger and green chillies are added to the soaked moong during the blending process to add flavouring and heat to the batter.
 It is flavoursome enough to be eaten on its own for breakfast or a snack (tiffin, as it is called in South Indian lingo). However, in some parts of Andhra Pradesh and Telangana, it is common to serve Pesarattu with onions. A large quantity of finely chopped onions in sautéed in oil along with chopped ginger and chillies until translucent and added on top of the pesarattu before it is folded over. I remember eating it in this style in restaurants in Hyderabad or when visiting Tirupati.
Pesarattu is traditionally served along with piquant ginger chutney, also called pesarattu chutney or allam chutney (Telugu). It is believed that ginger in the chutney helps in better digestion of green moong.
Pin
Not the traditional way it is made, but you CAN use this batter to make an uthapam like dish (thick dosa). Add in finely chopped onion, chillies, tomatoes, grated carrot and chopped coriander. You can also add some rice flour (1-2 tbsp per cup of batter) for a crispier texture. Make a thick dosa on a hot pan and cook over a medium flame for slightly longer until golden and crisp on both sides.
You can also try a masala dosa kind of potato filling inside the pesarattu to make it even heartier. I sometimes pair the best of South and East by filling it with Bengali style aloo-bharta / chokha with mustard oil.
Pin
MLA Pesarattu
When I first heard of this, I was quite amused, wondering what could possibly be the political connection of this dish. Turns out, this is pesarattu topped with a ladle of upma and folded over. This was regularly made in the MLA quarters restaurants in Hyderabad (in present Telangana state) and hence got the name MLA pesarattu. Talk about getting two breakfasts in one plate!
Can you make pesarattu with moong sprouts?
Making the batter with storebought moong sprouts makes this an instant dish where there is no soaking involved. Sprouting reduces the carbohydrate / starch content of the beans. I'm assuming that is the reason the consistency of the batter made using sprouts doesn't turn out as good. Consequently, the end result i.e. the pesarattu is not as good as that made from grinding soaked beans.
Why is pesarattu healthy for you?
The health benefits come from the main ingredient, green moong.
Green moong has plenty of vitamins, minerals and enzymes. It is also a good source of potassium, iron and fibre. Rich in folic acid, it is one of the must include foods during pregnancy. 
It is one of the best foods for diabetics as it is full of fibre (15 grams/1 cup cooked), protein (14 grams /1 cup cooked beans) and resistant starch, leading to a very gradual increase in blood sugar after a meal.
Green moong has more total dietary fibre and insoluble fibre than kidney beans (rajma) and chickpeas (kabuli chana). There is an increase in the soluble fibre in green moong after cooking due to the formation of resistant starch.
Modern presentations of pesarattu
If you treat the pesarattu like a flatbread or a crepe, it can paired and presented in endless ways. Here are some of the things I would do if I had to do a modern take on pesarattu:
Yum appetizer – Make bite sized pesarattu (1-2 inches). Top each one with a teaspoon of salsa. Mango-chilli-coriander or the classic tomato salsa would be my top picks.
Fancy brunch – Make larger sized (8 inches) thin pesarattu like a crepe. Top with some grated smoked cheese and caramelised onions while it is still on the pan. Fold over and serve.
Hearty lunch – Large sized pesarattu (8 inch) made slightly thicker can be used like a tortilla wrap. Add a mixed vegetable and tofu stir fry in the centre and roll over like a burrito. Slice into two pieces at an angle and serve with a dip.
You can prepare a batch of this homemade molaga podi from the video below and serve it with Pesarattu which helps when there's no time to make chutney.
Pin
Pesarattu
This recipe needs 5-6 hours of soaking time.
Ingredients
1.5

cups

whole green moong

mung beans

1/2

inch

piece of fresh ginger

2-3

green chillies

1

tsp

salt

3

tbsp

rice flour

optional

2

tbsp

oil
Instructions
Soak the green moong in plenty of water for 5-6 hours or overnight.

Drain the soaked water and add the green moong to a blender. To this, add sliced ginger and green chillies. Blend this to a fine batter, with the addition of around 1/2 cup water. It is better to have a thick batter that can be thinned as per our requirement while preparing the pesarattu.

Remove this to a bowl. Mix in the salt and rice flour (if using).

Heat a tava or a flat skillet. Brush some oil (I like using gingelly oil, but sunflower or coconut oil or ghee also works well).

Adjust consistency of the batter so it is not too thick and pours well.

Pour 1-2 ladles of batter (depending on the size of the ladle and of the pan) in the centre of the hot tava and keep moving the ladle in concentric circles outwards to make the pesarattu as thick or thin as you want it to be.

Drizzle oil or ghee around the circumference and over the top (around 1 tsp).

Wait for the pesarattu to cook through and turn slightly golden brown.

Flip over and cook for another 10-20 seconds. Some don't flip and serve it directly which is fine too.

Serve hot with any chutney you like.
Notes
Any remaining batter can be refrigerated for 2 days in an airtight container. Bring it to room temperature before using.
For more such healthy recipes, get my book The Everyday Healthy Vegetarian! Get all the info about my book and order it here.
Like what you see here? Stay connected with me on Instagram, Facebook, BlogLovin' and Pinterest.