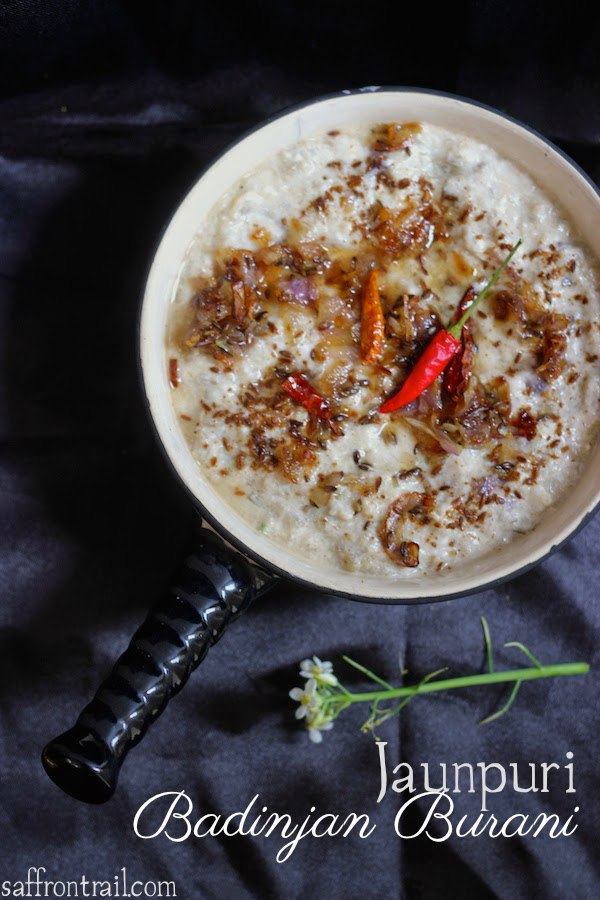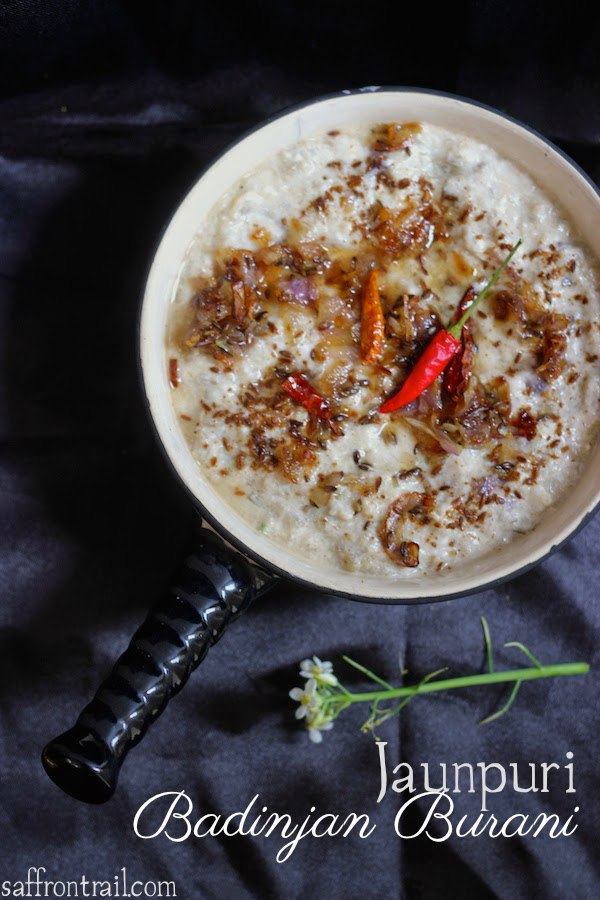 You might be staring quizzically at this recipe title
"Jaunpur kahan, Persia kahan!!" (Hindi)
There's a story to this
Quite some months ago, there was a Twitter conversation that made my eyes light up. It was Atiya Zaidi tweeting about this Jaunpuri menu she had cooked at the India International Center
@reshii Are you a member? Didn't know:( Here's the menu:) cc @saffrontrailpic.twitter.com/SSsP0YgUn0
— atiya zaidi (@atiyaz) October 15, 2014
As you can see in the picture, the menu included quite some vegetarian dishes like Kathal do Piyaza, Hare Kele ki Subzi, Tori Chana ki Dal, Arbi ka korma and Badinjan Burani. I immediately asked Atiya to share at least a couple of recipes with me. Given the busy schedules, both of us forgot about it
All this month, #thekitchendivas will be sharing recipes from UP, every Saturday. I was reminded of my forgotten conversation with Atiya. Over a call yesterday morning, she generously shared 3 recipes with me, with a fair bit of history and culture woven into the recipe instructions. It is amazing how it is nearly impossible to talk about a traditional recipe without touching upon history or culture
The first recipe I'm sharing with you in the UttarPradesh recipe series is Badinjan Burani, a traditional dish prepared in Jaunpur. Now Uttar Pradesh, even after Uttaranchal and Uttarakhand have been formed, is a large state with cuisines differing vastly in different parts of the state. Like Atiya shared with me, the food in her in-laws' home in Meerut is so different from her own maternal home in Jaunpur
Jaunpur is located in Eastern UP, less than a 100km from the more famous Varanasi or Banaras. Jaunpuri cuisine hardly uses tomatoes and mustard oil is the cooking medium of choice, although considered a poor-man's oil, in the earlier days. "Despite being a Muslim cuisine, it uses a great variety of vegetables," she says, and this could be because of the intermingling with the Thakurs and getting influences from their style of cooking. To quote the Wikipedia stub on Jaunpur, _"t__he Sharqi dynasty (that ruled Jaunpur) was known for its excellent communal relations between Muslims and Hindus"
Badinjan Burani probably came to the Muslims in Jaunpur via Iran, as the word Badinjan is Persian for Brinjal or Eggplant. Here, the eggplant is cooked until soft and mashed with yogurt and spices, topped with fried onions and cumin. It goes very well with rotis but you can easily use this as a dip or even with Pita bread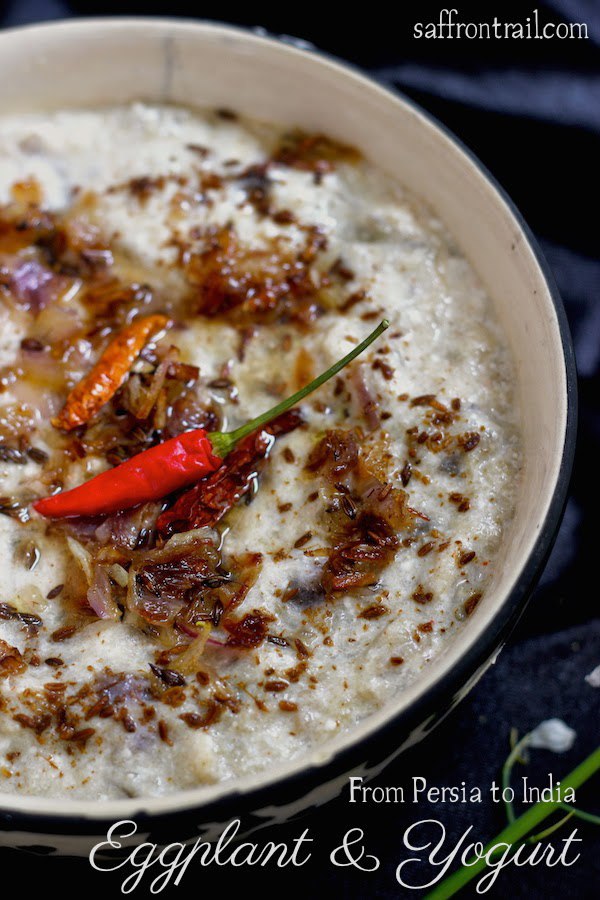 Recipe credit: Atiya Zaidi
Prep time: 15 mins | Cooking time: Under 25 minutes
serves 2-3 as a side dish and 4-6 as a dip
Equipment required
Pressure Pan (Optional)
Badinjan Burani | Persian Eggplant in Yogurt | Jaunpuri Cuisine
An eggplant dish from Persia that migrated to Jaunpur and became a part of Avadhi cuisine -
Ingredients
1

tsp

mustard oil

1 3

cups

eggplant eggplant

medium globe ~ of 1 cm cubed

fenugreek seeds

10-15

1.5

cups

yogurt

2

big cloves

garlic

3/4

tsp

salt

1

green chilli

, finely chopped

Pinch

red chilli

of powder

1

tsp

cumin

roasted and coarsely ground *

1

tbsp

mustard oil

4

tbsps

onions

finely chopped

1/2

tsp

cumin seeds

3

chillies

dried red
Instructions
Cut and discard the stem end of the eggplant. Cut the remaining eggplant into thick slices, around 1 cm thick. Cut each slice to get 1 cm sized cubes.

In a pressure pan or a heavy bottomed saucepan with a lid, heat 1 tsp oil. Add the fenugreek seeds and saute for 45 seconds or so, until they turn slightly dark in colour.

Add the eggplant cubes, saute for 30 seconds. Add 1/4 cup water and pressure cook for one whistle. Switch off the stove and allow to cool. (If using a saucepan, cover and cook until eggplant is soft. This could take up to 12-15 minutes.)

Once the cooker is cooled (or once eggplant is cooked, in case using saucepan), remove the eggplant in a colander and allow excess water to drain.

Pound the garlic cloves with a salt, in a mortar pestle, until you get a fairly smooth paste.

Add the garlic paste, chopped green chilli and ground cumin to the yogurt and whisk with a fork.

Mash the cooked and drained eggplant with its skin to a coarse mash and add to the yogurt mix.

Prepare the tempering by heating mustard oil. Add the finely chopped onions and saute on medium high flame until caramelised and brown. Towards the end, add the cumin seeds and dried red chillies to the pan. Once the cumin is aromatic and red chillies turn bright and puffed, the tempering is ready.

Remove the eggplant yogurt mash into a serving bowl and top with the tempering.

Refrigerate until ready to serve. This dish tastes good warm as well as cold.

*To prepare roasted cumin, stir 2 tablespoons of cumin seeds in a pan on low heat until it smells toasty and aromatic, and changes colour to somewhat dark brown. Remove and cool. Grind to a coarse powder in a mortar-pestle or spice-grinder.
Notes
The recipe for Badinjan Burani is part of the endeavor to create a collection of recipes of Traditional Indian Cuisines in collaboration with a few bloggers who share the same passion of cooking. Find more Traditional Recipes from Uttar Pradesh - Lucknowi / Avadhi cuisine by #TheKichenDivas.
Sultani Dal - Whisk Affair.
Zarda - Sinamon Tales.
Matar Ki Kachori - Fun Food & Frolic.
Vegetarian Shami Kabab - Archana's Kitchen.