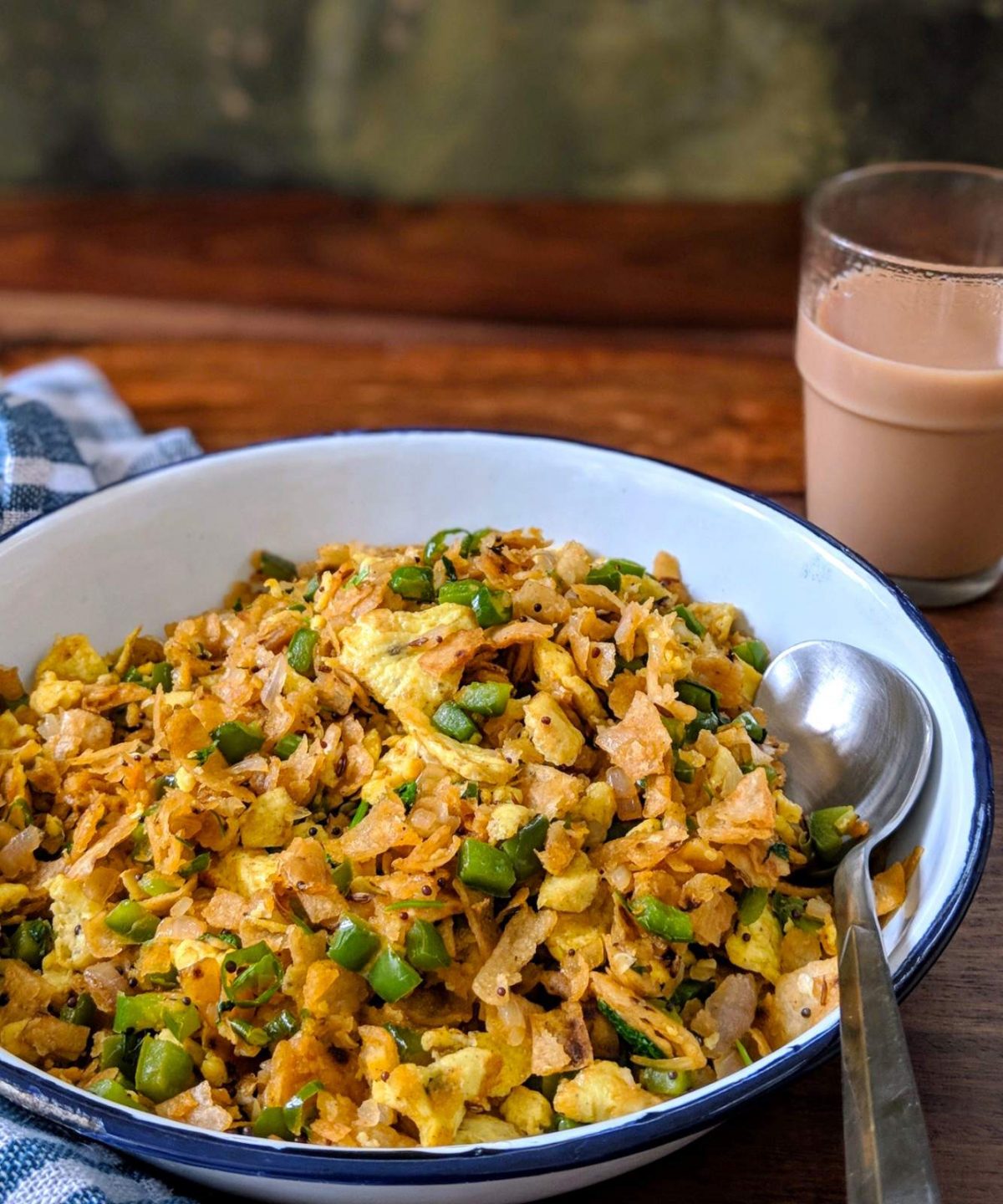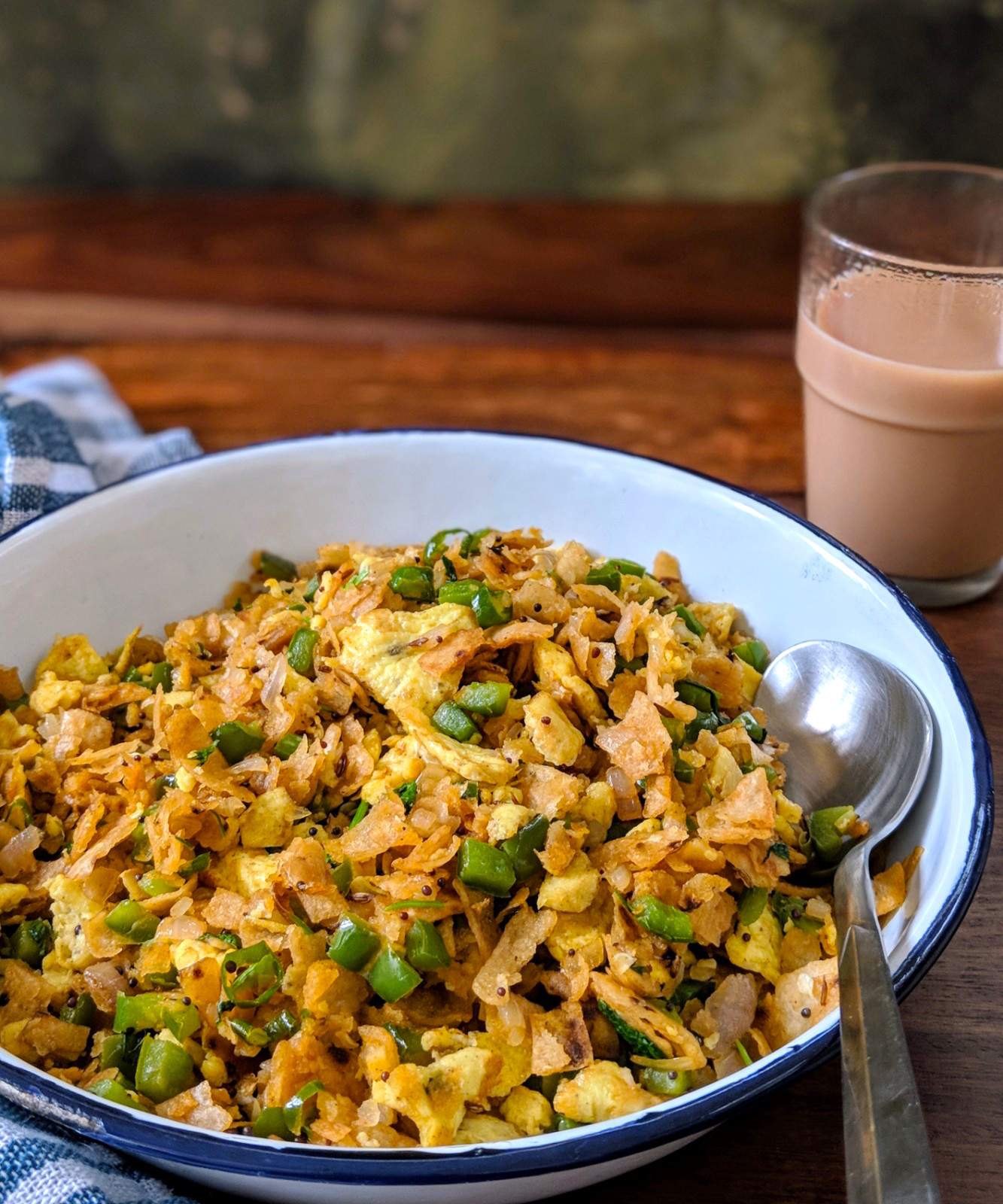 Egg Kothu Parotta recipe is the best way to use up leftover rotis or parathas, with the heartiness of sauteed vegetables and scrambled eggs.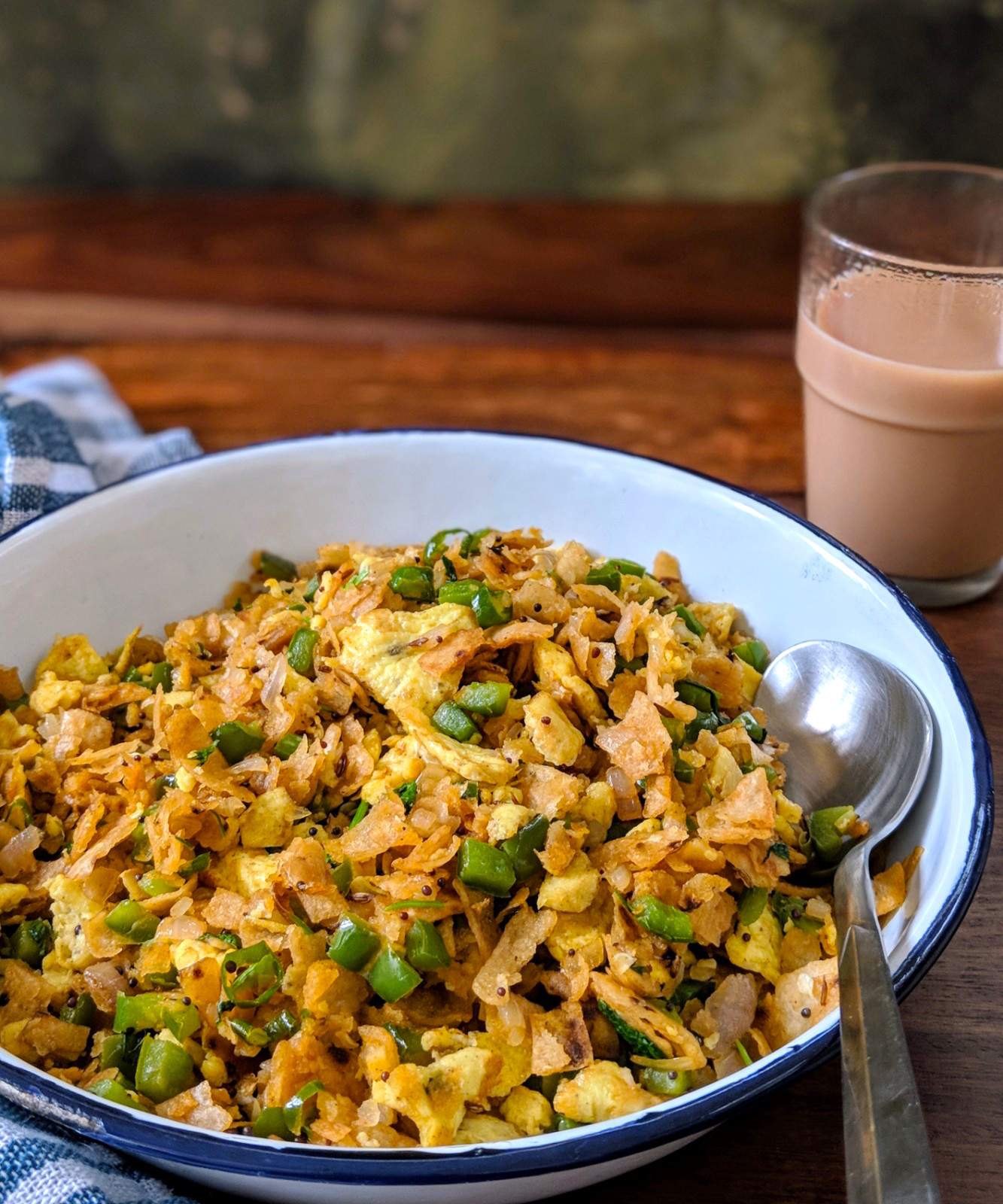 Pin
Most Indians kitchens are very resourceful when it comes to refurbishing leftover food in interesting ways be it rice, rotis, dal or curries. The recipes from leftovers sometimes turn out to be more delicious than the original dish.
How to use leftover rice
Leftover rice is the best foil for Chinese style fried rice. Put an egg on it and you have a full meal in no time. Any number of South Indian rice preparations such as lemon rice, tamarind rice, tomato rice etc put leftover rice to use. Gujaratis make a thepla in which mashed cooked rice is added to the dough, giving it a crispier texture than the regular theplas. I love adding mashed rice to a bunch of regular stuff like mashed potatoes, chickpea flour, coriander and spices and shallow fry them into rice patties.
How to use leftover dals and curries
Our Punjabi friend told us about this idea of adding enough flour into leftover dal to make a soft paratha dough and rolling it out into parathas. This can be done with yellow dal or any of the cooked beans curries such as Matki or Masoor.
Leftover curries make the best grilled sandwich fillings. I once served grilled sandwiches stuffed with the previous night's leftover chole and cheese to a neighbour who was locked out of the house. He didn't stop raving about it for the next few months.
Now, over to leftover rotis. 
The only time we have leftover rotis is when we have had guests for dinner. Unlike family members who usually stick to a said number of rotis, is always tough to estimate when you have guests at home.
It is always better to err on the side of excess, right?
How to use leftover rotis?
If you have a electric roti/khakhra maker, khakras are the best thing ever. Gujarati households love to make a breakfast of khakhra, mung sprouts and chai. Spread a little melted ghee and sprinkle 'jeeralu' (a cumin based spice mix) for some seriously delicious khakhra. You can also serve khakhra along with dips like hummus.
My mother makes a Maharashtrian style phodni chapati – which is nothing but roti broken into small pieces, and tossed in a tempering of cumin seeds, green chillies and onions. I for one, love this a teatime snack.
Kothu parotta is a popular street food in Tamil Nadu (Virudhunagar district). Parottas (parathas) are minced along with spices and other ingredients on a heavy, large cast iron griddle. The process makes a rhythmic drumbeat like sound. It is the dish making its own advertisement to the customers in the vicinity 🙂 The additions to a kothu parotta are chicken, mutton or eggs. Idlis are also prepared in a similar way (Kothu Idli). Kottu Roti is a similar preparation from Sri Lanka.
This Kothu Parotta recipe is a Muttai / Egg Kothu Parotta, where leftover rotis are minced and added to a mix of chillies, onions and eggs. This makes a hearty spicy breakfast, perfect for winter mornings. While traditionally, Kothu Parota is made using the refined flour based Malabar Parota, my version is lighter as it is made using phulka rotis. If you don't eat eggs, try it with crumbled paneer or crumbled tofu for a vegan version.
How to make Egg Kothu Parotta – a few simple steps
You need a few leftover rotis or parathas. Mince it up finely.

Scramble up or make an omelette using a few eggs. Chop up the omelette into small pieces.

Fry (lots of) chillies, onions, bell peppers until onions are brown.

Combine the minced rotis, scrambled eggs, turmeric, garam masala with the fried onions + chillies.

Garnish with lots of coriander and lemon juice. Serve hot.
Equipment needed:
A flat pan / tava to make the omelette
Pin
Egg Kothu Parota
Ingredients
4

leftover rotis / parathas

1

large onion

2-3

green chillies

2

slices

ginger

finely chopped

1

green capsicum

finely diced

1

tbsp

oil

1

tsp

cumin seeds

1/2

tsp

garam masala powder

1/4

tsp

turmeric powder

3-4

eggs

salt and pepper to season eggs

1

tsp

ghee

1-2

tsp

lemon juice

2

tsp

ketchup

optional

lots of fresh coriander for garnish
Instructions
To make egg kothu parota, start by mincing the rotis. Roll up the rotis and chop into thin strips. Bunch up the strips and dice into medium sized pieces.

Chop the onion finely. Slice the green chillies.

Heat the oil in a large pan. Fry the cumin seeds until they splutter.

Add the finely chopped onions, chillies, ginger and capsicum. Saute on medium flame for 8-10 minutes until onions are brown.

Meanwhile, whisk the eggs with salt and pepper. Grease a flat pan with some ghee. Pour the whisked eggs to make one large omelette. Cut the cooked omelette into small pieces. Keep aside.

Once the onions are browned, add the chopped rotis, garam masala, turmeric and salt. Toss on high flame until everything is well combined.

Add lemon juice, ketchup (if desired) and lots of fresh coriander. Give it a final toss and remove into a bowl. Serve hot.
Notes
For vegan version, use crumbled tofu which is first crumbled, seasoned and crisped up in a little oil.
For egg free version, toss crumbled paneer along with the fried onions and chillies and then proceed with the recipe.
Crushed black pepper can be added for a spicier version.
Like what you see here? Stay connected with me on Instagram, Facebook, BlogLovin' and Pinterest.
Sign up to my newsletter by putting in your email in the box in the right sidebar, to get all latest posts in your email. No spam. Promise.
Disclosure: This post has affiliate links and Saffron Trail will earn a small commission if you purchase the product from these links, which helps support the blog ????????