Recipe for Quinoa Pongal | Quinoa made South Indian Style – with mung dal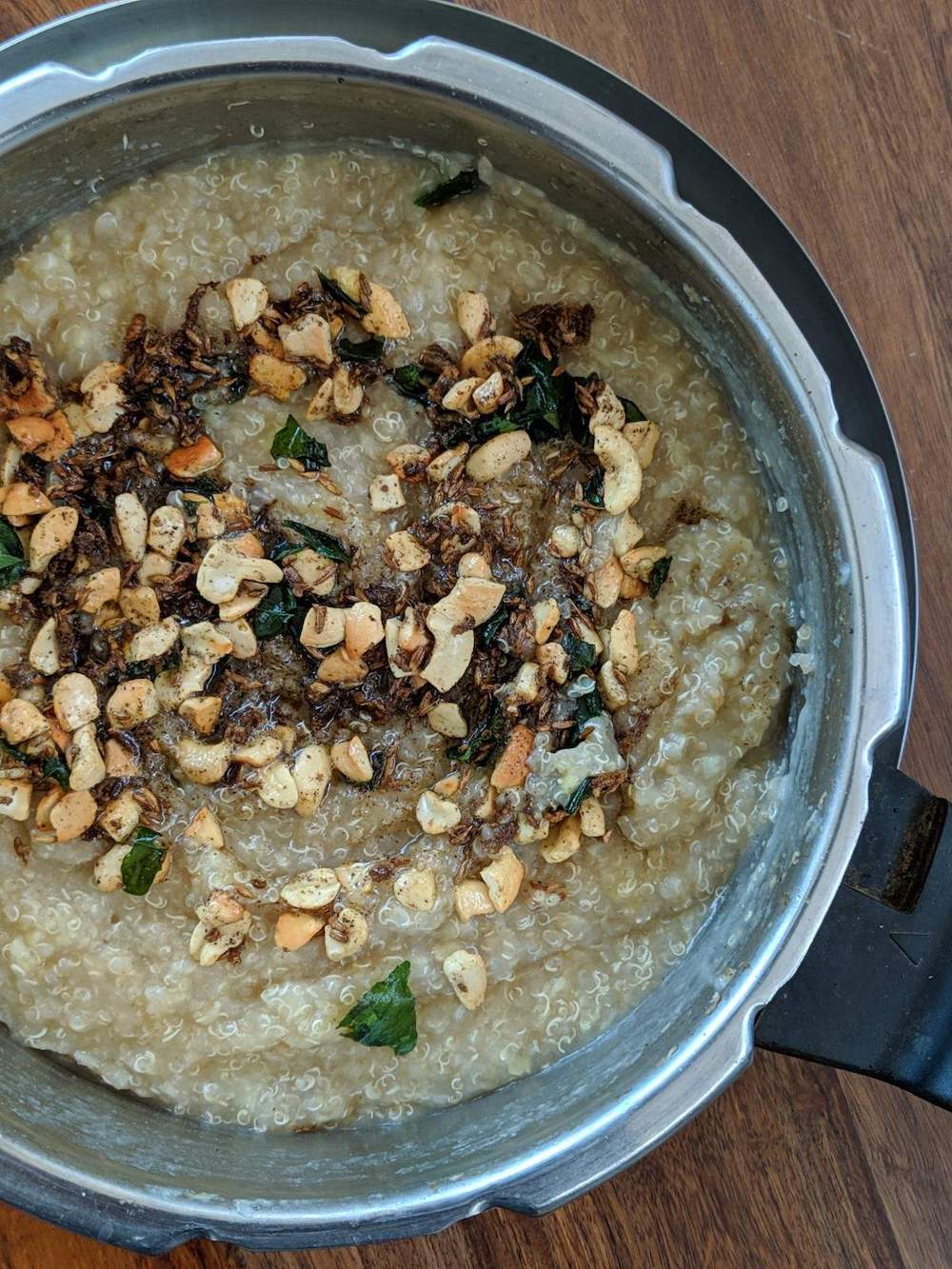 Disclaimer:  This was done only to make use of the quinoa I had stocked up in my fridge, and not to score any hipster brownie points (typing this as I sip my home brewed kombucha)????????????????
Fair warning, I have already featured a Quinoa Sambar Sadham – another quinoa and lentil dish livened up with South Indian spices.
For the uninitiated, pongal (also called ven pongal) is the South Indian version of the Khichdi (khichari) (or Khichdi is the North Indian version of pongal, however you choose to look at it) in which rice is combined with a lentil and cooked until mushy, with or without extra spices, vegetables, meat etc.
Think of this recipe as an Ayurvedic Khichdi, but made with quinoa instead of rice. You can also add turmeric for a bright yellow hue as well as an earthy flavour. In the traditional pongal recipe, there are no added vegetables, and the only spices used are cumin and black pepper. Fresh ginger and curry leaves add to the flavour.
We also make a sweet version of this pongal, in which jaggery is used as the sweetener.
A good (ven) pongal needs to abide by a few rules. 
Consistency- Neither too watery and definitely not gluggy
Seasoning – It needs to be seasoned to perfection. With just two main ingredients ie. rice (or in this case, quinoa) and moong dal, seasoning is everything.
Tempering – And of course the tempering / topping needs to be toasted to perfection – spices bloomed and cashews turning golden.
Why Quinoa Pongal?
 I did it for a practical reason keeping home economics in mind. We had stocked up on some quinoa (in the fridge, of course) and these months in Bangalore have turned into the most scorching summer. Every item of grocery which is not in the fridge is running the risk of being attacked by worms and devoured to a powder within a couple of weeks. As a result, I am trying to use up the groceries stocked in the fridge to free up the precious real estate for more fresh stuff.
The good thing is that the Quinoa Pongal turned out as good as the original version if not better, which is why I am subjecting you to this recipe here 🙂 It is naturally gluten free. Not vegan though by a long shot because of that little dollop of delicious ghee that goes into it. You do have a shot at making it vegan by using coconut oil, which also lends a great aroma to the dish.
Have this quinoa pongal for a hearty breakfast along with coconut chutney.
For lunch, eat it with a more substantial side like the eggplant onion tomato gothsu (A tamil tamarind based curry) the recipe of which I shall be sharing soon. Meanwhile, check out this roasted eggplant gothsu recipe.
I use the pressure pan to prepare the quinoa pongal. You can also use the stove top boiling method (takes WAY more time) or make it in the Instant Pot.
Love QUINOA?
Don't miss these quinoa recipes on my blog:
A couple more salad ideas for you–
Dinner- #inmysalad – Blanched broccoli sauteed with garlic, black quinoa, pomegranate and toasted cashews with balsamic smoked paprika dressing #stcooks pic.twitter.com/OGaWGMSNdi

— Nandita Iyer (@saffrontrail) January 12, 2018
New on blog: Did you guys check out my Cool-as-as-Cucumber Quinoa Salad, that's just perfect for summer? https://t.co/UHFHI1NBDJ pic.twitter.com/nuWjnhx4AX

— Nandita Iyer (@saffrontrail) March 17, 2017
So are you ready to make this dish with me?
| | |
| --- | --- |
| | |
Place the quinoa and dal in a large bowl with water. Scrub well, refresh water and repeat the process 2-3 times until the water runs clear. Now soak this in enough fresh water such that it is completely immersed. Leave aside for 1 hour.

Drain the dal and quinoa. Transfer this to a 3-4 litre pressure pan. You can also make this on the stovetop in a pan with a lid or in the Instant Pot.

Add 4.5 cups of water + salt to the quinoa dal mix. The higher ratio of water is so that the cooked pongal has a porridge consistency. Pressure cook for 6-8 minutes. If I must explain the old fashioned way, reduce flame to lowest flame setting/ sim after one whistle and let it cook in this setting for 6-8 minutes. Switch off the flame and allow cooker to cool.

Meanwhile, prepare the tempering for the quinoa pongal.

In a small pan, heat the ghee. Fry the cashew nuts until golden brown. Remove this into a small cup with a slotted spoon. In the same ghee, fry all the remaining ingredients until the cumin splutters and curry leaves crisp up.

Open the cooker and using a ladle mash the quinoa dal mix to a smooth consistency. If it is dry, add remaining 1/2 cup hot water and bring to a simmer.

Transfer the fried cashews and prepared tempering over the pongal and stir to spread it uniformly. Ideally, this should be served immediately, otherwise it tends to clump up.

If you cannot serve this immediately, heat up portions with a few spoons of water, breaking up any clumps and serve.
Use any kind of millet instead of quinoa, using the same soaking, draining and cooking method.
This post might contain some affiliate links for your convenience, at no extra cost to you.  Click here to read my full disclosure policy.
For over 30 original salad recipes with detailed instructions,  get my book The Everyday Healthy Vegetarian! Get all the info about my book and order it here.
To get all my latest recipes and news straight into your mailbox, subscribe to my mailing list here and get a FREE copy of my e-book specially put together for you – The Ultimate Salad Master Table that will have you making salads like a pro HERE
Like what you see here? Stay connected with me on Instagram, Facebook, BlogLovin' and Pinterest.