Pumpkin French toast is a seasonal twist to a much loved breakfast made using slightly stale bread, adding to the nutritive value of this humble dish.
French toast doesn't have the Gallic roots its name suggests. This preparation using stale bread, eggs, milk and sugar dates back to 4th century Rome. It finds mention by the name of Pan Dulcis in the earliest cookbook, Apicius de re Coquinaria, published in 4 A.D.
This dish from medieval times was a practical way to stretch stale bread for another day or two. The addition of eggs and milk made it softer and more palatable. The French toast later makes an appearance in a recipe in The Accomplisht Cook, a cookbook from 1660. In this recipe, toasted bread is soaked in wine, sugar and orange juice.
Called Pain Perdu in French, it also goes by other names such as eggy bread, German toast, freedom toast and Bombay toast. In it's simplest version, French toast employs a handful of pantry ingredients. It can be elevated to a fancy brunch dish or even dessert with the addition of decadent ingredients, such as whipped cream, salted caramel sauce, mascarpone cheese and seasonal fruits.
 Pumpkin French Toast
Raising a toast to this dish with a fascinating history, I share with you my very simple Pumpkin French toast. In this recipe, pumpkin puree is whisked into the egg and milk mixture. The pumpkin adds a mild sweetness to the toast, as well as a pleasing light orange colour. It is also a good way to add a serving of veggies to your (or your kid's) breakfast.
It is very easy to stock up on homemade pumpkin puree. If you end up buying a large pumpkin, turning it into puree, freeze it in the ice tray and stock as cubes in a resealable bag. Not just a very good homemade baby food option, pumpkin puree cubes can be added to fortify any number of dishes with a hearty serving of this nutrition rich vegetable.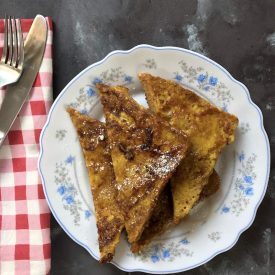 Pumpkin French Toast
Ingredients
2

Eggs

1/2

cup

milk

3

tbsp

pumpkin puree

pinch

cinnamon powder

4

slices

bread

at least 2 days old

2

tsp

oil to cook
to serve - use any one
icing sugar

pure maple syrup

honey
Instructions
To prepare pumpkin French toast, in a shallow bowl or a deep dish, whisk together eggs, milk, pumpkin puree and ground cinnamon. If using frozen cube of pumpkin puree, keep it out for sometime to thaw, before getting on with the recipe.

Keep a skillet to heat. Grease the surface with a teaspoon or more of oil (neutral flavoured) or coconut oil if you like the flavour.

Dip the bread slices into the egg mixture on both sides and place it to cook on the hot skillet. Allow to cook for around 1 minute on medium heat and flip over. Cook other side until golden spots appear and the egg coating has cooked thoroughly, using a bit of oil along the sides.

Repeat with all the slices or you can do 2-3 slices at one time depending on the size of the skillet. Serve warm with a dusting of icing sugar, honey or maple syrup.