Recipe for a brunch friendly savoury waffles with potatoes and cheese
It was one of the rare times I had stepped into anyone's house since March 2020. This was over a couple of months ago. She made me taste these savoury waffles, cut into bite sized pieces and served as finger food. They were utterly delicious. I tried to recreate the same for this morning's breakfast, winging the ingredients as per what I remembered tasting.
Pin
While I was making the batter, the husband, who sticks to his smoothie for breakfast, was drawn to the kitchen by the aromas and said, "whatever you are making today…I want that!". These savoury waffles turned out good enough for me to come out of my long blogging break and share this recipe with you.
These savoury waffles make for the perfect comfort food, that we are mostly craving these days. Potatoes and cheese in crispy golden waffles, what's not to like.
I'll address the questions which are most likely running on your mind now.
Is the waffle maker worth buying?
Pin
I am not a fan of single use appliances.
Bringing them out of hibernation just to make that one dish doesn't seem worth it.
If you have kids at home, or you love entertaining friends over brunches, you can get creative with a waffle maker. Sweet or savoury waffles, dosa batter waffles, grilled sandwiches, pizza dough sandwiches, toasted pitas- there's a lot you can play around using the waffle maker.
After a few years of hesitating, I finally bought one during the lockdown last year because I realised we aren't going to be eating out anytime soon. And I do love a good waffle for a weekend brunch 🙂
What is a good waffle maker to buy in India?
There are waffle makers of different kinds and at a whole range of price points. Some of the variations are:
Electrical or stove top
Different shapes – round / squares / heart shaped
Ones that can be flipped or rotated for even browning
With drip trays
I wanted an electric one and a basic model, knowing that I will use it at the most once a fortnight. Also, an important criteria was how compact it was, not occupying too much space in the cabinet. The most important thing about waffle makers is that the waffles should get golden brown and crisp on the outside without having to wait too long.
The Borosil Neo that I bought ticked all the boxes and having used it over a dozen times, I do fully recommend it. Each of these waffles is large enough that a fully loaded waffle is enough to serve one. Each set of waffles takes around 5-6 minutes to get done and slightly longer if you want it browner.
With those two important waffle maker related questions answered, let's get back to the savoury waffle recipe.
It's a fairly easy to put together batter with ingredients that you'll find in your kitchen. You mix the dry ingredients and the wet ingredients. Let the yeasted batter prove until risen. Mix in the remaining ingredients like potatoes, coriander, cheese etc. The chopped green chillies add a desi touch. The batter is ready to made into waffles.
No waffle-maker tip
If you don't have a waffle maker, let that not discourage you from trying the recipe.
Make this into bite sized thick pancakes and they will turn out as delicious.
Here are some more cafe-style breakfast recipes you will love
Mango and Basil Grilled Cheese Sandwich
Pin
Some details about the ingredients for the savoury waffles
Yeast: I use Gloripan or Angel brand of instant yeast which is easily available on Amazon. The only drawback is that the minimum pack size is 500g. Fill a small bottle and keep for regular use. Keep the remaining in the freezer to use for refill as required.
Potatoes: A quick way to get mashed potatoes is in the microwave. Peel and slice potatoes. Place in a microwave safe bowl with some water. Cover and microwave for 8 minutes. Remove the bowl and mash with a fork.
Cheese : Go ahead and use any kind of grated cheese. The Amul cubes work well. I love using the grated parmesan (Vallombrosa cheese, a local brand).  You can also add grated paneer or even omit the cheese if you have none on hand. Parmesan does impart a deeply savoury taste /umami flavour to the waffles.
Cabbage : Finely chopped cabbage adds a nice bite and crunch to the finished product. You may also use finely chopped bell pepper or mushrooms instead.
Pin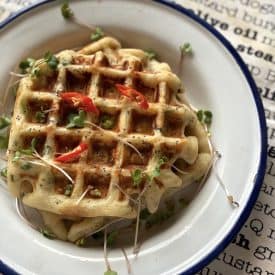 Savoury waffles
Ingredients
1

cup

all purpose flour

1

tsp

sugar

1

tsp

salt

1

tsp

onion powder

optional

1

tsp

instant yeast

180

ml

milk

lukewarm

1

egg

2

tbsp

olive oil or melted butter

3/4

cup

mashed potatoes

1/2

cup

grated cheese

2-3

tbsp

chopped coriander

1-2

green chillies

finely chopped

3-4

tbsp

finely chopped onion

3-4

tbsp

finely chopped cabbage

optional

1

tsp

poppy seed

optional
Instructions
In a large bowl, combine flour, sugar, salt, onion powder and instant yeast.

Make a well and add the milk, egg and olive oil. Whisk well with a fork and then combine the dry ingredients into the wet to get a smooth batter. Cover and keep aside to prove in a warm place or one hour until the batter is bubbly and risen.

To the well-risen batter, add all the remaining ingredients. Break any clumps of mashed potatoes with a fork. Combine well until you get a smooth batter. At this point you can either get on with the waffle baking or refrigerate (upto 12 hours) until you need to make the waffles. You can prepare this at night and refrigerate overnight. Do leave it out for an hour or so before making the waffles.

Preheat the waffle maker. Brush some oil on the top and bottom sections.

Ladle little over half cup batter per waffle (this is for the waffle maker I use). Close the waffle maker and cook until golden brown on both sides.

Serve hot with ketchup.
Notes
You can cut each waffle into bite sized pieces and serve them as finger food along with a dipping sauce.
Add a fried or poached egg on top and a salad on the side to make a full meal out of these waffles. 
Prepare a batch of the waffles. Freeze and store in resealable bags (label with date so you use them up in a month or so). Bake in the oven for 4-5 minutes until thawed and heated when you want to serve them.