Vegan Cauliflower Curry | Cauliflower with greens in Indian spices | Gobhi Methi Subzi
A recipe for a uniquely flavoured vegan cauliflower curry with a freshly ground spice paste and a smattering of fresh fenugreek leaves. The latter can be easily replaced with fresh spinach for that touch of green to the curry.
Pin
It is nearing the end of January. Bangalore is all chilly in the early mornings. I'm hitting the snooze button on my 5 AM wake up alarm with alarming regularity. When I do wake up very reluctantly, the cold water in the wash basin jolts me into wakefulness. All this drama, despite being an out and out morning person. It is good to enjoy this winter chill while it lasts. There's probably just a week more of it left.
What I'm going to miss even more is the profusion of fresh vegetables that are begging to be cooked into a variety of dishes. Cauliflowers are best in the Indian winters, so are local greens like fenugreek. While Aloo-Gobhi or Gobhi Matar are classic combinations, with this recipe I would like to make the case for Gobhi Methi. The fragrant seasonal fenugreek greens boosts the flavour of bland cauliflower which I have further dressed up with a medley of spices.
Peanuts add a bit of creaminess to the gravy without resorting to dairy or the bother of opening a whole can of coconut milk for 1/4 cup. The peanuts also smoothen out the flavours of the freshly ground spices.
Pin
Try my version of this vegan cauliflower curry and I promise that it will turn into one of your favourite recipes.
If you don't have sesame seeds, fennel and cardamom, use the spices you have. The flavour may not be exactly the same, but you can compensate for it by adding two pinches of a good garam masala powder or a curry powder.
This gobhi methi subzi with freshly made phulkas makes for a delicious winter lunch.
More easy cauliflower recipes for you to try
Vegan Cauliflower Mulligatawny Soup
Vegan Cauliflower and Dill Flatbreads (Gobhi Soya Paratha)
Turmeric Rice with Cauliflower
15 minute Cauliflower Fried Rice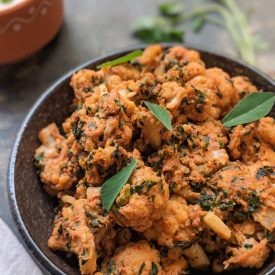 Cauliflower with fenugreek greens in spicy peanut gravy
A vegan cauliflower curry with freshly ground spices in a peanut based sauce.
Ingredients
4

cups

cauliflower florets

~350 grams

1

cup

fenugreek leaves

methi

2

tbsp

peanuts

unsalted
Spices for toasting
3 - 4

dried red chillies

1/2

tsp

fennel seeds

1/2

tsp

cumin seeds

1

tsp

coriander seeds

1

tsp

sesame seeds

1

stick

cinnamon

1"

3

cloves

1

green cardamom

5 - 6

black peppers
Other ingredients
3 - 4

cloves

garlic

sliced

2

medium

onions

sliced

3

tsp

oil

divided

1/2

tsp

cumin seeds

1

large

tomato

1

tsp

salt
Instructions
To prepare the vegan cauliflower curry, start by washing the florets in a bowl of water. Remove them and keep them immersed in a bowl of salted water for 5 minutes.

In a pan with a lid, bring 1/2 cup water to boil with 1/4 tsp salt. Add the cauliflower florets into this pan, cover with lid and steam cook for around 5-6 minutes until the florets are cooked but not soft. Drain the florets and keep aside.

Wash the fenugreek leaves well. Drain all the water, finely chop and keep aside.

Roast the peanuts by microwaving on high for 4-5 minutes. Rub off the peels to the extent possible. Keep aside.

For the freshly ground spice paste, take all the ingredients listed under 'spices for toasting' and fry on a low flame for 6-7 minutes until deeply aromatic. Remove this into a dish to cool.

Heat a teaspoon of oil in the same pan and fry the sliced onion and garlic for 5-6 minutes until onion is translucent.

In a mixer, grind the toasted spices, onion-garlic and the roasted peanuts into a very fine paste, adding upto 2-3 tbsp of water.

Cut the tomato into half. Grate each half to get the pulp, discarding the skin when all of the pulp is grated.

Heat remaining 2 tsp of oil in the same pan. Fry cumin seeds. Once it starts spluttering, add the prepared paste and fry it for 2-3 minutes. Add the finely chopped fenugreek leaves or spinach to the paste and allow to cook for 1-2 minutes. Mix in the tomato pulp and bring to a simmer. Add the cooked cauliflower florets, 1/4 tsp salt and cook on high flame for 3-4 minutes until excess liquid has evaporated. Serve hot.
Notes
You can replace the peanuts with cashews or almonds, in which case use blanched nuts to grind to a paste along with the spices.
Use fresh baby spinach or spinach instead of fenugreek greens.
Fresh fenugreek is very easy to grow from fenugreek seeds. Soak the seeds for a day, drain and sprout on moist kitchen paper. Transfer the sprouts to a tray of prepared soil and water very lightly. You will have enough leaves to use in a dish in 2 weeks time. Snip the leaves and they grow right back.
Originally published on Jan 18, 2007
For more such healthy vegetarian recipes, get my book The Everyday Healthy Vegetarian is out! Get all the info about my book and order it here. 
Like what you see here? Stay connected with me on Instagram, Facebook, BlogLovin' and Pinterest.
Sign up to my newsletter by putting in your email in the box in the right sidebar, to get all latest posts in your email. No spam. Promise.