Cauliflower Parathas with Dill | Gobhi Paratha Recipe | Vegan Cauliflower Flatbreads with Dill
Pin
Winter is almost here. And for someone who loves to cook, it means an abundance of fresh vegetables like cauliflower, peas, cabbage, red carrots and green beans.
The thing about seasonal vegetables is that you don't have to do much to them. They are already so full of flavour that less is more. I'm not a fan of adding a laundry list of spices to a dish. It totally kills the natural flavours of the ingredients. While I love spices like any other self respecting Indian cook, using them with restraint helps each spice shine through. Otherwise, it is just a medley of random spice flavours forced to gel together.
Winters in India (especially the North) means parathas, curries, halwa. These dishes not just taste better because the veggies are so very fresh, but the winter chill also ignites the appetite for hearty meals.
Breakfasts like…
 hot-off-the-tava cauliflower parathas with a small blob of butter melting over it with a steaming hot cup of tea
Bliss, isn't it?
Also try: Cauliflower mash, North Indian style
This cauliflower paratha I'm sharing with you has an added dimension of flavour from dill (soa /soya in Hindi and Punjabi / Shepu in Marathi / Sabsige soppu in Kannada). This feathery delicate herb lends its aromatic herbaceous flavour to the cauliflower. The stuffing mixture is very delicately spiced so as not to overwhelm the flavour of dill. This is a variation on the regular Gobhi Paratha recipe that I love. You'll find some other gobhi paratha ideas in the recipe notes.
These parathas are best eaten as soon as they are made. But if you do have to make a bigger lot, preheat an oven at around 150 Celsius, and keep the gobhi parathas warm until you make the rest. 
More cauliflower recipes you will love to try this winter:
Cauliflower steaks with whisky sauce
The basic steps to prepare cauliflower parathas:
Prepare a whole wheat flour dough
Prepare a lightly sautéed filling of grated cauliflower with spices and herbs
Stuff the mixture between two thin rolled out circles and cook the parathas
Equipment required:
Mixing bowl to prepare dough
Saute pan to prepare the stuffing mixture
Rolling pin and board to roll out parathas
Tava to cook parathas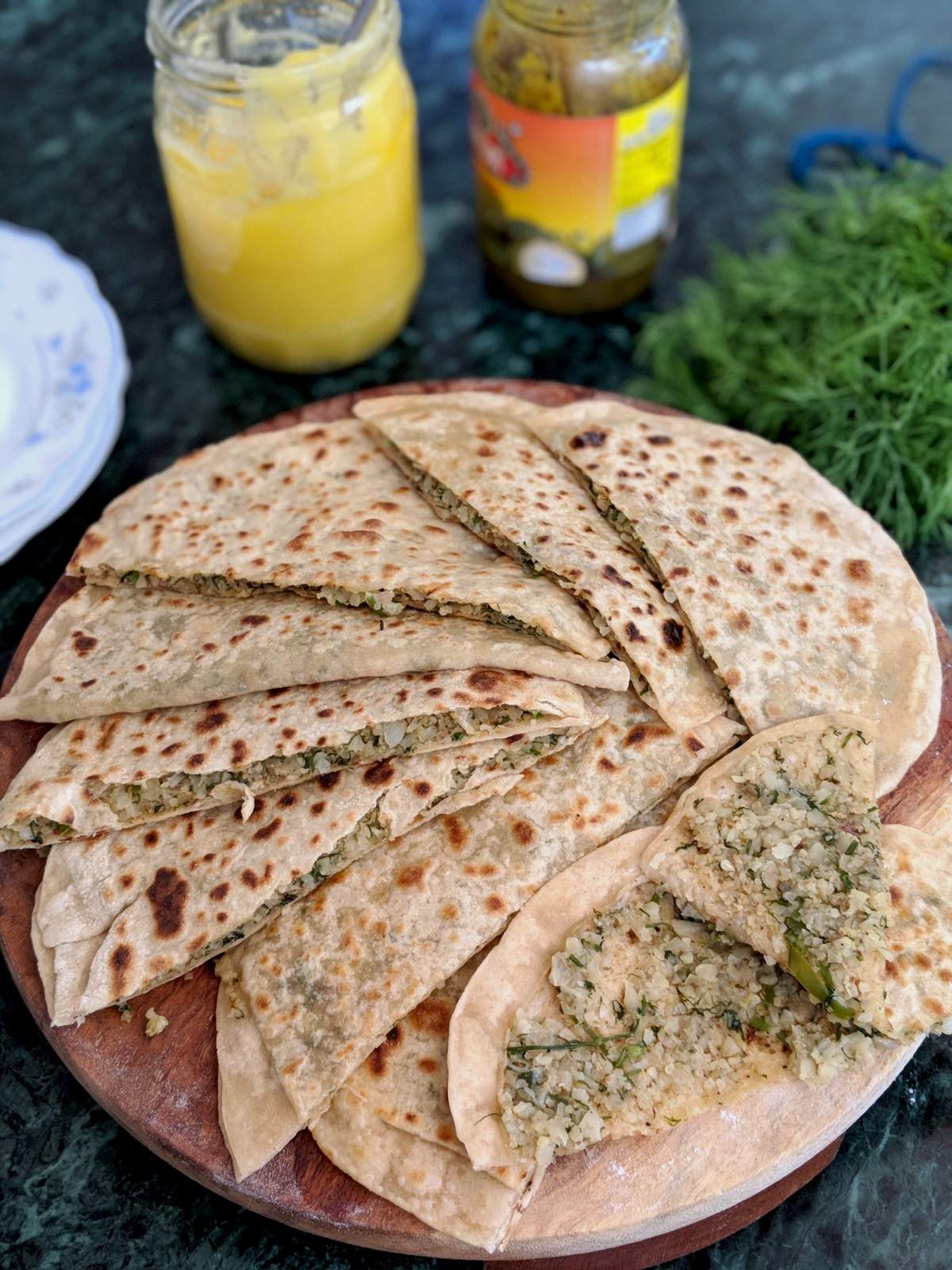 Pin
Cauliflower Parathas with Dill | Gobhi Parathas
Ingredients
For the dough
1 1/4

cups

whole wheat flour

1/2

tsp

salt

1

tsp

oil
For the filling
250

grams

cauliflower florets

large sized

1/2

cup

finely chopped dill

1

tbsp

cooking oil

2

green chillies

finely chopped

1

tsp

grated fresh ginger

1/2

tsp

salt

1

tsp

chaat masala

1/2

tsp

black pepper powder
To prepare the parathas
1-2

tbsp

oil to make the parathas

or ghee

extra flour to roll out parathas
Instructions
The Dough
In a large bowl, mix flour with 1/2 tsp salt. Adding enough water, make a smooth dough as for rotis. Not very soft and sticky though. Give a final knead by adding 1 tsp oil. Cover and keep aside for 10-15 minutes.
The Filling
Wash the cauliflower florets well. Pat dry with a cotton towel. If you have a food processor, put the florets in and pulse until you get coarse grains of cauliflower. Alternatively, you can use a box grater and grate the florets coarsely.

Heat the oil in a pan. I like using mustard oil here for the flavour it imparts, but use any oil you prefer. Fry the sliced chillies and grated ginger for 30 seconds.

Add the processed cauliflower and chopped dill. Stir on high flame for 4-5 minutes with constant stirring. Stir in all the spice powders + salt. Sometimes I use a combination of sandwich masala and cumin powder which gives a smoky flavour due to the presence of black salt in the masala.

Feel free to use the spices you like here, but nothing too overpowering or the delicate flavour of dill will be lost.

Once all the moisture has dried out of the mixture, remove the prepared stuffing into a bowl and keep aside. Make sure the cauliflower grains still have a bite to them.
Preparing the parathas
Divide the prepared dough into 8 portions. Roll out each portion into a thin roti, with the aid of some flour. Lay out the rotis on the clean counter or stacked divided by parchment paper.

To prepare each paratha, lay out one roti. Spread 2-3 tbsp of filling evenly over the rotis, leaving a 1/2 cm margin or so around the circumference. Moisten this margin using a fingertip dipped in water. Cover using the other roti (assuming it is of a similar shape and size). Press down around the margins, so they stick together. Use the rolling pin to lightly go over the parathas 1-2 times.

Keep a tava / flat pan to heat. Place this paratha on tava, cooking on medium high heat. Press down lightly with a spatula. Turn over, apply few drops of oil or ghee on the cooked side. Once the bottom side is cooked too, apply some oil/ghee on this side, giving it a few more seconds on heat. Remove and prepare remaining 3 parathas similarly.
Notes
You can also use the method of stuffing the dough with the mixture, sealing the parcel and proceeding to roll it out into a paratha. This method allows you to stuff a lot more of the filling inside the partha.
Other herbs you can use in cauliflower parathas instead of dill are finely chopped methi (Gobhi Methi Paratha- again seasonal and fresh in winters), coriander (Gobhi Dhania Paratha) or even mint (Gobhi Pudina Paratha). Paneer also makes a good addition to the paratha stuffing. Saute grated paneer along with the mix until the mixture is fairly dry and proceed similarly.
Serving suggestions: fresh butter, pickles, fresh yogurt, green chutney
Like what you see here? Stay connected with me on Instagram, Facebook, BlogLovin' and Pinterest.
Sign up to my newsletter by putting in your email in the box in the right sidebar, to get all latest posts in your email. No spam. Promise.
Disclosure: This post has affiliate links and Saffron Trail will earn a small commission if you purchase the product from these links, at no extra cost to you.