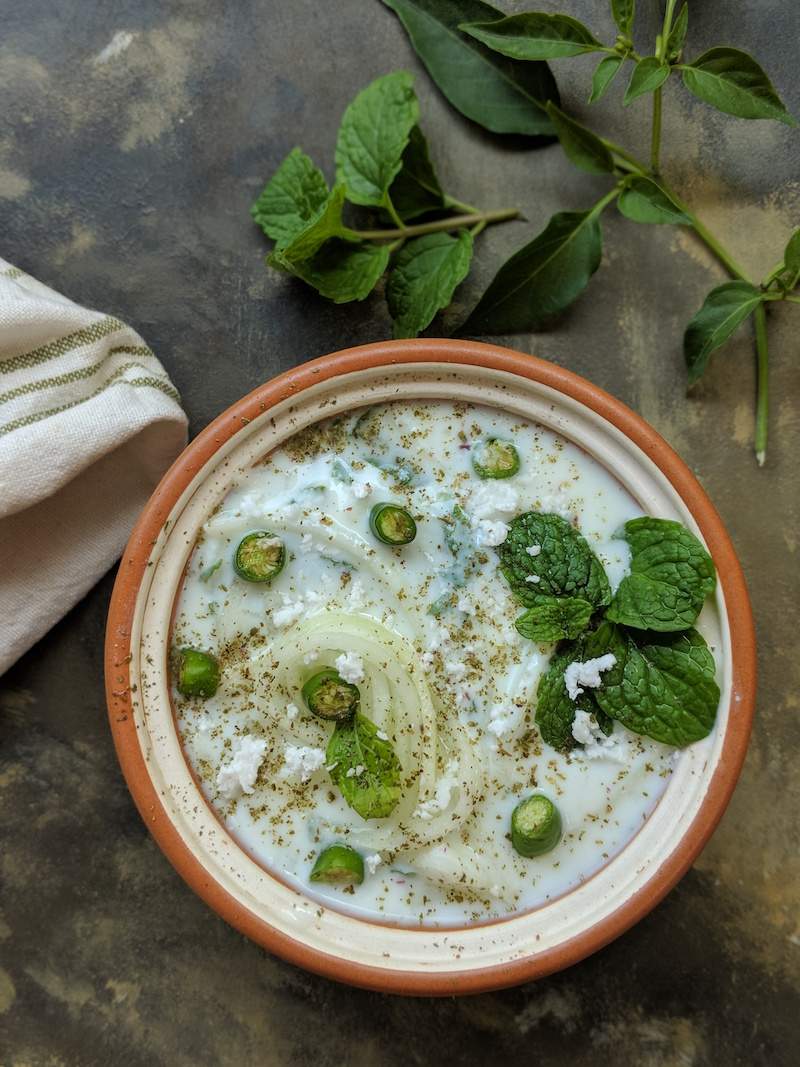 Cucumber mint raita or Cucumber Mint Yogurt is a very popular accompaniment to an Indian meal. A simple recipe with just a handful of ingredients and lots of potential to customise as per your likes, this is a must have recipe in your folder if your family loves Indian food.
Pin
I love the fragrance of mint, especially fresh mint leaves. And there's nothing like having a small potted plant of mint in your kitchen garden. The evening breeze brings a lovely waft of that wonderfully fresh fragrance. The Jasmine does put up some fierce competition to that though!
I keep looking for opportunities to use mint in my daily cooking, despite the rumours of 'you know what' that surround it! On the other hand, mint has been a part of age old remedies for relieving bad breath, stomach cramps, flatulence, nausea and many more
Mint tea, mint rice, mint parathas, mint on salads, mint in gravies– I just love it in everything. If you have a profusion of mint from your garden or window sill pots, there's an easy way to prepare dried mint and store it for use in recipes like this cucumber mint raita.
How do you eat raita?
I've been asked this question by some of my expat friends. For those new to Indian cooking, raita is a yogurt accompaniment to rice dishes like pulao or biryani. Serve this cucumber mint raita with Paneer Pulao , Rajma Pulao or Cabbage Rice.  You can even eat a bowlful of this raita as a meal by itself.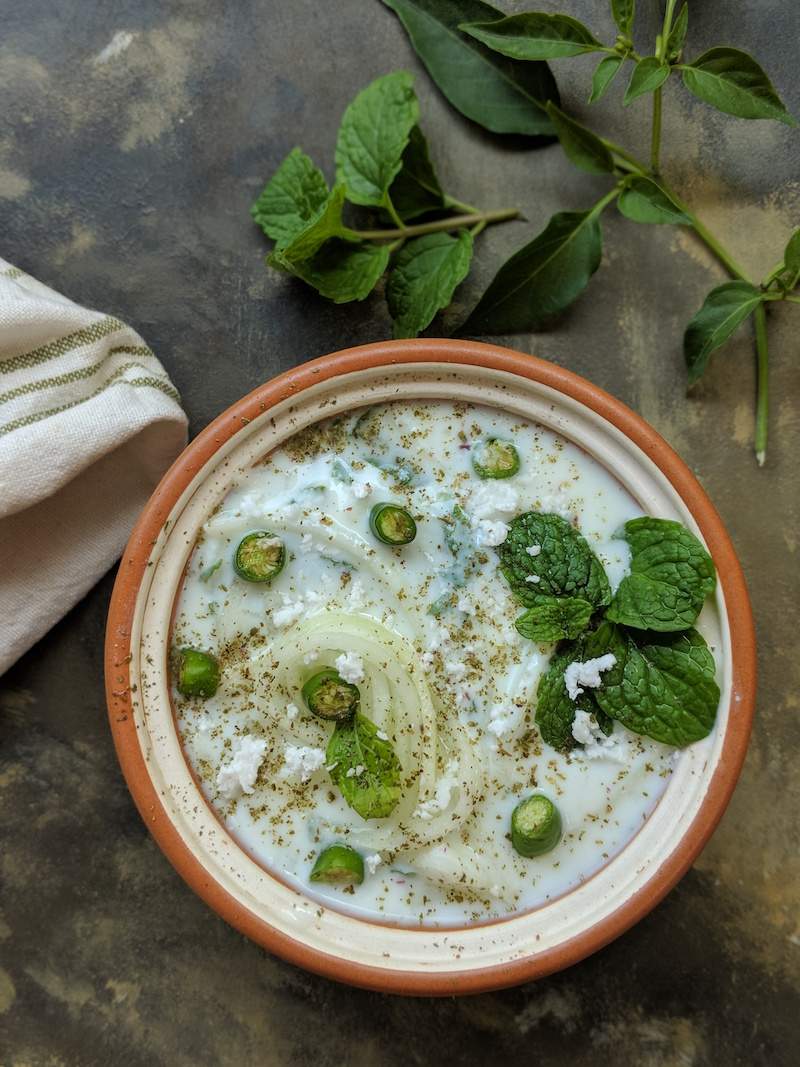 Pin
This savoury yogurt dish has cucumbers, fresh mint leaves and the garnish is a delicate sprinkling of fresh grated coconut.
Raita varieties
While cucumber raita is the most popular one, there are other variations that you will love to try:
Pomegranate raita – the bright red jewelled tones of pomegranate offer a beautiful contrast to the white of the yogurt. Season with salt and a sprinkling of ground roasted cumin seeds.
Banana Raita, a common and favourite dish in my home is the best way to use up overripe bananas. The tempering with curry leaves, mustard seeds and lentils gives it a delightful crunch.
Indian Gooseberry Raita is prepared using gooseberries in brine or cooked gooseberries, mashed along with coconut and spices. This is a traditional Tamil recipe.
Cucumber Mint Raita
Ingredients
1 1/2

cups

fresh yogurt

2

medium sized cucumbers

peeled and grated

handful of mint leaves

finely chopped

1/2

tsp

freshly ground black pepper

1/2

tsp

salt

1

green chilli

finely chopped
For garnish
4-5

whole mint leaves

1

tbsp

fresh grated coconut
Instructions
Whisk yogurt and mix in the cucumber and chopped mint.

Season with pepper, salt and green chilli.

Garnish with mint leaves and grated coconut.

Cover and keep in refrigerator until ready to serve.
Notes
~If you use hung curd for this recipe, you can very well use this, as a dip for crudites or a spread for sandwiches
~Sprinkle roasted cumin powder over the raita for added flavour
Originally published on May 04, 2006
For more such healthy vegetarian recipes, get my book The Everyday Healthy Vegetarian is out! Get all the info about my book and order it here. 
Like what you see here? Stay connected with me on Instagram, Facebook, BlogLovin' and Pinterest.
Sign up to my newsletter by putting in your email in the box in the right sidebar, to get all latest posts in your email. No spam. Promise.