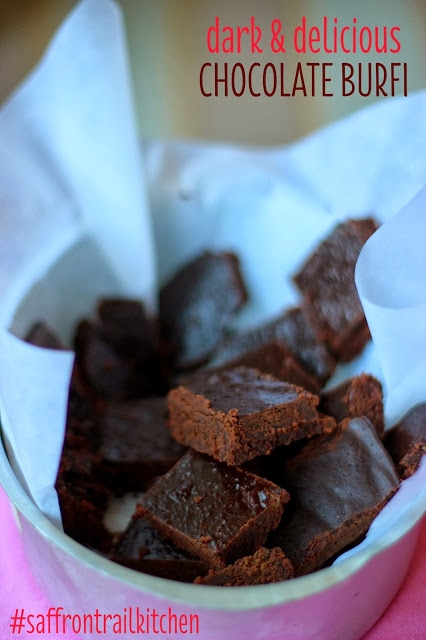 Recipe for a 6 ingredient Chocolate Burfi | Cocoa powder burfi | Indian festive recipe| Quick Diwali Recipes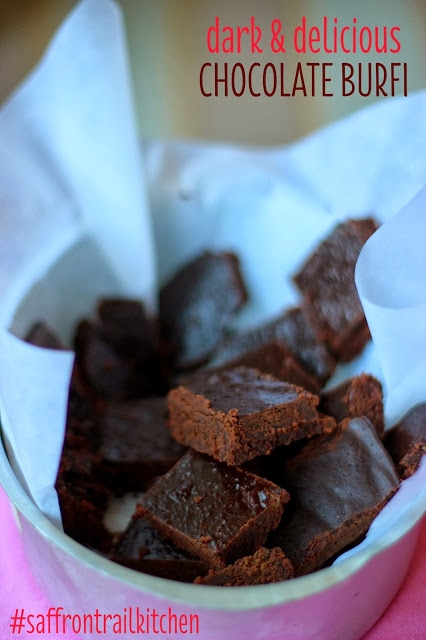 A simple, last minute, Diwali recipe – Chocolate Burfi, loved by all, that's ready in under 30 minutes, with the ingredients easily found in any kitchen, that's what I'm sharing with you today.
So if you are like me, a totally last minute person, who is sometimes completely unprepared for the festivals that suddenly come up, this Chocolate Burfi the perfect recipe for you.
In my usual style, last evening, I kept the pan on the flame and then called my mom, "How do you make your chocolate cake?". In my family, prior to my generation, the only cakes that were made at home were these kinda 'cakes' – or in culinary terms they would be better called 'squares' or 'fudge'.
How soft or hard you want the burfi depends on how much time you allow this to be on heat. My recipe gives you an in between consistency, so it cuts into neat squares. If you want it more soft set, try to remove it from flame onto the baking sheet 5 minutes earlier.
These burfis are pretty much trial and error, and are a little trickier than baking cakes, but they are fun experience with a fair bit of arm workout, which we all could do with, given how much we end up gorging on during the festive season.
If you don't have cocoa powder or if you don't prefer chocolate flavour, [wondering if there are such people in the universe;)] you can avoid the cocoa and add powdered cardamom or a few saffron strands towards the end to get plain milk burfi.
So this special recipe from my mom's kitchen, especially for you! Your last minute, go-to Diwali treat recipe 🙂 Happy Diwali from the Saffron Trail Kitchen to you and your loved ones.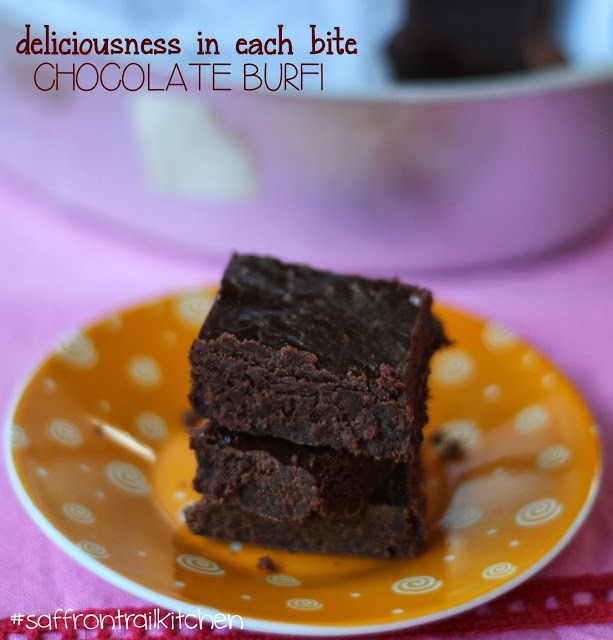 Recipe for Chocolate Burfi (cake)
Makes 16-20 pieces, depending on the size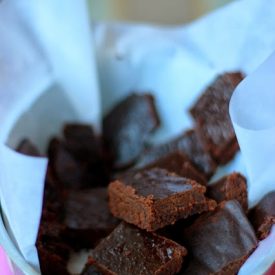 Chocolate Burfi
Chocolate Burfi in 30 minutes - a go to sweet to prepare for Diwali or any other festival or an Indian potluck dinner!
Ingredients
500

ml

milk

(3% cow's )

1

cup

sugar

granulated

4

tbsps

ghee

(clarified butter)

1

tbsp

rava

(semolina, fine variety)

2

tbsps

cocoa

powder

3 - 4

tbsps

milk
Instructions
Line a deep dish or a baking tray with a parchment paper or grease with a few drops of ghee and keep aside. A size of 8x4" will do, but if you have a bigger thaali / dish, make sure you don't spread over the entire surface or the burfis will be very thin and fragile.

In a heavy bottomed pan, place the milk, sugar, ghee and rava. Bring to boil on a high flame with constant monitoring and stirring.

Once it comes to a boil, reduce flame and allow to simmer with reasonably constant stirring to make sure the milk does not burn or catch at the bottom of the pan, or doesn't boil over.

After stirring and simmering for around 20 minutes, the milk will turn much thicker, roughly the consistency of dosa / pancake batter. Whisk the cocoa powder in warm milk and pour into the thickening milk with constant stirring.

In another 5-8 minutes (continue stirring), the mixture will turn much thicker leaving the sides of the pan. At this point switch off flame, because it will continue to thicken in the residual heat.

Pour / transfer the mixture over the greased parchment, taking care to spread over a smaller area if you want thicker burfis.

Let this cool for 15 minutes after which you can cut into squares / rectangular bars with a sharp knife or a pizza cutter.

Store in airtight container and consume in 3-4 days. Keeping them in the fridge makes them too hard and I personally don't like them cold.