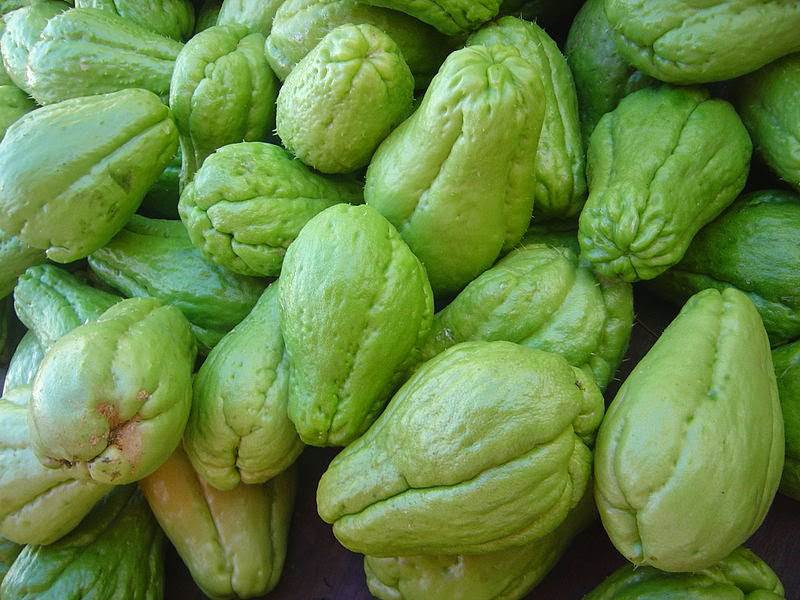 Chow Chow Vegetable | Chayote Squash| Bengaluru Kathrikai | Chow Chow Thogayal | How to make chow chow chutney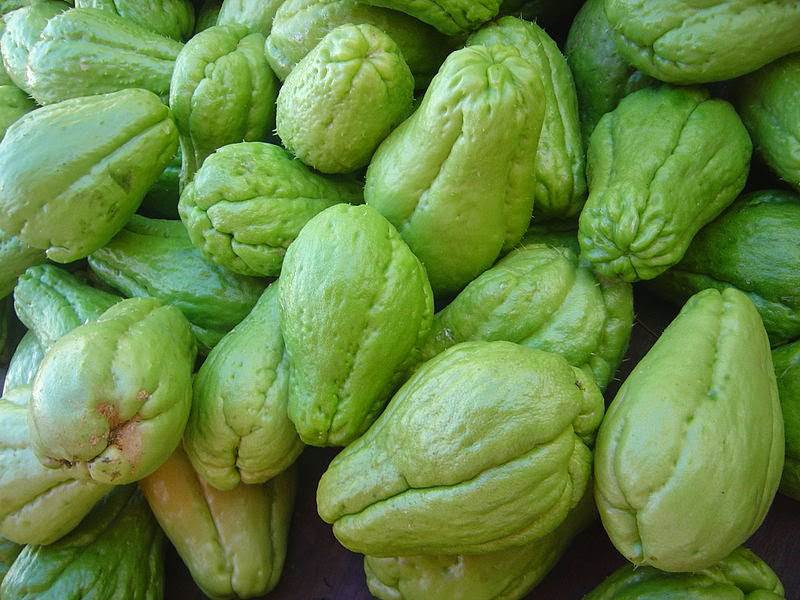 Chow chow in Tamil vegetarian cooking
Chow Chow is a vegetable belongs to the squash family. My Tamil (South Indian) community's obsession with all vegetables of the gourd family is legendary. Such a gourd-loving community we are. Give us a gourd and we'll make a kootu, a curry or a thogayal out of it and call it a meal.
As a child, I'd rummage through the shopping bags brought in from the market, and I'd see this vegetable- chow chow and I'd dread the next few meal times, knowing fully well that it would be unleashed on me pretty soon. While I didn't full-blown hate it, I almost borderline hated it.
In my family, they fondly call it Bengaluru-Kathrikkai (Kathrikkai being the Tamil word for brinjal) – and I know for certain that my grandmother loves it to bits. I have no clue how someone can love this vegetable with no personality whatsoever.
Chow Chow aka Chayote Squash
If you go through the Wiki-page dedicated to Chow Chow vegetable, also called Chayote Squash, you'll realise that it has caught the fancy of not just Tamil vegetarian folk, but communities around the world.
Check out the 80+ Tamil Vegetarian recipes (almost all plant-based) made with vegetables, lentils and grains.
Being from the squash family, it grows easily and it's cheap and I suppose, being a cheap food helps gain popularity, especially in times of economic depression. When I was getting to know my husband better, I once quizzed him on his favourite foods. He told me that he was a very non-fussy eater and that anything outside the gourd family was okay with him. Now that pretty much excludes a LOT of dishes from the Tamil vegetarian cuisine that I was used to growing up.
Getting to know chow chow vegetable and cooking with it
I did manage to go by the gourd rule for a few months into the marriage, but I ended up veering towards my gourd-eating roots pretty gradually. Pumpkins started making an appearance in sambar and bottle-gourd paired with chana dal in a curry and so on. I didn't hear any complaints, except for a small mumble, whenever I announced that there was Pudavalangai (snake gourd) curry or Pumpkin sambar for lunch. Years passed.
We were once seated at one of the darshinis in Bengaluru waiting to order breakfast. Those days, I was a Bombay girl, just visiting Bengaluru for a function for a couple of days. The waiter came to our table. The husband order chow chow baath. Imagine my shock! I was wondering what made him order this vile (even to me) chayote squash in rice!!
Before I could express my horror, the waiter came back with the dish (speedy service indeed). The plate had a scoop of upma and a scoop of kesari. Sigh of relief.
It was then I realised that Chow Chow baath was a popular breakfast item here, and it had nothing to do with the vegetable chow chow. Instead, it was a serving each of kaara baath (upma) and kesari baath (rava kesari), the perfect savoury-sweet combination.
I read this story about how this vegetable, called Choko, in Australia, was rumoured to be used in their McDonald's apple pies, instead of apples, as they were cheap, maintained their shape and Australia's tropical sub-tropical regions actually didn't produce apples.
Two ways to cook with chow chow
In my home, the much-loved Bengaluru-Kathrikai makes its appearance two ways. The peels and the flesh are used to make a (delicious!!) thogayal, which is a word for chutneys. It is also written as thuvaiyal.
Before I started loving gingelly oil, asafoetida and all other things revered in my traditional Tamil vegetarian home, even this thogayal was on my no-no list.
But as I grew older and genetic love for our traditional foods took over, I can now imagine a plate of steaming hot rice, a big dollop of this thogayal and a generous spoon of gingelly oil all mixed together and eaten with some fried vadams- oh goodness, a mini heaven.
The same thogayal is made with Peerkangai (Ridge gourd) using the peels, the fibres, everything. I cannot say my tastebuds detect much of a difference in the taste, for most gourds taste quite similar. Bland.
The second way to prepare this is make a Koottu. For the uninitiated, koottu is any vegetable+mashed dal+fresh coconut-spice masala with the ubiquitous tadka. The fresh koottu masala can make anything boring taste good – red chillies, black pepper, udad dal, coconut – these guys can rescue the most boring of vegetables and they do a fairly successful job with the chow chow.
Mixed vegetable kootu with winter vegetables
When cooked, it doesn't become all melt in mouth like the bottle gourd, or transparent like the white pumpkin. It kind of stubbornly hangs on to to its shape and its (slightly) weird taste, no matter what you do with it (expect mash the hell out of it in a thogayal, in which it does a surrender)
Lunch Idea: Chow Chow (or any other) Thogayal, Rice, Raw Banana Curry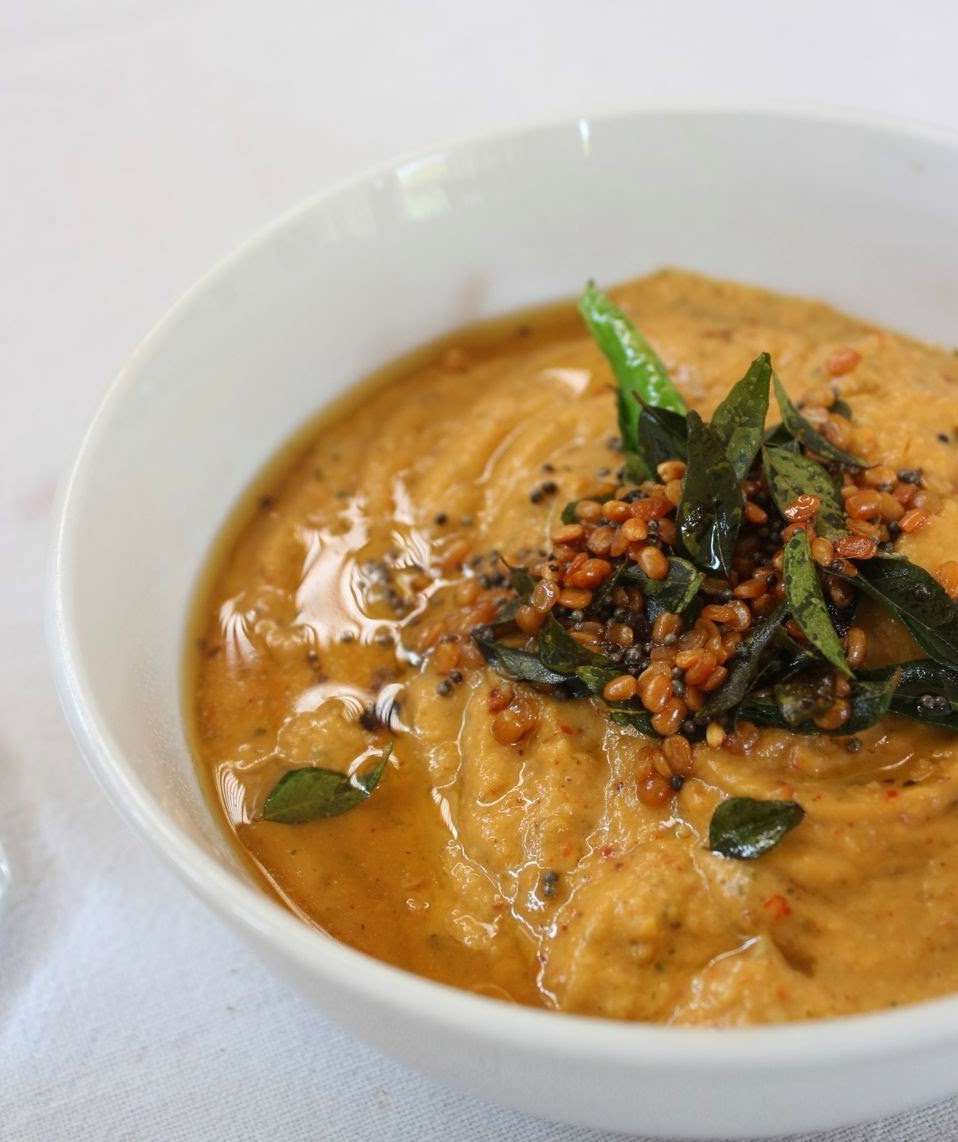 Equipment needed: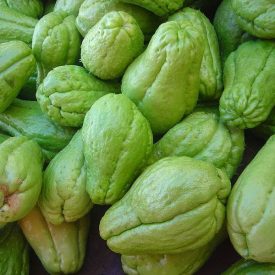 Chow Chow Thogayal - Chutney
Chow Chow, the bland vegetable is made into a super flavourful chutney in South Indian cuisine. A simple recipe with a handful of ingredients, tastes brilliant with steamed rice and ghee.
Ingredients
2

medium sized

chayote squash

chow chow

1/4

cup

coconut

scraped fresh or frozen

1

inch

tamarind piece

soaked in 2 tbsp water

2.5

tsp

gingelly oil

or any other cooking oil

2

tbsps

urad dal

+ 1 tsp for tempering

4

medium

dried red chillies

1/2

tsps

salt

2

sprigs

curry leaves

1

pinch

asafoetida

1/2

tsp

mustard seeds
Instructions
To make the chow chow vegetable into a chutney, start by vertically slicing it. Cut out the seed. Don't peel but scrape any spikes that may be there on the skin and dice or slice it.

Heat 1/2 tsp oil in a pan. Add 2 tbsp udad dal and red chillies and saute on medium heat until the udad dal is golden brown. Remove onto a plate and cool for few minutes.

Heat the remaining 1 tsp oil in same pan. On high heat, saute the chow chow for 30 seconds.

Reduce the flame, add 1/4 cup water, pinch of salt, cover and cook till chow chow is tender and fully cooked.

In small mixer-grind the fried udad dal-red chillies, soaked tamarind and coconut to coarse paste. To this add the cooled cooked chow chow, salt and scrape the sides of the mixer and grind to a paste. Remove this into a bowl.

Heat 1-2 tsp oil in a tempering ladle or small kadai. Add pinch of asafoetida, mustard seeds, once they splutter, add curry leaves and udad dal. Wait for dal to turn golden and transfer the tempering over the thogayal.
Before You Leave…