Flaxseed is a powerhouse of nutrition, one of the highly rated antioxidant rich foods. Its antioxidant nature exerts a preventive effect on cardiac disease and some cancers. It also reduces insulin resistance.
Lignans are phytonutrients present in plant food and flaxseeds are very rich in lignans. They are a part of the fiber componenet, and besides the good effects of fiber, they are also a potent antioxidant. Flaxseeds are rich in phytoestrogens, which is why regular intake of ground flaxseed provides relief from hot flushes in post-menopausal women.
The importance of including a good source of omega 3 in your diet cannot be stressed upon enough, whether it is for generating energy or for protecting cardiac health.
To get the most health benefits from flaxseeds, they must be ingested in the ground form for best absorption. Recommended quantity is 1-2 tablespoons of ground flaxseeds in a day. 2 tbsp of ground flaxseed gives you 130% of daily requirement of omega 3 fatty acids and 15% of the daily required fiber.
How to include more flaxseeds in your daily diet
1.Roasted and powdered flaxseed can be added to burgers / patties as a binder. Add it to alu-tikkis for your radga patties. (RECIPE: Veggie Burger].
2. Powdered flaxseed is a great addition to smoothies and protein shakes (RECIPE: Green Smoothie].
3. Easily disguised into soups, rasams and sambars.
4. As an egg substitute in cookies, cakes and muffins – 'flax egg' is 1 tbsp flaxseed powder whisked into 2.5-3 tbsp boiling hot water, letting it sit until it turns a bit viscous. Flaxseed meal added to home baked bread reduces the glycemic index of bread, making it much healthier. [RECIPE: Eggless Savoury Muffins | Ragi Ginger Cookies ]
5. Flaxseeds make a great addition to any podi, which is a staple in many South Indian kitchens. Try and make your own gunpowder (molagapodi) which has so much more flavour than a store bought one.
Idli Flaxseed Podi
My grouse with store bought molagapodi is that they grind it too fine. Texture is such a key element in molagapodi, the crunch from the coarsely powdered dals is part of the joy in eating idlis smeared with molagapodi. Also, the rich aromas from freshly roasted dals and toasted seeds is something else, never to be found in a mass produced and packaged podi. My mum, aunt and grandmum typically make one 'Horlicks bottle' measure at a time, so it never loses its flavour.
Amma's molaga podi recipe has been shared in this video on my youtube channel. This is my healthier version of molagapodi / milagapodi made using two dals, red chillies, sesame seeds and flaxseeds. Sesame seeds add a rich deep aroma to the podi. If you are a regular reader of my blog, you will already know that I love sesame seeds in every form 🙂
Do remember to toast each of the ingredients separately as each takes a different temperature and time to reach optimum aroma and golden brown colour, so putting them all together may not be a great idea.
This recipe has been developed in association with Phalada Pure and Sure – Organic Flaxseeds.
Flaxseed Podi (Molagapodi with flaxseed)
Time taken: Under 20 minutes
Makes: 3/4 cup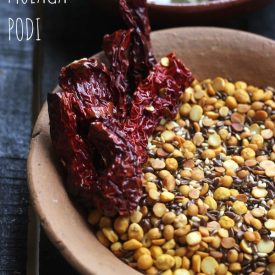 Flaxseed Molaga Podi | Spiced Flaxseed Lentil powder
Flaxseed Molaga Podi | Spiced Flaxseed Lentil powder
Ingredients
1/4

cup

chana dal

1/4

cup

tur dal

6

chillies

dried red - I use Bedgi / Byadagi

1 - 2

tbsps

sesame seeds

3/4

tsp

rock salt
Instructions
In a heavy bottomed pan, heat 1/2 tsp oil. Roast the chana dal and tur dal on medium flame, constantly stirring, until they turn light brown and aromatic. This will take around 8 minutes. Remove this into a dish to cool.

Dry roast the whole flaxseeds over medium flame for 3-5 minutes, until you begin to hear popping sounds. Remove this and keep aside to cool.

In the same pan, roast the sesame seeds for 1 minute, until you get a toasty aroma and they start popping. Remove this and keep aside to cool.

Heat the remaining 1/2 tsp oil. Break the dried chillies into halves and roast them for 3-4 minutes on low flame until they turn bright red and crisp up. Allow this to cool.

In a mixer jar, first grind the fried red chillies with salt. Add the chana dal, tur dal and grind until coarsely ground.

Add the flaxseeds, sesame seeds and pulse a few times until coarsely powdered.

Remove into a dish and cool. Fill this into an airtight bottle.

To mix the podi, add required quantity of gingelly oil (South Indian sesame oil) or for the calorie conscious people, you can mix the podi in dahi (yogurt) and eat with dosas or smear over the idlis.