Recipe for Upma Kozhakattai with Thenga Thogayal
Upma, in its various forms, is a mainstay breakfast or tiffin item in most South Indian homes and Kozhakattai is something that Tamilians prepare during festivals. Upma Kozhakattai is none of these
My grandma used to make this one, once in 3 months or so- making it one of my favourite tiffins. (You get the drift? The rarer it's made, the more it's liked- or as goes the saying-familiarity breeds contempt) The common fellows like Idli, Dosai, Upma used to fall in the second category. I guess grandma would soak, dry and then grind the rice to obtain the base for making this dish. In today's times, the above three steps are replaced by these three steps-a visit to the supermarket, pick up a packet of idli-rava, pay for it!
Upma-Kozhakatti is steamed rice flour balls with a bit of seasoning and coconut. This is served with a lentil-coconut spicy and sour chutney. A small chunk of jaggery is sometimes kept inside these balls, so that you bite into a sweet surprise in the center
You will rarely find this being served outside of Tamil homes, so the only way to experience this bliss of a breakfast is to make it yourself. The good news is that it is REALLY easy!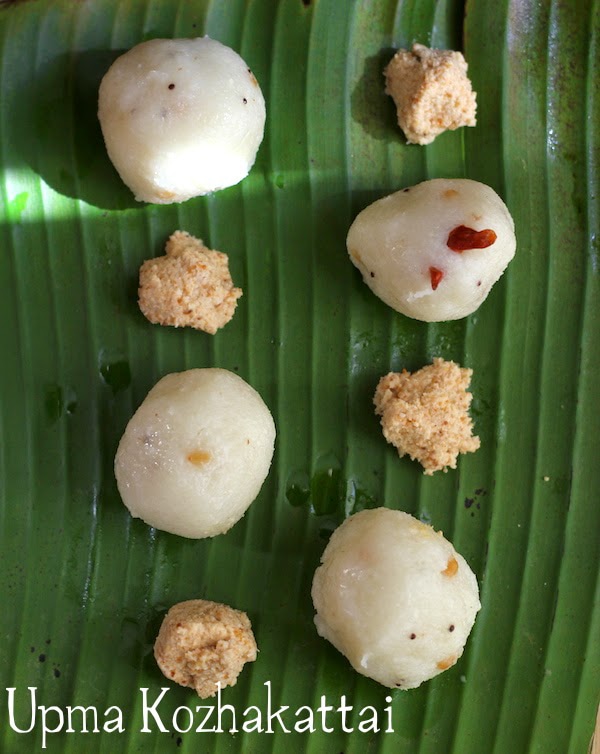 Recipe for Upma Kozhakattai / Steamed rice dumplings with coconut chutney
Serves 4
Prep time: 15 minutes | Cooking time: 20 minutes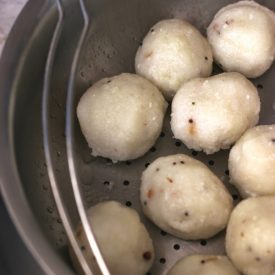 Upma Kozhakattai with Thenga Thogayal
Upma, in its various forms, is a mainstay breakfast or tiffin item in most South Indian homes and Kozhakattai is something that Tamilians prepare during festivals. Upma Kozhakattai is none of these My grandma used to make this one, once in 3 months or so- making it one of my favourite tiffins. (You
Ingredients
1.5

cups

Rava

Idli

2 - 3

chillies

small dried red

2

tbsps

coconut

grated fresh / frozen

1

tsp

dal

udad

1

tsp

mustard seeds

pinch

asafoetida

A small piece

Jaggery

3

cups

Water

1.5

tsps or to tastes

Salt
Instructions
Recipe for Upma Kozhakattai / Steamed rice dumplings:
Heat 1 tsp oil in preferably a large non-stick wok. Splutter the mustard seeds. Add the udad dal and fry till golden brown, and then saute the dried red chillies and asafoetida for a few seconds.

To this, add 4 1/2 cups of water. In the water, put in the coconut, jaggery and salt. Bring it to a rolling boil.

Keep the flame on sim, and add the idli rava little by little with constant stirring to avoid any lump formation. Stir the rava well, and cover and cook for 5-6 minutes like how you would make an upma. Rice rava cooks faster than semolina rava. All the water must get absorbed and the resulting mass shouldn't stick to your fingers.

Remove the 'upma' onto a big dish / thali and cool off for 5-10 minutes. Once cooled, take a big handful of upma and shape it into ovals / spheres, dipping fingers into water, to prevent from sticking. You will get roughly 14-15 such palm sized kozhakattais from 1 1/2 cups of flour. Arrange this in a steamer and steam them for 10 minutes.

Serve hot straight out of the steamer with some spicy coconut chutney.
Recipe for Thenga Thogayal / Spicy Coconut Chutney:
Heat 1 tsp oil in a pan. Splutter some mustard seeds, add 2 tbsp of bengal gram lentils (chana dal), 2 T of udad dad (split black gram lentils), 4 dried red chillies.

Saute till the dals are golden brown. Add a pinch of asafoetida. Remove from flame and cool.

In a chutney grinder, place 1 cup grated coconut, 1 tsp softened tamarind, 1 tsp of jaggery, the sauteed mix, salt to taste. Grind till the mixture is a coarse chutney.You can do a tempering with mustard seeds and curry leaves to this chutney after you remove it into a bowl. This chutney goes very well with most other South Indian tiffins like Idli , Dosai and Adai.
Notes
Notes:
Equipment required: Steamer.
Water to cook the rava is used in proportion of idli rava 1:3 (for one cup idli rava use 3 cups water).