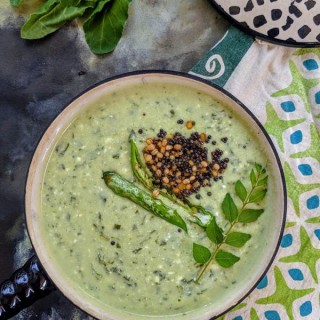 Mor Keerai is a fragrant stew / curry featuring spinach, yogurt and coconut that is best eaten with steaming hot rice! This is naturally gluten free, and makes a light summer meal.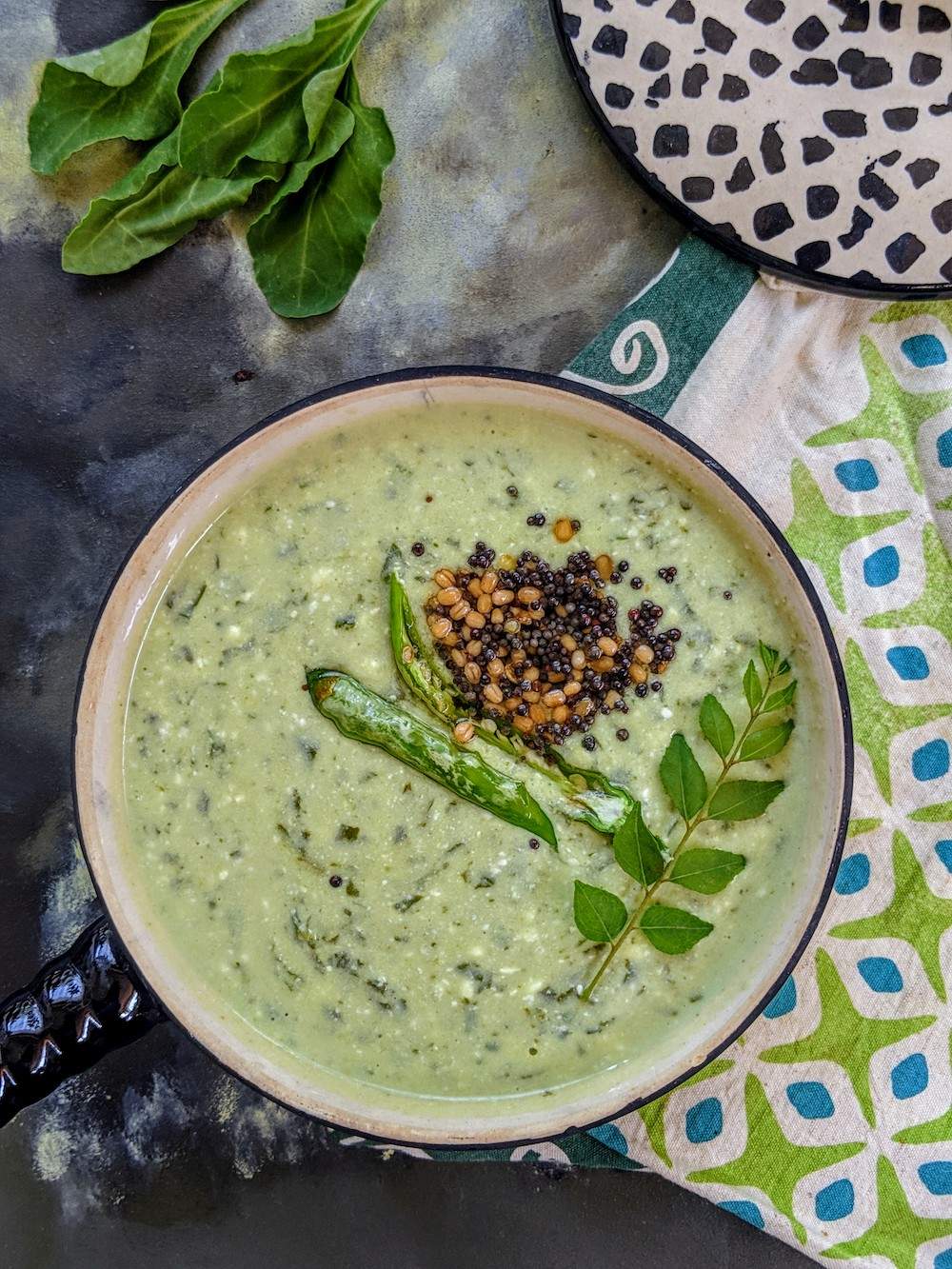 Pin
Tamil vegetarian cooking, like any other Indian regional cooking varies from house to house. While I've grown up eating this very cuisine (albeit sometimes reluctantly) – when this recipe for Mor keerai was shared by a friend, I was surprised I've never eaten this.
Come summer, and yogurt is my favourite thing to eat as well as cook with. Indian cuisine has tons of uses for yogurt in cooking. South Indian cooking regularly makes use of slightly sour yogurt to prepare delicious curries in combination with vegetables and mor keerai is a great example of that.
Since we have having a good crop of spinach and chillies currently in our small terrace garden, this seemed like the perfect way to use freshly grown produce. The procedure to make this Mor Keerai (which translates to buttermilk and spinach), is quite similar to mor kuzhambu (a buttermilk based curry). Grind the fresh spice paste with coconut, add it to sour yogurt / thick buttermilk and bring to a simmer.
I have recipes for a few varieties of Mor Kuzhambu that are perfect to try out this summer.
I love the subtle flavours of this stew. You can use any seasonal fresh greens such as amaranth, water amaranth, agathi keerai or Bathua.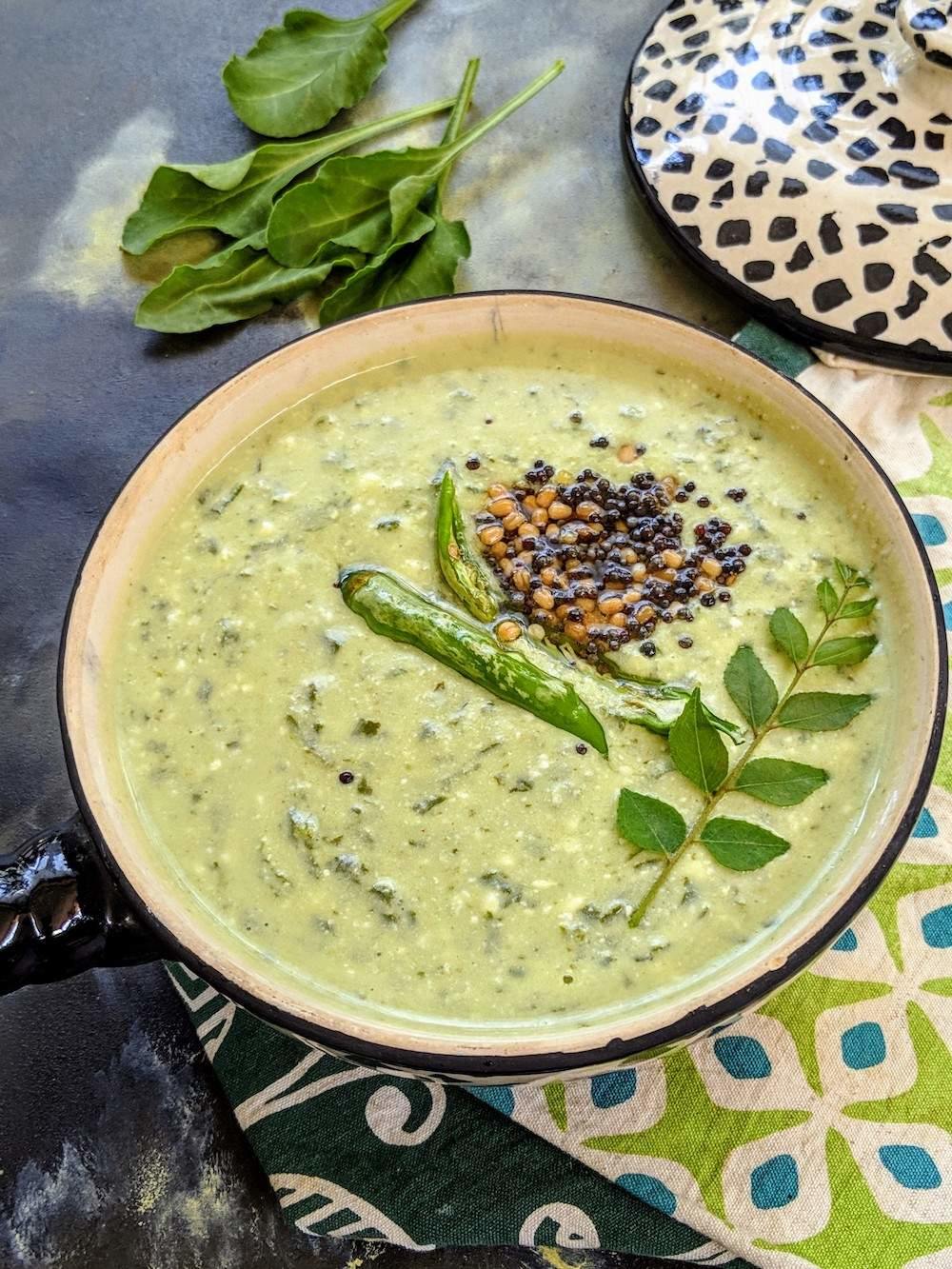 Also read: 7 ways to use up sour yogurt
This Mor Keerai pairs well with rice and one of the following accompaniments–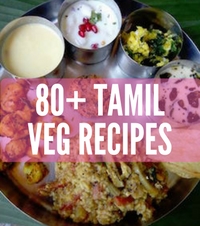 Pin
If you like more traditional Tamil Vegetarian recipes, then you can find 80+ recipes indexed in my post here.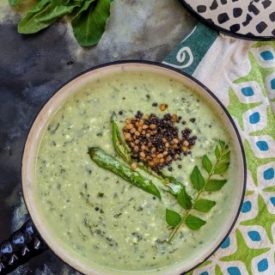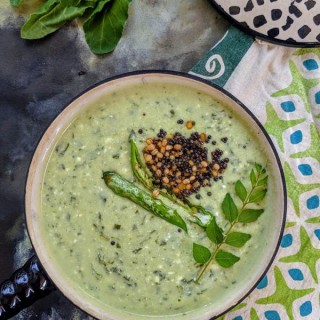 Mor Keerai
Ingredients
2

tbsp

chana dal

1

tbsp

raw rice

1/3 - 1/2

cup

grated coconut

2

sprigs

curry leaves

Handful

coriander leaves

4 - 6

green chillies

as per preference

2

cups

yogurt

thick

3

cups

finely chopped spinach

1

tsp

salt
For tempering
2

tsp

coconut oil

1/2

tsp

mustard seeds

2

tsps

urad dal

pinch

asafoetida

1

sprig

curry leaves
Instructions
Soak 2 tbsp chana dal and 1 tbsp rice for about half hour.

Grind the soaked dal and rice along with the coconut, curry leaves, coriander leaves and green chillies to a fine paste. Use green chilies as per your heat tolerance and how spicy the chillies are.

Mix this prepared paste into roughly 2 cups of thick sour yogurt. Whisk well to combine.

In a pan, combine 1/2 cup water with chopped spinach and boil for 4-5 minutes with constant mashing, until spinach is cooked thoroughly.

Add the yogurt with spice paste to the cooked spinach and salt as required. Cook this on a low flame. Once the curry starts simmering, remove from flame. Do not boil this on a high flame or the yogurt may split.

Prepare the tempering for the mor keerai. In a kadai or small pan, heat 2 tsp coconut oil and fry the mustard seeds and urad dal. Once the dal turns golden brown, stir in the asafoetida for a few seconds. Add curry leaves and stir for a few seconds. Transfer this over mor keerai and serve hot.
Originally published on Feb 18, 2012. Updated with photos and text on 12 March 2019.
To get all my latest recipes and news straight into your mailbox, subscribe to my mailing list here and get a free copy of my e-book specially put together for you – The Ultimate Salad Master Table that will have you making salads like a pro HERE
For more such healthy recipes, get my book The Everyday Healthy Vegetarian! Get all the info about my book and order it here.
Like what you see here? Stay connected with me on Instagram, Facebook, BlogLovin' and Pinterest.