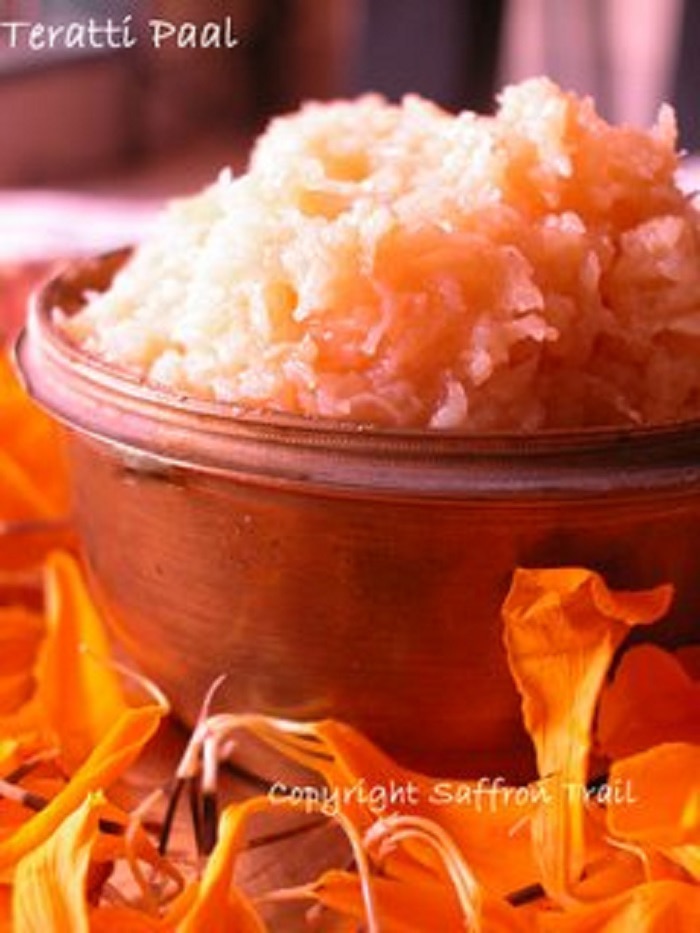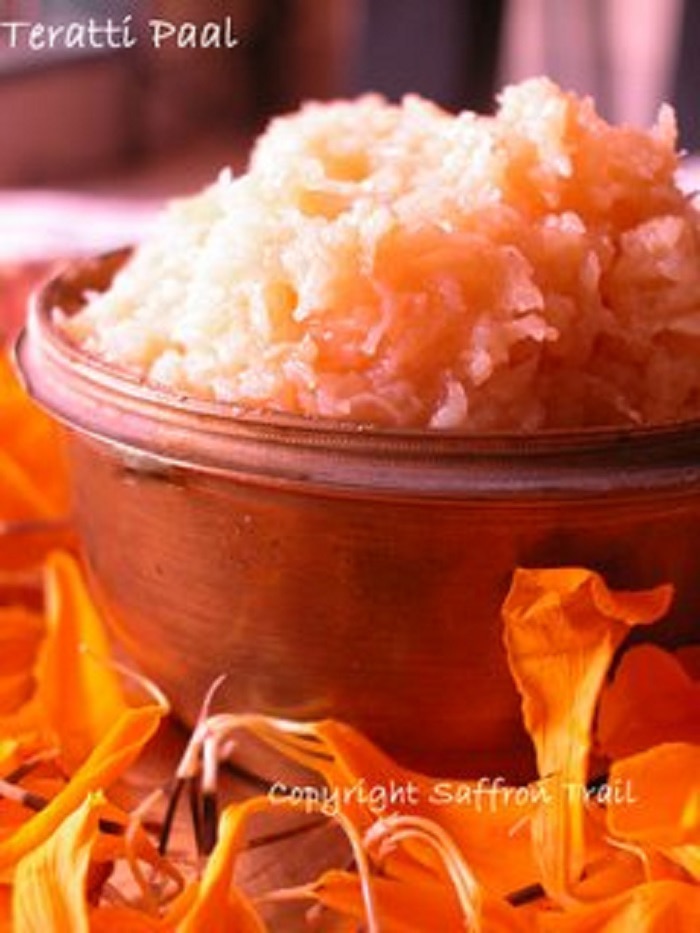 Continued from Diwali Blogging- I and II
It's not like I've been going crazy cleaning and cooking. Nankhatais were made almost 10 days ago. Khajas were made last Sunday. Then there was a big break. My domestic help fell ill and I managed whatever cleaning I could do by myself…I can see all my friends in the US say- No maids here! But the kind of dust that settles on everything that has stayed in one place for more than 5 minutes, is so typically BOMBAY. I often tell DH, if I didn't move for a couple of hours, I'd be covered with dust myself.
The baked Karanjis took shape 3 days ago and then it was only today that I decided to make the stuff for the finale. Since I'd bought some extra milk for the day, I wanted to make a milk based sweet. I thought – why not Teratti Paal? For all those who aren't familiar with this one – this recipe has only two ingredients – Milk and Sugar. Milk is boiled and boiled some more (read as atleast 40 minutes per Litre) – to obtain a semi solid consistency after which sugar is mixed in until it melts and the milk and sugar come together as one. Weddings, auspicious occasions, poojas, nothing in my family is complete without this one sweet. Since its got this 'auspicious' tag attached to it, I'm always wary of making such stuff and causing some goof up. But today, I had to try this. As usual, called up mom, made a mental note of the process and emptied the milk into my huge non stick wok. Stir, stir, stir, add the sugar, and teratti paal is ready! You really want me to write the 'recipe' for you?
Also made a quickie dudhi halwa (bottlegourd fudge) and Gulab Jamun from the Gits pack according to pack instructions. I must tell you that this is the first time ever I tried my hands at these . The balls almost seems like seedai. Or may be like marbles. A quick phone call to my aunt rescued the situation and the jamuns turned out nice and fluffy, floating happily in a saffron-cardamom flavour infused syrup. See them there, and you'll agree with me 🙂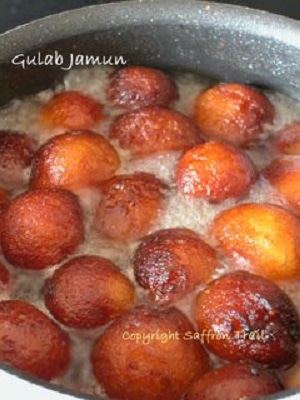 Teratti Paal - Mother of all Tambram sweets in Diwali Blogging - III
Continued from Diwali Blogging- I and II It's not like I've been going crazy cleaning and cooking. Nankhatais were made almost 10 days ago. Khajas were made last Sunday. Then there was a big break. My domestic help fell ill and I managed whatever cleaning I could do by myself...I can see all my frie
Ingredients
1.5

milk

L Whole cow ' s

1

cup

sugar

1

tsp

ghee
Dudhi Halwa
1

tsp

ghee

1

tbsp

beetroot

grated (for colour - optional)

1

cup

milk

whole

1/2

cup

sugar

100

gms

Khoya

(solidified milk)

Pinch

nutmeg

freshly grated
Instructions
Take an absolutely clean kadai / wok. Non stick variety is better. Pour the milk. Bring it to a boil and then keep the flame on minimum. Let the milk simmer for around 25-30 minutes. You cna leave a wooden ladle into the wok, so that the milk does not overflow.

Please keep stirring off and on, so that as the milk thickens, it does not stick to the bottom.

After around 25 minutes, you notice that the milk has thickened to a thready consistency. At this point add the sugar and keep stirring. It will take another 15 minutes or so, until the sugar and milk have turned into a semi solid consistency with no liquid floating around.

Turn off the flame. Mix in a tsp of ghee into the teratti paal and remove it into a bowl / plate.

The subtle taste of this one is to be experienced. But I shall try and explain. Its rough, granular, mildly fragrant from the milk and sweet of course.

Recipe for Dudhi Halwa is here.

In a pan, take a tsp of ghee. Put in the grated dudhi and beetroot. Saute for 2-3 minutes.

Add the sugar and the milk to the dudhi. Boil them together for around 10 minutes until the dudhi is soft and cooked.

Put in the khoya, grated nutmeg and keep stirring vigourously until all the water / milk has evaporated. This will take atleast 15 minutes. The fudge will be a pale pink colour and will collect into a ball in the corner of the pan. Take it off the flame.

Remove it into a deep dish. Flatten well with spatula. Once it has cooled a bit, chill it in the refrigerator for 30 minutes. Remove and cut into desired shapes.

This is a very quick and yummy, all Indian dessert. If you don't get Khoya, condensed milk should work fine too. Serve it warm with a scoop of vanilla icecream and your guests will be licking the spoon (and the bowl) clean!.
Notes
Here's the list of Diwali goodies -.
Sweet and Savoury Nankhatai
Spicy Khajas
Baked Karanjis
Teratti Paal
Dudhi Halwa
Gulab Jamun
Wishing you and your families a wonderfully JOYOUS DIWALI with good health and prosperity.
Tags: South Indian, Tambram cooking, Indian, milk sweet, festival food, teratti paal, karanji, nankhatai, khaja, Saffron Trail, Recipe, Food, Indian food blog, Healthy eating, Healthy living,Mumbai, India.