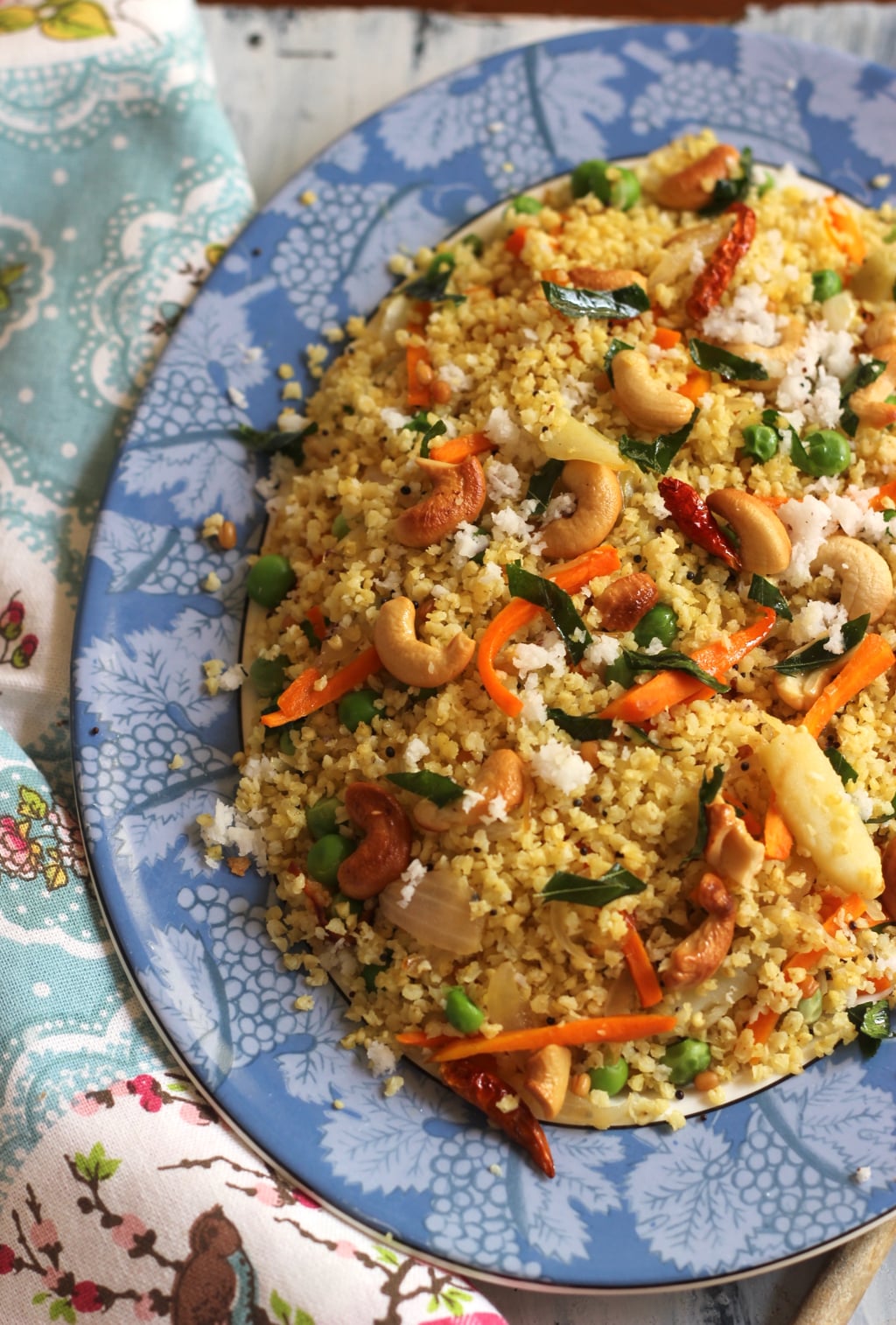 Recipe for a healthier version of upma that is usually made with semolina. Millet upma prepared using Proso Millet here but can also be prepared using other millet varieties.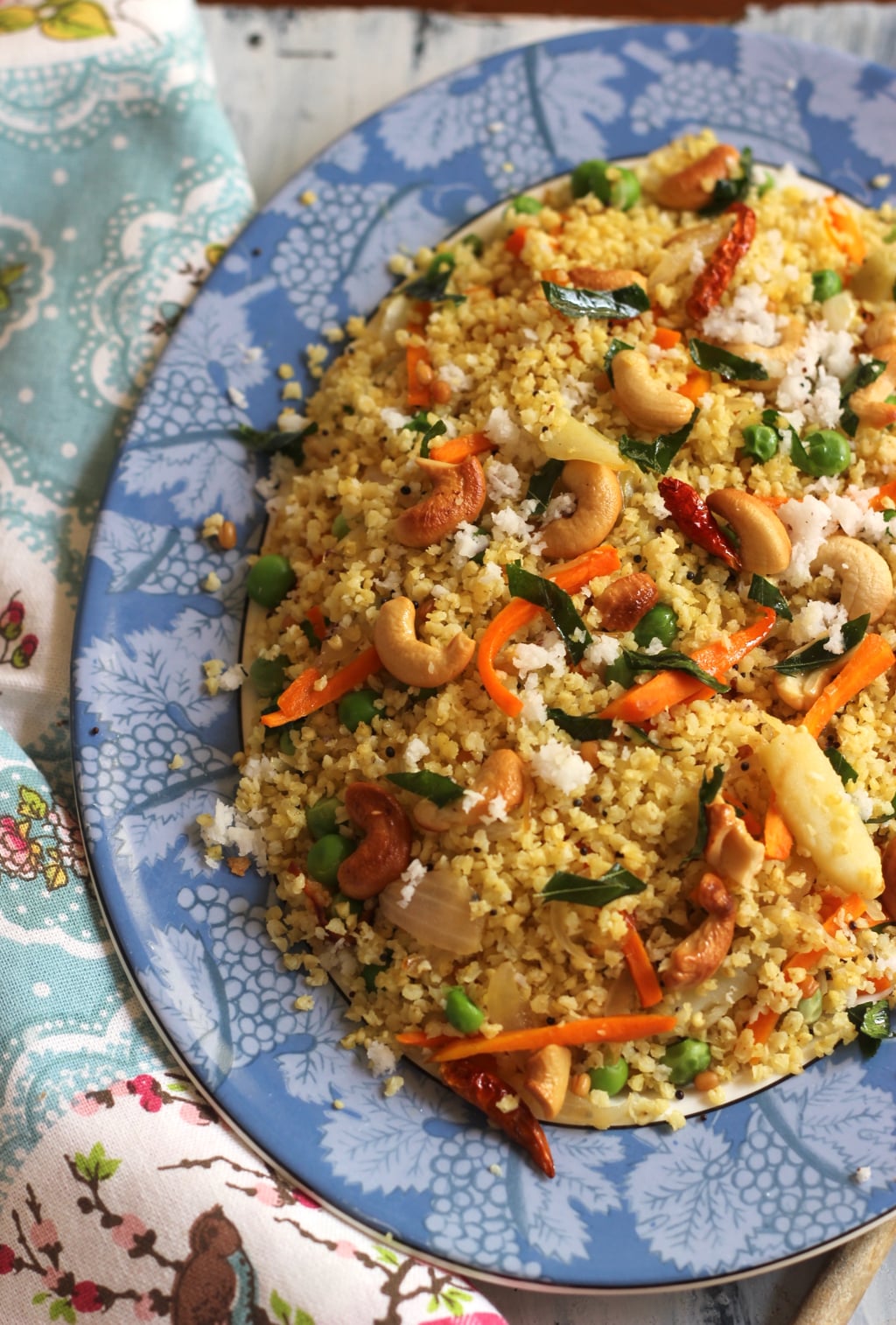 Before I launch into this post, it is useful to give the local names of Millets in some of the languages, because that's the most commonly asked question.
Proso Millet – Panivaragu in Tamil, Barri in Hindi, Varigulu in Telugu, Baragu in Kannada
Foxtail Millet – Thinai in Tamil, Kangni in Hindi, Korra in Telugu, Navane in Kannada
Millets can be a good substitute for most grain-based recipes. Not only are they naturally gluten free and full of nutrients, but their high fiber content ensures that you get filled up with less. If you are aiming for weight-loss or simply a reduced calorie diet, this is quite a useful ingredient to stock up. Don't get me wrong, they are not a low-cal food. The benefit comes from the fact you don't end up eating as much of millets as you can of rice, poha or semolina.
It is also an easy wholegrain to consume because it is easy to cook and adapts itself to a variety of dishes and cuisines. Diabetics must ensure they consume millets on a regular basis, due to its higher fiber content and a glycemic index lower than rice.
Millets are also known to have as many antioxidants / phytonutrients as fruits and vegetables and we all know about the immunity boosting, cancer-preventing advantages that this group of micronutrients bestow on us.
So now that I have sufficiently convinced you about the health benefits of millets (like I have several times in my past posts ), let me share with you a recipe for Millet Upma. With a healthy dose of veggies and delicious garnish of fried cashews and fresh coconut, I could happily have this for breakfast any day or a light dinner too. Try it out and you are sure to agree with me on this!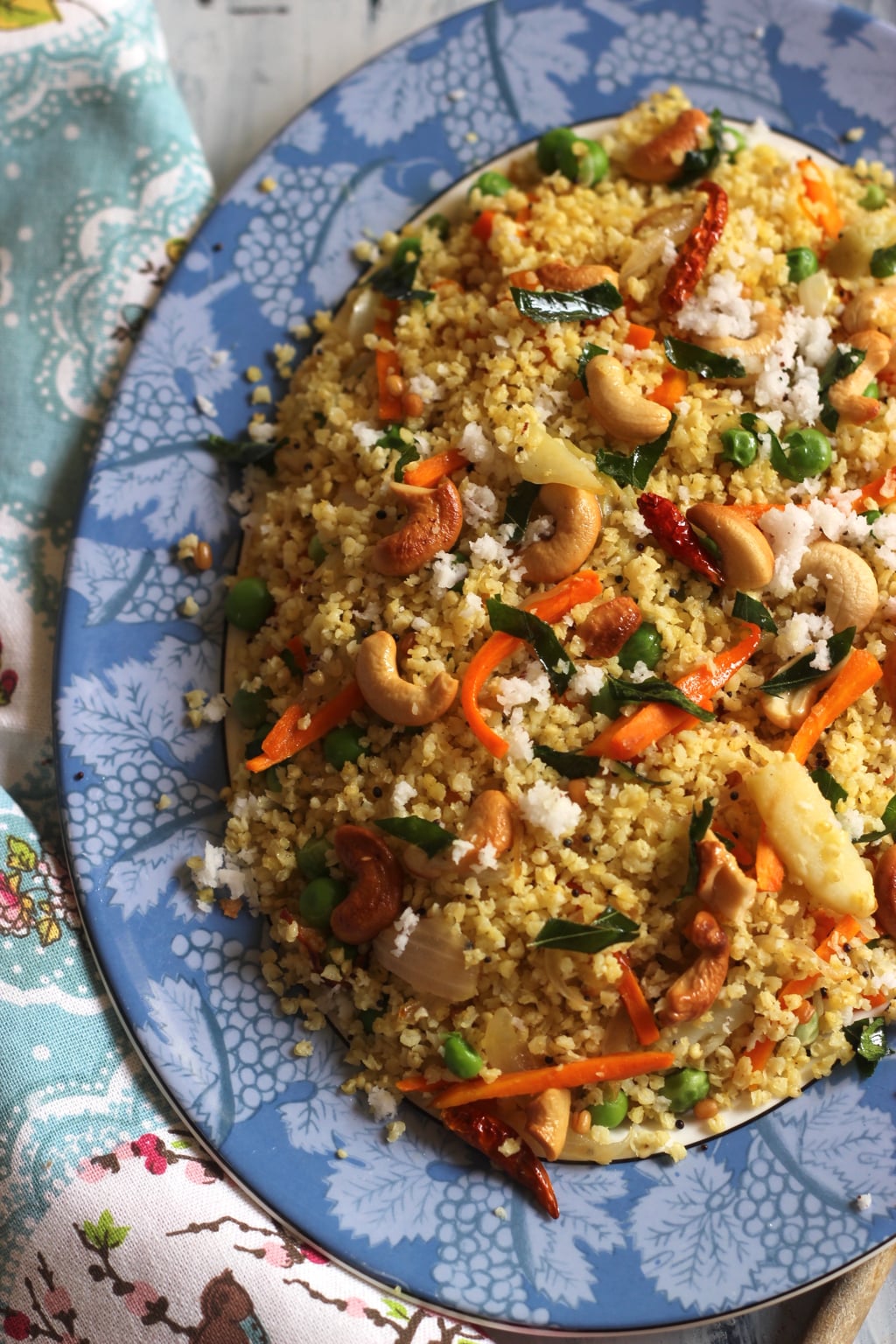 Proso Millet Upma
A South Indian Upma made healthier and filling with the use of Millets instead of rava/semolina. Naturally gluten-free and vegan too, if you use coconut oil.
Ingredients
1/2

cup

Millet

Proso or Foxtail

1

tsp

ghee coconut oil

or

1/2

tsp

salt

2

tsps

coconut oil

1

tbsp

urad dal

1/2

tsp

mustard seeds

8 - 10

curry leaves

1

tsp

chopped ginger

finely

1

tsp

green chillies

finely chopped (optional)

1 small

potato

(cut into thin strips)

1

carrot

medium (peeled, cut into thin strips)

1

onion

small , thinly sliced

1/4

cup

green peas

frozen

1/2

tsp

salt

2 - 3

tbsps

coconut

grated

1/4

cup

cashewnut

halves

1

tsp

ghee
Instructions
To prepare the millet upma, in a heavy bottomed pan, heat 1 tsp ghee/coconut oil and roast the millets gently until aromatic - for around 5-7 minutes.

Heat little over a cup of water in a small pan. Once this comes to a boil, add to the toasted millets with 1/2 tsp salt. Cover and cook until the millets are soft but not mushy. Foxtail millet will take around 8 minutes and Proso millet will take around 10 minutes. Once cooked, fluff with a fork and remove into a bowl. Keep aside.

Meanwhile, heat the ghee/coconut oil in another pan. Add the urad dal, mustard seeds and wait until the dal turns golden brown and the mustard seeds splutter.

Add the finely chopped ginger, green chillies, curry leaves and give it a good stir.

Now add the chopped onion, carrot and potato with a pinch of salt and stir well. Keep covered and cook for 4-5 minutes until somewhat cooked. Add the frozen peas, cover and cook for another 2-3 minutes.

To this add the cooked millets, stir to combine everything together. Season with salt as required.

For the garnish, in a small tempering ladle or pan, heat the coconut oil or ghee. Fry the cashewnut halves until golden.

Remove the Millet Upma in a platter. Garnish with fresh coconut, fried cashews and if you like some fried curry leaves too!
Notes
Serve millet upma when it is hot as it tends to dry out as it cools. You can serve it with a tomato chutney or coconut chutney on the side.
Like what you see here? Stay connected with me on
Instagram
,
Facebook
,
BlogLovin'
and
Pinterest
.