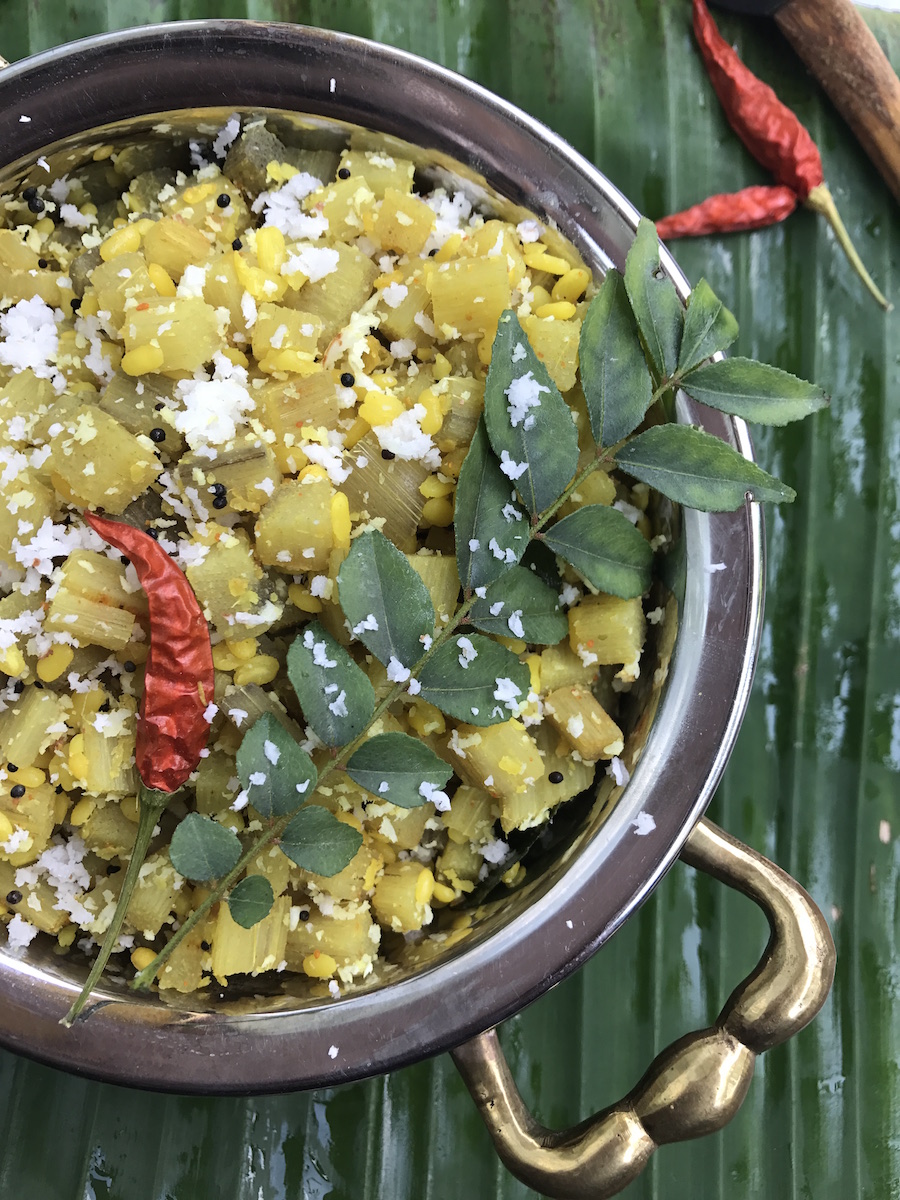 This is a recipe for Banana stem curry (Vazhaithandu curry in Tamil), cooked along with yellow moong dal, garnished with fresh coconut, to prepare a simple yet nourishing dish that can be eaten along with rasam and rice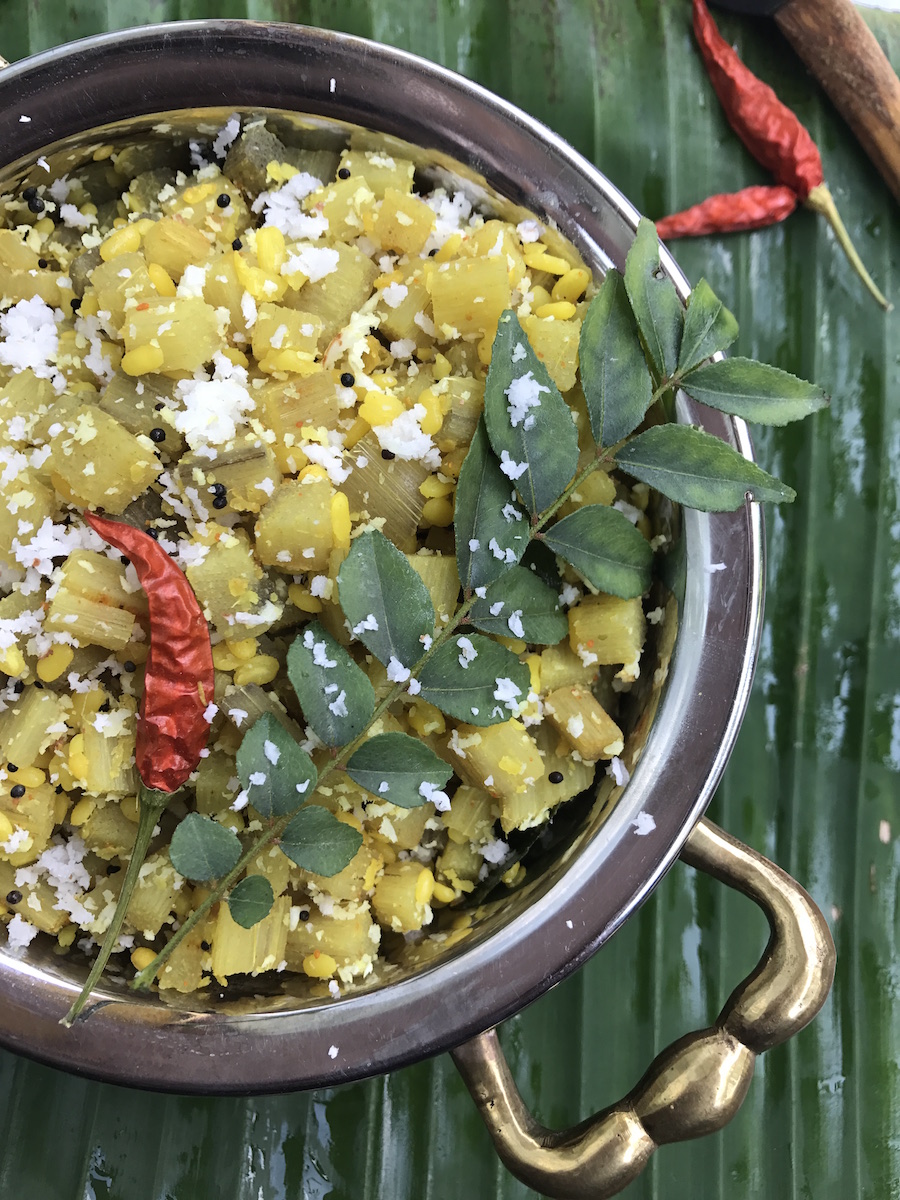 The banana tree is not called the Kalpavriksha without reason. While most of us might have written essays about the multifarious uses of the banana tree in school, it nice to remember how each and every part of this plant is useful in day to day life.
The leaves make for eco friendly plates on which one can eat a five course meal. The fruit of course needs no introduction – being one of the first things we learn to eat as babies while being weaned from the breast. The raw bananas (plantains) can be cooked into plantain koftas. They are used extensively as a substitute for potatoes by Jains.
Plantains are fried into the much addictive chips (Plantain chips in airfryer). The flower whose intricate design is a true miracle of nature, is used to adorn the entrance of auspicious events like marriage, while also being cooked into delicacies in many Indian cuisines.
The banana stem (which is actually a false stem, as it is a collection of leaf stalks) is full of fibre and when the outer shiny layers are pulled off, the inner pith is edible and that's what this post is about. Recipe for a banana stem curry 🙂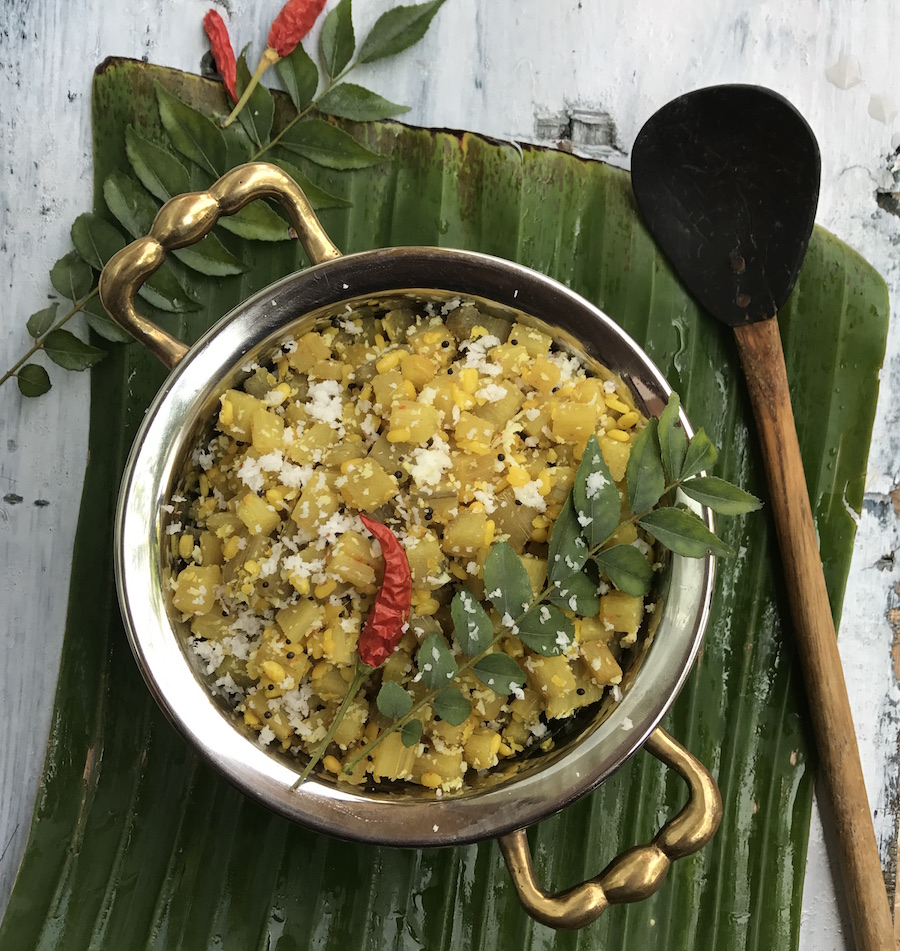 Pin
On Banana Stem Health Benefits
Banana stem is a very good source of fiber. Fibre is too important component of our diet to be ignored, and with our increased consumption of refined foods, it is sorely neglected in our modern diets. Some of the key benefits of fibre in our diet are –
It provides satiety or the fullness experienced after a meal, so you don't end up consuming too many calories to feel sated.
It binds with the bad cholesterol preventing it from getting deposited in the walls of the blood vessels causing heart attacks and strokes.
It protects from cancer of the large intestine and of course, it makes your mornings hassle free 🙂
Eating whole grains, beans, lentils, vegetables and fruits with their skins wherever possible, adds up to provide the 25 odd grams of daily recommended fibre intake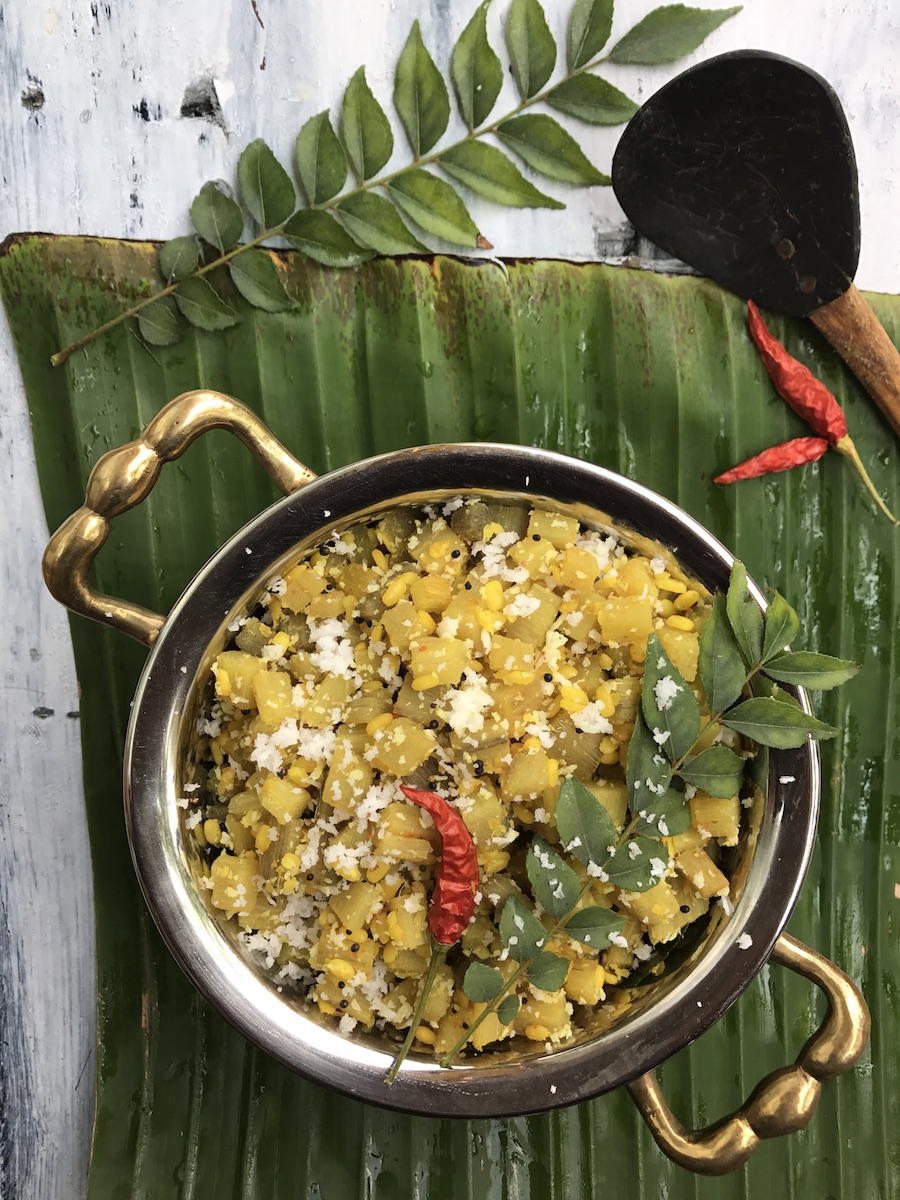 Pin
Banana stem curry or Vazhaithadu curry is one sure shot tasty way to get some of that daily fibre, from a local, easily available and inexpensive ingredient.
Banana stem juice also works as a diuretic that reduces water retention. The juice works well on acidity conditions as it has a soothing effect on the stomach.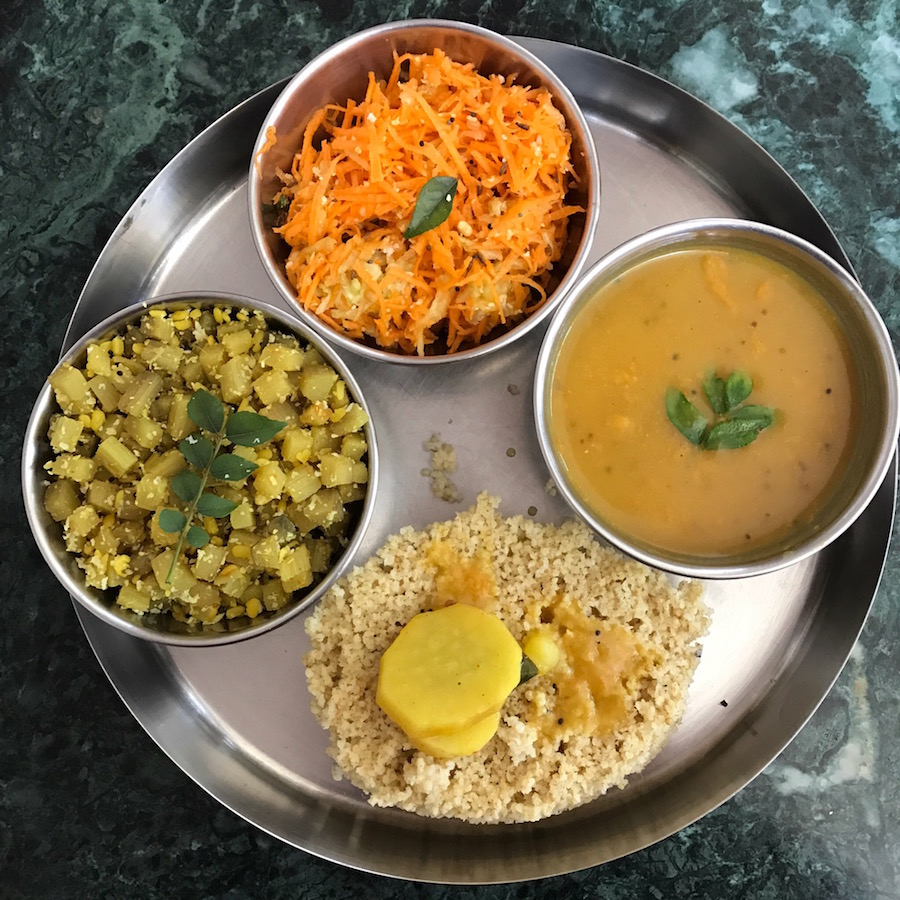 Pin
Healthy Menu Idea using Vazhaithadu curry or Banana stem curry:
Vazhaithandu /Banana Stem Curry
Banana Stem Curry | Vazhaithandu Moong Dal curry
The humble banana stem combined with moong dal makes a mild flavoured curry which delicious when paired with rice and Moar Kuzhambu or rasam
Ingredients
1/2

cup

moong dal

( soaked in water for 2 hours)

2

cups

buttermilk

(sour)

1/4

tsp

turmeric powder

1

piece

banana stem

roughly 8 inches

2

tsp

coconut oil

1

Pinch

asafoetida

2

sprigs

curry leaves

1

tsp

mustard seeds

1

tsp

urad dal

2

dried red chillies

1

tsp

sugar

1

tsp

salt

.

1

tsp

sambar powder

optional

2

tsp

coconut

grated
Instructions
To prepare the banana stem curry, first step is to chop the banana stem. Oil hands before handling the stem as it stains the hands.

Peel off the satiny outer layers with a knife until the inner rough part is exposed. This could be 2 layers or more depending on how thick the stem was to start with.

Keep a big bowl of diluted, sour buttermilk on the side to immerse the chopped stem pieces. This prevents them from darkening.

To cut the plantain stem, slice it thinly - 4-5 slices at a time, place them in a stack and then finely dice it, immersing the chopped pieces in the buttermilk immediately. Do this until you have chopped the entire length of the stem into small bits. Any tough fibres that come in your way, peel them off and discard. Small fibre bits will remain and that's what will make this dish extremely healthy.

Once you are ready to cook, drain the chopped plantain stem and place in a vessel with 1/4 cup water and turmeric powder mixed well.

Place 2-3 cups of water in a pressure cooker large enough to hold the vessel containing the chopped stem.

Pressure cook this for 3 whistles and 3-4 minutes on sim. Once cool, remove and drain if required. You can also boil this in very little water until almost soft.

In a kadai, heat the oil, saute the udad dal till light golden, put in the remaining tempering ingredients (asafoetida, curry leaves, mustard seeds, dried chilies). After a quick stir, put in the drained moong dal and cooked plantain pith. Add sugar and salt, plus sambar powder if using. The pinch of sugar is to offset the slight bitterness in the stem.

Sprinkle water and cook covered for 10 minutes with occasional stirring, so that the dal is cooked but not mushy.

Check for salt and adjust, remove from flame. Sprinkle fresh coconut and serve banana stem curry with rice and mor kozhambu or rasam.
Notes
P.S. I was wondering if cutting off the stem of the poor banana tree, caused it to die a premature death. A bit of research reveals that the banana tree yields only once after which it is anyway cut off and fed to the cattle, or to banana-stem eating folks :).
P.P.S. Plantain pith, plantain stem, vazhaithandu, vazhaipindi, musa pseudostem are all the various terms of endearment of the banana stem.