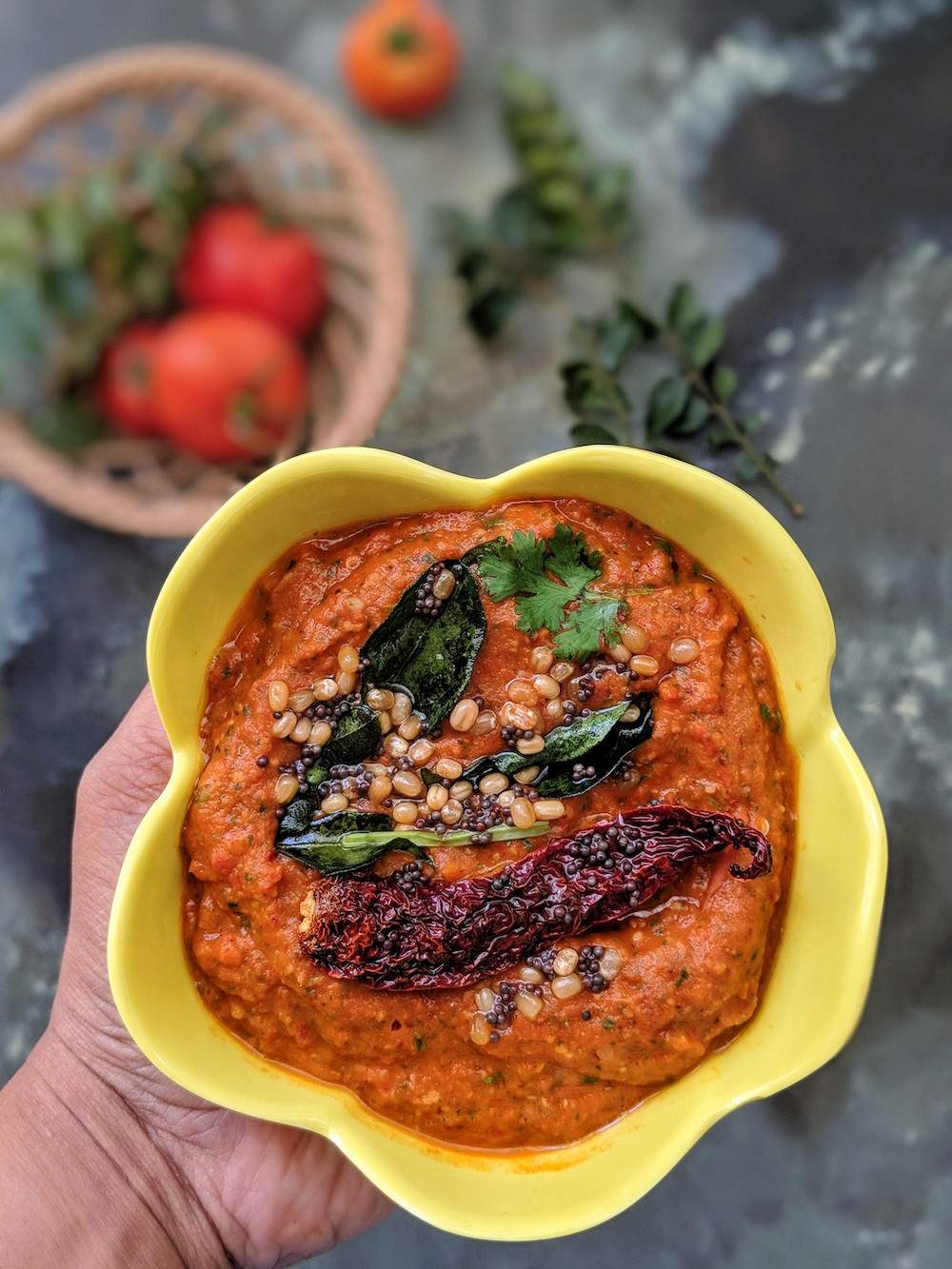 Tomato Chutney for Idli and Dosa| Spicy South Indian Tomato Chutney Recipe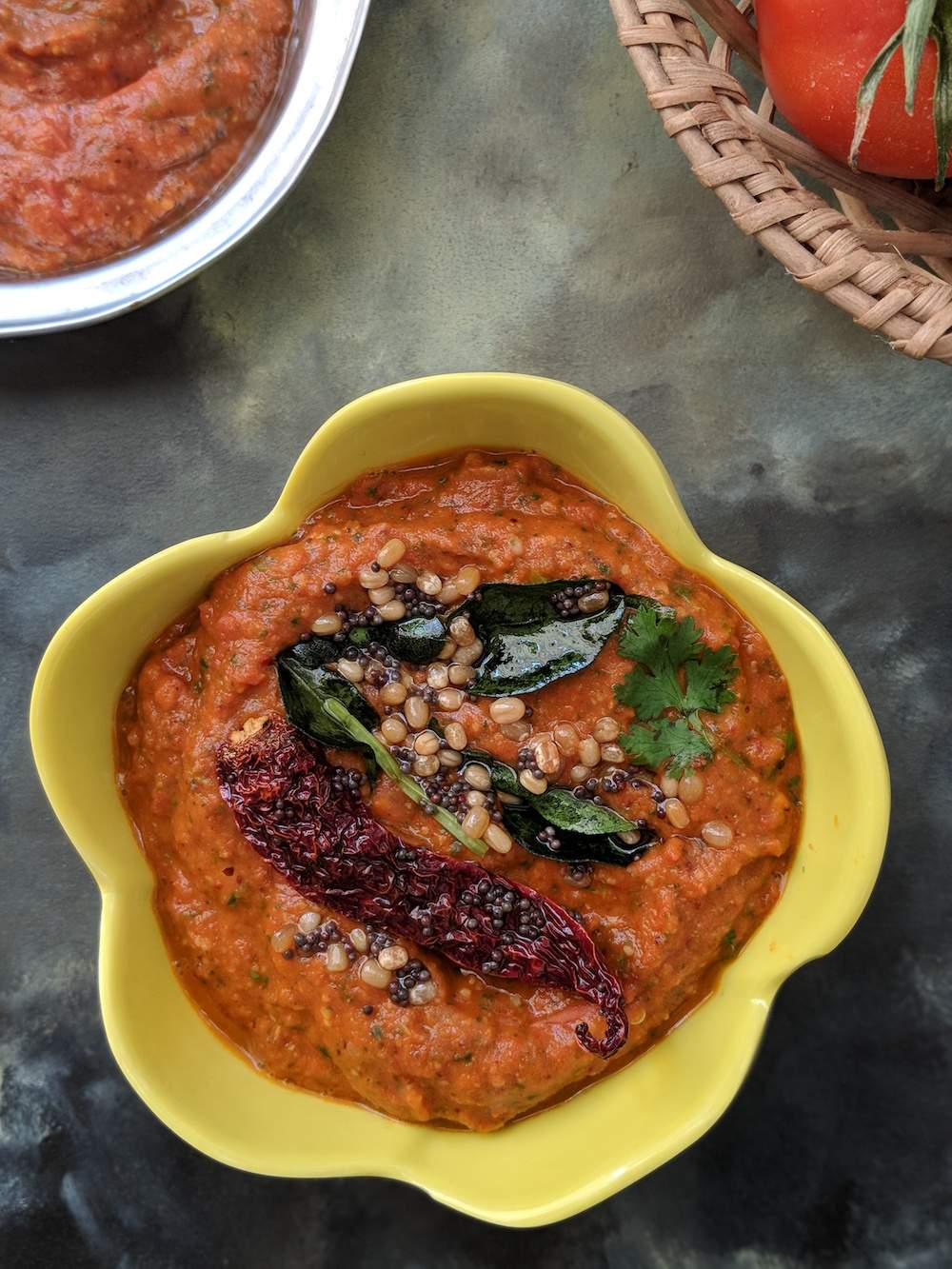 Pin
My kitchen garden is on a tomato spree and I can't help but be inspired to cook with this fresh produce. A batch of this South Indian style tomato chutney for idli and dosas was perfect to put the ripened tomatoes to use.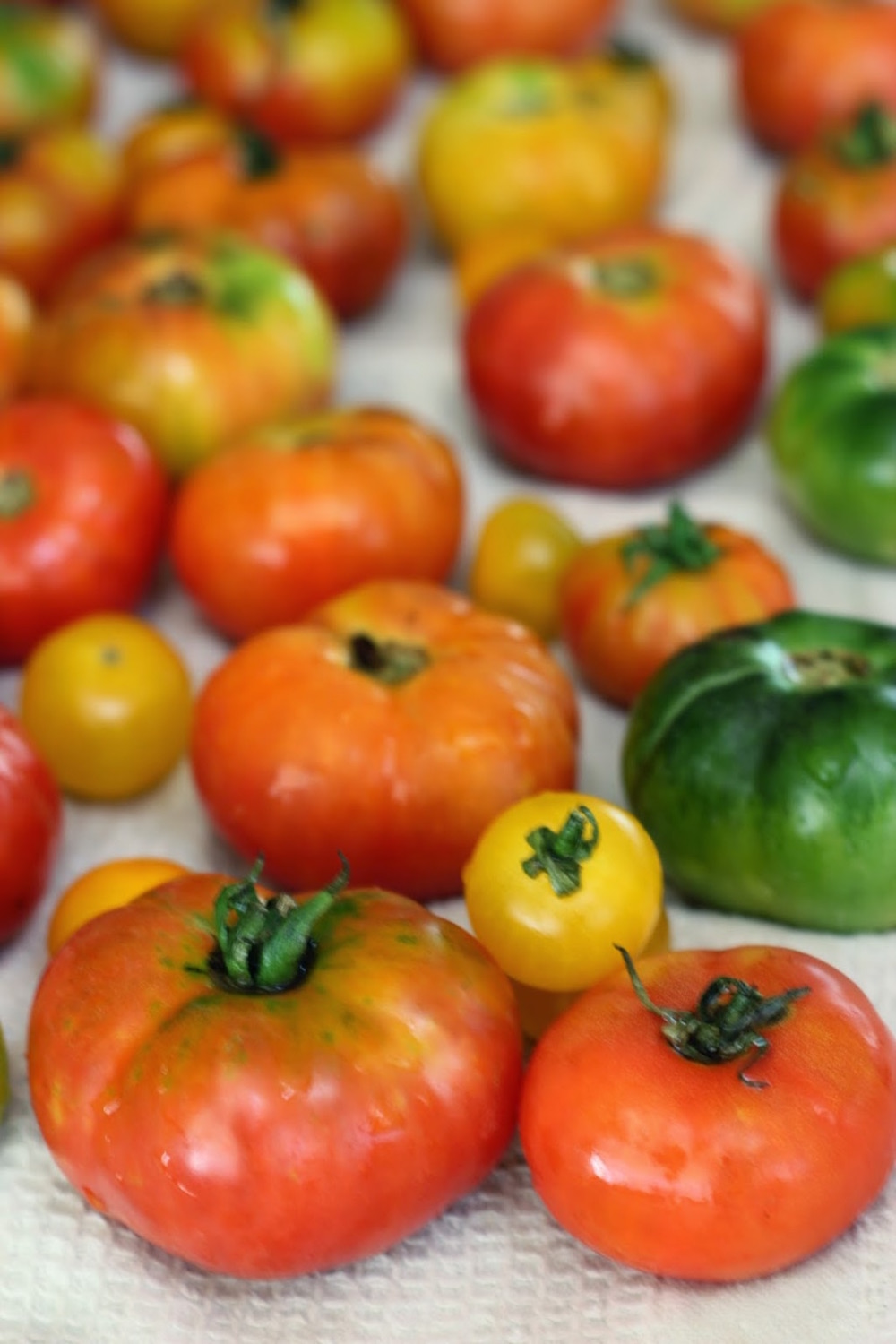 Pin
Ways to make tomato chutney for idli
Grind roughly chopped tomatoes to a paste along with green chillies (and onions if you like). Add salt and a tempering of mustard seeds, urad dal, curry leaves and red chillies. This is pretty much like a salsa with a South Indian tadka. It is also the quickest way to make tomato chutney.
The other method is to saute chopped tomatoes along with spices until it turns mushy and serve it as it is. This is best for minimalistic kitchens without a mixer or for days when you are in no mood to wash that extra utensil.
The next method, which is how I like to make tomato chutney, is to saute the chopped tomatoes with spices until mushy and then grind it to a coarse paste. Adding fresh coriander or fresh mint leaves at this stage adds a fresh flavour to the chutney.
I like to reserve some of the fried spice mix to use as a final tempering over the chutney, like you can see in the photo.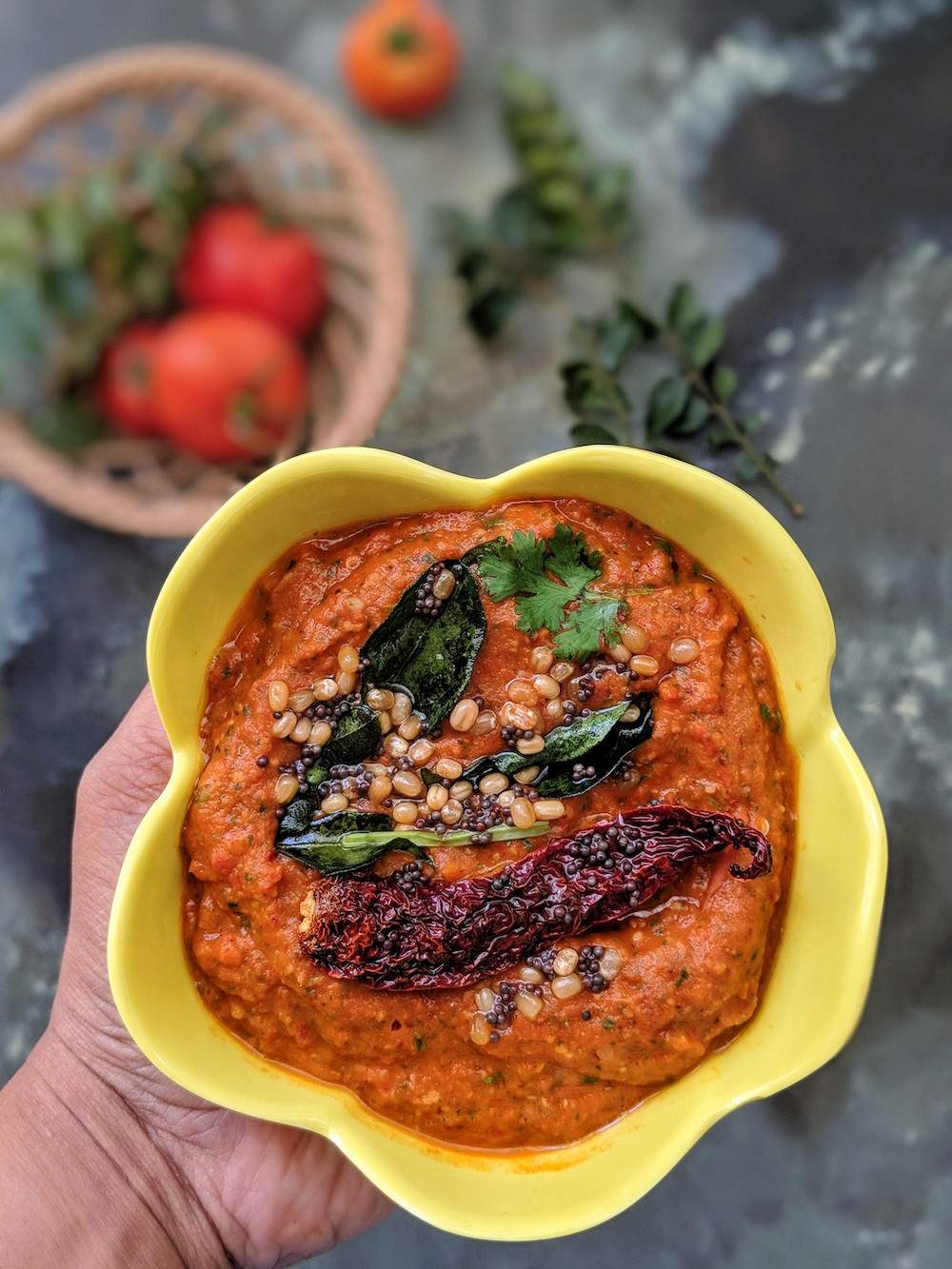 Pin
We don't just have this tomato chutney with idlis and dosas. It can pretty much go along with any Indian meal. Given that my son wont eat the slightest bit of chillies in food, our basic food is cooked with a minimum spice. I'm sure this is the case in many Indian homes with younger kids. Chutneys like these add the necessary boost of spice for the adults in the house, without resorting to cook different meals for the adults and the kids 🙂
This tomato chutney also treats great with parathas or chapatis.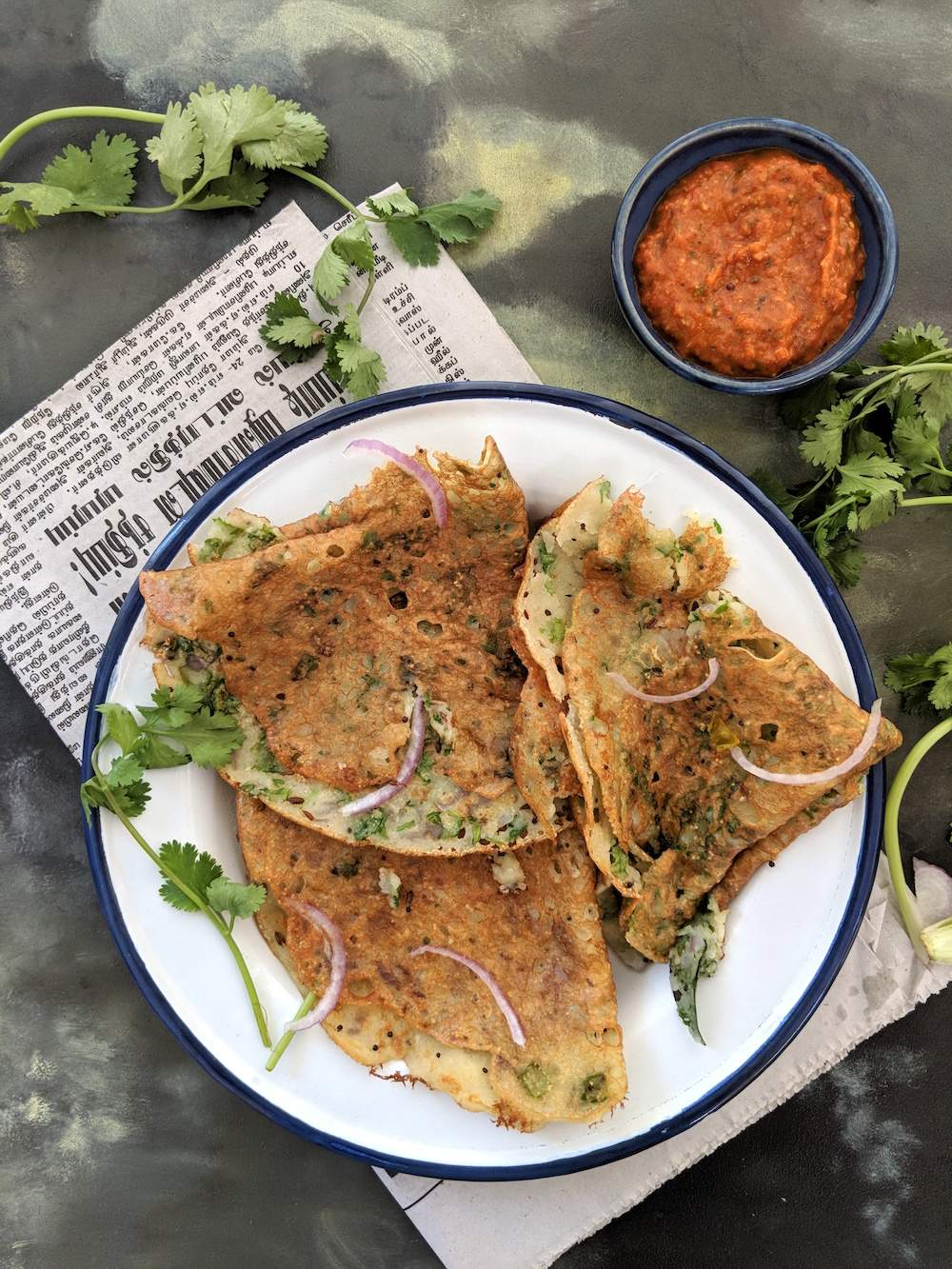 Pin
My favourite dish to go with this chutney is Onion Rava Dosa.
More seasonal tomato recipes for you
Homemade marinara sauce with fresh tomatoes
Italian style eggplants in tomato sauce
Tomato and Mint flavoured Moong Dal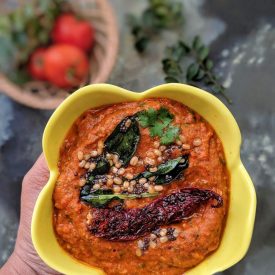 Spicy Tomato Chutney for Idli
Ingredients
1

tbsp

gingelly oil

or any other cooking oil

1

tsp

mustard seeds

2

tbsps

urad dal

1

sprig curry leaves

4

cloves

garlic

optional

4

chillies dried red

1/4

tsp

fenugreek seeds

pinch

asafoetida

4

tomatoes

roughly chopped

3/4

tsp

salt

1/4

tsp

turmeric powder

1/2

cup

coriander leaves
Instructions
Heat the oil in a pan. Fry mustard seeds, urad dal, curry leaves, garlic, fenugreek seeds and red chillies until the urad dal turns golden brown. Using a slotted spoon, remove these ingredients into a small bowl and keep aside.

In the same pan, fry the chopped tomatoes on high flame with salt and turmeric, until it turns mushy. Allow this to cool.

Transfer the cooked tomatoes to a mixer jar / food processor. Add the fried spices to this along with coriander and grind to a coarse or fine paste, as per your liking.

You can also reserve 1 tsp of the fried mustard, urad dal and curry leaves to use as a garnish on top of the chutney. Save in an airtight container in the refrigerator. Use within 2-3 days.
Notes
Serve this tomato chutney with idli, dosa, parathas or even toast.
Use fresh mint leaves instead of coriander.
Garlic can be omitted.
For more such healthy vegetarian recipes, get my book The Everyday Healthy Vegetarian! Get all the info about my book and order it here. 
Like what you see here? Stay connected with me on Instagram, Facebook, BlogLovin' and Pinterest.
Sign up to my newsletter by putting in your email in the box in the home page, to get all latest posts in your email.