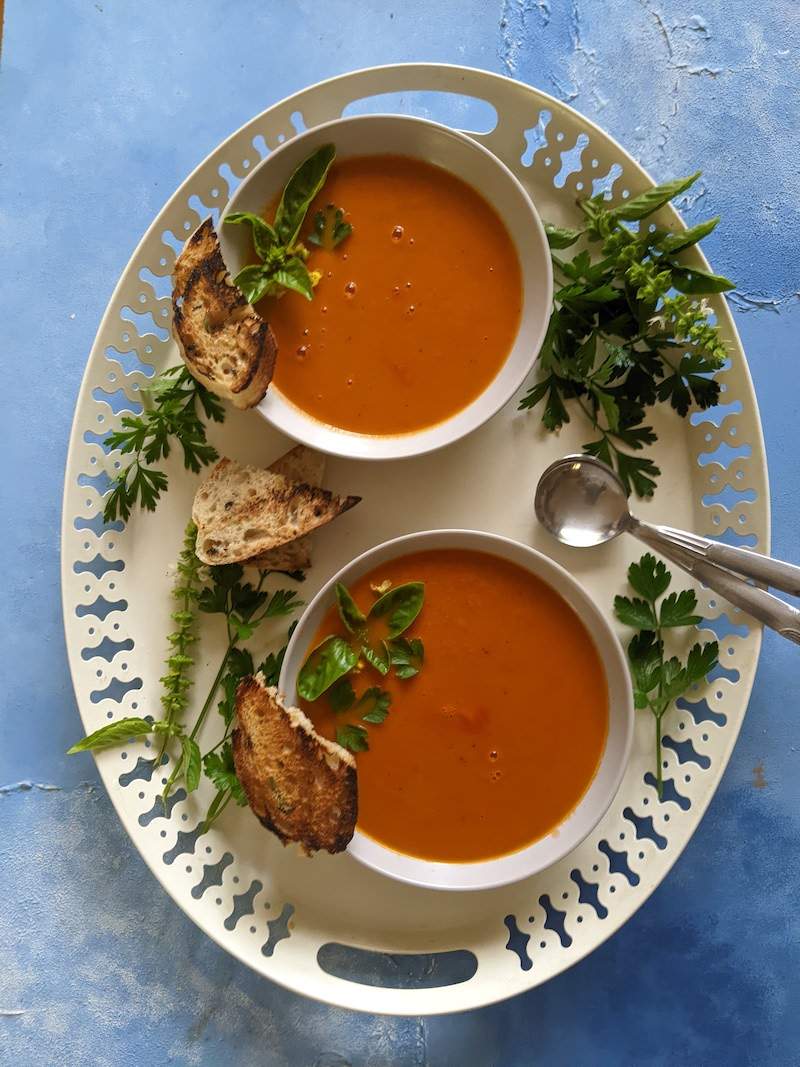 Instant Pot Tomato Soup
Tomato soup is the vanilla ice cream of soups. And I mean it entirely in the positive sense. It is a true people pleaser. Rarely will you find someone who is not happy with a bowl of piping hot tomato soup?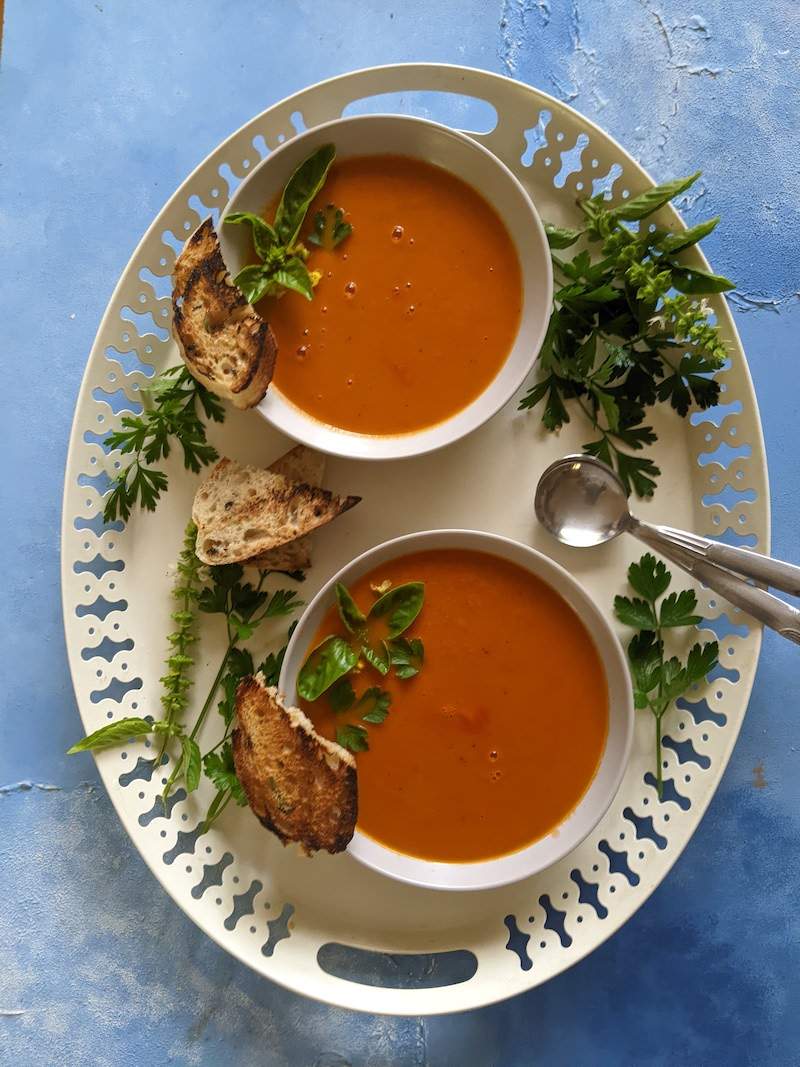 Pin
My childhood memory of tomato soup in Indian restaurants is a not-so-thick, salty-spicy-sweet soup, with ghee-fried croutons floating over the piping hot soup, which was everyone's favourite part. A similar soup is also served on long train journeys as part of the meal.
The grown-up, more food-aware person in me still loves the 'retro-style' soup, but I also love the more complex flavoured ones, made either from oven-roasted tomatoes, or with the addition of mirepoix (celery-onion-carrot mix), or with roasted garlic and more interesting toppings.
Here I'm sharing a simple recipe to make tomato soup in an Instant pot using fresh tomatoes. You can use canned whole or diced tomatoes as well instead of fresh to make it even quicker.
Making Instant Pot tomato soup is quick and fuss-free, making it a good dinner option for busy folk, especially for weeknights. I used to make it in the manual pressure cooker but the Instant Pot with its auto switch off function needs even less monitoring. While this soup recipe uses just tomatoes, you can easily add some diced carrot, beetroot, pumpkin or even apple to add a touch of sweetness and different flavour profile to the basic tomato soup.
More warming soup recipes for you to try this fall
DID YOU KNOW?

The most important reason to eat tomatoes is the presence of lycopene, a phytochemical that gives tomatoes its red colour. It is a powerful heart-healthy antioxidant. While most fruits and vegetables have a better nutritional profile when eaten raw, an exception to the rule is lycopene in tomatoes. Cooked tomatoes have higher lycopene than uncooked tomatoes. Lycopene also reduces the risk of cancer. Studies have shown that cooking tomatoes at 88°C for 30 minutes, increases its trans lycopene content by 164 per cent.

Excerpted from my book Everyday Superfoods.
Some Instant Pot Tomato Soup-related FAQs that may crop up in your mind
No vegetable broth in the fridge? No problem!
A lot of tomato soup recipes ask for chicken broth or vegetable broth. If you are a person who does not stock up on broth or is looking for soup as a quick meal option, here's the perfect recipe for you. I have used a stock cube and water during the cooking process. Even the stock cube is an optional ingredient here. A no-broth, no-cream tomato soup that is rich in flavour, hearty and makes for a satisfying meal with crusty bread or a salad, that is also vegan and vegetarian.
Why do some people add baking soda to tomato soup?
Using baking soda while preparing tomato soup is a neat cooking science tip to know whether you use it or not. Some varieties of tomatoes are very acidic, making a soup taste too shrill with a sour flavour. The desi or naati varieties of tomatoes that we get in India are unidimensional in their sour taste, which is why they don't fare well for soups. Using a tiny quantity of baking soda (which is sodium bicarbonate, a basic or alkaline substance) neutralizes some of the acids from tomatoes giving the soup a more rounded, balanced flavour.
The addition of baking soda also increases the pH of the soup by making it less acidic, so if you add milk to the soup, it will prevent the milk from curdling. The cream however does not curdle in an acidic soup as the fat percentage in the cream will prevent it from curdling.
What's good to serve with this Instant Pot Tomato Soup
A simple salad (especially if it's lunchtime)
Grilled cheese (sandwich)
Crusty sourdough bread or thick flatbread, toasted and buttered
Thick tomato soup can also be eaten with grains like rice or quinoa to make it a full meal.
How can I make my basic tomato soup taste better?
Croutons – always good to make croutons from stale bread. The air fryer does a good job of it.
Herb oil – Blend some fresh herbs with extra virgin olive oil
Chilli oil – For those who like a spice-kick
Pesto – Pesto is one of the most flavourful condiments + tomato and basil make the best pair. So it's no surprise that topping the tomato soup with pesto adds a flavour punch to a simple meal.
Toasted seed mix – for some crackle and crunch
Extra virgin olive oil – a drizzle of EVOO on top of the soup makes it look straight out of a food magazine
Cream or coconut cream – to add the rich flavour from fats
Butter – Butter makes everything taste better after all
How to thicken watery tomato soup?
For 3-4 cups, around 2 tsp cornstarch or cornflour mixed up in the water, added to the soup at the simmering stage and continue to simmer for 2-3 minutes so the flour is cooked and the soup thickens up with a glossy shine. Tapioca starch can also be used instead of cornstarch.
Adding a small portion of a starchy vegetable like potato, sweet potato or butternut squash to the tomatoes while cooking adds heft to the soup and prevents it from being watery.
Grind a slice of bread to get fresh bread crumbs and add it to watery soup to thicken it up.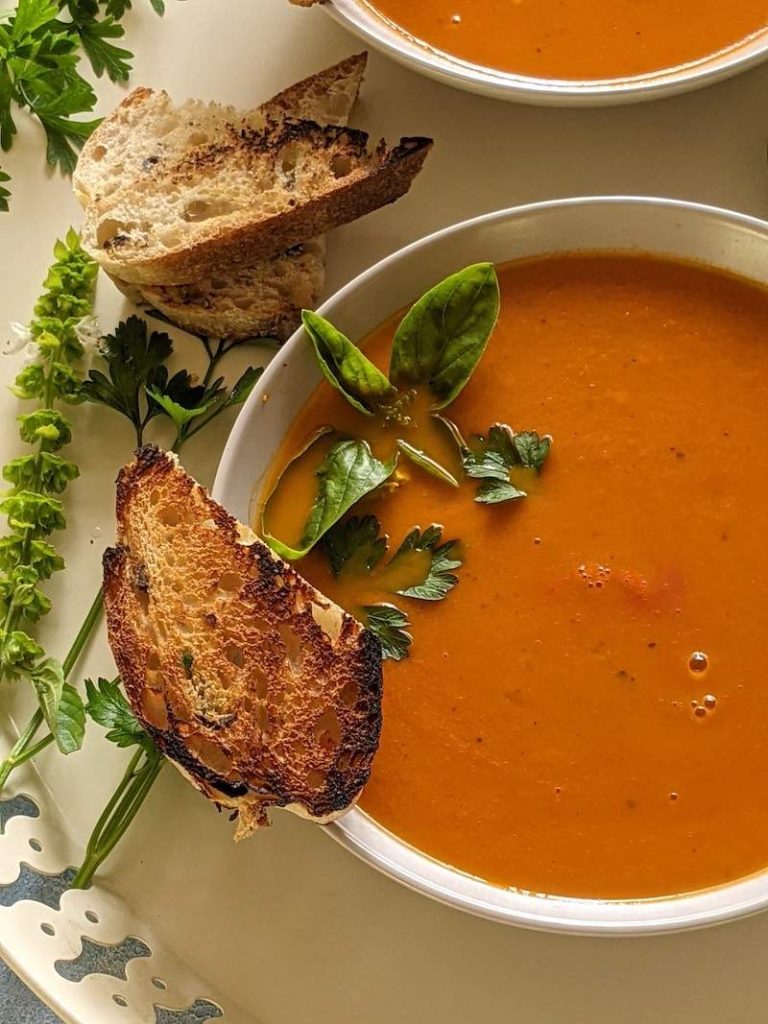 Pin
More recipes with fresh tomatoes
Easy potato curry in a tomato gravy / Tariwale Aloo
The only tomato chutney recipe you need in your life
Instant Pot Tomato Soup - Vegan
This is a quick and easy, wholesome tomato soup made using fresh tomatoes. The Instant Pot makes quick work of the soup while you can get the table ready. Perfect for weeknight dinners and leftovers make for a light lunch too.
Ingredients
6

medium sized ripe tomatoes

450 g

1

medium sized red onion

50 g

4-6

cloves

garlic

1

tbsp

extra virgin olive oil

2

tsp

butter

for vegetarian version

1

bay leaf

1

vegetable stock cube

optional

2

tsp

sugar

1

tsp

freshly ground black pepper

Salt

2-3

tbsp

chopped fresh herbs

2-3

slices

sourdough bread

toasted
Instructions
To make Instant Pot tomato soup, start by chopping the tomatoes into quarters. Slice the onions and garlic. (To use canned tomatoes, see notes at the end)

Start with the saute mode on the Instant Pot. Add the olive oil and butter (if using) to the inner steel pot. Saute the bay leaf for a few seconds.

Add in the sliced garlic and onion and saute for 1-2 minutes.

Add the chopped tomatoes and stir for a minute.

Add the stock cube (if using) and 1 cup of water. Alternatively, use 1 cup of vegetable stock, if that is a more convenient option for you.

Stir the contents of the pot. Fix the lid of the Instant Pot. Cancel the sauté mode. Make sure the vent is in lock position. Cook on high pressure (HP) for 10 minutes.

Allow the pressure to release naturally or you can release the pressure manually after another 15 minutes. Remove and discard the bay leaf.

Transfer the contents to a blender and blend to a smooth puree. You can also use an immersion blender for the same purpose. Check for salt level and adjust accordingly. If you have used the vegetable stock cube, it contains some salt already which is why it is better to check in the end and adjust the levels.

Transfer the blended soup to the Instant Pot and in Saute mode, let it come to a simmer. Add freshly ground black pepper and finely chopped herbs (I use basil and flay leaf parsley).

Serve with toasted slices of sourdough bread.
Notes
USING CANNED TOMATOES
1 pound of fresh tomatoes used in this soup recipe can be replaced by 1 x 14.5 oz of diced canned tomatoes. Reduce water added to 1/2 cup and the cooking time to 5 minutes.
STOVETOP INSTRUCTIONS
Follow the same sauteeing cooking process in a heavy pan. Cover and cook the tomatoes in the pan for 20 minutes or so until soft. Proceed to blend and return the soup to the pan to simmer and season.
MANUAL PRESSURE COOKER INSTRUCTIONS
The same soup can be prepared in a manual stove top pressure cooker. Follow the same sauteing and cooking process in the pressure cooker pan. Cover and pressure cook for 5 minutes (reduce flame after first whistle and cook on sim for 5 minutes). Blend on cooling, return to the pan to simmer and season.
Before You Leave…