Pomodori e Melanzane is a rustic Italian dish with tomatoes and eggplant. It also makes a chunky sauce for Pasta Alla Melanzane.
Do you love Italian food and looking at cooking dishes more than the regular pasta in tomato sauce or in pesto sauce?
David Rocco, the famous Italian chef on tv, prepared this recipe in one of the episodes of his show David Rocco's Dolce India. He gave it an Indian tadka using green chillies, coriander and garam masala. While that sounded exciting, I prefer the clean Italian flavours to mixing them with Indian flavours. Also, the eggplants fried in oil have a capacity to drink up copious quantities and since I wanted to take the healthier route, I used the airfryer to bypass the deep frying step. You can easily do this in an oven as well. I have described this in the recipe below
On an aside, LOVE ITALIAN FOOD? Then don't miss this recipe for Homemade Marinara Sauce, a must try when tomatoes are in season. 
You can either use this dish as a sauce for pasta or as a juicy filling for a sandwich. You can even eat it as it is with a slice of garlic bread or so, for a light lunch. It also makes a delicious topping for bruschetta, as an appetiser
With very few ingredients, Pomodori e Melanzane is an authentic Italian dish that is great to have in your repertoire of vegetarian Italian recipes. If you want to add more punch to this, by all means add a few chillies to the olive oil while sautéing the garlic
The original recipe for Pomodori e Melanzane does not use bell pepper, but I find that orange bell peppers add a lovely contrast and sweet juiciness to the dish. If you don't have bell peppers on hand, you can prepare this dish just with the eggplant and tomatoes, and possibly add a finely sliced onion along with the garlic. This has become one of my favourite eggplant recipes, so do give it a try!
Another pasta recipe you MUST include in your repertoire is Pasta Alla Vodka Sauce.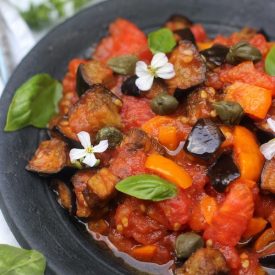 Pomodori e Melanzane | Italian recipe for eggplant in tomato sauce
Pomodori e Melanzane is a rustic Italian dish with tomatoes and eggplant. It also makes a chunky sauce for Pasta Alla Melanzane. 
Ingredients
1

eggplant

medium sized globe

2

tbsps

olive oil

divided

4

cloves

garlic

crushed

1

small

orange bell pepper

diced (you can use yellow too)

5

medium

tomatoes

blanched and peeled

2

tsp

mixed dried herbs

1

tsp

salt

black pepper

Freshly ground

handful

fresh

basil

1

tsp

capers

for garnish (optional)
Instructions
To prepare Pomodori e Melanzane, start with filling a big bowl of water, add to that 1 tsp of salt and keep aside.

Cut off the stem end of the eggplant. Cut into thick slices and uniformly dice each slice to get 1 cm cubes.

Immediately immerse in salted water.Roughly chop the blanched tomatoes and keep aside.

In a heavy bottomed wok, heat 1 tbsp olive oil.. Crush the garlic cloves with the back of a knife. Add to oil. Don't brown this, within the next few seconds, add the bell pepper and saute over medium flame for 5 minutes.

To this add the dried herbs, salt and chopped blanched tomatoes. Bring this to a simmer.

Meanwhile, remove eggplant from water, squeeze thoroughly and add to a large bowl. Toss in 1 tbsp olive oil.

Preparing fried eggplant in airfryer : Preheat airfryer to 180°C and place the oil tossed eggplant in the wire basket. Set the basket in the slot and dial the timer to 15 minutes. At the end of this, eggplant should be well cooked and golden.

Add these golden eggplant cubes to the simmering tomato sauce. Check for salt, season with some ground black pepper and remove into a bowl or add to cooked pasta.

Garnish with fresh herbs and a drizzle of extra virgin olive oil.
Notes
Oven method:.
If you don't have an airfryer, preheat oven to 190°C (convection mode). Line a tray with heavy duty aluminum foil. Place the oil tossed eggplant cubes in a single layer, place in the center rack and bake for around 25 minutes or until eggplant is golden and soft. Proceed with recipe.
Stove top method:.
If you don't have an oven, take 1 inch of olive oil in a fry pan, fry the eggplant cubes on medium flame until soft and drain well on kitchen paper.
Like what you see here? Stay connected with me on Instagram, Facebook, BlogLovin' and Pinterest.
SaveSave