Onion Rava Dosa recipe | Crispy Rava Dosa | Tips to make a hotel style rava dosa | Savoury Semolina Crepes 
Whenever we are at a restaurant / cafe that has idli dosa on the menu, my husband's first preference is usually onion rava dosa. Made well, this variety of dosa is a real treat.
Pin
A crispy texture from semolina, bites of flavour from the cumin, mustard seeds and curry leaves and bits of heat from the green chillies.
Onion rava dosa when served with a basic coconut chutney or a spicy tomato chutney like in this case, is the perfect South Indian breakfast or tiffin dish. For the longest time, I had not tried this version of the dosa out, because it was not something that my grandmother or mother made at home. The lacy appearance with crispy edges always led me to think that this was rocket science.
But no. It is fairly simple. There is no grinding or fermenting of batter required as in a regular dosa. Onion rava dosa is very amenable to meal prep. Just mix up all the ingredients (except for onions and coriander) and keep it in the fridge overnight. Add enough water to thin the batter and start making the dosas. That's all there is to it.
If you are a dosa making beginner, then I would highly recommend you try this in a non-stick pan for ease of getting the dosa of the pan. This is the pan I use and highly recommend.
Serve Onion Rava Dosa with a spicy tomato chutney or flaxseed molaga podi.
Also try: Buttermilk Rava Upma
Growing up on dosas
I have eaten an abundance of Idlis and Dosas well into my adult life. My granny would make the batter once a week in the large wet grinder machine that occupied place of pride in the balcony. (I hear it is now used by a local Udipi restaurant to whom it was sold, as it as too heavy for her to handle anymore.) I remember that my grandpa has bought this in Saravana stores in Madras way back in 1984 and got it to Bombay. How does my memory go so far, you may wonder. But I tie this to the fact that he had bought me one of my favourite purple pavadai with a pink border in that same Madras trip, so it is not that difficult to remember 🙂
If the batter was ground on Day 1, tiffin on Day 2 and 3 would be Idlis, Day 4 and 5 would be Dosai. The logic of this being, a less fermented batter works better to give fluffy, tasty idlis and a more fermented batter could yield crispy, 'holey' dosais. If the batter still hung around on Day 5, Ammama would put a pinch of soda in the batter to reduce its sourness and make Ilippuchatti dosai, what you would know as the thicker set dosa. Ilippuchatti is the the tradional iron wok. A ladle of batter would be poured into a well oiled wok, not spread, but covered and allowed to bubble and cook thoroughly. This one would be the size of the palm and about 4 times thicker than a regular dosai.
While meal prep is all the current rage, I smile when I think that my grandmother and the women of her generation were already meal prepping tiffin time for the whole week by grinding idli-dosa batter in large quantities.
I learnt the dosai making technique early on. When I was just 10 years old, I would love to serve hot dosais to anyone who would care to eat them. Dosai is probably the first thing I learnt to make in the kitchen.
Rava dosai, Onion rava dosai, Neer dosai and the other variants were all discovered only when I was old enough to eat in Udupi restaurants. It was then I discovered there was a whole world of dosas other than the ones I had eaten at home. A properly made onion rava dosa soon became my favourite on the menu, so it is no surprise that I wanted to learn how to make this myself.
Tips for a perfect onion rava dosa or rava dosa:
Keep the batter very watery.
Pour ladles full of batter on a hot pan from a slight height (6″ or so) so that the liquid hits the hot pan, bubbles and you get a dosa with those many many small holes like in the restaurant.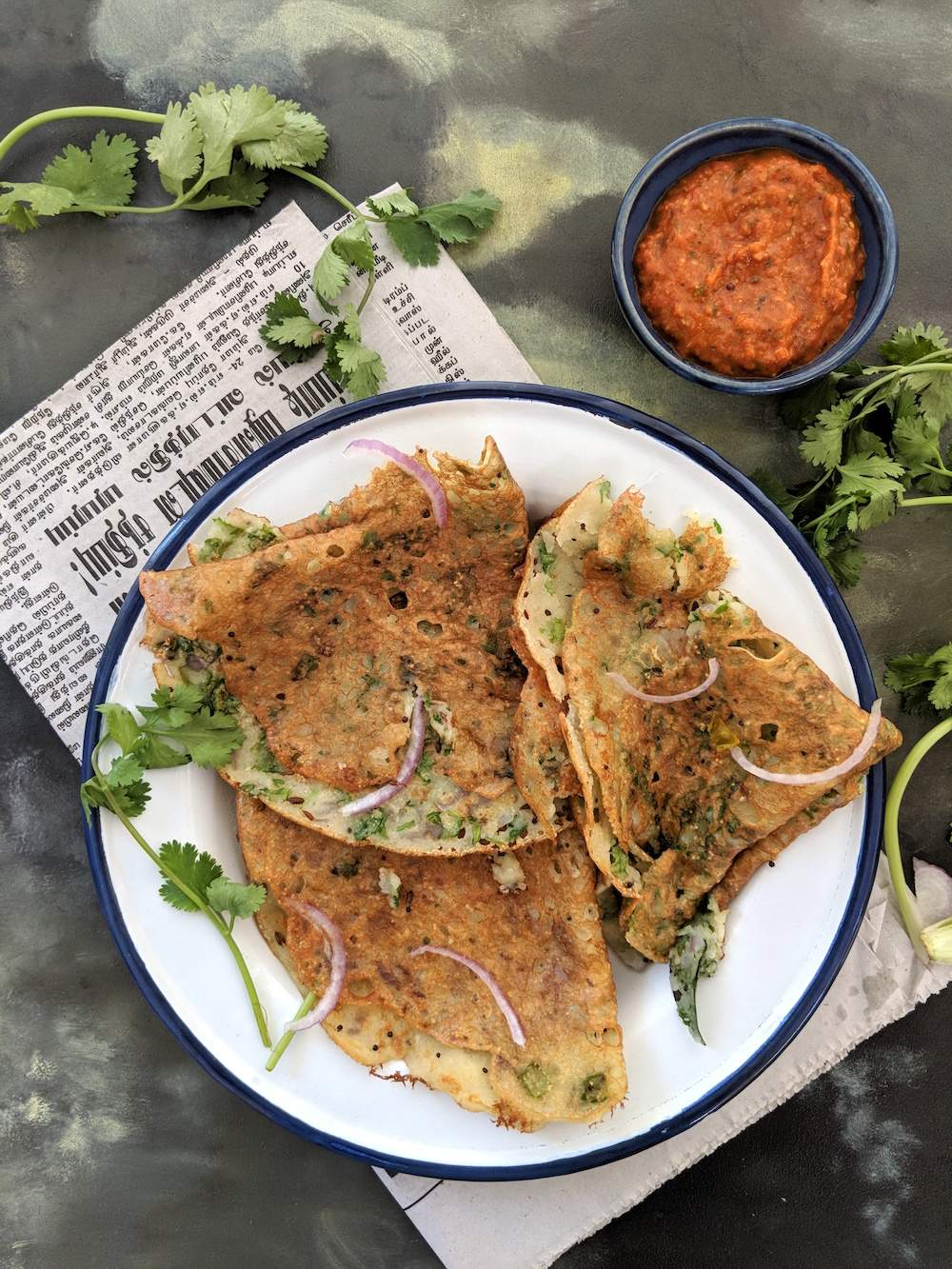 Onion Rava Dosai
Crispy dosas with a tempering of spices and curry leaves
Ingredients
1

cup

rava

semolina

1/2

cup

maida

all purpose flour

1/2

cup

rice flour

1

cup

buttermilk

sour

2

cups

water

(to adjust the consistency) upto

2

medium

onions

very finely chopped

2

tbsps

coriander

finely chopped

2

tsp

salt

1/2

tsp

baking soda

2-3

tbsp

oil

to prepare dosas
For tempering:
1

tsp

sunflower oil

1

tsp

mustard seeds

1

tsp

cumin seeds

3

green chillies

finely chopped

2

sprigs

curry leaves
Instructions
To make the mix for the onion rava dosa, mix all 3 flours in a large bowl.

Add in the sour buttermilk and add the water carefully to make a thin batter. This will be much thinner than the regular dosai batter.

Heat 1 tsp oil in a small pan or a tempering ladle. Fry cumin and mustard seeds. Once they pop, add the curry leaves and green chillies. Stir for a few seconds and add it to the prepared batter.

Season the batter with salt. Keep aside for 30 minutes. Just before preparing the dosas, mix in the finely chopped onions and coriander.

Oil a non-stick tava / pan. Once hot enough, pour one ladle of batter at a time from a slight height, so that it bubbles and gets a netted appearance all around. Take a second ladle of batter and pour around this to increase the size of the dosa. If you are a beginner, then make smaller sized dosas with just one ladle of batter.

Drizzle some oil along the edges of the dosai (traditionally sesame / gingelly oil is preferred). On a medium flame, the first side should take 1 1/2 - 2 minutes. Carefully flip the dosai over to the other side, keep for a minute of so until it has turned golden brown and crisp and it is ready to eat. Serve hot with spicy tomato chutney.
Notes
You can replace part of the rice flour or all purpose flour with ragi flour to make Ragi Rava Dosa.
Originally published on April 8, 2007. Updated with new photos and text.
For more such healthy vegetarian recipes, get my book The Everyday Healthy Vegetarian! Get all the info about my book and order it here. 
Like what you see here? Stay connected with me on Instagram, Facebook, BlogLovin' and Pinterest.
Sign up to my newsletter by putting in your email in the box in the home page, to get all latest posts in your email. No spam. Promise.