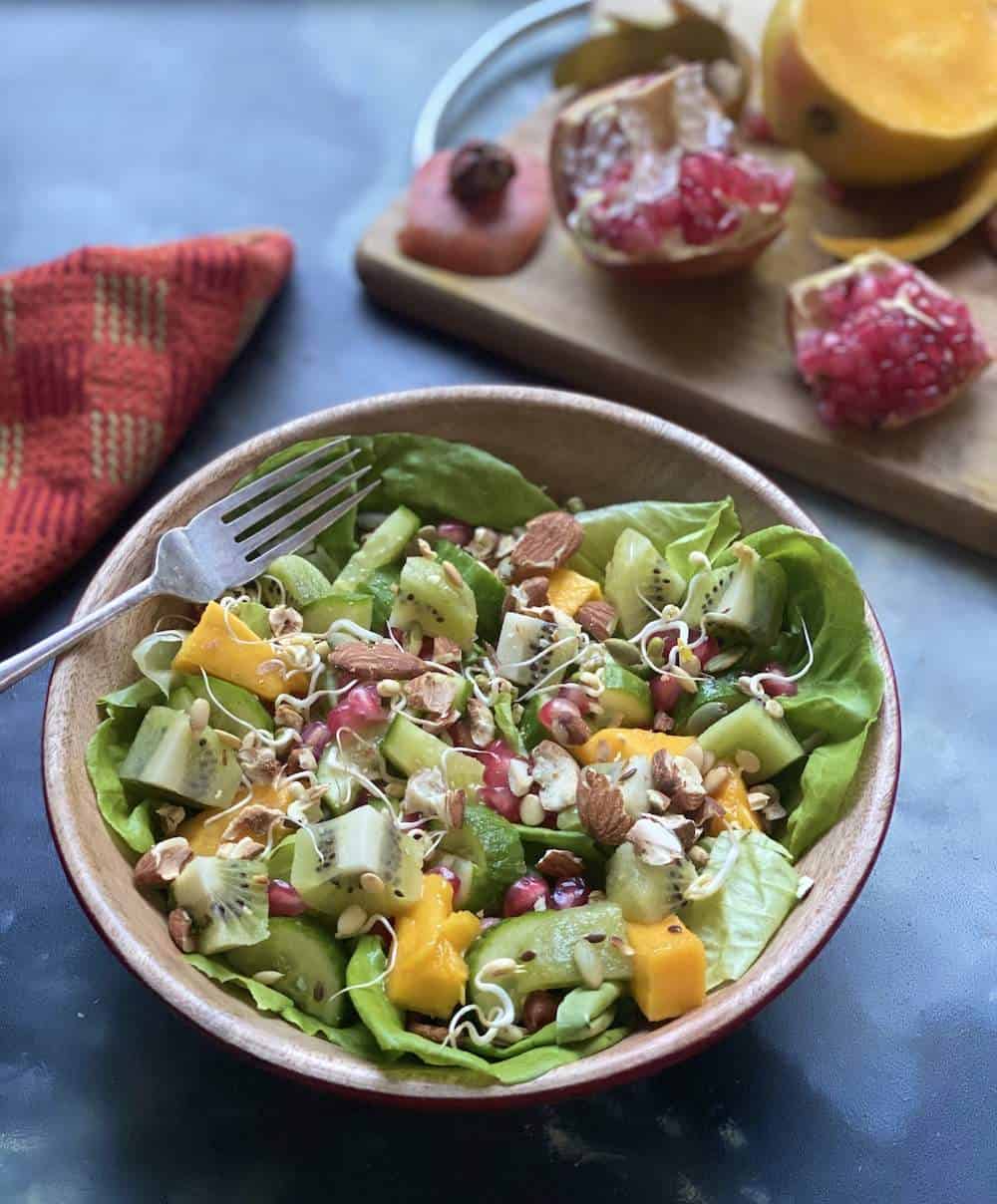 Recipe for a fresh and delicious kiwi salad (vegan and gluten free)
Fruits are one of my favourite ingredients to add to a salad bowl. 
Take for example the kiwis in this kiwi salad–
It adds a bright colour to the salad making it visually appealing.

Their natural sweetness contrasts the salty and tart flavours in the dressing making it a delight to each.

Juicy fruits like kiwi add a yummy textural contrast to other crisp or crunchy ingredients like cucumbers or onions. 
If this sounds interesting to you, you will love to get your hands on my free booklet on How to make salads like a Pro by signing up for my newsletter.

Pin
In this salad, I have added European cucumbers. The smaller variety that needs no peeling or deseeding. If you use regular cucumbers, peels them and scoop out most of the seeds so that the salad does not become watery.
Being mango season, a diced ripe mango for some added colour and flavour and of course a few arils of pomegranate that always make a salad bowl irresistibly appealing. 
Green moong sprouts have been used for crunch, but you can use a handful of cooked moong or any such whole lentils such as masoor to add to the protein component. Even diced and lightly pan-fried tofu will work.
The leafy component is fulfilled by my favourite butterhead lettuce. Use whatever greens you have on hand. If not, just increase the quantity of moong sprouts to bulk up the salad. 
This was my dinner a few days ago. After taking photos for this post, I realised that I had a small block of Parmesan in the fridge. I topped the salad bowl with shavings of Parmesan (made using a Y-peeler) and the result was a truly delicious salty-umami flavour that I love.

Pin
If you are learning to make and incorporate more salads in your diet, then these are a few posts that you will find very useful. These are the tips and tricks that I teach in my paid workshops but I'm happy to share these resources with my readers.
🥗 11 tips for making a REALLY good salad
🥣15 essential salad making tools
📌If you would like to try this recipe, PIN the image below!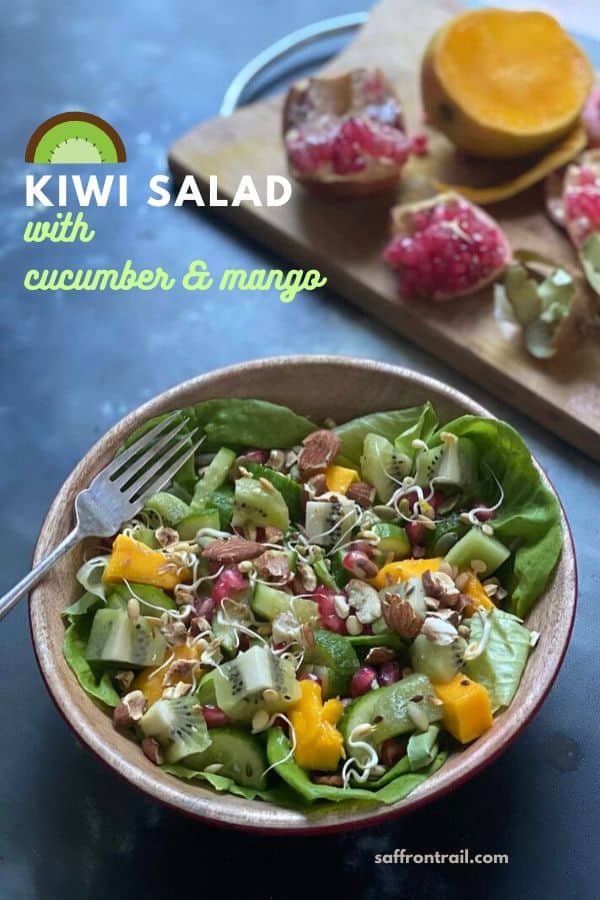 Pin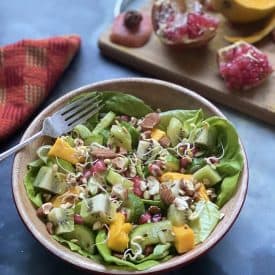 Kiwi Salad
Ingredients
2-3

kiwis

1/2

cup

pomegranate

1

ripe mango

2

cups

lettuce

I use butterhead lettuce

2

European cucumbers

1

onion

small

1/4

cup

moong sprouts

1/4

cup

roasted almond coarsely crushed
Dressing
1

tbsp

extra virgin olive oil

2

tsp

lime juice

1/4

tsp

salt

1/4

tsp

crushed black pepper
Instructions
Peel and dice or slice the kiwi fruits.

Peel and dice the mango.

Wash lettuce well and dry in a salad spinner or by wrapping in absorbent cotton towels. Tear into bite sized pieces.

Slice the cucumbers in half-moons.

Peel and thinly slice the onion, separating the segments with your fingers.

In a small cup, take all the ingredients for the dressing and whisk well with a fork until well combined.

To assemble this kiwi salad, take a big sized bowl. Layer the bottom with lettuce. Top with kiwi, mango, cucumber, onions all scattered across the bowl so it is uniformly distributed. We wont toss this salad because it will squish the ripe mangoes.

To prepare the dressing, place all the ingredients in a small cup and whisk with a fork until well combined.

Pour this over the salad and serve immediately.
For more such healthy recipes, get my book The Everyday Healthy Vegetarian! Get all the info about my book and order it here.
Like what you see here? Stay connected with me on Instagram, Facebook, BlogLovin' and Pinterest.