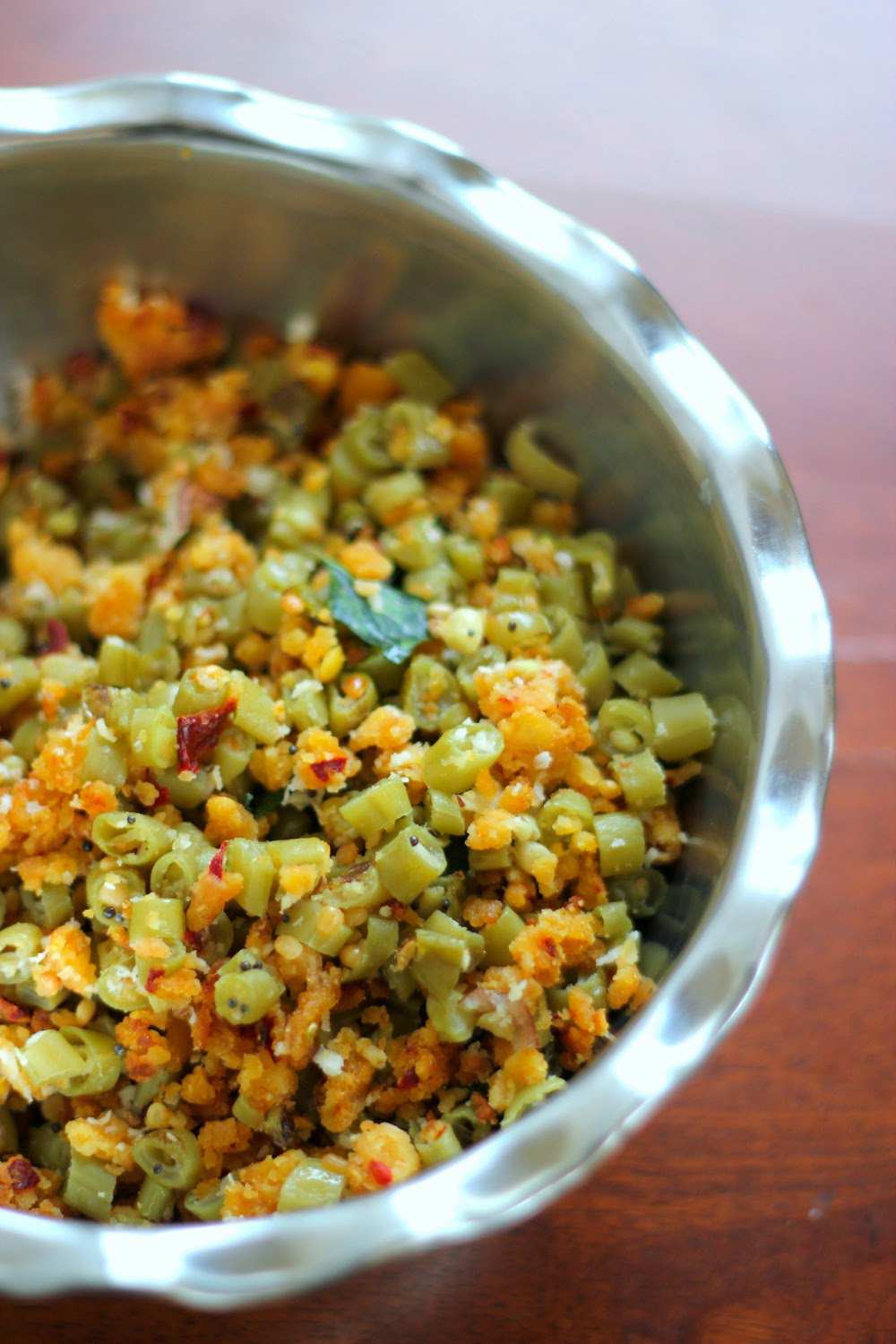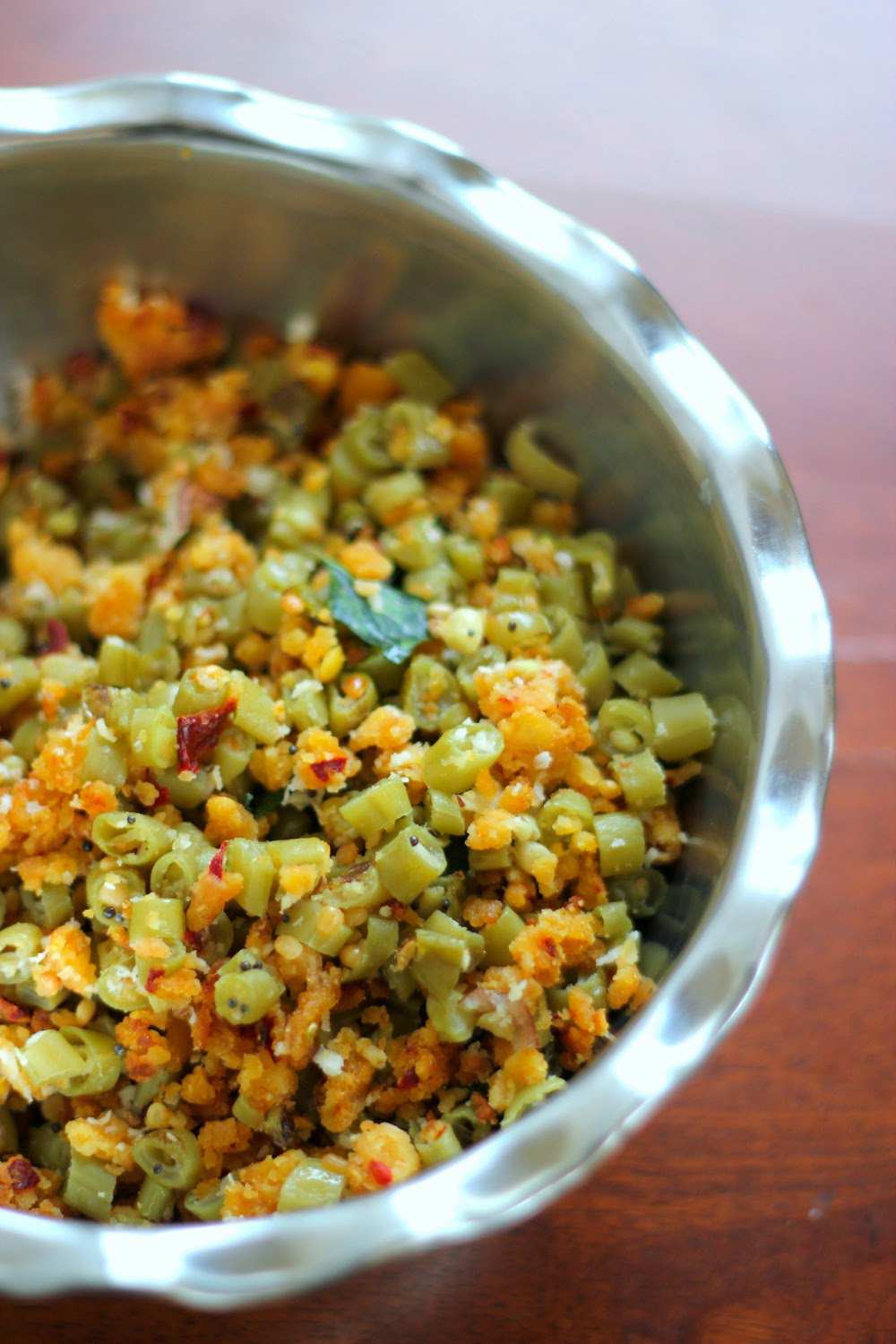 When I wrote my earlier post, A is for Avial, I had forgotten that I'd have another BIG favourite dish from our cuisine – it is Paruppu Usili. I cannot proclaim my love for this enough. And I don't know of too many people who've grown up eating this, not listing it as one of their top favourites. I do know one such person, my sister, who doesn't care for it much and it shocks me to no end!
Paruppu=lentil/dal and usili=crumble
I tried to research the history of this dish, as to how this unique idea of pairing a vegetable with a dal crumble came about. I wonder who thought of this process of soaking the dal, grinding it to a coarse paste along with spices, and then slow roasting it in oil until it turned into golden, crisp crumble full of flavour and then adding it to a fairly bland tasting vegetable. Typically, dal was boiled/cooked until soft and then used along with rice, so taking a simple dal through multiple processes like soaking, grinding, roasting seems like the handiwork of a genius or someone who liked spending all his/her time in the kitchen.
Typically, a Tambrahm curry is extremely simple. Chop the vegetable and steam it. Drain any excess water. Prepare the tadka of mustard seeds, udad dal, curry leaves and dried red chilli. Toss the steamed vegetable in this tadka along with some salt. Garnish with some fresh coconut. Mucilaginous vegetables like bhindi are added directly to the pan and cooked while sautéing, instead of steaming them, for obvious reasons.
A paruppu usili takes a simple curry up by several notches, due to the addition of flavour and texture by way of the usili. The fact that there's enough dal in this already in crumble form, it is usually paired with a buttermilk preparation called Moar Kozhambu, instead of eating it with sambar, which would make it a dal overdose and probably difficult to digest and cause bloating etc.
This is one of the dishes that as a kid, you don't care for much or you take for granted. When you move out of your home, you miss it and you realise how much effort it takes to get it right. When you attend Tambrahm weddings or functions where food is served on a banana leaf, you wish the guy who serves the usili, is not a 'Scroogey' fellow. And finally, when you get it right after some practice, in your own kitchen, you treasure the recipe and you want to enjoy the meal of moar kozhambu, rice and paruppu usili like it's a really special meal. Of course, when I visit home, this is one dish that's always on my demand list for either my mother or my aunt.
The same lentil crumble can be paired with any of the following vegetables – French beans, Cluster beans (gavar), Cabbage, Carrot, Ivy gourd (tendli / kovakka)and pretty much any other vegetable. The beans and cluster beans paruppu usili are classic combinations. The other brilliant usili is the Vazhappoo usili, made using banana flowers. It's quite a onerous process to clean the flower, remove the stamens, chop them, soak them in butter milk, so your hands don't look like you've been working with charcoal. A true labour of love. I've seen an Asparagus Paruppu Usili feature on the menu of Southern Spice, Taj Coramandel. But do try out the classic preparation first so you get a taste of this dish in its truest form.
Usili is an example of another minimalistic dish from the stable of Tambrahm cuisine, where very few ingredients are used. It's the asafoetida used along with the dal while grinding it that provides most of the flavour and fragrance to the dish. It also helps prevent bloating from eating too much dal. So while I've written 1/4th tsp of the compound asafoetida, it's mainly for the uninitiated. If you are a connoisseur, you might well add a bit more. But do be careful. This is a very potent spice and adding too much can be an overkill. Any vegetable you use for this dish, make sure that you cook it till just about cooked-so that it still retains its colour and bite & is not cooked until it is left with no texture. The heat comes form the dried chillies in the ground paste and a final note of freshness from the coconut garnish.
Recipe for Beans Paruppu Usili
Serves 3-4
B for Beans Paruppu Usili
When I wrote my earlier post, A is for Avial, I had forgotten that I'd have another BIG favourite dish from our cuisine - it is Paruppu Usili. I cannot proclaim my love for this enough. And I don't know of too many people who've grown up eating this, not listing it as one of their top favourites. I
Ingredients
1/2

cup

toor dal

2

tbsps

chana dal

2

chillies

dried red

1/4

tsp

asafoetida

compound powder / hing

1

tsp

salt

2

cups

beans

finely sliced French (remove the string, top and tail before slicing)
for tempering
1/2

tsp

mustard seeds

1

tsps

dal

udad

1

sprigs

curry leaves

to taste

Salt
Instructions
Soak 1/2 cup toor dal with 2 tbsp chana dal and 2 dried red chillies, for 2-3 hours

Drain well and grind this to a coarse paste with 1/4 tsp of asafoetida powder, without adding extra water.

In a non-stick pan, heat 1 tbsp oil. Add the ground dal mixture and start crumbling the mixture using a wooden spatula. Roast on a low flame, until the crumbled dal paste is well cooked and starts to crisp up. This takes 12-15 minutes.

Meanwhile, steam the beans in the pressure cooker or stove top in a pan with very little water and a pinch of salt (or microwave). Once beans are cooked, but still green, remove from pan and drain any excess water. Reserve this water for any other dish.

Add the beans to the crisped up crumble. Add some salt if required.

In a tadka ladle, heat 1 tsp oil. Prepare the tadka using curry leaves, udad dal, mustard seeds. Once mustard seeds splutter, udad dal turns golden brown, transfer it over the usili.

Garnish with some fresh coconut scrapings.
Notes
Serve hot with Moar Kozhambu and rice.
Recipe for Mango Moar Kozhambu
Recipe for plain Moar Kozhambu
This post is a part of the A-Z Blogging Challenge, April 2014.
Earlier posts:
A is for Avial
(c) Nandita Iyer 2006-2015