Want to know all about quinoa, right from what is quinoa to how to pronounce this strange word, to how to cook quinoa, a comparison of quinoa Vs Millets, and where to buy quinoa in India? Also, learn how to make a quinoa salad.
Pin
Quinoa has been rapidly climbing the popularity charts among superfoods. Once unheard of in India, it has now become a household name and quinoa salad is quite the rage. I'm sure even my usually well informed grandma is aware of this now 🙂
How to pronounce quinoa is actually a big deal. It is quite the mispronounced food – often called "Queen-o-wa" and what not . After all, it is not from these parts of the world. Pronounced as KEEN-WAH, this is a wholegrain but a pseudo-grain. It is a seed that belongs to the spinach / chard family. The plant Chenopodium quinoa is closely related to Bathua which is Chenopodium album (goosefoot). Also called 'mother grain' it has been growing in the mountains of Andes since 4000 years. I am happy to say that the current batch of quinoa I am using is grown in India, organically 🙂
How to cook / prepare quinoa
Wash and soak quinoa grains in water for 1 hour. This helps soften it a bit and also helps remove the bitter taste you get if you directly cook the grains without soaking.
Drain the quinoa from soaked water and boil in a saucepan with double the water and pinch of salt, i.e. for 1 cup quinoa, add 2 cups water and boil for 15 minutes or so, until the quinoa is tender, but still has a bite to it. To use quinoa for quinoa salad, make sure you do not overcook the quinoa to a mush.
The bitter taste come from the saponins that coat the seeds. Some brands of quinoa are pre-washed, so there is no bitterness. It is a better idea to soak and wash, so the cooked quinoa has no bitter after taste at all.
Quinoa Nutrition
The most striking thing about quinoa is that it is one of the rare plant foods that is a complete protein, ie. has all the essential amino acids. Typically plant based foods need to be combined such as dal and rice, to make it a complete protein. Quinoa is also rich in iron, magnesium and fiber.
100 grams of cooked quinoa is approximately 120 calories / 2.8 gram fiber and 4.4 gram protein
Quinoa Vs Millets – a nutritional comparison
This is a mostly common asked question – whether our Indian millets are a local substitute for quinoa. While millets are a highly nutritive food, quinoa scores higher than millets in the following – protein, fiber, calcium, iron, selenium and the fact that quinoa is a complete protein by itself. They are quite similar in calorie and vitamin profile. Both are naturally gluten free.
Grain bowls and noodle bowls are my favourite ways to eat these days. These are just fancy terms for "put everything in a bowl and perch on your favourite spot in the couch a la Sheldon of Big Bang Theory and tuck in". Jokes aside, these bowls are a perfect way to eat a balanced meal – add some whole grains, some protein, some vegetables, healthy fats and something to tie them all up together, and you're all set. Here's my recipe for a healthy quinoa salad bowl.
Pin
Since you don't really have to follow a recipe, you can use my infographic chart and just add a few ingredients from each box. Make sure you pin it to your Pinterest boards for ready reference!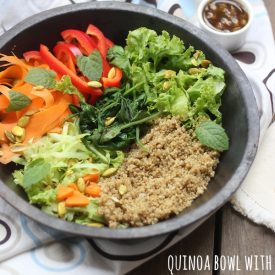 Quinoa Rainbow Salad Bowl
A mix of quinoa and a whole bunch of colourful vegetables with a spunky dressing
Ingredients
100

grams

quinoa

cooked

2

tsp

coconut oil

virgin

1/2

cup

cabbage

shredded

handful

lettuce leaves

torn

1

medium

carrot

shaved into ribbons

1/4

red bell pepper

cut into juliennes

1/2

cup

spinach

wilted

2

tbsps

pumpkin seeds
Dressing
2

tbsps

passion fruit pulp

(substitute with 1 tbsp cider vinegar)

1

tbsp

soy sauce

1

tsp

ginger

very finely grated

1

tbsp

honey

1/4

tsp

salt
Instructions
In a large bowl, place the all the salad ingredients.

Pour the dressing over the top.

Mix well with a fork and eat up.
Notes
I used Pure and Sure brand quinoa
This recipe post has been developed in association with Pure and Sure organic products. They sell locally grown quinoa in India, along with a host of other organic products including herbal teas. You can buy them online on their website. I'm a big fan of their virgin coconut oil!
If you can't find quinoa, then by all means prepare this salad using cooked Millets or Brown Rice.
Facebook
Twitter: @pureandsure
(c) Nandita Iyer 2006-2015