About this post: Recipe for a Healthier Chocolate Chip Cookies that uses zero refined flour, zero sugar and only 3 tbsp butter for the entire batch.
Pin
Why a recipe for a healthier chocolate chip cookies? Why mess with an insanely popular 'food', right? I do get that.
Even I'm all for indulging in a buttery croissant or a scoop of real ice cream. The word 'indulge' has the word 'occasional' attached to it by default, at least for me. So while I don't mind the true blue American chocochip cookie recipe which starts with '2 sticks butter' -given my slow metabolism and my quest to get fitter this year, it is not an option I can rely on often.
We already eat way too much processed food containing refined flours and sugars in our day to day life. This holds true for our kids too. So if I can successfully revamp a popular cookie into a healthyish one like these healthier chocolate chip cookies, why not? It is easy to find acceptance of the new flavours and textures of the healthier version, when you know that it is good for you 🙂
I have a standard recipe when I try out healthyish cookie recipes. 3 tablespoons butter rubbed into 1 cup of a whole grain flour or a nutritious flour mix + baking soda is often the starting point. The recipe yields 12 cookies so around 1/4 tbsp or less than a teaspoon of butter per cookie and I can live with that – whether it's me eating or my family.
Why butter you may ask? Because butter is infinitely better than the transfat used by neighbourhood bakeries or any other nondescript variety of fat used by mega brands. Butter is a single ingredient, without any additives, closest to its natural form as compared to any other fats. This is a good indicator to judge if any ingredient is healthy. Feel free to use ghee if you like that flavour.
5 Easy Healthy Cookie Recipes

So here are the main ingredients I have used in the Healthier Chocolate Chip Cookies
100% whole wheat flour – a new brand that sells flour from consciously grown organic wheat (TWF)

Organic jaggery, powdered

Real butter, and not too much of it
Now, I have added a bit of instant coffee (espresso powder) to the cookies, which is why they look browner than a regular chocochip cookie. My son and me both love coffee flavour and that's the only reason it is in the recipe. You can easily omit that without affecting the recipe.
I have not tested an eggless version of this recipe – but here are a couple of options
1 tbsp flaxseed meal in 2 tbsp boiling hot water, whisk and use.  Or try with 2 tbsp condensed milk (reducing the jaggery slightly).
These are just suggestions and I cannot promise that it will turn out exactly the way the version with eggs turns out.
Pin
How do these Healthier Chocolate Chip Cookies turn out?
I'm sure before trying a chocolate chip cookie recipe, you want to know how the taste and texture is. These cookies turn out thick and chunky. They are not overly crisp, short and buttery, because well, they don't have as much butter as your regular cookie. The baking soda does help crisp up the edges, to some extent. The centre is reasonably chewy. For the healthier recipe that it is, my verdict would be that it gives sufficient chocolate chip cookie bang for buck 🙂
So get your kettle on or coffee brewing because you are just 30 minutes away from biting into these cookies!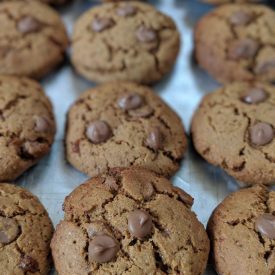 Healthier Chocolate Chip Cookies
Ingredients
1

cup

whole wheat flour

atta

1

tsp

instant coffee powder

3/4

tsp

baking soda

3

tbsp

salted butter

from fridge

1/2

cup

powdered organic jaggery

1

small

egg

1

tsp

vanilla extract

1-2

tsp

milk

1/2

cup

or less chocochips
Instructions
In a bowl, mix flour, coffee and baking soda well. Mix in powdered jaggery.

Cut butter into small cubes and work it into flour with finger tips until you get a sandy texture.

Make a well and add in the whisked egg and vanilla extract.

Mix it all together to get a dough, adding 1-2 tsp milk if needed.

Gently work in the chocolate chips.

Divide into 12 portions. Roll into balls, flatten lightly, arrange on a baking tray. Leave at least 1 inch space between the cookies. bake in a preheated oven at 180C for 12-14 minutes.

Remove and cool on a wire rack for 10 minutes. Store in airtight container.
Notes
If you have flattened the cookie too much then baking time may be lesser.
The cookies will continue to crisp up as they cool.