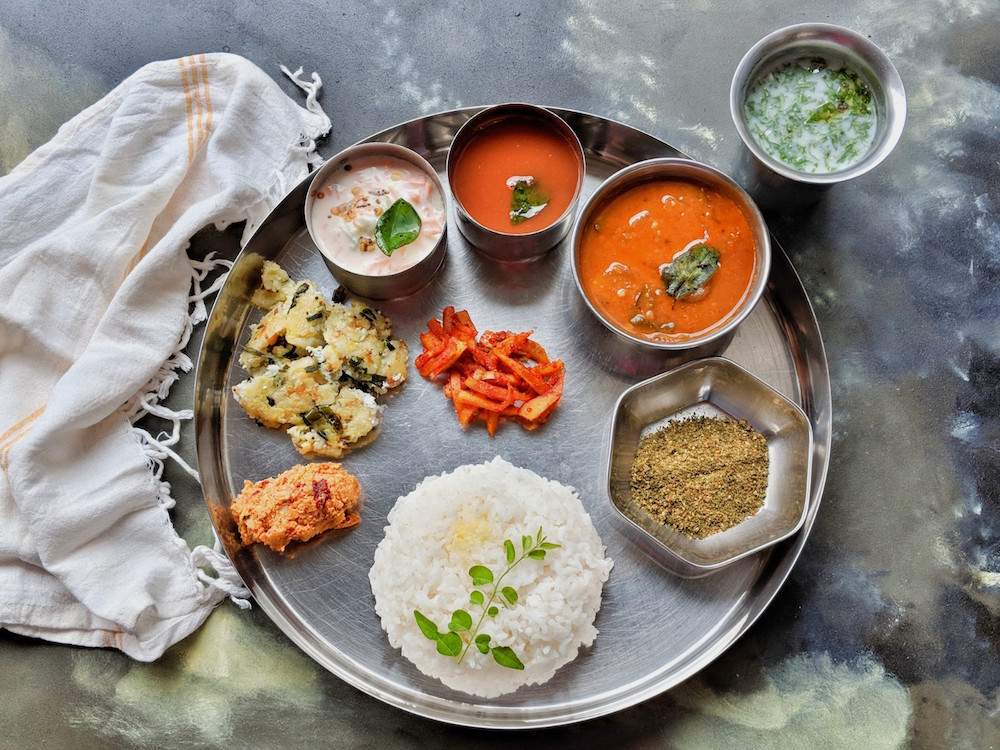 How to cook a Tamil Vegetarian Menu in 2 hours – includes entire step by step process of the meal I cooked and an alternate menu plan. The meal is naturally gluten free and vegan if you avoid the raita and use of ghee.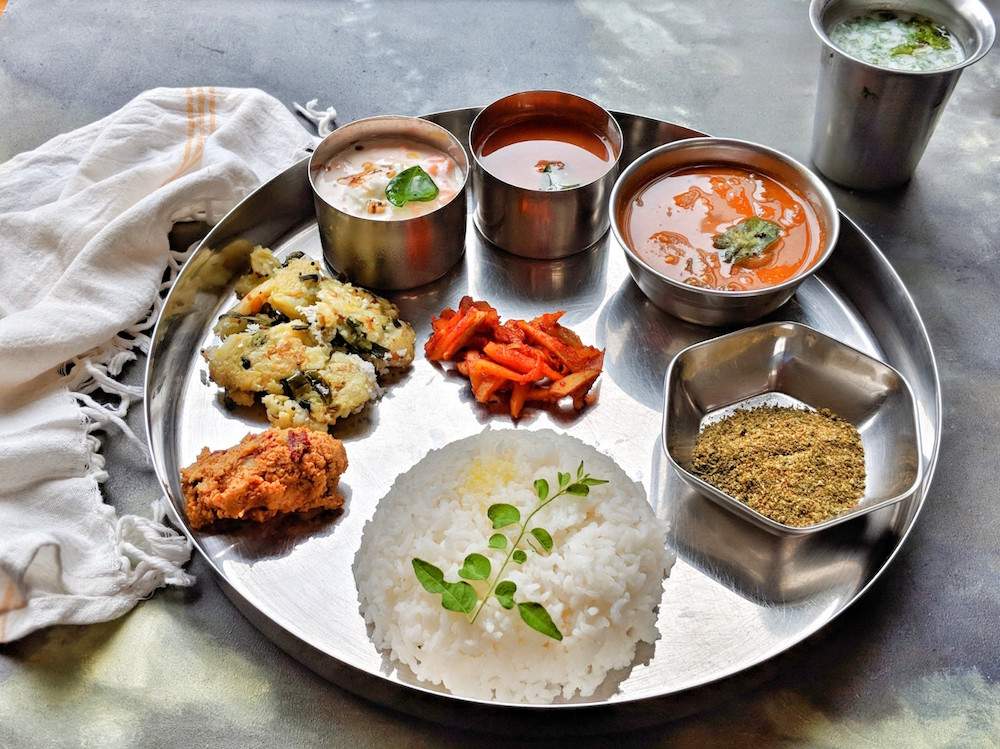 My publisher (now, also a friend) was coming over for dinner last night. I asked her if she would prefer a small plates kinda dinner, which is my jam these days, or a traditional Tamil vegetarian meal. She opted for the latter.
I love showcasing my  cuisine for anyone who is half interested. So I carefully worked out a menu featuring some favourites and a couple of new creations. Here's the menu I cooked for 4 people.
Tamil Vegetarian Menu 
Rice / Millets

Onion Sambar (with freshly ground masala)

Tomato Pineapple Rasam

Curry leaf powder (Karuveppala podi)

Bottle gourd chutney (Dudhi thogayal)

Potato curry (Urulai Podimaas)

Instant green mango pickle

Carrot Cucumber Yogurt (Thayir Pachidi)

Banana Chips
This Tamil Vegetarian menu is easy to prep ahead for, with fairly basic ingredients. It showcases the cuisine well with a variety of dishes, using different vegetables, flavours and techniques. I haven't included a dessert here due to a shortage of time and also because we had got some Theobroma brownies 🙂 But any payasam (Tamil style kheer) would be a good fit in this menu.
The thogayal, podi and pickle can also be made on the previous day, even though the instant mango pickle just takes two minutes in the microwave.
I also pressure cook the tomato-pineapple mix and the potatoes a few hours ahead so that it can cool completely before handling and pureeing. I hate to burn my hands while removing the peels of tomatoes and potatoes.
While I did not cook everything at one go, this entire meal can be put together with around 2 hours of work, as long as you use a pressure cooker.
Entire list of ingredients for cooking this Tamil Vegetarian Menu
serves 4
PANTRY
1 cup rice

1 cup foxtail millet

3/4 cup tur dal

vegetable oil

coconut oil

ghee

11-12 dried red chillies

2 tbsp coriander seeds

2-3 tsp fenugreek seeds

2-3 tsp mustard seeds

1/2 tsp black pepper corns

3 tsp cumin seeds

3-4 tsp powdered jaggery

1/2 tsp turmeric

1/3 cup urad dal

2 tbsp chana dal

1 tsp tur dal

salt
VEGETABLES
5 medium potatoes

20-25 sprigs curry leaves

3-4 green chillies

1" piece ginger

4 large onions

4 large tomatoes

200 grams pineapple

1 small bottle gourd

1 green mango

1 medium carrot

1 medium cucumber

1 small bunch coriander leaves

1 lemon
DAIRY +OTHERS
1.5 cups yogurt

1/3 cup grated fresh coconut (chutney + potato curry)

3 tbsp desiccated coconut (sambar)
Watch some of these videos to help you with the cooking:
How to make curry leaf powder
How to make arachuvitta sambar (sambar with freshly ground spices)
How to make Potato Podimaas
Batch Processing
Batch processing the tasks is the fastest way to cook any elaborate menu. I have batched up all the pressure cooking, masala preparation, vegetable prep and final tadka steps together. This makes a lot more sense can cooking recipe after recipe, which takes way longer time.
PRESSURE COOKING
 

3/4 cup toor dal + 2 cups water + 1/2 tsp turmeric

4 large tomatoes + 1 cup pineapple chunks + 1 cup water

 3 –

5 medium potatoes

Rice and millets are best cooked just before serving –go to the last step.
TAMARIND
Soak 2 tbsp tamarind flakes in 1 cup boiling hot water for 30 minutes. Extract all the pulp and discard the tamarind flakes after squeezing well. You can also use 2 tsp ready tamarind paste, but the flavour from using freshly extracted puree makes it worth it.
VEGETABLE PREP
Potato curry: Peel and grate or crumble the boiled potatoes.

Raita: Peel the veg. Grate carrot and finely dice the cucumber for raita.

Pickle: Chop one green mango into juliennes or small cubes.

Chutney: Peel and thinly slice a tender bottle gourd (small size~200 grams). Saute this in 1 tsp oil for 5-6 minutes until almost tender.

Sambar: Peel 4 large onions. Cut into half and then into thick slices. In a pan, heat 2-3 tsp oil, fry 1 tsp mustard seeds, 1/4 tsp fenugreek seeds and add the chopped onion to this. Saute on medium-low flame, keep covered and cook for 10-15 minutes until onion is softened. Do not try to cut time on this step as the sambar flavour depends entirely on how well the onions are cooked. To this, add the tamarind extract and bring to a simmer.
MASALAS  / MIXER / BLENDER
Sambar: 4-5 dried red chillies, 2 tbsp coriander seeds, 1/4 tsp fenugreek seeds, 1 tbsp chana dal, 3 tbsp desiccated or fresh grated coconut – all dry roasted until aromatic (7-8 minutes on medium flame). Grind to a fine powder. Mix this in 1/2 cup water and add it to the pan with the onions and tamarind puree.
Podi: Dry roast washed and dried curry leaves until they turn crisp ~Around 5-7 minutes on medium flame. Remove and cool. Dry roast 3 dried red chillies and 1/4 cup urad dal until dal is golden brown. Grind all of it together to a coarse powder along with some salt. Store in airtight container.
Rasam podi: Dry roast 1 tsp tur dal, 1.5 tsp cumin seeds and 1/2 tsp black pepper corns until the dal turns golden brown. Remove, cool and grind to a fine powder.
Rasam: Remove peels from cooked tomatoes and discard. Grind the cooked tomato-pineapple mix into a fine puree. Pass through a sieve. Mix in the prepared rasam powder, salt and 1-2 tsp powdered jaggery and simmer for 2-3 minutes.
Thogayal / chutney: In 1/2 tsp oil, fry 3 dried red chillies, 2 flakes tamarind, 2-3 tsp urad dal until dal is golden brown. Grind this along with sautéed bottle gourd and 1/4 cup grated coconut + salt to a coarse paste. Thogayal is ready.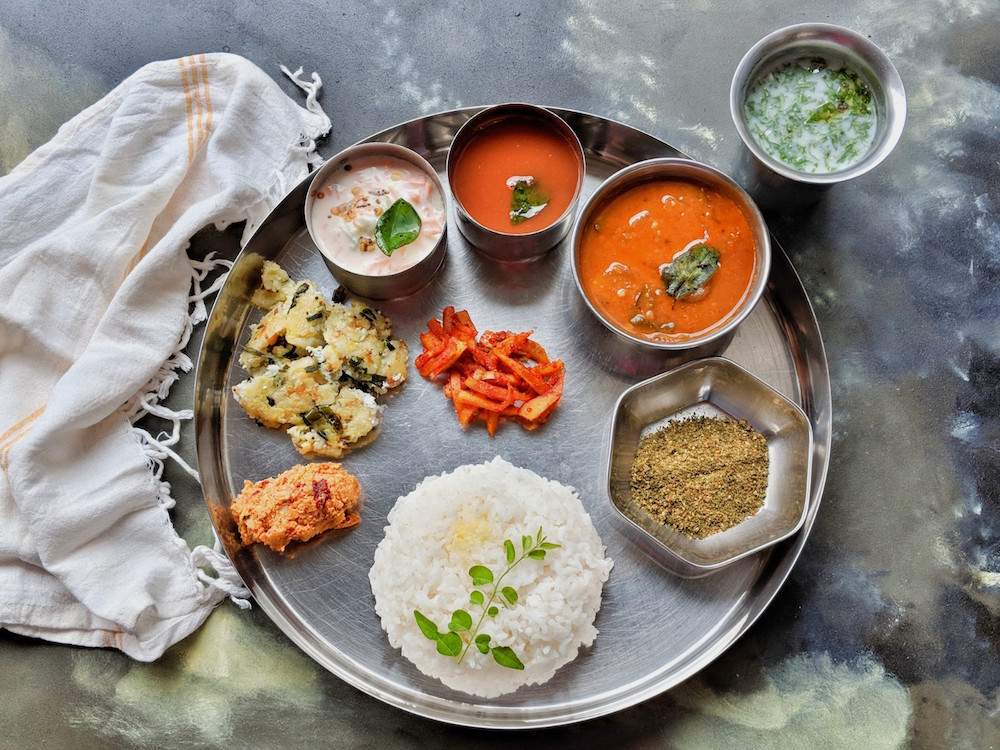 FINAL STEPS
Sambar: add the cooked dal to the onion-tamarind-sambar paste mix in the pan. Bring to a simmer, adding some water to thin down if required. Check for salt and adjust. Heat 2 tsp oil in pan. Fry curry leaves, mustard seeds and a pinch of asafoetida and transfer to the pan. Keep covered until ready to serve.
Rasam: heat 1 tsp ghee. Fry 1/2 tsp cumin seeds, few curry leaves and transfer to the rasam. Garnish with finely chopped coriander.
Potato curry: Heat 1 tbsp coconut oil. Fry 2-3 finely chopped green chillies, curry leaves, 1 tsp grated ginger, 1 tsp urad dal, 1 tsp chana dal until the dal turns golden brown. Add grated potatoes, salt, juice of 1 lemon, 2-3 tbsp grated coconut and finely chopped coriander. Toss gently to combine it all together.
Pickle: in a microwave safe bowl, mix chopped green mango, 2 tsp pickle masala (you get this in supermarkets), 2 tsp powdered jaggery and microwave for a total of 3 minutes. Give the pickle a stir after every 1 minute mark so that it cooks evenly and is coated with the sweet-spice mix.
Raita: Mix cucumber and carrot in 1.5 cups whisked yogurt with salt. Heat 1 tsp oil in a pan. Fry 1/4 tsp mustard seeds, curry leaves and 1 tsp urad dal until dal is golden brown. Transfer over raita. Garnish with finely chopped cucumber.
RICE AND MILLETS
Lastly, cook the rice and millets. Wash the grains separately, combine with twice the water and cook for 5-6 minutes on sim after the first whistle. Serve hot with all the above sides.
Serve papads or store bought banana chips with the meal.
Another Tamil Vegetarian menu which can be prepared similarly
Some more tips when you cook an elaborate meal:
Use the pressure cooker as much as possible
Keep a big bowl to collect all the peels and vegetable waste which can be discarded in the bin at one go.
Clean as you go, returning bottles and ingredients back to the place, so that the final clean up job becomes easier.
Try and use the same pan for the tasks, one after the other. For example, I use the same small pan to prepare tadka for each of the dishes.
When using the mixer, grind all the dry mixes first, so you can wipe it with a kitchen paper and move on to the next task. Reserve the wet grinding for the last, as you can see in my task detailing above.
Prepare tadka / garnishing of all dishes at the end just before serving.
If you liked this post, you will also like:
80+ Tamil Vegetarian Recipes – categorised
11 Traditional Tamil Vegetarian Lunch menus
——-
To get all my latest recipes and news straight into your mailbox, subscribe to my mailing list here and get a free copy of my e-book specially put together for you – The Ultimate Salad Master Table that will have you making salads like a pro HERE
For more such healthy recipes, get my book The Everyday Healthy Vegetarian! Get all the info about my book and order it here.
Like what you see here? Stay connected with me on Instagram, Facebook, BlogLovin' and Pinterest.