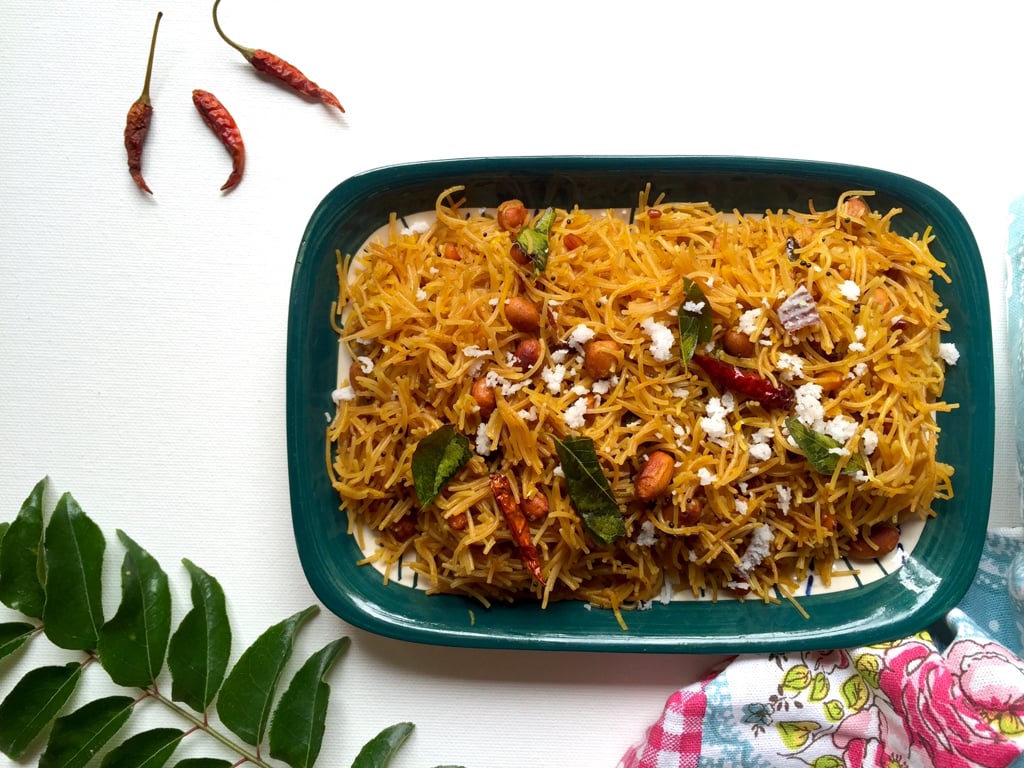 Tamarind Semia Upma – Recipe for quick South Indian breakfast / tiffin of Puli Semia  / Tamarind Vermicelli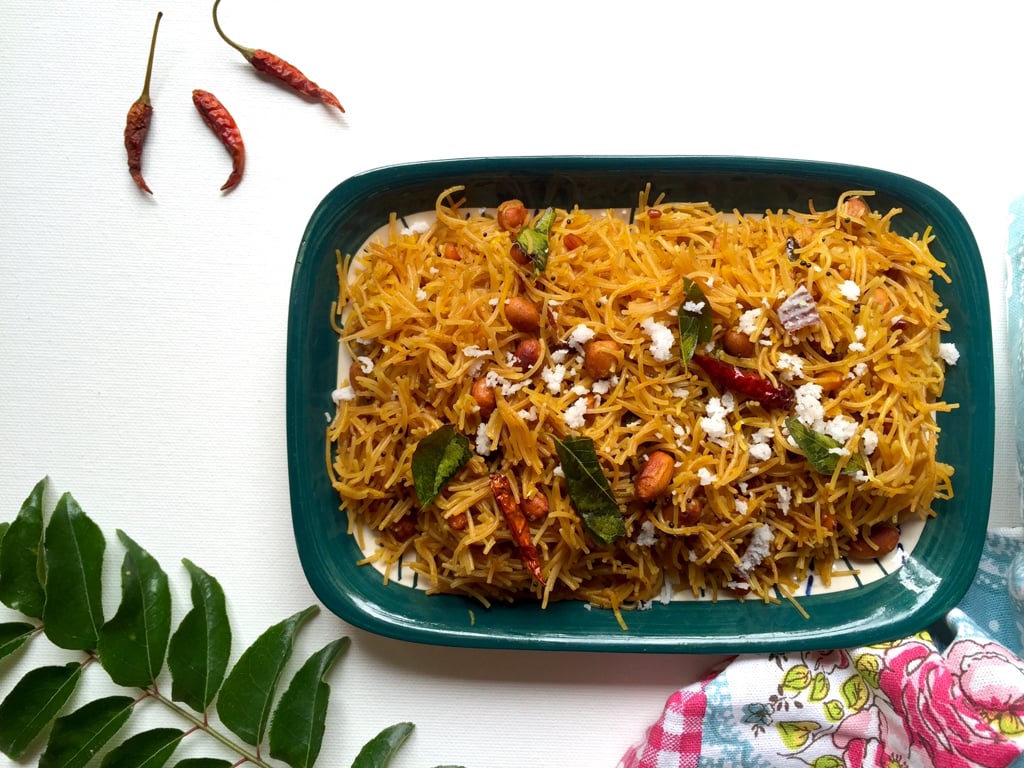 Tamarind semia upma is not a traditional preparation, at least not in my home. This is inspired by my great grandmother's Puli Aval, a tamarind poha preparation that used to be my hot favourite for tiffin as a kid.
If you love Puliyodharai, then you will love this Tamarind twist on a plain semia upma. The peanuts, chana dal and udad dal give it a nice crunch, making it a very satisfying breakfast, all ready in under 15 minutes.
The method for preparing this Tamarind semia is slightly different as the semia needs to boiled like pasta in order to be cooked, unlike poha that just needs soaking in water (and draining) for most part.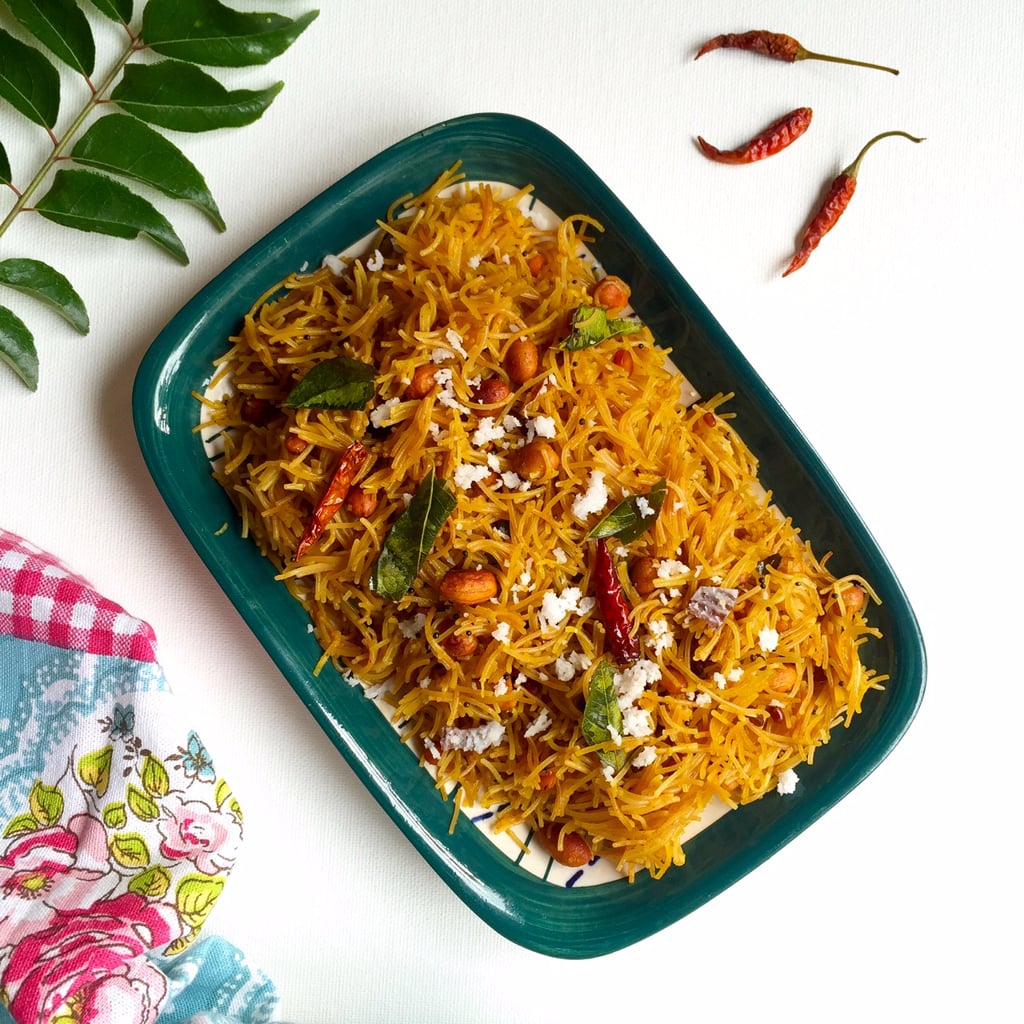 Making use of packaged tamarind paste makes quick work of this recipe, in case you need to make a hot breakfast on a weekday. Add more peanuts or have it with a bowl of yogurt to get adequate protein along with this carb rich breakfast.
You may also like these quick Indian breakfasts
Pudla – Gujarati pancake made from besan / chickpea flour
Raw Papaya Poha – a healthy twist on the regular poha
Godhuma Dosai – instant whole wheat flour dosa
Tomato Omelette (vegan)
Tamarind Semia Upma
 Recipe for quick South Indian breakfast / tiffin of Puli Semia / Tamarind Semia Upma / Tamarind Vermicelli - All it takes is 15 minutes to prepare this satisfying, full-of-flavour breakfast from scratch!
Ingredients
1/2

cup

roasted semia

heaped

1 3/4

cups

water

1/2

tsp

salt

2

tsp

tamarind

paste

1/4

tsp

turmeric

powder

2

tsp

gingelly oil

(or any cooking oil)

1/2

tsp

mustard seeds

1

tbsp

dal

udad

1

tbsp

chana dal

3

tbsps

peanuts

1

sprig

curry leaves

3

chillies

dried red

1/4

tsp

salt

1/2

tsp

sugar

(optional)

1

tsp

coconut

fresh (for garnish)
Instructions
To prepare tamarind semia, in a pan, bring 1 and 3/4 cups water to a boil with salt, tamarind paste, turmeric. (in case you are using tamarind water/extract, then reduce the water content accordingly)

When the water comes to a boil, add the roasted semia (vermicelli) and allow to cook on medium flame. Once the vermicelli is cooked and the water is absorbed, remove this in a plate and allow to cool. Do not overcook the semia.

Meanwhile, prepare the tempering for the Tamarind Semia. In a heavy bottomed kadai, heat the gingelly oil.

Add the mustard seeds. Once the seeds splutter, add udad dal, chana dal and peanuts. Stir on high flame until the dals turn golden brown and peanuts turn a shade darker and crisp up.

Add the curry leaves, red chillies, asafoetida - stir for few seconds. Then add the cooked semia, a little extra salt (1/4 tsp or as per taste), sugar and toss to combine well.

Remove this into a serving bowl and garnish with fresh coconut or finely chopped coriander leaves.
For healthy vegetarian recipes, check out my book The Everyday Healthy Vegetarian.  Get all the info about my book and order it here. 
Like what you see here? Stay connected with me on Instagram, Facebook, BlogLovin' and Pinterest.
Sign up to my newsletter by putting in your email in the box in the home page, to get all latest posts in your email. No spam. Promise.