Sheem Paturi is an exotic vegetarian dish from the kitchens of Bengal, in which Sem or flat beans, smothered in a freshly ground mustard and chill paste, is steam cooked in banana leaf parcels. Sheem Paturi and steamed rice make a simple meal, exploding with flavour.
The times I've tried vegetarian Bengali cuisine in a restaurant like Oh Calcutta (in Mumbai) or 6, Ballygunge Place (in Bangalore), I've always been smitten by the flavours. It is totally different from the standard South Indian fare or the Punjabi food that tends to have a similar flavour base in most dishes, especially in restaurants. A few months ago, Maumita, a friend and a fellow food blogger, invited me over for a Bengali vegetarian feast. I was completely bowled over by the variety, the flavours and the uniqueness of every dish on the table. Of course, it was made all the more memorable by the fact that she's a very gifted and thoughtful cook.
Like every winter, these past few months, I've been having a problem of plenty – with flat beans (sheem / sem / avarakkai). Come December and they take over my terrace garden fence, producing beans in abundance. I make all sorts of dishes with them, at the same time packing them off to everyone I know. I'm sure my housekeeper's family is fed up of this vegetable by now 🙂
I sent a some of the tender sheem to Maumita, knowing that she will turn them into one of her masterpieces. I smiled to myself when I saw her post the recipe for Sheem Paturi on her blog.  A mix of tender flat beans, peas, a freshly ground spice paste starring mustard seeds, all wrapped up rustically in banana leaf parcels and pan roasted and steamed until cooked. How beautiful does that sound!
The recipe sounded delectable and it begged to be tried immediately. I had home grown sheem, I had the peas, and for the parcels, I had easy access to banana leaves by way of a whole banana tree growing in my garden. But then, procrastination is a dear old friend, who never fails to visit me and overstay his welcome.
I finally got around to making these sheem paturi today, adapting Maumita's recipe.  I sneaked another of my plentiful garden harvests – the sweet potato, into these parcels and which made itself completely at home in this dish.
The verdict
You may wonder if it is possible to eat sheem paturi with plain steamed rice. I did too. The spice paste with coconut and rice solidifies into a thick layer on steaming, and the veggies underneath are perfectly cooked, making this a sort of thick curry that is perfect to mix rice in with your fingers and eat. Once you're done eating this, you will lick your fingers, and sigh wishing there was more of it.
The pungency from the mustard seeds and mustard oil, the heat from the chilies and the right amount of seasoning made this flavour-bomb of a dish. I don't wax eloquent without reason, so trust me when I say this dish turned out-out-of-the-world-delicious.
I was so in love with the cooking process. I even tweeted that cooking Sheem Paturi feels like some fancy French cooking of poisson en pappilote (fish cooked in parchment parcels). Just that in this case, the fish was replaced by seasonal veggies and the parchment by our ubiquitously Indian banana leaf. *giggle*
If you like Avarakkai / sheem, then you will love these:
Equipment recommended:
Mixer for grinding spice paste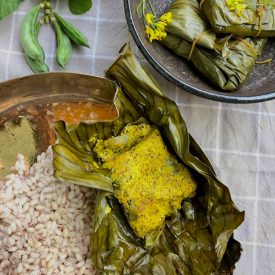 Sheem Paturi - Flat beans in Banana Leaf Parcels
Flat beans, peas and sweet potato, covered in a freshly ground mustard chili paste, wrapped in banana leaf parcels and steam cooked
Ingredients
2

tsp

black mustard seeds

1

tsp

yellow mustard seeds

1

tsp

rice

(uncooked)

2

tbsp

coconut

2-3

green chilies

3

tbsp

mustard oil

divided

200

grams

flat beans

tender

1/4

cup

green peas

1

sweet potato

small

4

banana leaf squares

for parcels
Instructions
Soak the mustard seeds and rice grains in 1/4 cup hot water for 15-20 minutes.

Cook a small sweet potato in the pressure cooker / microwave or on stove top. Peel and keep aside. Top and tail the tender beans. Chop roughly. In a bowl, mix the mashed sweet potato, chopped beans and peas with 1/2 tsp salt. Keep aside.

In a small mixer jar, add the soaked mustard seeds, rice, coconut, green chilies and grind to a fine paste, adding a few tablespoons of water if need be. Don't make the paste watery.

Remove this paste into a small bowl. Add 2 tbsp mustard oil, 3/4 tsp salt, 1/2 tsp turmeric powder. Mix well and keep aside.

Prepare the banana leaves by cutting off the thick central rib and cut the leaf into four 6-8" squares. Heat a tava / skillet and warm the leaves on it to make it soft and pliable, so that it does not tear while wrapping the parcels.

Lay out the 4 squares of banana leaf on the counter top. Divide the beans-peas-sweet potato mix between the 4 leaves. Divide the prepared paste between these four portions, placing it on top of the vegetable mix. Fold over the edges one by one to make a snug parcel, securing it with a twine or toothpick, so that the steam remains trapped inside while cooking the parcels.

Place a pan to heat. Grease with 1 tbsp of mustard oil. Place the parcels, cover the pan with a lid and cook on low-medium heat for around 15 minutes. Turn them over and repeat the same on the other side for 3-4 minutes.

To serve, place the parcels unopened along with steamed rice. Untie the parcels just before eating, so that the aromas remain sealed inside.
Notes
Like what you see here? Stay connected with me on
Instagram
,
Facebook
,
BlogLovin'
and
Pinterest
.
Disclosure: This post has affiliate links and Saffron Trail will earn a small commission if you purchase the product from these links, which helps support the blog.