On natural aphrodisiacs and how I like to classify these foods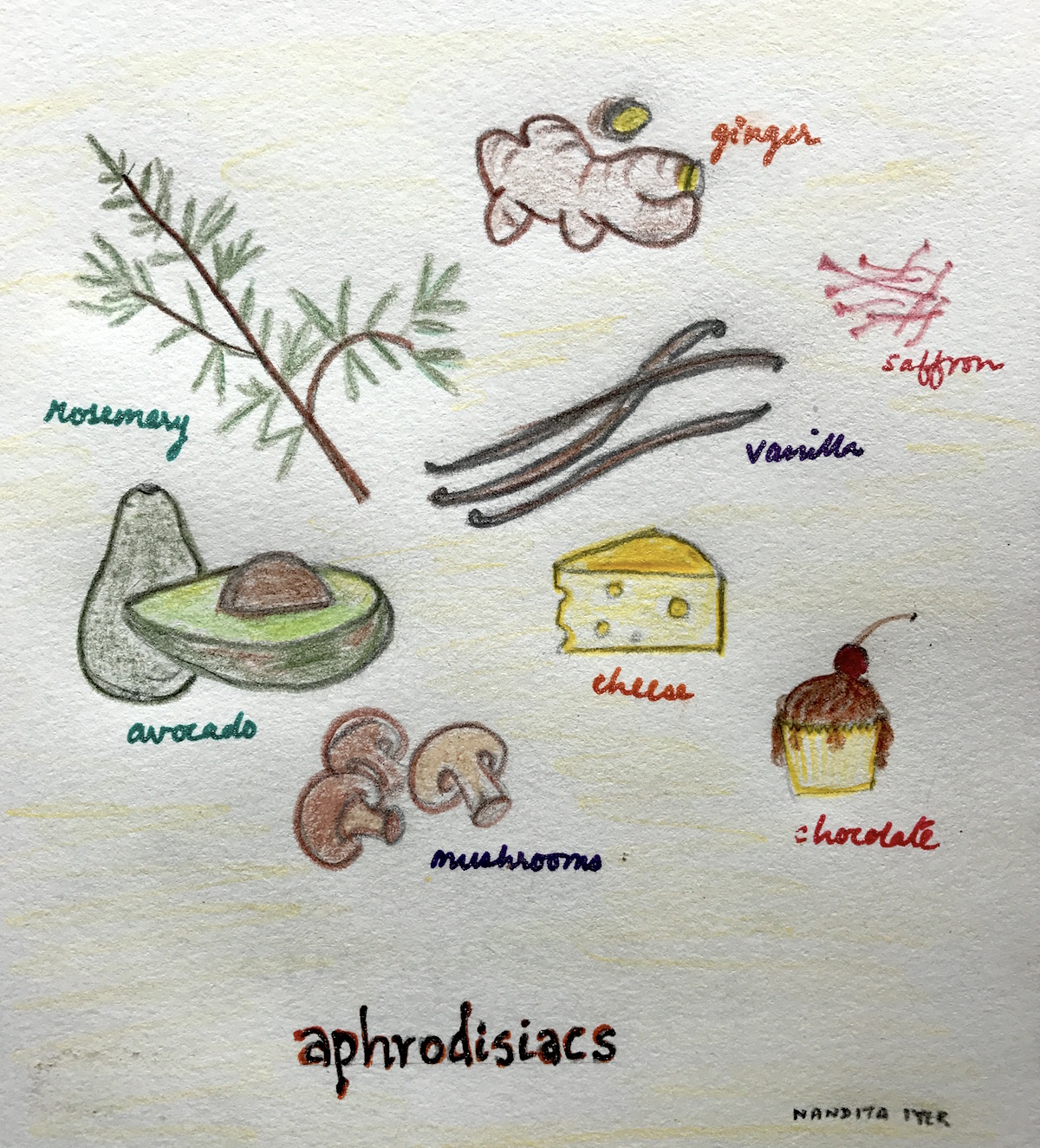 Pin
What makes food an aphrodisiac? Is it how the food looks, or the aromas that emanate from the table or how it makes you feel when you share a particular dish with your loved one, or the nutritional composition of the ingredients? While some disregard this whole aphrodisiac research as humbug, there's no denying that some foods do get you in the mood.
So what is an aphrodisiac?
Aphrodisiacs are defined as food, drink or a substance that stimulates sexual desire. While it is romantic to think of it as a magical love potion, it is not quite that. They are totally different from Viagra like medications, which work on the performance and not desire.
The word 'aphrodisiac' is derived from 'aphrodisios' which means pertaining to Aphrodite, the Greek Goddess of Love. You can completely dismiss this whole aphrodisiac thing to be a placebo effect, which it well may be.
Natural aphrodisiacs are a variety of naturally occurring ingredients that are said to spark the libido. No trip to the chemist required. These foods, since time immemorial have been looked upon as stimulants for a better sex drive, and as most are part of our kitchen anyway, there's no harm in looking  cooking them up!
Appearances are everything
The suggestive shapes of pears, avocados and bananas automatically gives them membership into the natural aphrodisiacs club. Cucumbers, zucchinis, carrots? Yeah, why not! Here's a fact that hopefully doesn't put you off avocados for good – the avocado tree was called 'ahuacuatl' or 'testicle tree' by the Aztecs with reference to the fruits hanging in pairs. Okay, you may now delete that image from your head. Then there are the dishes which are oozy, molten, dribbly – the stuff that should be rightfully hashtagged with foodporn (not my favourite sambar-rice!). This kind of messy business spells sexy.
Eat: Eggs baked in avocado halves or Guacamole on toast
Pin
Colour me red
While the colour red also falls under appearances, this deserves special mention. Red roses, the cliched symbol of Valentine's Day may have ruined the effect of the colour red for most of us. But let's forget that for a bit. The colour red spells desire, passion, danger and love. Think cherries, strawberries, pomegranate, tomatoes, blood oranges, red chilies and of course red roses! Add any of these ingredients to your dishes, and they force you to sit up and take notice (and hopefully look away from your phone).
Eat: Watermelon and Feta Salad
Pin
The heady fragrance of love
Waiter, there's a salad in my shower gel! Rosemary, vanilla, basil, lemon, mint, ginger – chances are you'll find one or more of these fragrances in your bath and home products. The lines between ingredients in foods and bath/home products are fading fast, and for a reason. They make you feel good! Food with the lush aromas of herbs and spices like basil, vanilla, cinnamon, rosemary and lavender are considered natural aphrodisiacs and they put you in the mood even before you can taste the food. Spices like ginger and saffron are shown to have that effect due to their chemical composition too.
Eat: Savoury Rosemary Coconut Cookies
Pin
Mouthfeel
Disclaimer: This is not a word I use in general conversation. Ever.
Now imagine the following – the silkiness of a chocolate ganache, the satiny richness of a cheese fondue with the contrasting texture of a piece of bread, hot salted caramel sauce on ice cream. The interplay of hot and cold, smooth and rough, squidgy and the crisp, is what amps up the sex appeal of foods. Also, the sensuous texture of whipped cream and ice cream – a no brainer, right? So whatever you do, don't say no to dessert on Valentine's day!
Eat: Vanilla ice cream with hot salted caramel sauce
Spirits
A glass of wine or two, and suddenly the world seems like a better place. You tend not to dwell over the mundane worries of everyday life, like whether your kid did his homework. It makes you focus on the present, on your partner, and reducing your inhibitions at the same time.
If you don't stop at two drinks, you'll be harshly reminded of that saying we were told in medical school – "It provokes the desire, but it takes away the performance." Yeah, we did dabble in a bit of Shakespeare when the situation demanded it. But if your idea of a Valentine date is a cozy slumber, then who am I to stop you! Also, cooking with booze is an excellent idea.
Drink: Pinot Noir or eat Penne Pasta in Vodka Sauce 
The scientific contenders
Foods like oysters qualify not just because of their decadence, but also their nutrient composition. They are rich in zinc, a micronutrient that is important for testosterone production, an important hormone for sex drive in both men and women. Other zinc rich foods are pine nuts, eggs, cheese and mushrooms. Boron is said to improve the production of sex hormones, which is why foods like honey, beets, almonds and avocados are considered as good choices. Then there's lycopene, the antioxidant that is present in watermelon and cooked tomatoes, which is said to mimic Viagra. So no harm adding some more of that tomato sauce to your pasta.
Eat: Warm Mushroom Salad
So the next time, you want to cook up a romantic meal, you know the natural aphrodisiacs to choose and cook with! And don't forget that glass of wine ????