Easy Roasted Radish recipe with just 5 main ingredients – Vegan and Gluten Free
Pin
Do you ever spot an ingredient in the supermarket, and immediately wonder what you're going to cook with it?
Happens to me ALL THE TIME!
Fresh produce is my inspiration for most of what you see on my blog. Like if I lived in London, I would probably land up in Borough market at least once a week. Just to get inspired by the absolute delight of seasonal produce on sale as well as the dishes served in the market!
I love how the local supermarkets have something interesting to offer if you look hard enough. Like how Namdhari's (a Bangalore based supermarket chain) stocks sun dried tomatoes, seitan and asparagus (at very reason prices). This weekend, at another supermarket I frequent, I found a pile of very small sized radish. These were not exactly baby radish, but tender enough to use whole.
I'm not a big fan of eating radish raw (UGH). Using it in a pressed salad works because it is slightly fermented and softened. Otherwise, roasted radish makes an excellent side dish  – both the baby radish or the regular sized ones work for this.
Pin
How to prepare Roasted Radish
As I was selecting the radish of similar size, the dish conceptualised in my head.
Voice in mind. All excited, the kind of sentences that end with !!! "Slice them vertically, toss in olive oil and seasoning, roast whole radish. Top with something flavourful and textural." 
Me: OK OK got it!!
This is no-recipe kind of recipe (makes sense I hope ????)where you just highlight the fresh produce on hand. Roast it for an optimum time, dress and serve. It is the kind of cooking that I love the most. Minimalistic, flavourful and hassle free.
I do understand that it may be difficult to find baby radish or small sized radish all the time. You can use the regular radish. Cut into long batons and proceed with the same roasted radish recipe. Using the whole radish with a bit of the green tops attached gives the roasted radish a very gourmet top-tail cooking kinda look (the kind that's IN these days), which looks pretty on a dinner table.
You can also use French radish or the round red radish for the recipe. Slice them vertically into two halves before proceeding with the same recipe. Oven time may vary depending on the size and shape of the vegetable.
While you are preparing this roasted radish, if your oven has the space for another baking tray, then add this Super Easy Sheet Pan Eggplant for another quick and healthy side, which gets done as the radish is roasting.
How to prepare the seed mix topping
The seed mix is a good thing to prep ahead ~around 100 grams of it at a time and stock in your pantry in an airtight bottle. It makes a great topping for soups, salads, and any other vegetable sides. I prepare it for my sourdough bread with plenty of seeds. Use a mix of black and white sesame seeds, fennel seeds, carom seeds (ajwain), Niger seeds, kalonji (nigella seeds), flax seeds and toast in a heavy bottomed pan until aromatic. Remove and cool. To this add some pomegranate seeds (anardaana), as this one does not need toasting. There's one such interesting Mixed Seed Munch recipe in my cookbook.
Some More Interesting Radish Recipes
Make this Macrobiotic Salad using radish along with cucumber and carrots.
Never throw away the radish greens that are full of nutrition and flavour. Prepare this simple dish of radish greens along with yellow moong dal
Cut into chunks and crush in a mortar pestle along with toasted cumin and sichuan pepper (Timur), green chillies and sliced onion to make a chutney. This is Nepalese style condiment called Mulo Ko Achaar.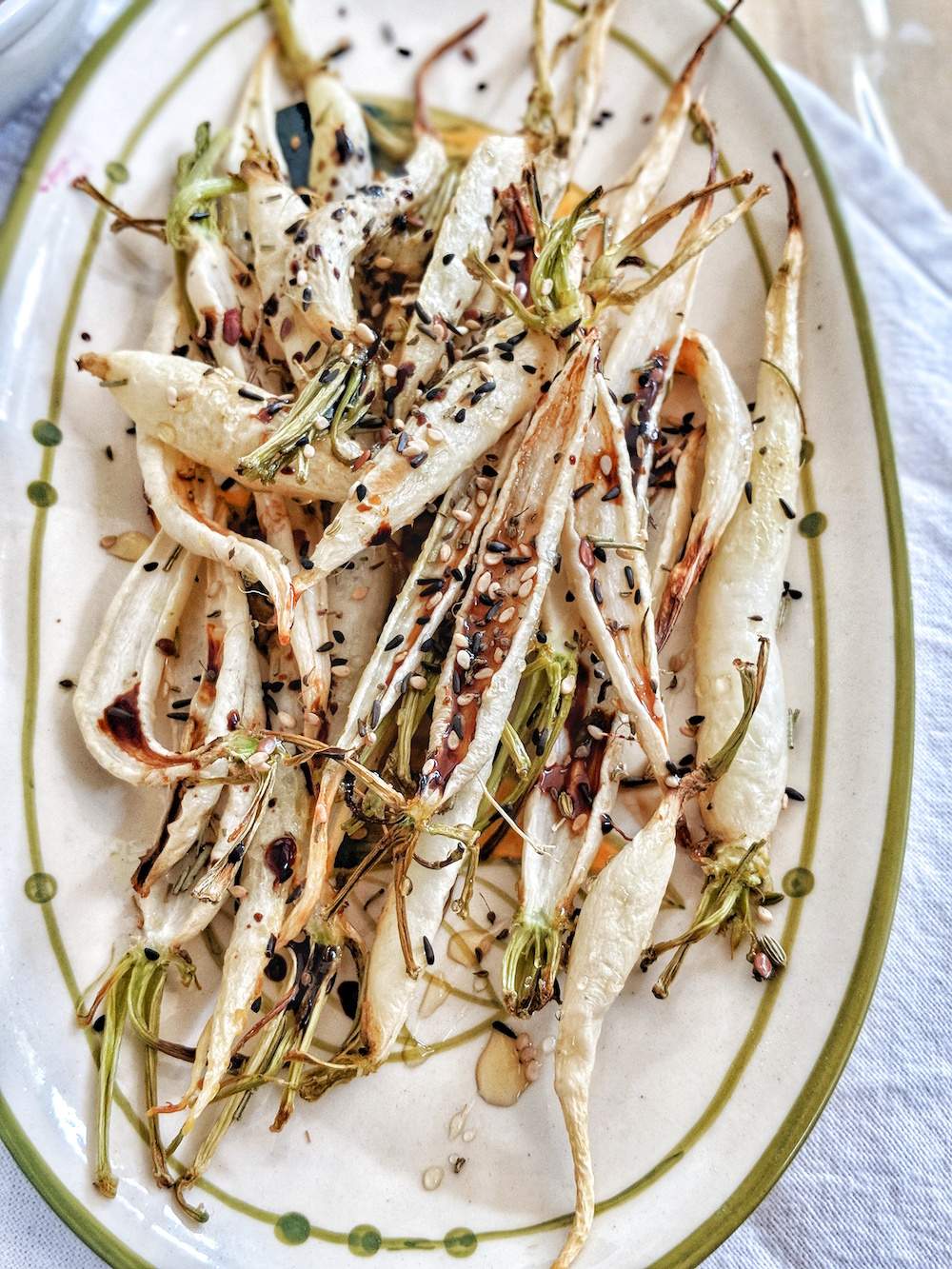 Pin
Roasted Radish
Ingredients
1/2

kg

baby radish

small sized, around 16-18

1/2

tsp

coarse salt

2

tsp

olive oil

2

tsp

maple syrup

or honey

2

tsp

balsamic vinegar

2

tsp

seed mix

sesame, flax, niger, nigella etc.
Instructions
Preheat the oven at 180C.

Wash and scrub the radish well. As these are tender, the skins will be very thin and they don't need peeling. If the greens are attached, then slice off the tops leaving 1-2 cm with the radish, using it for another dish.

Slit each radish vertically to make two halves.

Toss in olive oil and salt.

Arrange the radish in a single layer on a baking tray.

Bake/roast in preheated oven for 30 minutes until the edges of the radish turn golden.

Remove into a serving tray. Drizzle maple syrup (or honey) and balsamic vinegar.

Top with seed mix and a small pinch of coarse salt.
Notes
Use the same recipe for carrots, sweet potatoes or any other root vegetable. Choose similar sized vegetables or cut them all to the same size / shape.
Makes an excellent side for a main meal or as a part of a brunch. You can also serve roasted radish with a dip as an appetizer.
Add spices of your choice to some hot oil and toss over the roasted radish for a spicier dish.
To get all my latest recipes and news straight into your mailbox, subscribe to my mailing list here and get a free copy of my e-book specially put together for you – The Ultimate Salad Master Table that will have you making salads like a pro HERE
For more such healthy recipes, get my book The Everyday Healthy Vegetarian! Get all the info about my book and order it here.
Like what you see here? Stay connected with me on Instagram, Facebook, BlogLovin' and Pinterest.