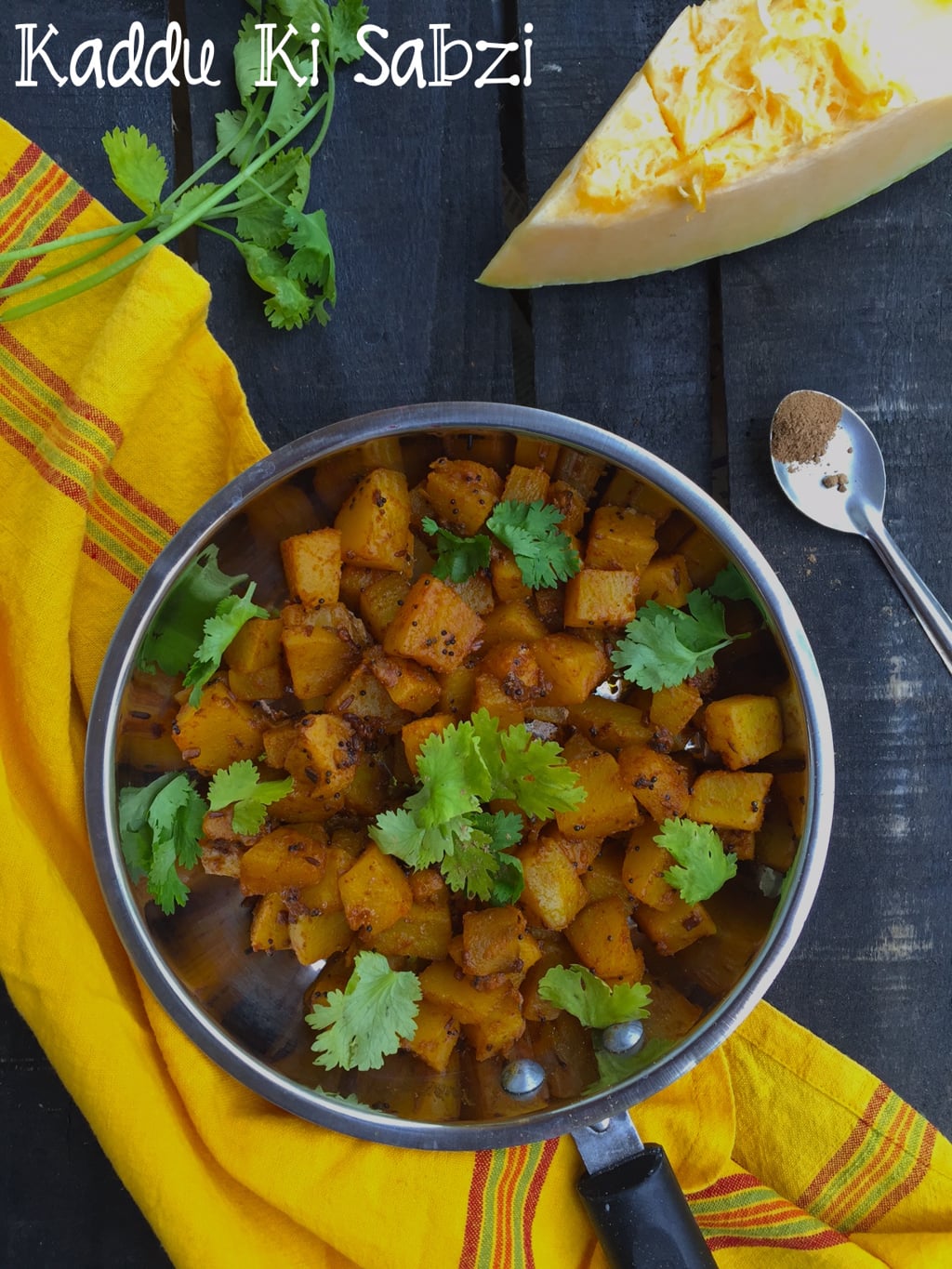 Recipe for Kaddu ki Sabzi – Punjabi style sweet-sour pumpkin curry that goes best with pooris (fried Indian flatbread) | Kaddu ki Subzi Punjabi style | Punjabi Pumpkin Curry | Khatti Meethi Kaddu ki Sabzi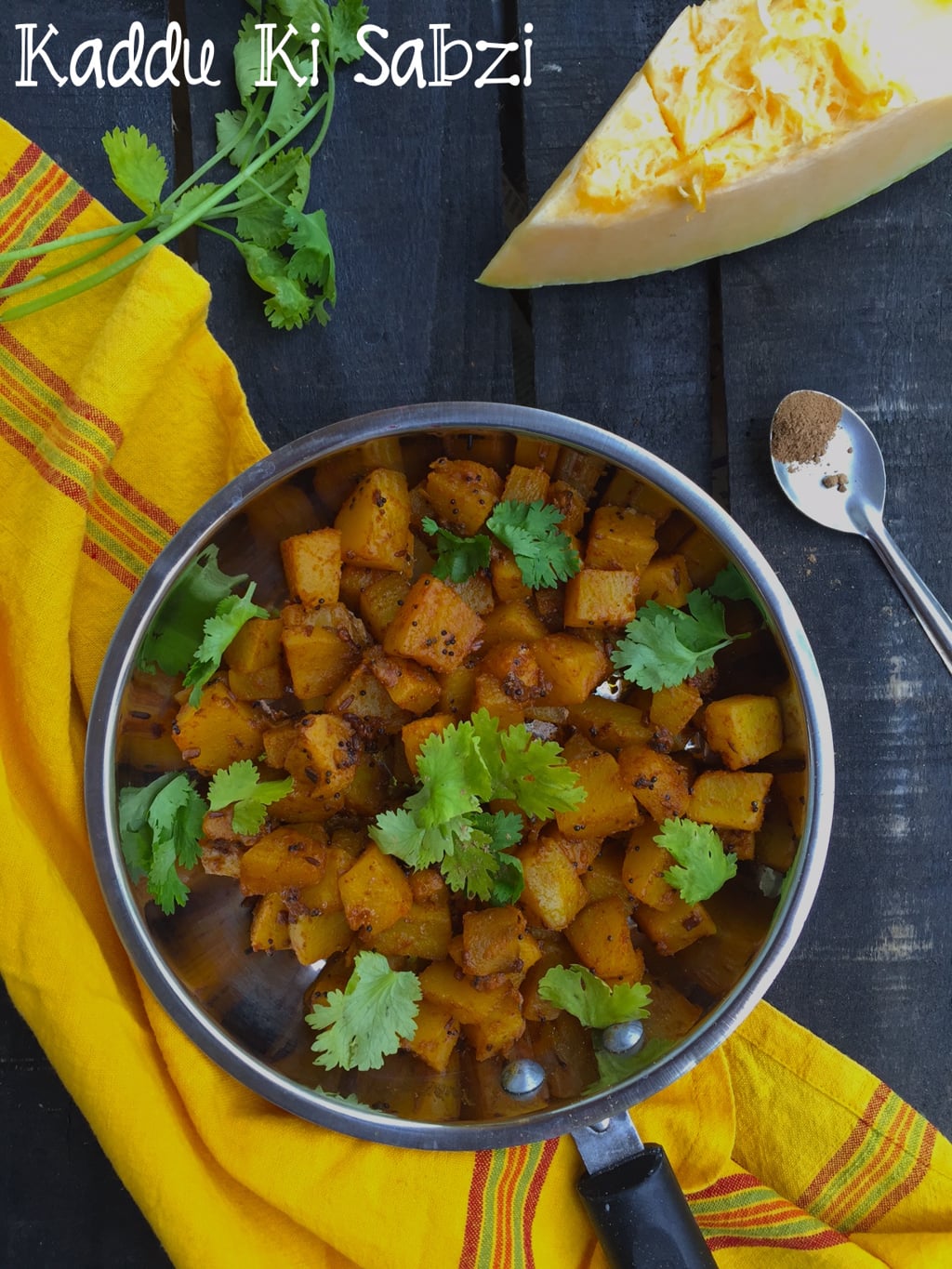 There are some side dishes that make the calories of a poori worthwhile. Aloo subzi and Chole have always been my favourite accompaniments to this deep fried bread and this Kaddu ki sabzi Punjabi style, is a recent discovery, thanks to my friends.
Tangy, spicy and sweet at the same time, this Punjabi pumpkin curry is a great way to make use of red pumpkin which is in season now. In Bangalore, we find the Disco pumpkin which are smaller in size, the Ironbark or the Japanese, all of which have a deep orange flesh. For this preparation, the former varieties are preferred over the yellow flesh pumpkin used for Olan like Koottu.
Get the recipe for a super healthy Pumpkin & Chana Dal curry here
This is a Punjabi recipe shared by my friend, Kishi Arora of Foodoholics and this is the way her mom (@mamaktreats on Twitter) makes it. I think I have more or less followed the recipe she dictated to me on phone. We prepared this with Aaloo Bhaaja, Chole, Halwa and Poori for a perfect Navratri dinner.
Love Pumpkin? Get 14 no-fail, delicious pumpkin recipes from my blog
Poori, or the Indian whole wheat based deep fried bread has a few standard accompaniments that make a delicious Indian meal.
While this Kaddu Ki Subzi is one of them, there's Aamras, that is a must have with poori when mangoes are in season. Aamras is just sweet-juicy variety of mangoes, peeled and pureed. In some Indian cuisines, spices like cardamom, saffron, black pepper powder or roasted cumin powder are used to garnish the aamras. Melted ghee is also another favoured garnish for aamras.
The other rustic curry that is just made for fluffed up hot poori is Kala Chana or the Punjabi brown chick peas curry. This recipe was blogged here in 2006, with rave reviews from readers. Even if your diet does not permit you to have deep fried puris, try out the Kala Chana, Kaddu ki sabzi and serve with plain phulka rotis for a rustic Punjabi vegetarian meal.
Equipment needed to make Kaddu Ki Sabzi:
Kadai to prepare the sabzi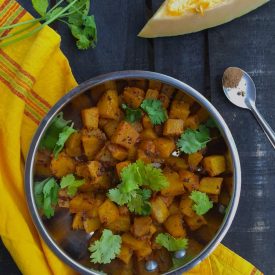 Kaddu ki Sabzi | Punjabi Pumpkin Curry
This authentic recipe for Punjabi style Khatti Meethi Kaddu ki Sabzi comes from a friend's mother who is a brilliant cook. This is THE sabzi to eat with Pooris.
Ingredients
400

grams

orange or yellow pumpkin

peeled and cut in cubes

1

tbsp

mustard oil

pinch

asafoetida

1/2

tsp

mustard seeds

1/4

tsp

fenugreek seeds

methi

1/2

tsp

cumin seeds

2

tsps

amchoor powder

raw mango powder

1

tsp

red chilli powder

1 - 2

tsps

coriander powder

1/4

tsp

turmeric powder

1

tbsp

jaggery

crushed (or brown sugar)

1/2

tsp

garam masala powder

1

tsp

salt

or more to taste

coriander

Finely chopped for garnish
Instructions
To prepare Kaddu ki sabzi, in a heavy bottomed wide wok / kadai, heat the oil. Add the asafoetida, mustard seeds, fenugreek seeds, cumin seeds. Once the mustard splutters, add the pumpkin cubes and toss well to coat with oil and whole spices.

On medium flame, cook the pumpkin for 5 minutes or so, then add all remaining powdered spices, including crushed jaggery, add 1/2 cup of water, cover and cook on low flame. This will take at least 15-20 minutes to cook. Keep checking every 5 minutes, if any additional water is required, adding 1/4 cup at a time, if necessary.

When cooked, you should be able to crush the pumpkin with the thumb with light pressure but the shape should be retained, and the whole dish should not turn into mashed pumpkin.

Adjust the red chilli powder, jaggery and amchoor to suit your taste such that it is a good balance of spicy, sweet and sour. If the pumpkin is inherently quite sweet, you don't have to add much jaggery.

Garnish with finely chopped coriander. Serve with hot pooris.
Like what you see here? Stay connected with me on Instagram, Facebook, BlogLovin' and Pinterest.