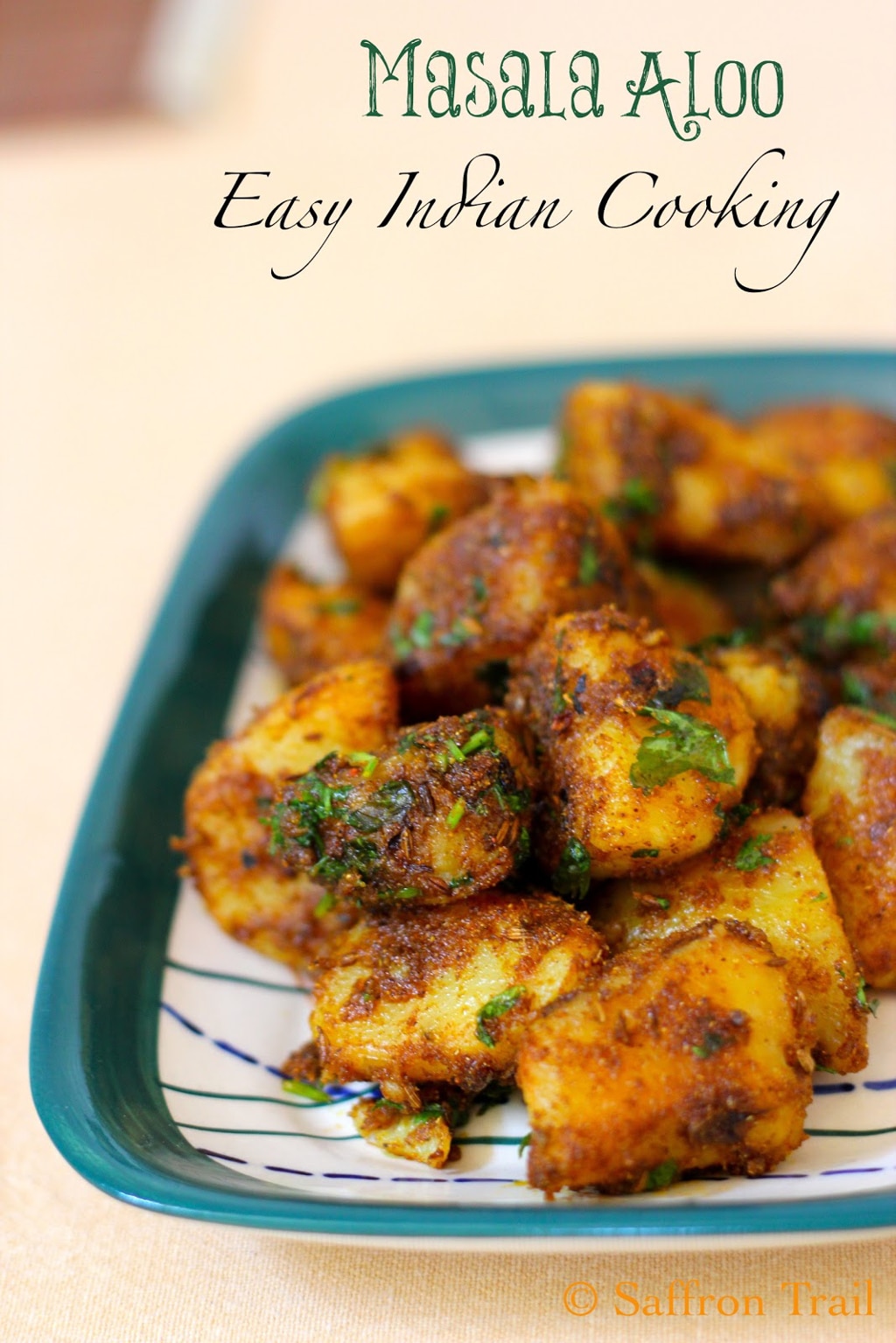 This Masala Aloo recipe is one of the most popular posts on my blog, bringing in millions of visitors over the years. It is also one of my favourite ways to cook potatoes. Try this super simple recipe and you will LOVE how it turns out.
[Post originally published on 29 Nov 2012 / rewritten and published in 2018]
I'd first seen this Masala Aloo recipe in a cookery show, Khana Khazana, one of the longest running cooking shows in India by Chef Sanjeev Kapoor. What I remember about this one was that he was cooking authentic Punjabi dishes with his mum.
What stood out in this recipe was one unique technique which I had never tried or seen before. To know what that is, you will have to go read through the entire post ????
Potatoes, who doesn't love them? It is the absolute basic ingredient across cuisines in the world. It is one of the first dishes I learnt to cook. You might think it is utterly impossible to mess up a potato dish. But, a look at cooking reality shows like Masterchef Australia and you realise how much thought and skill goes into making a simple dish like mashed potatoes.
Potatoes are the sponges of the culinary world. They absorb most flavours beautifully, go with any vegetable most amicably and you need to work really hard to make a potato taste BAD!
I think the make or break in most potato dishes is seasoning. They need adequate salt to taste good, or it's just a bland boiled chunk of a starchy vegetable.
This Masala Aloo recipe can be nailed by any beginner cook. All you need is to manage to cook the potatoes well in their skins.
Pressure cooker (or Instant Pot) works best here, but if you have a phobia to my favourite implement in the kitchen, you need some patience to boil the potatoes whole, in their skins, until they are well cooked right till the middle and then proceed with the recipe [Details on cooking potatoes in pressure cooker and pot given at the end of the post in recipe notes]
You could get more adventurous with this recipe using more spices like amchoor (dried mango powder) or crushed dried fenugreek leaves (kasoori methi) but before you go raid the spice aisle, try making this Masala Aloo Recipe with the basic spices. I can promise you will be wowed!
For my readers from outside India, if you are new to Indian cooking, and you want to try a simple curry recipe, this Masala Aloo recipe is the perfect one for you. Few ingredients, simple technique and superb results 🙂
Potato curry was one of the first things I cooked as a 10 year old girl. My grand mom would keep boiled potatoes ready and I would make a simple potato roast.
9 Easy Delicious Potato Recipes from Indian Cuisine
Pin
The secret to absolutely delicious Masala Aloo
The one potato recipe you MUST have in your folder of favourite recipes - crispy masaledaar, crusted with dry spices, super delicious with naan, roti or dal and rice. Get it here!
Ingredients
4 to 5 potatoes medium
1 tbsp rice flour or corn meal
2 tbsps vegetable oil
1 pinch asafoetida (optional, but really elevates the taste)
1 tsp cumin seeds
2 tbsp coriander powder powder
1 tsp cumin powder powder
1/2 tsp red chilli powder (upto 1 tsp)
1/4 tsp turmeric powder
1 tsp salt
1 tbsp coriander leaves finely chopped for garnish
Instructions
Pressure cook* or boil potatoes until they are well cooked. Once cool enough to handle, peel the skins and quarter each potato into 4 large pieces.

In a large bowl, toss the pieces in rice flour coating well, and keep aside.

In a large non-stick wok / kadai, heat the oil. Add asafoetida and cumin seeds. Once the seeds splutter, add the coriander powder, cumin powder, red chilli powder, turmeric powder and SALT to the oil.

Stir well so that all the spice powder including salt get cooked in oil.

Do this on a low flame so that none of the spices burn. Immediately, throw in the rice flour tossed potato chunks, stirring gently to coat with the spices and oil.

Cook them on a low flame until all the potato chunks get encrusted with spices, around 7-8 minutes, turning occasionally.

Garnish with finely chopped coriander.
Notes
This Masala Aloo makes an excellent accompaniment to rotis or sliced bread. Perfect with steamed rice and any dal. You could easily customize this recipe for kids by omitting the red chilli powder and following all other steps. One secret to this recipe is the rice flour (easily available in supermarkets in India or Indian stores abroad). If you cannot find this, you could substitute with corn meal or makkai atta. This is a tip used in Tamil style potato roast, where the coarse rice flour gives the final dish a nice crunch. The second secret is adding the salt to the oil, which was shown in the Khana Khazana cookery show, by Chef Sanjeev Kapoor's mum. It just makes the potatoes taste so much better seasoned!. How to pressure cook potatoes: Place scrubbed whole potatoes in a container and place this inside a pressure cooker with an inch high water in the cooker. Do NOT add any water to the container in which the potatoes are kept. Close pressure cooker lid with the whistle. Keep on high flame and allow two whistles, lower the flame to minimum and let this be on sim for 7 minutes or so. Keep for 10 minutes for bigger sized potatoes, or they will be raw inside. Once pressure falls, let out excess steam by pulling up the whistle with a pair of tongs and open lid. Insert a knife inside the potato to check if it is cooked all the way through. Peel when cool enough to handle. Do not wash with water to cool the potatoes quickly, they will become soggy. No pressure cooker? You can boil potatoes in a pot of water until nearly tender and peel them when they are cool enough to handle.
Post originally published on 29 Nov 2012 / rewritten and published in 2018
To get all my latest recipes and news straight into your mailbox, subscribe to my mailing list here and get a free copy of my e-book specially put together for you – The Ultimate Salad Master Table that will have you making salads like a pro HERE
For more such healthy recipes, get my book The Everyday Healthy Vegetarian! Get all the info about my book and order it here.
Like what you see here? Stay connected with me on Instagram, Facebook, BlogLovin' and Pinterest.