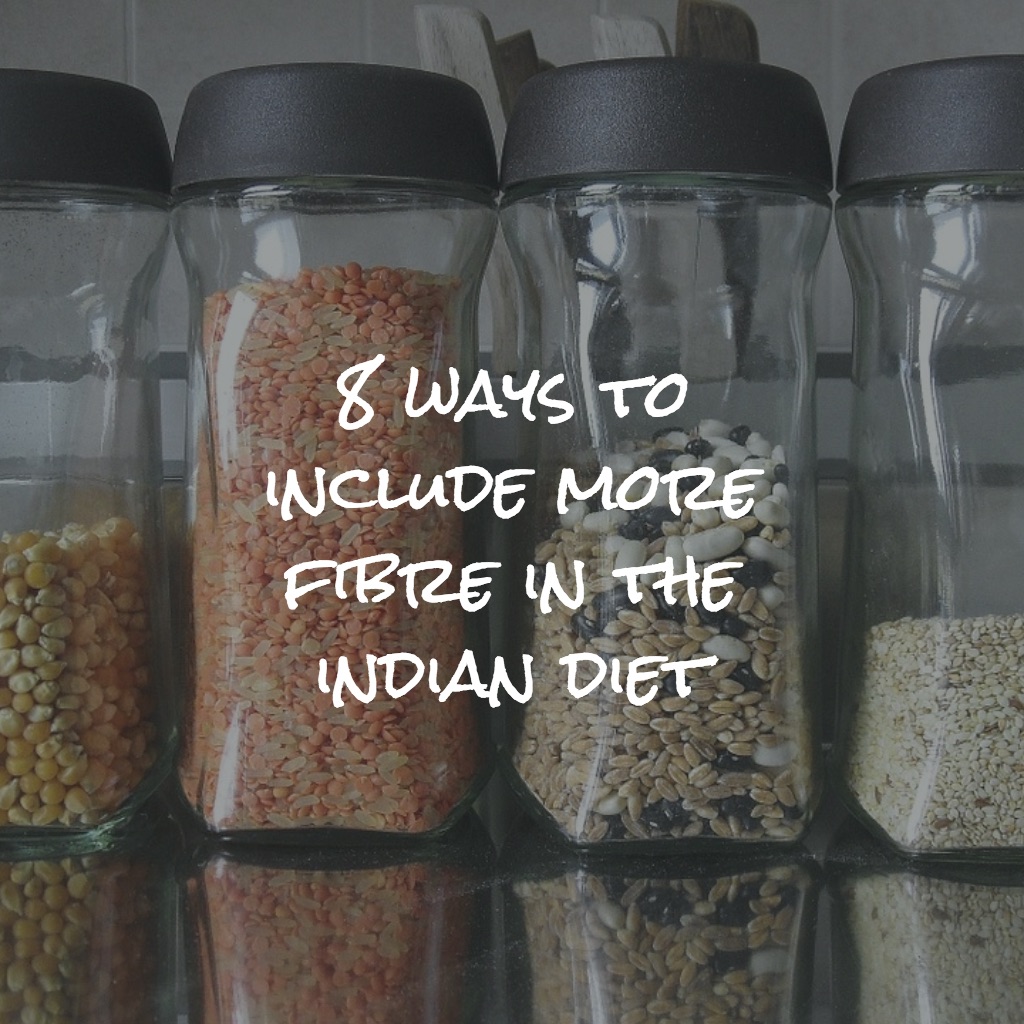 How to include more fibre in Indian diet – foods and ways to use these foods in daily cooking |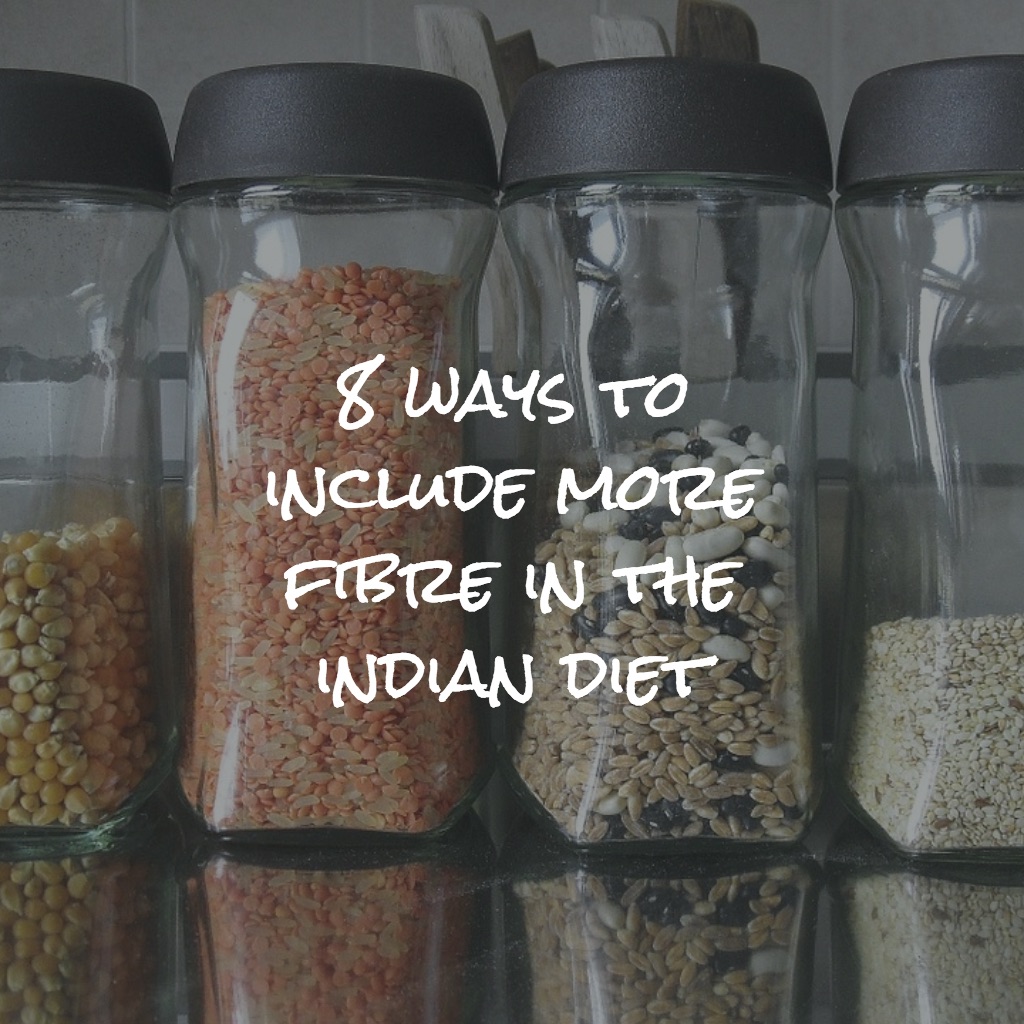 Pin
Irregular bowel habits plague a lot many people, but this is not a problem people like to discuss openly, except unless quizzed by their GP, perhaps. What goes on in our gut has the potential to influence a lot more things in our body than we imagine. The gut plays an important role in the wellbeing of the body. Rather than being embarrassed due to bowel disorders like constipation, we need to take them seriously and take steps to ease the problem.
One of the reasons for poor gut health is consumption of too much refined food, stripped of nutrients and vital fibre. Everyone knows that fibre is important to the body for much more than just constipation at bay. Indian diet has been traditionally rich in fibre, but with people in the cities opting more and more for takeaways, fast food options and lesser traditional cooking at home, fibre intake suffers. Stepping up on the fibre (and water) intake is one of the easiest ways to regularise bowel movements, provide the necessary prebiotics, leading a better gut health and feeling of well being.
So what is fibre?
It is part of the carbohydrate component of your food, but it does not contribute to increasing blood sugar. It goes through the digestive system without being broken down as it cannot be digested. Outer layers, peels and membranes of grains, fruits and vegetables contribute significantly to fibre in the diet. There are two kinds of fibre, soluble and insoluble and most fibre-rich foods have a mix of both kinds of fibre.
Recommended fibre intake
Women ~ 25 grams per day
Men ~ 35 grams per day
Here are the ways to include more fibre in Indian diet:
DAL
We cannot do without the dal for our rice, but limiting it to just that prevents us from enjoying the fibre benefit from dal to the fullest. Use dal to make soups. Dal just cooked until done and not to a mush, can be used in salads, or as a binding for kababs / patties. Dals can be baked into a lentil loaf, not very different from a Gujarati handwo. Make a batter using a mix of dals for the Tamil savoury dosa called adai or prepare chilas, North Indian style.
OATS
Oats has found acceptability as a good addition for a healthy diet. But not everyone is keen on eating oats porridge for breakfast everyday. Here are some ways to include more oats in your daily Indian diet. Lightly toast the oats and make a flour out of it by grinding in the mixer. Use this flour as a binder for cutlets etc. instead of bread crumbs. Use oat flour along with whole wheat flour to make rotis. Oat flakes can be used to make khichdis, breakfast items like 'poha', upma etc. Oats can also be used to make Indian sweets like halwa and kheer.
MILLETS
Millets are making a slow but steady comeback in the Indian diet, especially in the South. It makes an easy and acceptable substitute for polished white rice, offering a much superior nutritional profile as compared to the former. Millets such as foxtail and kodo, make a really good sabudana khichdi, which unfortunately is all taste and poor nutrition. Pulaos, khichdi, mixed South Indian rice varieties can all be made with millet varieties without adjusting the recipe much, except may be a little more water to cook the grains properly. Soaked and ground millets can be used instead of rice to prepare Idlis, dosas, uthapams etc. Get a variety of millet recipes here.
ALTERNATE FLOURS
Think beyond maida. Use substitutes creatively. Even baking recipes that ask for maida can be tweaked to include 50% of alternative flours. Gluten free flours like amaranth (rajgira), buckwheat (kuttu) have been regularly used in India to incorporate on fast-days. These can be used in more recipes to make flatbreads / rotis and other flour based dishes.
BEANS AND SEEDS
India boasts of a mind boggling variety of beans. Beans varieties provide all the necessary fibre with a healthy dose of antioxidants. Use them not just in curries but to bulk up soups and salads. Make hummus for a dip and as a sandwich spread. Sundal, an extremely simple Tamil recipe, can be prepared using any variety of cooked beans. Seeds like sesame seeds, flax seeds can be used to prepare podis or spiced powders used for seasoning dishes or eating with rice.
VEGETABLES 
One of the amazing things about Indian vegetarian cooking is that it puts to use any vegetable creatively. Not just the vegetable, but also its peel, pith, flower, name it and we have a recipe for it. I see many kids who will only eat coloured bell peppers, peas, potatoes and corn (which is technically not even a vegetable). Expose kids early on to a lot of local veggies early on, so they learn to appreciate the flavours and go on to eat a lot more variety of veg in their diet. Don't shy away from using the so called boring vegetables like gourds – they are low in calories and carbs, while adding to your fibre intake. Tamil cooking combines all kinds of veggies with dal, to make something called 'koottu' that is had with rice. Exploring other community's dishes gives you a whole lot of variety for each vegetable.
GREEN LEAFY VEGETABLES
Spinach is just the tip of the green iceberg. Vegetable tops like turnip, radish, cauliflower etc. are often discarded, and there goes your easy fibre source into the compost pile. There are multiple ways to use these greens, add them to dals, make stir fries or even a chutney. Read more about using these greens. Moringa/drumstick leaves are another superfood coming into their own now. You can use them in a variety of dishes – read here. If you stroll into your neighbourhood open market, you will find greens 'specialists' who often stock a basket full of local greens. Pick up a bunch or two of something new. Even if you don't know their names, the veggie vendors will guide you on how you can cook them.
FRUITS
Fruits provide a bulk of insoluble fibre. Lots of other seasonal fruits like guava, jackfruit, mangoes, papaya, melons and of course bananas, are fibre rich – have your pick and eat 1-2 fruits everyday to increase fibre intake in a tasty manner. Eat whole fruit and not as a juice, so as not to miss out on the fibre.
Remember to drink a lot of water when you increase fibre consumption in your diet and to increase fibre intake gradually, to avoiding bloating and any discomfort. Including these fibre rich foods in your diet will not only help keep bowels regular but also offer other health benefits. If you do suffer chronic constipation, then it is best to take the issue seriously and see your doctor about rather than suffer silently.
Disclaimer: This post was written around the panel discussion on constipation awareness facilitated by Abbott India Limited.  Any opinion expressed is not the opinion of Abbott India Limited. Abbott India Limited does not assume any liability for the content of the blog. The blog post is not meant to be a replacement for a doctor consultation, nor is it a medical recommendation or prescription of treatment for people having constipation problems. Any reader of this blog suffering from constipation problems should specifically consult his/her doctor for the same and follow the suggested course of treatment.